If you're looking for dog-friendly family holidays in the UK you've come to the right place. As a travelling family with a pooch we know finding somewhere that hits the mark for both you and your furry friend can be a challenge.
Contents - jump to what you'd like to know
Family and dog-friendly UK holidays
Finding somewhere to stay that is as special as your four-legged friend is often more complicated than it sounds. Many resorts and holiday providers welcome families but only offer lower grade dog-friendly accommodation.
Other high-end places love four-legged friends, but would rather you didn't bring the kids. We know finding luxury family and dog friendly UK holidays can be laborious.
However, times are changing. Holiday providers are starting to come on board with the trend for holidaymakers wanting to bring along their pets.
If you are in the same position as us – wanting to holiday with your children and pet without slumming it – I'm sharing some of the best family holidays with dogs including:
city breaks with dogs
family and dog-friendly cottages
dog-friendly family hotels
family and dog-friendly holiday parks
lodge holidays for families with dogs
dog and child-friendly campsites
City breaks with dogs
Can you go on a city break with a pet? You sure can! Here's some dog-friendly accommodation options in cities:
Old Town Chambers in Edinburgh
These luxury apartments are set in a medieval close off the world-famous Royal Mile and are a short walk from the Princes Street Gardens, with access to plenty of walks.
Everything about these serviced apartments is five star, from the beautifully styled interiors to the drench showers and GHDs available from reception.
You can also order Valvona & Crolla breakfast and dine in boxes if you don't fancy catering for yourself.
Dog-friendly features: dog bedding, 'poop bags' and doggy treats.
Family and dog-friendly cottages in the UK
Staying in a holiday cottage is like having a home away from home. And if you can bring your four-legged friend then it feels properly like home.
The Valley in Cornwall
Cornwall is one of my hot tips for relaxing places to visit in the UK.
The Valley Cornwall is a gated resort offering luxury cottages with lots of facilities for the exclusive use of guests.
This is a place we have stayed ourselves and can highly recommend as having a luxurious feel without any awkwardness that you're there with the kids and pooch.
Each cottage is styled with Italian furnishings, and the cottage we stayed in even had vaulted ceilings. Accommodation ranges from two to three-bedroom cottages, sleeping up to six people each, so The Valley Cornwall is a good option for larger families.
Luxury features include good free wifi, plus baby-sitting and maid service for an extra charge. The Valley Cornwall is perfectly situated for exploring South Cornwall's family attractions, dog-friendly days out and beaches.
Here's our holiday video:
Dog-friendly features: dog walk on-site, dog-friendly cottages, and a great location to explore.
Read our full review of the luxury cottages at The Valley Cornwall.
Llandeilo Cottage in Llandeilo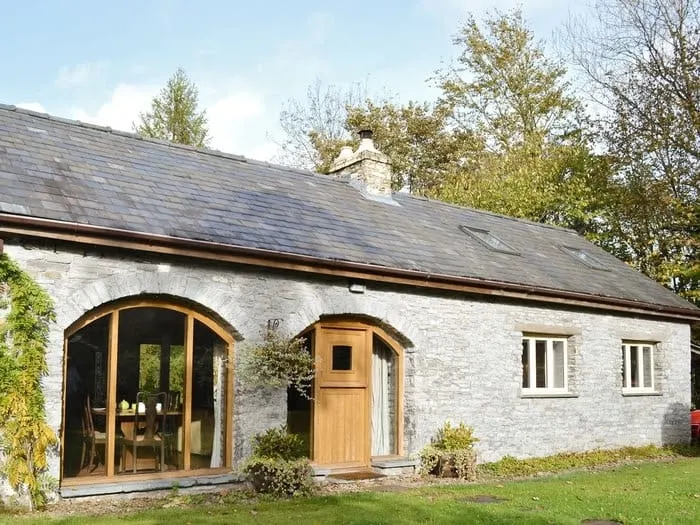 This characterful converted cart house called Llandeilo Cottage is one of many dog-friendly luxury holiday lets available through Snaptrip, which specialises in last minute cottages.
This two bedroom property can accommodate up to six people and boasts exposed beams, a farm house style kitchen and stunning views.
Close by there's two beautiful beaches and the Brecon Beacons for stretching dog and human legs.
Take a look at our last family holiday in the South of Wales.
Features at Llandelio Cottage to keep the whole family cosy and happy include a wood burning stove, wifi, all the mod cons and 3/4 of an acre of natural woodland grounds. Snaptrip has properties across the UK.
Dog-friendly features: large enclosed lawn, plenty of nearby walks.
Higher Wiscombe in Devon
Higher Wiscombe is an award-winning set of three converted barn cottages are located in an area of Outstanding Natural Beauty just four miles from the spectacular Jurassic Coast World Heritage Site and The South West Coast Path.
There are also beaches close by at Beer, Branscombe and Sidmouth.
Here's some our favourite things to do in East Devon.
The cottages at Higher Wiscombe are stylish and comfortable with Egyptian cotton sheets, 6' wide double beds and under floor heating. On site there's a games room and an outdoor heated pool which you can book for exclusive use.
Baby equipment is also available. Premier Cottages has properties across the UK and Ireland.
Dog-friendly features: sofa throws, poop bins & bags, dog cages, beds, treats, bowls and even a free Dicky bag to store the poo bags in when out walking.
Bosinver Farm Cottages, Cornwall
Bosinver has everything families with dogs could wish for. There are 10 dog-friendly cottages on the farm so you have your pick of different sized accommodation dependent on the number in your group.
We loved feeding the farm animals each morning, the wonderfully warm indoor pool, the play barn and wild kids club. And there's over 30 acres of woodland for walkies.
Sleeps: 2-12 people | Allows one large dog or two small | Dog wash, poo bags, treats and walk guides available
Read our full Bosinver Farm Cottages review.
Antonine Wall Cottages in Argyll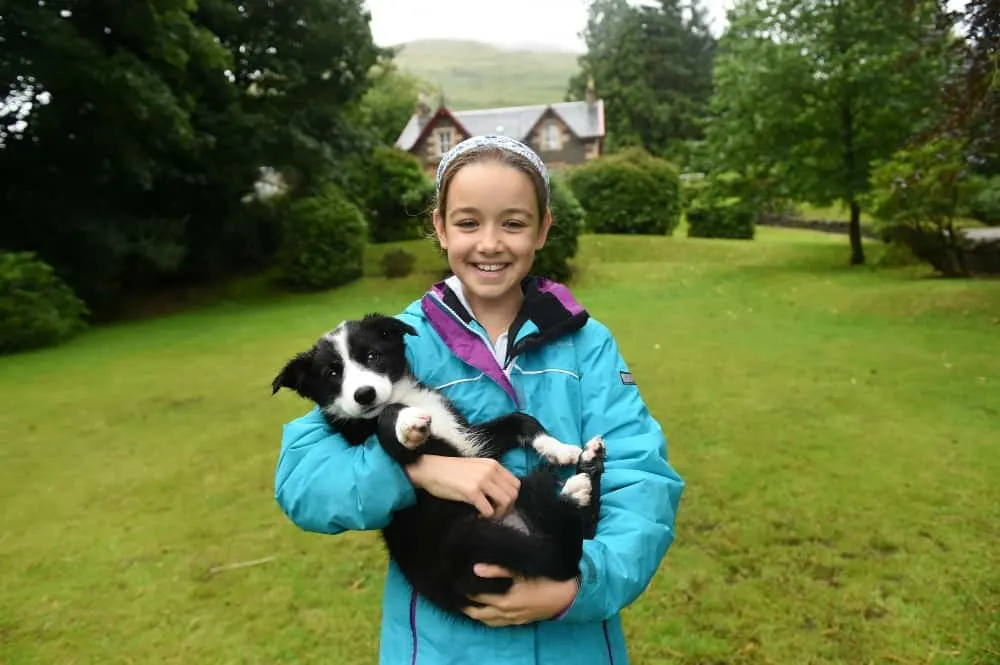 The Antonine Wall Cottages in Argyll are two stylish cottages that have been converted from a listed 1820's stable block just seven miles from Stirling.
Each cottage has its own private fenced area amongst the five acres of secluded grounds to keep pets safe. Human guests can enjoy the hot tub, Netflix and shared play area for children. There's also a swimming pool.
Dogs, cats, hamsters and other pets are all welcome. Embrace Scotland lists more than 2,500 properties.
Dog-friendly features: water bowl, suitable disposal equipment (poop bags), a pet welcome snack, as well as designated pet towels, throws and vet details.
Find out more about Antonine Wall Cottages.
Well Furlong Cottage, Worcestershire
Well Furlong Cottage is the perfect place for a multi-generational, dog-friendly holiday with plenty of luxury thrown in. It comes with access to it's own private spa with pool, jacuzzi and steam room.
There's a large enclosed garden overlooking fields and countryside. This has a raised seating area with barbecue, table and chairs, and loungers.
The cottage itself is so spacious. It has a country kitchen with a range, wood burner and all the mod cons, three large ensuite bedrooms and a light and airy lounge.
There's plenty of walks and dog-friendly pubs in the local area.
Dog-friendly features: 6 (plus up to two extra children in pull out beds) | Allows up to two dogs | Large enclosed garden | Walks from the cottage and in the local area | Dogs must stay on the stone floor areas downstairs.
Read our full review of Well Furlong Cottage.
The Beach Haven, Cornwall
The Beach Haven in Bude (North Cornwall) is dog-friendly (they allow up to three!).
It's such a lovely accommodation, it's super-clean, and the owners, Tim and Maria, are just the nicest people. There is always a welcome hamper of wine and milk in the fridge, treats for kids and either a homemade cake or homemade scones with clotted cream and jam.
Sleeps: 8 | Allows up to 3 dogs | Short walk to dog-friendly beaches and cafes | Doggy box with towels, poo bags and other supplies
Find out more about The Beach Haven.
Rumsdale Cottage, Cornwall
Amy from Everything Mummy says: "Arriving at Rumsdale Cottage instantly transported us to that slower pace of country life – it was lovely!
"I remember thinking it was the perfect place to take a family with a dog, so much open space all around and a little gated front garden to let them out."
Sleeps: 6 | Allows up to 2 dogs | Working farm location, so dogs on leads | Doggy box with towels, poo bags and other supplies
Find out more about Rumsdale Cottage.
Blairmore Farm, Perthshire
Blairmore Farm self-catering cottages in Perthshire are dog-friendly and accommodate multiple dogs.
There's a lot to do with children and dogs in the surrounding area. You can even go swimming as a family – dogs and all – in nearby Loch Leven.
Sleeps: 2-10 | Allows multiple dogs | Working farm location, so dogs on leads
Find out more about Blairmore Farm.
Bryn Park, Swansea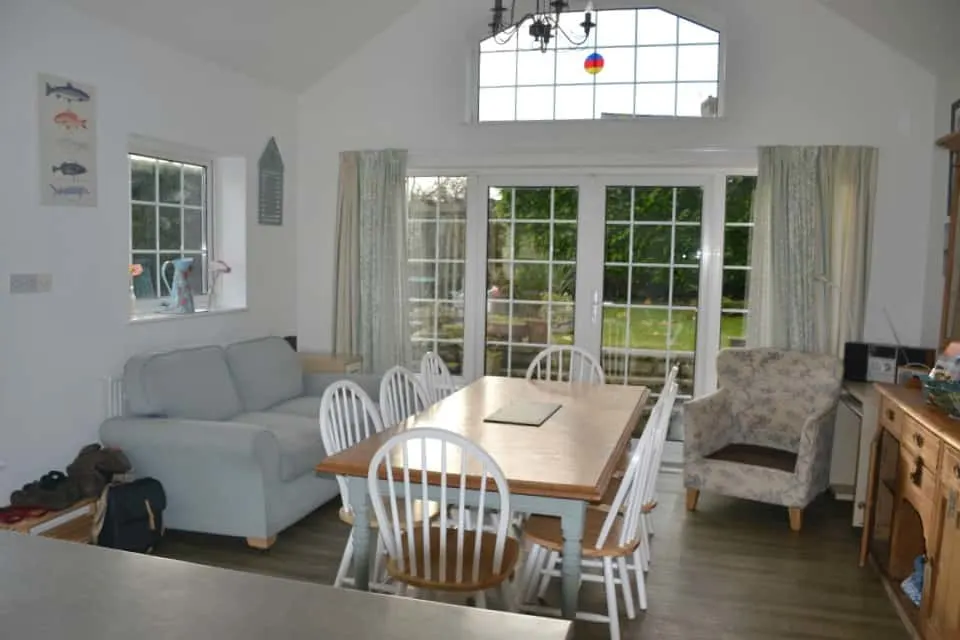 The owners of this beautiful cottage close to Mumbles in Swansea think of everything; from handy little notes letting you know where to find things around the house to recommendations on places to visit.
There was also a special chair for dogs and throws to put on the sofas in case your pooch likes a prime position in front of the TV. There's also plenty of dog-friendly beaches and activities close by.
Sleeps: 8 | Allows dogs | Dog bowls and throws provided
Find out more about Bryn Park.
Dog-friendly holiday parks in the UK
Holiday parks come in all shapes and sizes but often have more facilities for families than campsites.
Here's some UK holiday parks that are also dog-friendly:
Andrewshayes Holiday Park, Devon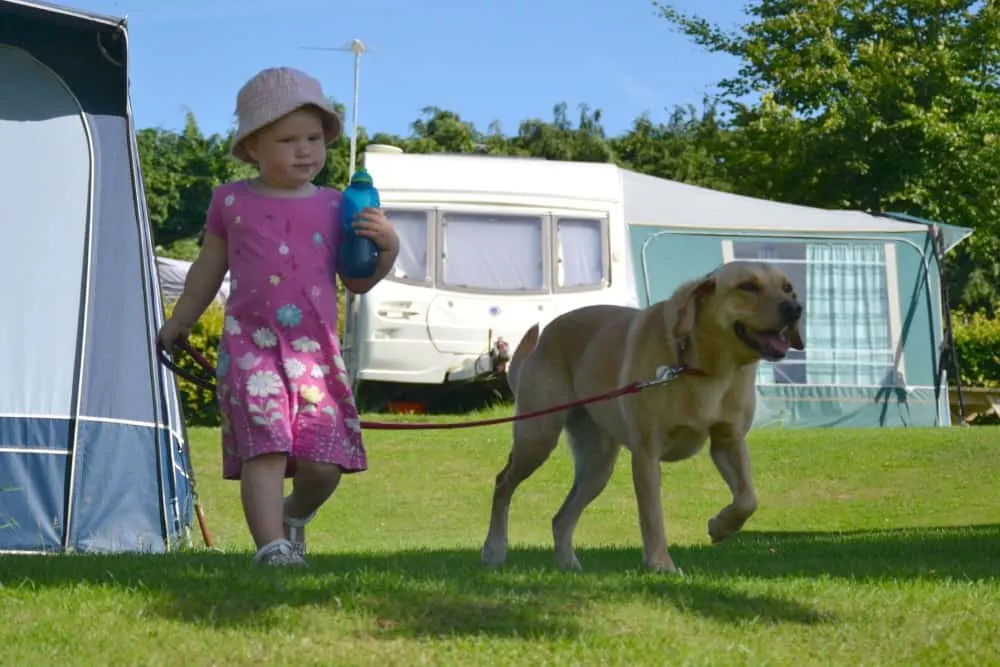 This family-friendly holiday park caters wonderfully for families and dogs. There's a large dog-walking field with fabulous views and a woodland walk just outside the site.
Kids will love the undercover swimming pool and adventure playground. The restaurant also serves a good selection of eat-in and takeaway food.
Just down the road you have the Jurassic Coast and lots of dog-friendly attractions like Seaton Tramway and the Donkey Sanctuary.
You can bring your own caravan, motorhome or tent, or stay in one of the park's holiday homes.
Holiday homes sleep: 4-8 people | Allows dogs | Dog walking area and dog-friendly attractions close by
Find out more about Andrewshayes Holiday Park.
Haven Doniford Bay, Somerset
Haven at Doniford Bay Somerset was great for dogs it has a huge beach perfect for everyone.
Dog can accompany you to outdoor activities and there are many grassy areas where you can sit with your dog and watch.
Holiday homes sleep: 4-8 people | Allows up to two dogs | Dog walking area and dog-friendly beach by the site
Find out more about Haven Doniford Bay in Somerset.
Tattershall Lakes, Lincolnshire
Tattershall Lakes, as the name suggests, is located around several lakes, a couple of which are used for water sports (water skiiing, fishing etc) and a couple of more peaceful ones just for walking around.
Holiday homes sleep: 4-8 people | Allows up to two dogs | There are dog walks and poo bags available onsite
Find out more about Tatthershall Lakes.
Hendra Holiday Park, Cornwall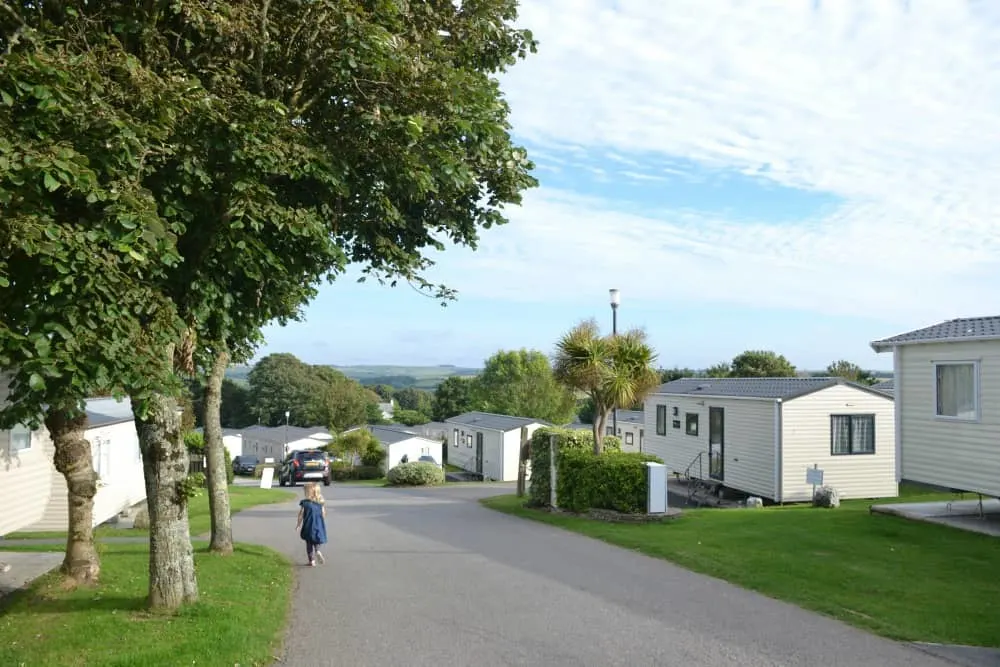 This independent holiday park has family fun covered and a lovely dog-walking area. You can choose from dog-friendly holiday homes or bring your own caravan, tent or motorhome.
There's great family entertainment at the club, the swimming complex and exploring some of Cornwall's coastline.
The attractions and beaches of Newquay are also right on your doorstep.
Holiday homes sleep: 4-8 people | Allows up to two dogs | Dog walking area, and dog bowls and beds provided in dog-friendly holiday homes
Here's more about Hendra Holiday Park.
Barmouth Bay Holiday Park, Snowdonia
Barmouth Bay holiday park sits alongside a stunning sandy beach. Go out of the main holiday season and you'll find you have the dog-friendly beach almost to yourselves.
Holiday homes sleep: 4-8 people | Allows up to two dogs | The park is right on the coast and poo bags are available
Find out more about dog-friendly holidays at Barmouth Bay.
Dog-friendly campsites in the UK
Here's some dog-friendly campsites in the UK that we can personally recommend:
Woodovis Park, Devon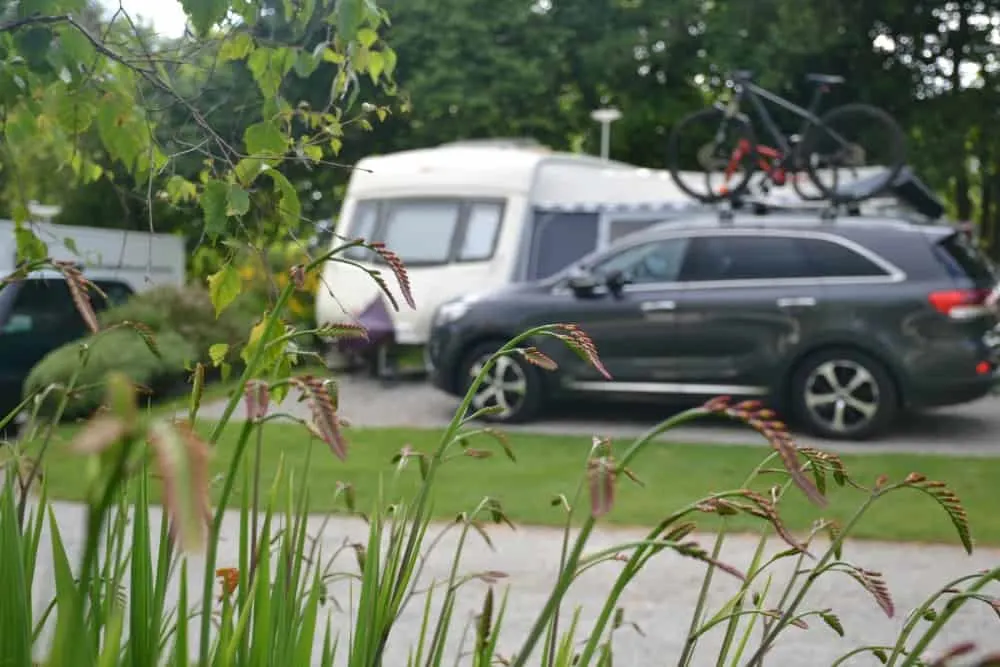 This immaculate campsite really understands its customers and offers them a five star caravan experience.
The shower blocks are first rate and the pool is well thought out for families. We were particularly impressed with the dog walking area, woodland walk and dog shower. The onsite bakery was a huge bonus too.
The campsite is located in the Dartmoor National Park so there's plenty of places to go for walks nearby. Families with dogs can bring their own caravan or motorhome, or stay in one of the small number of holiday homes.
Holiday homes sleep: 6 people | Up to two dogs allowed | Dog walking area, poo bags and dog washing area
Find out more about dog-friendly family holidays at Woodovis Park.
Ross Park Caravan Park, Devon
Dogs have plenty of areas to stretch their legs at this caravan park near Newton Abbot in South Devon. The site is well laid out with a great playground for kids and two dog walking areas.
"There's also a dog shower and boot cleaning station near the dog walk. Families will love the indoor and outdoor games areas, communal BBQ space and bar.
"Touches of luxury include the heated shower block and free wifi. You can also see Dartmoor from the site or head to the coast with Torquay, Teignmouth and Paignton close by. Bring your own caravan or motorhome."
Bring your own accommodation | Multiple dogs allowed | Dog walking areas on site and off, and dog washing area
Find out more about this dog-friendly caravan site in Devon.
Pet-friendly lodges in the UK
Who wouldn't love the luxury of a pet-friendly lodge with a hot tub? Obviously the tub is for you, not the dog, but I'm sure your canine friend won't begrudge you the pleasure.
Log cabins at The Four Seasons Hotel, Perthshire
You can find The Four Seasons Hotel on the banks of Loch Earn in St Fillans – a wonderful area for walking.
The restaurant is two AA Rosette award winning and serves contemporary Scottish cuisine. Families with dogs are welcome in the main hotel or its six secluded chalets.
I particularly like the look of these little log cabins in the woods which come with all the mod-cons of a hotel as well as baby monitoring. Children under three stay for free and kids aged three to 11-years-old are charged half price for bed and breakfast.
Dog-friendly features: a pet concierge, pet menu, walking and grooming services.
Darwin Forest, Derbyshire
If you're after a truly relaxing holiday with dogs and kids then we can recommend a stay at Darwin Forest. We had a dog-friendly spa lodge with a hot tub overlooking the woods.
There's walks through the forest, a pool, soft play centre, playground and restaurant. For families with older kids there's also lots of activities like tennis, body sorbing and archery.
If you can drag yourselves away from your lodge then you're in one fo the most beautiful parks of the UK, perfect for exploring with a happy hound.
Sleeps: 2-8 people | One or two dogs allowed | Special super pet-friendly lodges available with dog washing areas and hot tubs for humans
Read more about our stay at Darwin Forest.
Forest Holidays Cropton in North Yorkshire
If you're looking for more luxury family holiday parks in the UK then take a look at Forest Holidays' Cropton site in North Yorkshire.
The luxury cabins here are set in a glorious woodland meadow, deep in the heart of Cropton Forest. Not only are the North York Moors on the doorstep, walkies can literally start right at your cabin door.
The top spec Golden Oak cabins come with fluffy robes, a hot tub, an en-suite in the master bedroom, under-floor heating and eco-friendly toiletries.
You can even book in-cabin spa treatments. Forest Holidays have dog-friendly cabins in Forestry Commission owned woodland in nine locations across Cornwall, Gloucestershire, Hampshire, Norfolk, Nottinghamshire and Scotland.
Dog-friendly features: dog biscuit on arrival, endless walks, up to four dogs in a cabin. Dogs stay for £10 per night.
Eagle Brae, Scottish Highlands
Eagle Brae near Beauty in the Scottish Highlands is the epitome of luxury eco-friendly accommodation, with its log houses and a commitment to have as little impact on the environment as possible.
The log cabin village is set in a stunning location and it also happens to be dog-friendly.
Sleeps: 2-6 people | All lodges dog-friendly
Read more about dog and family-friendly holidays at Eagle Brae.
Bath Mill Lodges, Somerset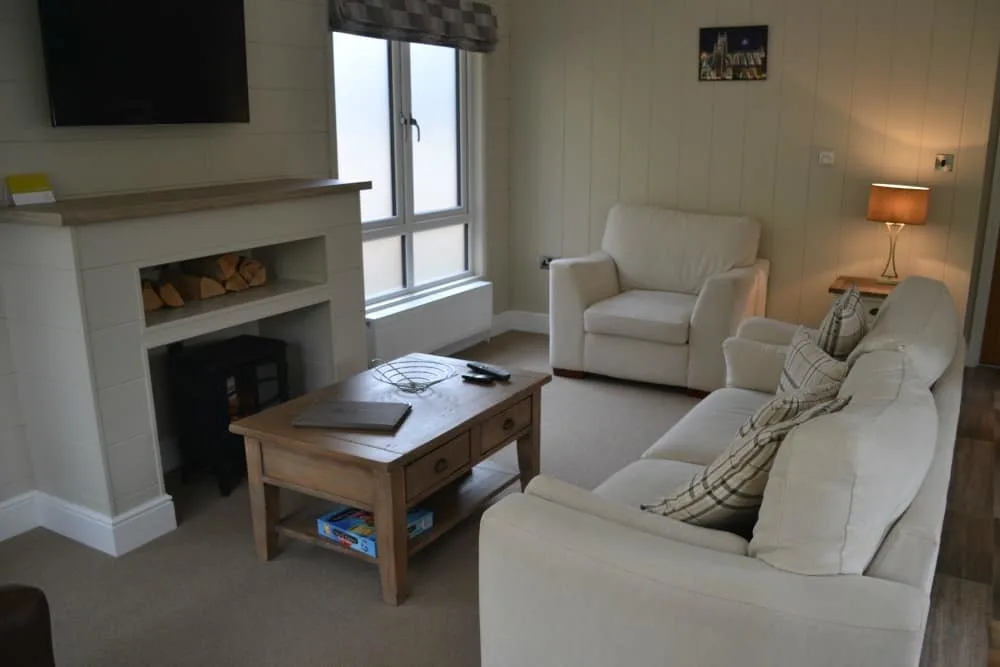 After a day of walking around Bath, there was no better feeling than retreating to our lodge for the evening.
It's the little things that make a holiday park stand out. Games are included in the lodge and we enjoyed teaching the kids to play Cluedo, tested our knowledge with Trivial Pursuit, and got beaten at Connect Four.
And let's not forget the glass of fizz you are given when checking in.
Sleeps: 2-8 people | Allows 1 dog | walks from the lodge park into Bath
Read our review of Bath Mill Lodges.
Felmoor Park, Northumberland
The lodges at Felmoor Park are super luxurious and pet-friendly too. Expect fantastic touches for families such as sunken hot tubs, Sky Movies on the TV, a fab welcome hamper on arrival (including crisps and chocolate for the kids) and pizza delivery on-site.
For dogs, there's lots of space, blankets and dog bowls in the lodge plus a large lake to walk around on site and dog-friendly pubs nearby.
Sleeps: 4-8 people | Allows up to two dogs
Read more about the dog-friendly lodges at Felmoor Park.
Hawkschurch Resort and Spa, Axminster, Devon
Hawkschurch Resort and Spa is designed to create a blissful escape.
The stylish accommodation offers luxury home from home comfort, while the on-site relaxation areas, indulgent treatments, fine dining in Beeches restaurant and an elegant, superbly stocked bar creates the perfect relaxation environment.
It is not an active site with playgrounds and entertainment, and therefore suits families with older children and pets.
Sleeps: 4-8 people | Allows one dog
Find out more about these dog and family-friendly holidays in Devon.
Dog-friendly hotels in the UK
We love family-friendly hotels but can they be dog-friendly too? Here's some dog-friendly hotels we and our blogging friends have tried and tested with their kids and pooch.
Tylney Hall Hotel & Gardens in Hampshire
Looking for a luxury and dog-friendly hotel in Hampshire? Check out Tylney Hall Hotel & Gardens. This historic hotel welcomes children and pets with dedicated garden rooms and activities aimed at families during the school holidays.
Kids receive a goody bag with games, duck food and a soft toy. Each room comes with an Espresso machine, Molton Brown toiletries and wifi.
There's also indoor and outdoor pools, complimentary bike hire and a babysitting service. The treasure hunts in the hotel grounds sound like a lot of fun.
Dog-friendly features: maps of walking trails, healthy meals from non-GM and additive free Arden Grange pet foods, dog baskets, blankets, a bowl and chewy toy. Dogs stay for £25 per night.
Book Tylney Hall Hotel & Gardens*
Stourport Manor in Worcestershire
Hallmark Stourport Manor is a top option for dog-friendly UK holidays. This Victorian country house hotel overlooks Stourport-on-Severn. The family rooms have recently been given a facelift and can accommodate up to two adults and two children.
Stourport Manor offers families use of an indoor swimming pool, wifi and 23 acres of grounds. It's also close to some of the Midlands' top family attractions like West Midlands Sarafi Park and Severn Valley Steam Railway.
Zoos and railways are always a hit with our girls. Hallmark offers a collection of 28 hotels across the UK.
Dog-friendly features: a personalised card and welcome pack including dog treats, paw mat, a dog bowl, towel and map of walks around the hotel grounds and nearby. Dogs stay for £15 per night.
Victoria Inn in Norfolk
The traditionally styled Victoria Inn is part of the Holkham Hall Estate in Norfolk. It's renowned for its wonderful locally sourced food and offers a children's menu or smaller portions of the adult meals for the more adventurous.
Doggy visitors will love that it is only a short stroll to the golden sands of Holkham Beach and the Kennel Club award-winning Beach Café which has a Wash 'n' Wag dog wash for sandy pooches.
The Victoria offers a spacious two bedroom attic for families with pets. Dogs are also welcome in the rest of the rooms in the main building.
Dog-friendly features: pets are given treats and their own comfy bed.
Hotel Collingwood in Bournemouth, Dorset
Hotel Collingwood is a boutique 3-star hotel in a Victorian building just a few minutes walk from Bournemouth Pier, the beach, West Cliff Park, the Bournemouth International Centre and other town centre attractions.
The hotel decor is bright and quirky, with vibrant turquoise details and gorgeous bird print wall papers. This theme is continued in the hotel's luxury Signature rooms, while the standard rooms are more simply decorated.
It's the family-friendly touches that we really appreciated about this hotel, as well as being able to eat with Tin Box Dog in the bar area. In fact, she was the first one to be served a drink when we sat down for food.
The kids were brought colouring sheets and crayons at both dinner and breakfast. Dinner was followed by cookies, which we took to our room.
Dogs can stay for a supplement of £10 per night per dog.
Sleeps: rooms sleep up to 4 people | Two dogs allowed per room | Dog-friendly beaches and attractions close by
Find out more about Hotel Collingwood.
The Grand Hotel, Devon
Dogs are on the guest list at this art deco hotel in a commanding position on Torquay seafront. They are welcome in double and family rooms, and in the library area downstairs.
Close to the hotel are many dog-friendly beaches.
Sleeps: 2-4 people| Multiple dogs allowed
Find out more about staying at The Grand Hotel in Torquay.
Kingsmills Hotel, Inverness
Kingsmill Hotel is a 4-star hotel in Inverness. With its gastronomic restaurant, spa, swimming pool and large rooms, it is the ideal place to stay with family and dogs.
Sleeps: 2 people| Multiple dogs allowed | Patio rooms with garden access, dog bowls, poo bags and treats provided
Read more about Kingsmill's Hotel.
Langstone Cliff Hotel, Devon
This dog and family-friendly hotel in the traditional seaside resort of Dawlish Warren is in a great location for exploring Devon.
It also has indoor and outdoor pools, a playroom, family suites and lots of dining options to suit kids of all ages.
Sleeps: 5 people | Multiple dogs allowed | All rooms are pet-friendly
Read more about this family and dog-friendly hotel in South Devon.
Search for more dog-friendly holidays for families on Booking.com*.
Tried and tested: even more dog-friendly holidays UK
We're been adding to our reviews of the best dog-friendly holidays in the UK.
Here's a few you might like to check out with your kids and hound:
Do you have a favourite spot to holiday with your pet? If so, I'd love to hear your recommendations!
More doggy tails on Tin Box Traveller
Here's some more of my posts for dog owners like us:
Want more ideas for family holidays and days out? Read my tips for smashing family travel and sign up for my newsletter.
Disclosure: this post contains affiliate links marked with a *. If you click on these I may earn some commission on any purchases you make. This does not affect the price you pay. Main image courtesy of Forest Holidays. All others as attributed.
I love hearing what people think about my blog so feel free to leave a comment below or browse around. You can also find me on Bloglovin', Twitter, Facebook, Instagram, Pinterest, Youtube and LinkedIn.
SaveSave