Golfo Gabella Lake Resort review – self catering holidays in Lake Maggiore, Italy 
If I didn't already have a soft spot for the Italian Lakes, I do after my latest stay in the region with Bookings For You. I was one of eight UK family travel bloggers invited to stay at and review Golfo Gabella Lake Resort in Maccagno, Lake Maggiore. It was an awesome three days with much exploring, Italian cuisine and fun. Here's all you need to know about self catering holidays in Lake Maggiore at Golfo Gabella Lake Resort and what to do in the area.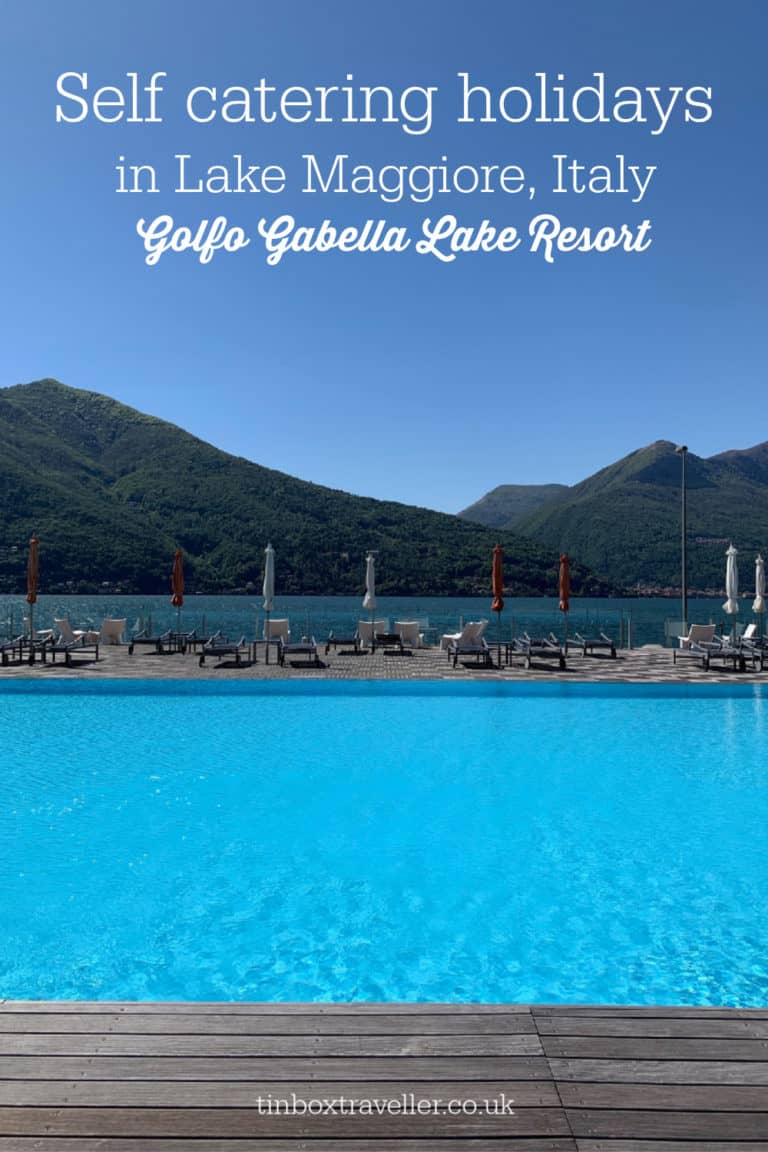 *Advertisement feature*
I surprised myself when I totted up how many times I'd visited Italy recently and found this was my fifth time in three years. I'm becoming a bit of a regular, especially in the Italian Lakes after our camping holiday in Lake Garda last August. Flying over Mont Blanc and the criss-crossed streets of Italian cities was familiar and exciting.
Milan Malpensa is the closest airport to Lake Maggiore and brought us to within 14 miles of our destination. Bookings For You had arranged our hire car and within an hour and a half of landing we were stepping through the door of our lakeside apartments.
You can find out more about our stay and the resort in this video:
Golfo Gabella self-catering resort in Lake Maggiore
Golfo Gabella Lake Resort was built on the site of an old glue factory in the ancient town of Maccagno. It made glue for shoes with the resin from the trees around the lake. The resort's chic restaurant, Acquadulza (which means 'sweet waters', after the Lake), is the only part that remains of the site's industrial past. One of the old factory chimneys now serves as a wine cellar – not a bad second life.
The restaurant is open to residents and the general public and serves breakfast, lunch and dinner. Oh, and of course, drinks!
The resort is split into butter yellow, bright white and terracotta blocks with 79 apartments overlooking a central pool and Lago Maggiore, as it's called in Italian. Forty-two of these apartments are self-catering holiday rentals with one to four bedrooms.
You can also opt to have breakfast in Acquadulza as part of your stay. This includes hot drinks and juices, eggs cooked to order, ham, cheese, fruit, yogurts, pastries and cakes. It would be my girls' idea of the best breakfast spread ever!
Speaking of things the kids love when we go on holiday, Golfo Gabella has a heated outdoor swimming pool (22°C), which is said to be the best lakeside pool on Lake Maggiore. I have no experience of the others here, but I'd be reluctant to argue when it looks like this.
While the water was a little cool in May, the jacuzzi was a good temperature. There's also a children's splash pool, which was under renovation and due to open two weeks after our stay.
I can imagine spending several afternoons relaxing and swimming here with the girls during an Italian lakes holiday at Golfo Gabella Lake Resort.
If that sounds a bit too chilled for you, the resort also has kayaks and bicycles for guests to borrow. If you would like to explore the lake independently you can hire a motorboat from €70 for an hour. And, if you happen to be holidaying with your own boat, the resort has 32 moorings.
You can read more in Charly from POD Travel's post about Golfo Gabella resort and staying in Lake Maggiore.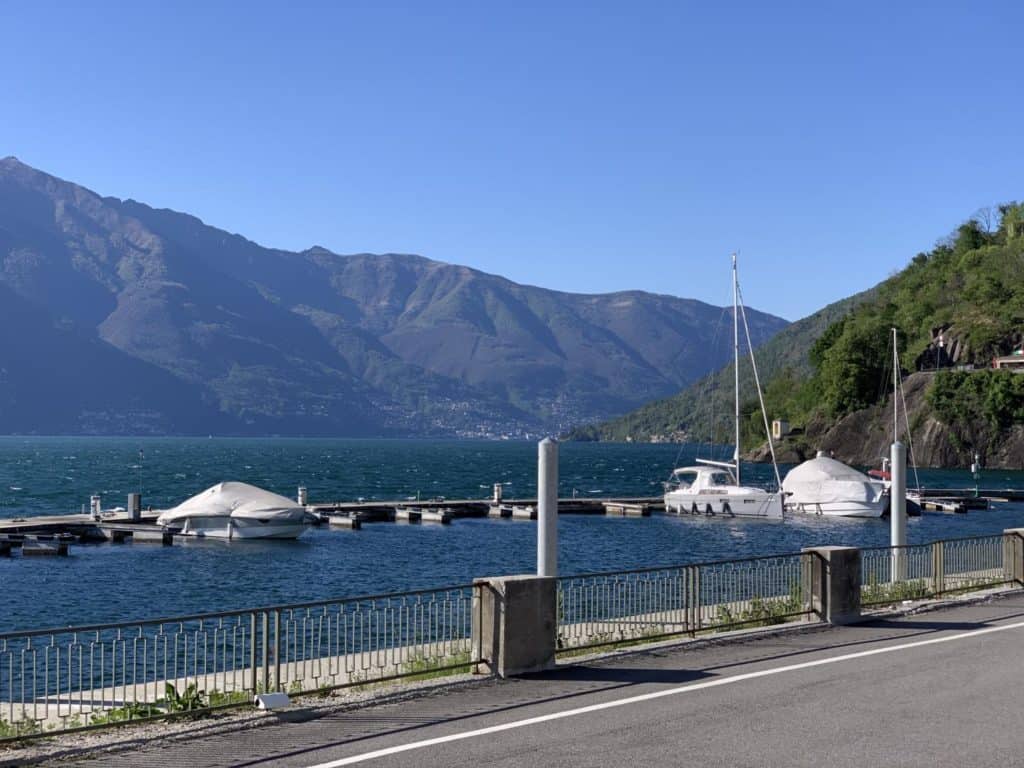 Check out more places to stay with kids on Lake Maggiore
About Maccagno
Maccagno is a town on the east bank of Lake Maggiore, just before the Swiss border. A river runs through it, separating the lower, older part and the new area where we were staying.
Everything is easily accessible from Golfo Gabella. You can walk along the edge of the lake to find play parks and open space for kids to roam, a museum that straddles the river, and beautiful old landmarks like the 16th Century Madonnina della Punta Sanctuary, which overlooks Lake Maggiore. You can roll out a picnic blanket anywhere on the beach and there are restaurants on the front where you can have a meal or pick up a drink with a view.
Maccagno is really well connected to the rest of the region with a train station, ferry stop, and main road. You can reach Milan by train in between two hours and three hours depending on which service you get or two hours by car. The ferry can take you direct to Cannobio, Luino, Stresa and Cannero.
From Luino and Stresa you can get connections to other parts of the lake. From Cannobio you can catch the ferry up into the Swiss end of the lake.
Read more about visiting Maccagno in Lake Maggiore.
Three bedroom, self-catering apartment in Lake Maggiore
I stayed in a three bedroom standard apartment at Golfo Gabella with Lisa (Travel Loving Family) and Charly (POD Travels).
This was on the second floor with a balcony from the main living space that overlooked the resort and lake. The view was classed as restricted but we had a generous glimpse of the Lake and mountains.
The apartment had one double bedroom and two twin rooms to sleep six people. The twin room in which I stayed felt like it was in its own annex, with a door from the main living space that led to a short corridor where there was the bedroom and the smaller of the two bathrooms.
The layout would be great for families, as the twin rooms don't have access to balconies and the extra doors give families with older kids space.
The apartment was minimalistic with a few bright orange feature furnishings.
In the kitchen there was a large fridge with a small freezer above it, a microwave, oven and hob, dishwasher, kettle, coffee maker and plenty of cooking equipment. The plates, glasses and cups were in a cupboard in the living area. There was a table to seat six in the kitchen, sofas in front of a flat screen TV and another table and chairs on the balcony for al fresco dining.
If you needed to use a washing machine during your stay there was a communal facility in the basement.
This was also where there was a parking spot for each apartment in a locked garage. You accessed this by a key that also allowed you into the apartment buildings and pool area.
Read Lisa's review of Golfo Gabella.
Here's an apartment tour:
The apartment didn't have character, but it was modern and functional for a self-catering holiday. In the summer I can imagine spending very little time in the apartment and more by the pool and sightseeing around the Lake.
In the evenings the balcony would be a great place for a glass of prosecco after the kids had gone to bed.
As well as apartments here, Bookings For You also offer luxury villas in Lake Maggiore and the Italian Lakes.
Handy to know: self-catering apartments at Golfo Gabella Lake Resort
Here's few things that I jotted down that families might find useful to know about staying at Golfo Gabella:
There's no iron or ironing board in the apartment. I didn't visit the laundry room but know there is a washing machine and dryer here.
There was no token washing up kit when we arrived – like washing up liquid or a dish cloth – but there were a couple of dishwasher tablets

There are bins in the bathrooms with bin liners and you get a small bottle of shower gel in the shower. This lasts one or two showers. There were three toilet rolls in the apartment when we arrived
Under the sink you will find recycling containers which you empty into bins in the basement, along with general waste
Pool towels do not come with the apartment
Should you need to top up on any household essentials and groceries there's an Unes supermarket a short walk away.
Take a look at my review of another Bookings For You property: a luxury villa in Tuscany.
Extra special additions to a Bookings For You holiday
When you holiday with Bookings For You you don't just book accommodation. There's always plenty of recommendations on things to do locally and extra experiences to make your stay special.
Bookings For You arranged for us to make pizzas and cocktails in the Acquadulza restaurant at Golfo Gabella. And on our final evening we had the services of Marco Perocco – a personal chef based on Lake Maggiore.
He created a menu for our group, which included vegetarians and gluten free diners, and prepared it all for us while we checked out one of the resort's beautiful four bedroom Penthouse apartments.
We dined on mushroom risotto, Melanzane alla parmigiana – aubergines baked in layers with mozzarella cheese and topped with tomato sauce and Parmesan – zucchini stuffed with tuna, olives, capers and garlic, followed by panna cotta with berry coulis. It was Italian food heaven.
I can highly recommend getting in touch with Marco if you catering for a special celebration or group during your stay in Lake Maggiore.
See more from this Italian Lakes holiday on Instagram.
Things to do nearby in Lake Maggiore
I'll be writing more about some of the things to do in Lake Maggiore soon as there's plenty to do whether you are visiting with tots or teens. In the meantime, the very easiest excursions with kids are a ferry ride to the beautiful town of Cannobio on the west shore of Lake Maggiore and exploring the enormous Wednesday market in nearby Luino.
You can check out what Lisa from Travel Loving Family did during her last visit to Lake Maggiore with kids.
Cannobio feels wonderfully untouched by tourism, with traditional shops and restaurants serving delicious Italian fare. It's the perfect place for a wander, as captured by Sarah in this Cannobio photo tour on Extraordinary Chaos.
We had lunch at Caffe Verbano, overlooking the lake. If you go you have to try the seafood ravioli and spaghetti carbonara, which I shared with Karen (Mini Travellers).
At the north end of the town there is a park and beach overlooking the snow-capped mountains of Switzerland. Cannobio is a short ferry ride from a jetty that is 10 minute walk from Golf Gabella Lake Resort.
Here's some more things to do in Lake Maggiore as suggested by Mini Travellers.
The Wednesday market at Luino is the biggest on Lago Maggiore with stalls selling sweet treats, clothes, trinkets, cheese and Italian meats lining the streets from the train station to the lakeside. We visited on a particularly wet Wednesday but the market was still in full swing.
The weather gave us the perfect excuse to dive into Ciocco Bacco to try an Italian hot chocolate.
Having visited Italy a lot in recent years, and with two girls who love a hot chocolate, I'm not sure how this delicacy has passed me by. Italian hot chocolate is pretty much melted chocolate in a cup and can come in a range of flavours from white to dark chocolate with additions like rum, pistachio and vanilla.
We caught the train to Luino but you can also take the ferry.
Another highlight of this trip was a visit to Santa Caterina del Sasso, which is a 40 minute drive from Maccagno.
This hermitage was founded in the 12th Century and sits on on the side of a cliff above Lake Maggiore. There are 240 steps down to the monastery or you can take a lift. You can also arrive by ferry from Maccagno with a change at Stresa. This takes about three and a half hours – perfect for seeing the lake too, but not so great for a wet day like the one when we visited.
I've shared more about the monastery and why I would love to return in my post about how easy it is to visit Santa Caterina del Sasso with kids.
I love this Instagram picture by Jenny (Travelynn Family) who has also written about things outdoor loving families will love to do on the Lake.
View this post on Instagram
Another excursion that I would love to do is the Lake Maggiore bucket lift – it looks incredible!
Want to find out more about holiday in this part of Italy? Take a look at my tips for family holidays in the Italian Lakes.
Final thoughts: my Golfo Gabella Lake Resort review
Staying at Golf Gabella Lake Resort and Lake Maggiore without the kids filled me with a lot of guilt – they would love it here. The pool, lakeside location and spacious apartment are an ideal base for exploring Lake Maggiore.
I also loved the option of having breakfast in Acqudulza. This would have easily set us up for a day of traveling the lake by ferry. If you enjoy self-catering holidays and are looking for Lake Maggiore holiday rentals then do take a look at Golfo Gabella Lake Resort with Bookings For You.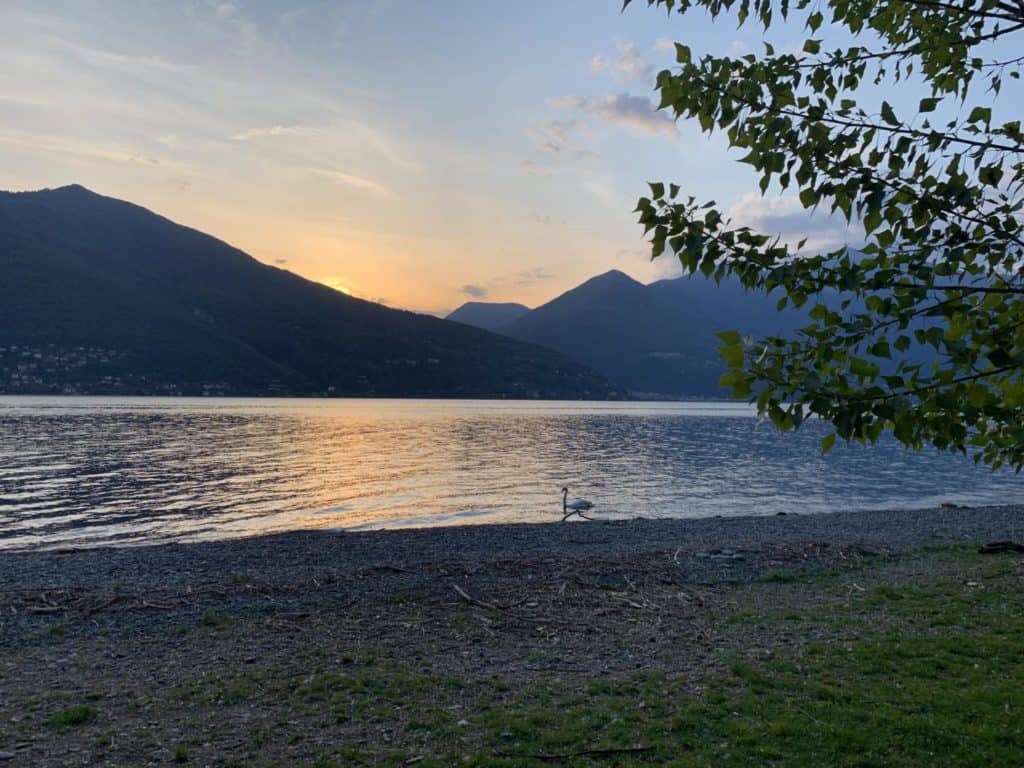 I'm now extremely excited about my return visit to Italy In July. I can't wait to see this incredible country through my kids' eyes again.
To read another review of Golfo Gabella Lake Resort read this post by Jenny who writes Travelynn Family.
Disclosure: I was invited to stay at Golf Gabella Lake Resort by Bookings For You in exchange of coverage on my blog and social media. I paid for my own flights and some expenses while in Italy. All opinions are my own.
If you are planning a self-catering holiday in Lake Maggiore why not pin this Golfo Gabella Lake Resort review for later.