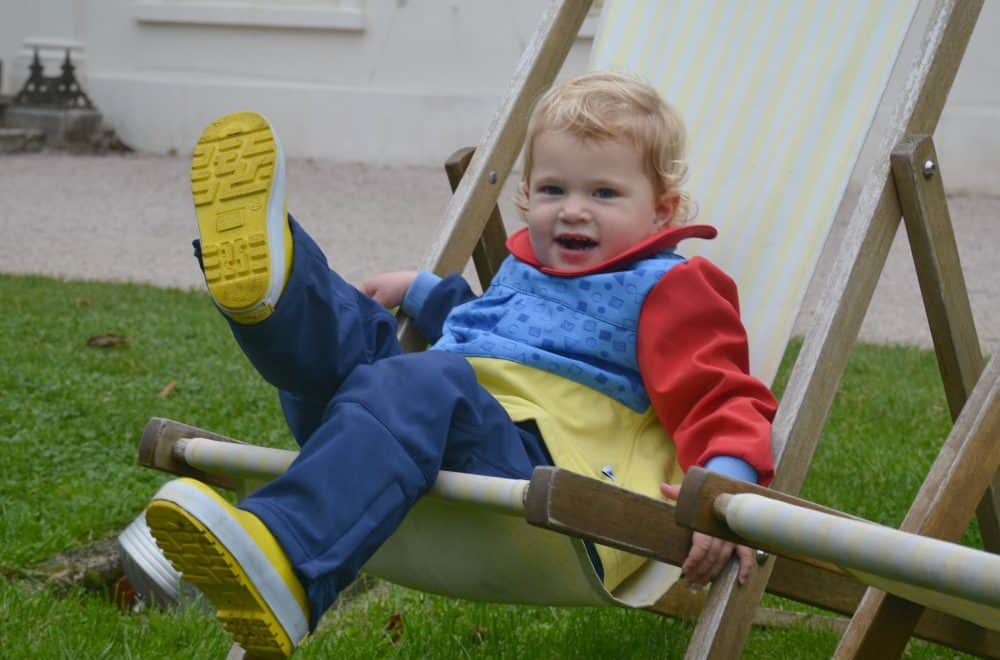 Kidunk review: tough clothes for active toddlers
Are your kids mud magnets? Mine sure are. If there's a puddle they have to splash in it. If they spot a dirty ditch they are drawn towards it like it has its own gravitational field. Our active toddler and pre-tween love getting messy.
It inevitably results in piles of washing and – even though the thought wading knee-deep into a river was the best idea ever at the time – soggy, grumpy little people.
To date we've tried water-proof trousers, all-in-one rain suits and various jackets to try to keep our girls comfy and dry when we are on outdoor adventures. However, there's always a part of them that gets damp; usually their feet.
Enter Kidunk. They got in touch with us after Just So Festival – a brilliant, and messy family festival that takes place in Cheshire every year. We were there, as were Kidunk, but we didn't get chance to chat. So it was lovely to hear from them as we share a lot of similar interests – most importantly allowing kids to have fun outdoors.
Kidunk very kindly sent us a couple of outfits to try with our girls. Read on for a chance to win a Kidunk outfit for your own active toddler.
What make's Kidunk's kids clothes different?
Kidunk's clothes are designed to be water resistant, warm and fun. They're certainly unlike any outdoor kids clothes we've seen before. Most impressive is the stay-dry design.
The colourful outer layer is Teflon coated to be water resistant and on the inside it's lined with fleece to keep your toddler warm. Our naturally warm little ladies had some thin layers on underneath their Kidunk outfits the first time they wore them and were asking to strip off.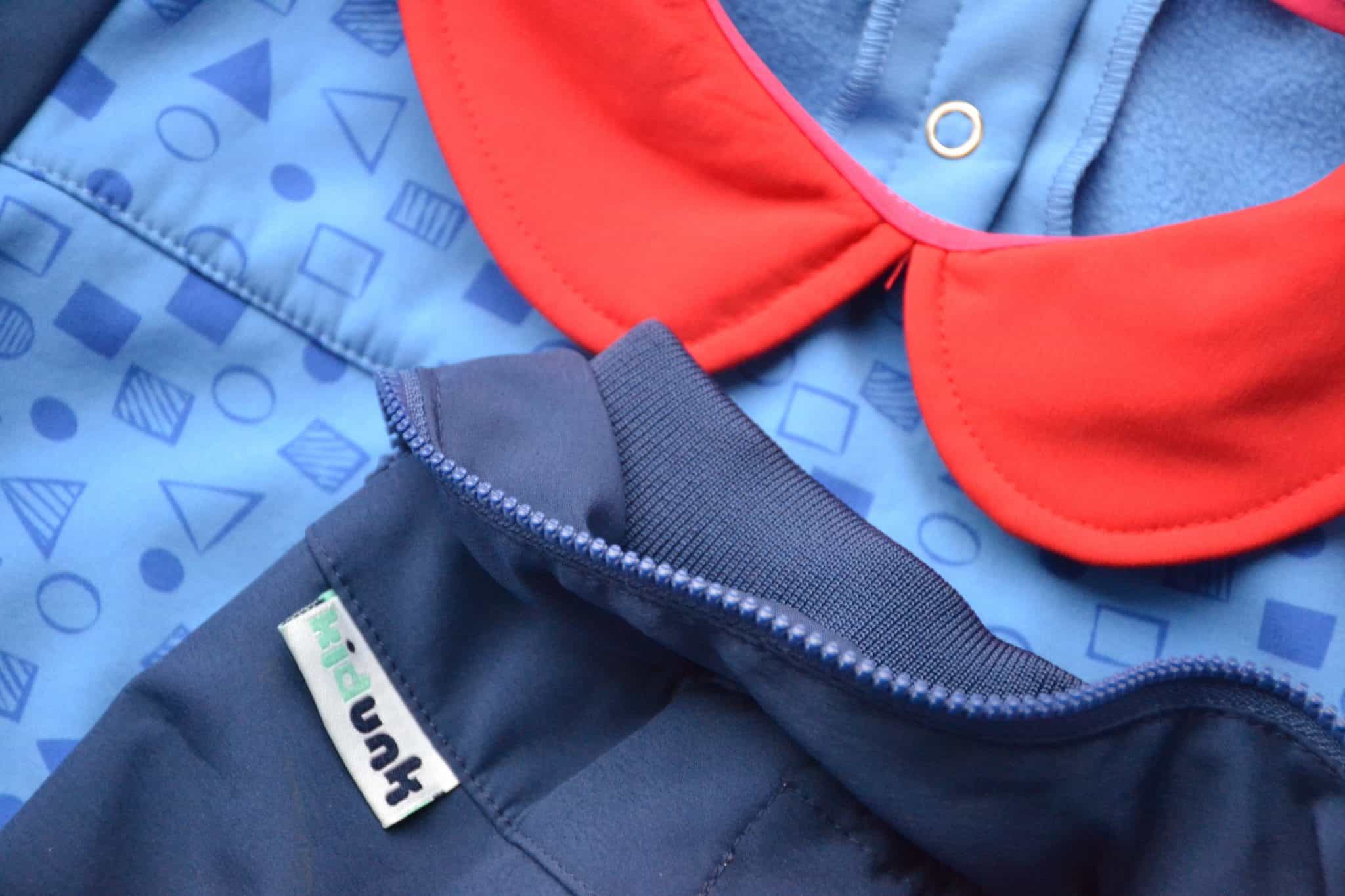 We tested the girl's Kidunk suits on a rather drizzly day visiting Agatha Christie's holiday home Greenway, which you can get to by boat from Dartmouth in South Devon. We rode on the top deck despite the rain and all wished we were wearing something as cosy as the girls!
Clever features of Kidunk's outdoor clothes for toddlers
The suits come in two parts but can be zipped together to create an all-in-one waterproof outfit. This feature proved extremely handy for us as Tin Box Baby has only recently cracked potty training. Being able to zip-off her bottoms fast is essential!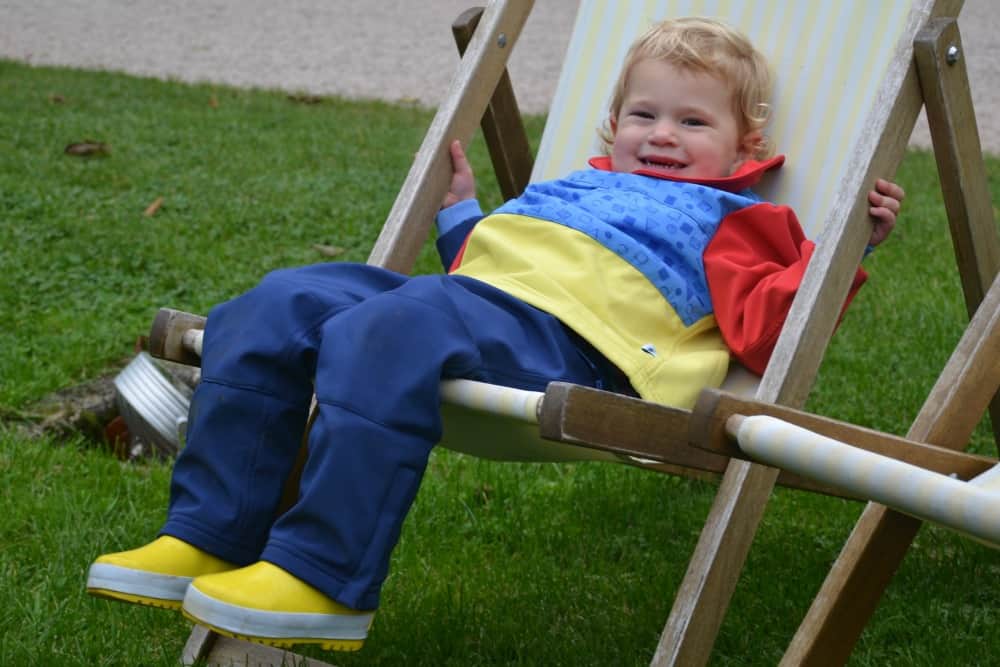 It was the bottoms that impressed me the most with expandable legs to go over wellie boots (also available from Kidunk) and elasticated leg cuffs that tuck inside boots to minimise the chance of water getting in should your toddler decide to engage in some vigorous splashing.
The verdict
Kidunk's outdoor clothing for toddlers is ingenious. The only thing we thought was missing was a hood for those days when we are out in the rain.
Kidunk trousers cost £19.99, tops are £24.99 and wellies are £18.99. They come in unisex, girls and boys colours and are available for kids aged two to four. See the full range and shop on the Kidunk website.
Win a Kidunk outfit including wellies for your toddler
We've teamed up with the lovely people at Kidunk to offer a reader a top and bottoms set, plus a pair wellie boots for their toddler. All-in-all it's a prize worth £63.97. Simply read the T&Cs below and log into the Rafflecopter using your email address or Facebook account. Follow the instructions for multiple entries. Good luck!
Terms and conditions
UK entrants only.
The winner will be sent an outfit and pair of wellie boots of their choice from the Kidunk website.
Supplying an email address within the Rafflecopter widget means the entrant is willing to be added to the Tin Box Traveller and Kidunk mailing lists. You are free to unsubscribe at any time.
All entries must be received by the advertised closing time at at 23:55 on Tuesday 14 November, 2017.
The prize is non-transferable and there is no cash alternative.
The winner will be chosen at random through Rafflecopter and will be notified as soon as possible after the draw.
The winner will be contacted by e-mail. If they do not reply within seven days another winner will be chosen.
Events may occur that render the competition itself or the awarding of the prizes impossible due to reasons beyond my control, and accordingly I may vary or amend the promotion and the entrant agrees that no liability shall attach to me.
English law applies and the exclusive jurisdiction of the English Courts shall prevail.
By submitting an entry through Rafflecopter, all entrants are acknowledging and accept the terms and conditions for the giveaway.
The winning entry will be validated and if the instructions for entry have not been followed for that Rafflecopter entry a new winner will be chosen.
Each Rafflecopter entry is a single entry into the giveaway and stands alone as such. Any incorrect entries from the winner only make these entry methods invalid, not all the winner's entries. The winning entry method from them will still be valid as long as it complies with our other terms and conditions.
Entries using any software or automated process to make bulk entries will be disqualified.
The competition may be added to a number of sites for the purposes of promotion.
Disclosure: this giveaway and blog post are a collaboration with Kidunk. We were given outfits for both our girls in exchange for a review.
Pin for later
SaveSave
SaveSave
SaveSave