Curious, magical and a lot of fun! BeWILDerwood in Norfolk was our favourite day out with kids during our recent visit to East Anglia. It's a woodland adventure based on the children's books of local author Tom Blofield, which are set in a whimsical woodland.
The stories are brought to life with ginormous tree top playgrounds, storytelling and a boggy boat ride in search of Mildred the tiara-wearing Crocklebog. The concept, tree top activities and theatrical staging were all a hit with our family group, which consisted of toddlers, tweens, mums, dads and grandparents.
Here's some of the highlights of our visit:
Contents - jump to what you'd like to know
The Story of BeWILDERwood
You can't help but be captured by the stories that inspirited the creation of BeWILDerwood. You can start your journey through the wood in exactly the same way as Tom Blofield's hero Swampy with a boat ride on the Dismal Dyke to the Scary Lake where he first meets Mildred the Crocklebog. Your boat driver tells you the tale as you go.
A fairyland setting
It's impossible not to look for fairies and imps at BeWilderwood. There are tiny tree top dwellings everywhere you look. I loved how this fed the imaginations of my two girls aged two and four. They've always loved knocking on fairy doors and so the attention to detail at BeWILDerwood was a dream come true.
Amazing tree top adventures
BeWILDerwood has numerous treetop climbing frames, rickety bridges, mazes and slides suitable for all ages. Even Tin Box Nana and Grandad had a go a conquering the Sky Maze and braved the Broken Bridge.
Zip wires and swings for all ages
Could this little lady be any happier? Baby is desperate to keep up with there sister and older cousins so being able to have a go on the toddler zip wires at BeWILDerwood made her day.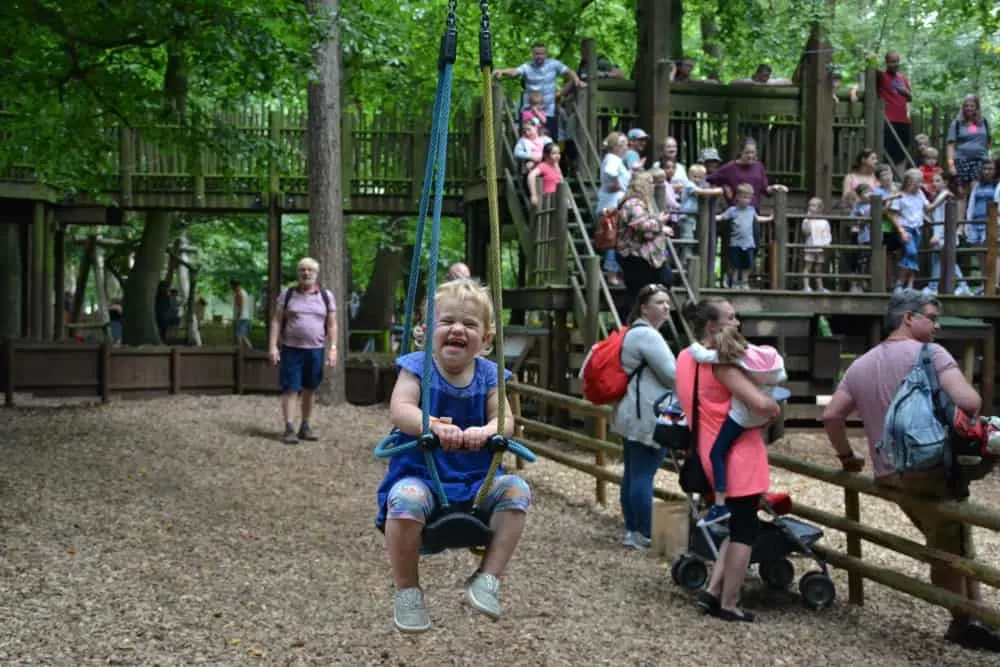 Interactive story-telling
Throughout the day storytelling happens on a stage deep in the forest. Children are encouraged to come up on the stage and dress up as woodland creatures. The puppet performance we watched ended in a procession through the park to a hidden camp where children could meet Mildred the Crocklebog and her friend Swampy.
Face painting
Don't you hate paying your entrance fee and then finding you have to fork out extra for activities you know your kids will want to do…like face painting. Well, at BeWILDerwood there's no need. The puppet shows, crafts and face painting are all included in your entrance fee. We even joined a lengthy queue to have our faces daubed and were at the front within five minutes. Top marks for face painting skills BeWILDerwood boggles!
Den building, noise making and fun
As if climbing through trees and zipping down slides wasn't enough entertainment there's plenty more to BeWILDerwood. You can build dens, follow a puzzle trail around the wood, make crafts in the Big Hat tent and have a go at forest games.
Tips for visiting BeWILDerwood
Wear sensible outdoor clothing and footwear suitable for getting muddy.
The three cafes dotted around the park are reasonably priced but you can also bring in your own picnic.
Get to BeWILDerwood early if you'd like to start your day with the boat ride. We left this until the end of our day because there was less of a queue.
The park is pushchair friendly but you will need a baby or child carrier for younger children if you intend to take them up in the trees.
Book online for a discount. Prices are based on height and children under 92cm are free. If you over-estimate the height of your kids and realise you've paid too much ask the BeWILDerwood staff nicely and they'll refund the difference.
If you have children aged 0 to 12 and find yourselves in Norfolk you have to visit BeWILDerwood! Have you been? I'd love to hear what you thought.
To find out what else we got up yo during our holiday in Norfolk check out our summer UK road trip itinerary. If you enjoy outdoor fun you might also enjoy my post about boating on the Norfolk Broads with kids.
Pin for later
SaveSave