8 hours in the Isle of Wight with kids – a coastal adventure with Parkdean Resorts
We love holidays by the sea. Beach days in particular are a staple activity for us during UK staycations. But there's so much more to the British coastline than buckets and spades. Dotted along the shoreline are historic sights, bustling marinas and quaint seaside towns. You can also find some awesome places to eat, serving up fresh sea food and delicious ice creams. We have partnered with Parkdean Resorts for their Coastal Adventures campaign to share a small fraction of what the British coastline has to offer holidaying families. We spent a day on the west of Isle of Wight where you'll find Parkdean Resort's Thorness Bay Holiday Park. Here's what we found on the Isle of Wight for kids:
A day on the Isle of Wight with children – rediscovering adventure island
Before telling you about our great day I have to admit that I'm guilty of taking the Isle of Wight for granted. I lived in sight of the Island for most of my life and it never really occurred to me that this 25 mile by 13 mile land mass could hold any particular secrets as it was just 'there' each time I looked out across the Solent. I visited as a kid and again with Mr Tin Box before we had our own children, but not nearly enough.
It's only since moving to Devon two years ago that I've realised we'd been missing out and should have made more of an effort to explore the Island while it was so close. After all, nearly 2 million people make the Isle of Wight their holiday destination of choice each year – adventure island has been staring me in the face for years.
Luckily we had chance to make up for lost time when Parkdean Resorts invited us to film a family day out on the Isle of Wight for their #CoastalAdventures campaign. As well as our girls we took along their grandparents and Tin Box Dog.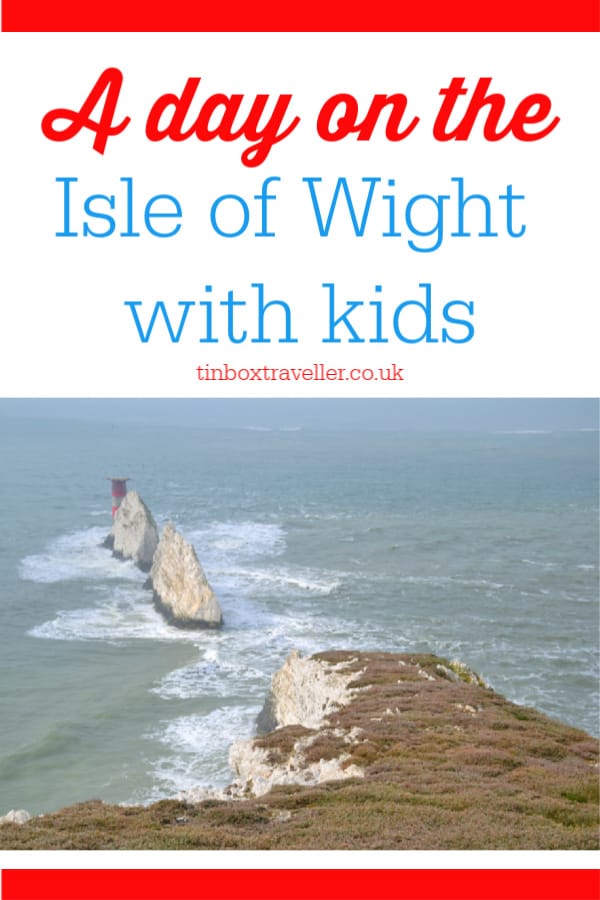 Things to do on the Isle of Wight with kids
There's absolutely no way to see everything there is to do in the Isle of Wight in a day but we wanted to give it our best shot and picked out some great attractions for families. Here's our eight hour itinerary including loads of things to do with kids on the Isle of Wight:
We arrived in Cowes by car ferry from Southampton and headed inland to Newport before joining the road west towards The Needles. You can also cross the chain ferry from East to West Cowes to shorten the distance if it is running. Our route to Needles Park took us about 45 minutes driving along inland A roads through Freshwater to Totland.
The Needles and Alum Bay
The Needles are made of chalk and flint, and were originally part of the cliffs jutting out to the west of the island. The 30 meter columns were formed by coastal erosion with the main cliff collapse happening in 1765. More recently I remember the arch falling into the sea, changing the modern day face of The Needles. There's plenty of great Isle of Wight facts for kids to soak up. Ours also love dinosaurs and I can't wait to take them back another time to see some of the dinosaur attractions on the island.
Alum Bay is famed for its multi-coloured sands. We didn't get the full benefit of the brightly layered cliffs as it was a dull day but we did get to make our own sand ornaments in The Needles Sand Shop in the Isle of Wight's Needles Park.
The timing of our visit to Needles Park was rather poor as it was one day ahead of the main season when most of the attractions, including the chairlift down to the bottom of the bay, opened. However, you can access the beach via steps whatever the time of year. It's a great place for fossil hunting, paddling in the warmer months or taking a Needles boat trip.
For the closest view of The Needles from land take a walk out to The Needles Battery.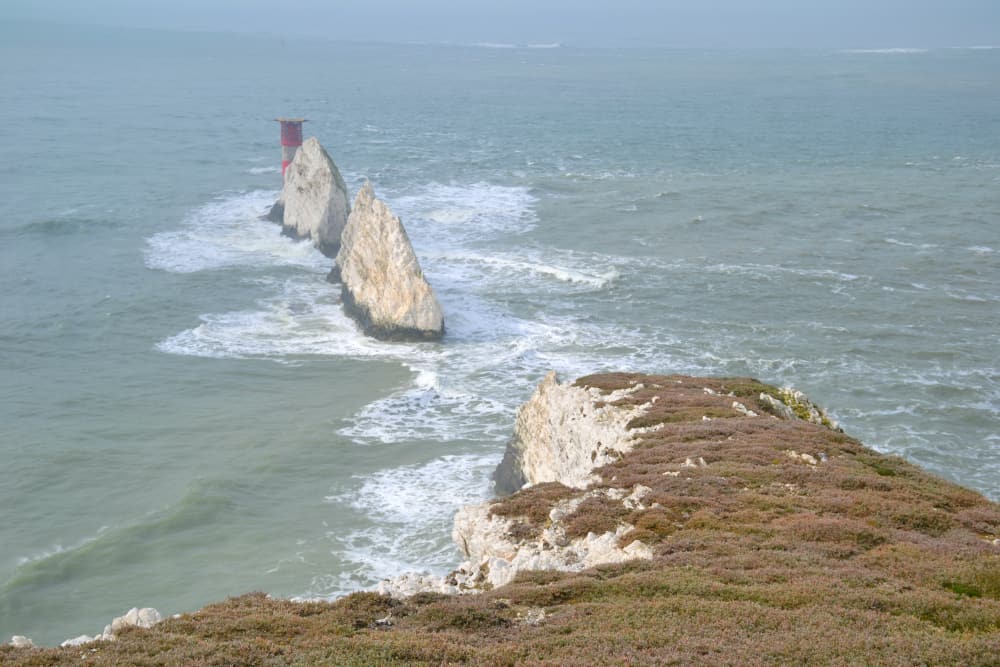 What is the Needles Battery?
This 19th Century fort protected the Solent between 1864 and the end of World War II in 1945. In fact, one of the Tin Box great-grandparents was stationed here for a while. The Needles Battery is now a National Trust owned property and has great views of The Needles from the old Fire Command Post and Searchlight Position which can be reached through tunnels carved into the cliffs.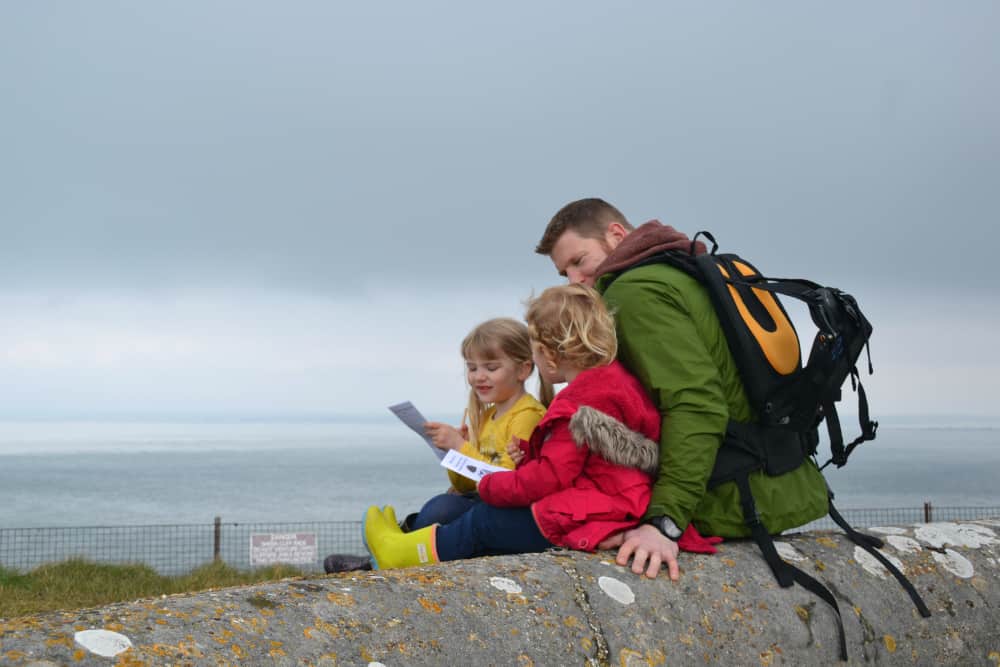 Our girls enjoyed walking around the top of the walls, peering into the guns and searching for toy soldiers to complete a treasure trail.
You can also visit the Highdown Rocket Test site higher up the cliff. It too is looked after by the National Trust but is open to the public for free. During the 50s and 60s it was a top secret establishment where scientists tested missiles.
There were control rooms, laboratories and workshops with space for up to 240 people during peak operations. The site closed in the 1970s. Stepping into the underground complex is like stepping back into the Cold War – it was fascinating for Mr Tin Box and I but might not have held the girls' attention for long. Luckily they had hopped on a bus to head back to Needles Park with Tin Box Nana and Grandad.
Needles Park
At Needles Park we grabbed a quick drink in Marconi's Restaurant which serves hot and cold meals as well as ice creams and snacks.
It was then time to make something I remember vividly from my trips to the Island as a child – a sand ornament. The Sand Shop is a must-do for kids. They can choose a glass or little finger-friendly plastic shape, from animals to stars and light bulbs. You then spoon different coloured sand into your shape before a member of staff helps to feather the layers and seal it. Even with some pretty heavy handed and random layering the resulting cat and bunny ornaments thrown together by our girls were surprisingly effective. Update: please check in advance if the shop is open as it has been having a refit.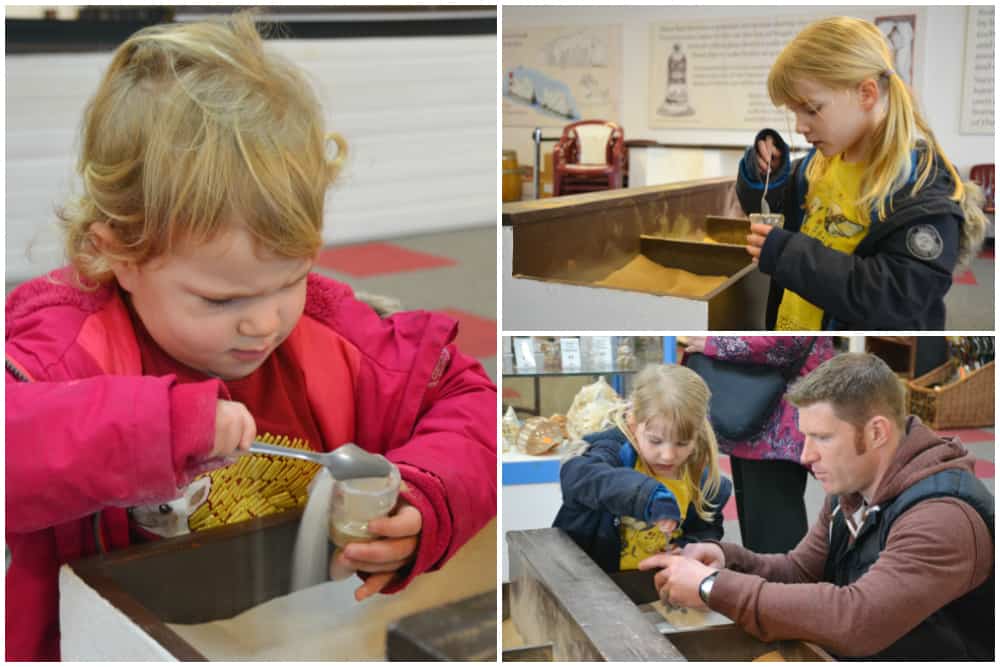 Handy information about visiting The Needles
The closest you can park to the Needles is at the Needles Park visitor attraction at Alum Bay. Parking costs £5. This is a 20 minute walk (one mile) or a short bus ride away from The Neeedles. On your way back catch the Needles Breezer service from Needles Park or Needles Battery.
If you're going to use the bus more than a couple of times during the day it might be more cost effective to get a 24 hour pass. A one-way ride from Needles Park to Needles Battery (the closest stop to the Needles) cost £2.50 per adult, £1.90 per young adult and £1.25 per child when we visited in 2018. Mr Tin Box and I walked both ways but the grandparents and girls took the bus back. Check the most up-to-date fares here.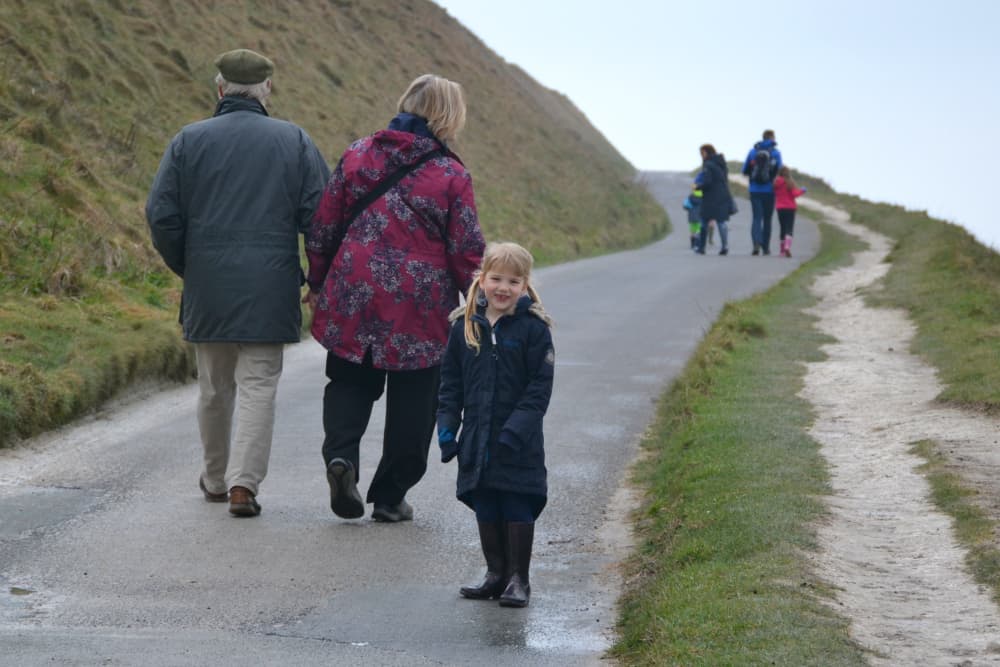 Lunch and some beach time in Yarmouth
The Needles is a day out in itself but we were keen to find somewhere else to have lunch and explore before catching our ferry home from Cowes to Southampton, so we made Yarmouth our next stop. Before we got to the seaside town we found The Boathouse – a waterside restaurant – where we ate delicious seafood dishes and watched the world sailing by.
The restaurant is next-door to Fort Victoria County Park which is known for its Archeology Discovery Centre, planetarium, model railway and reptile centre. We took the opportunity to have a run around on the beach before moving on to Yarmouth town itself.
Yarmouth Castle is an ideal vantage point for watching sail boats travel up and down the Solent. Inside you can see how the fortification would have looked in the 16th Century. Sadly we visited during the few weeks of the year that the Tudor castle is closed. We'd love to go back another time.
All too soon it was time to head back for our ferry but not before we found an ice cream in Cowes. The Plaza on Cowes High Street has a great selection of Kelly's of Cornwall flavours but it was the whipped vanilla that was a hit with the girls and gave them the sugar rush they need for the journey home.
Is the Isle of Wight dog-friendly?
Tin Box Dog loved her day on the Isle of Wight, walking out to The Needles, exploring The Needles Battery and rocket site, and the beach with us. The Isle of Wight is definitely a dog-friendly day out and holiday destination. Dogs are welcome on most Isle of Wight beaches all year round and for eight months of the year they are pretty much welcome everywhere.
How to get to the Isle of Wight with kids
There are a few ferry options to the Isle of Wight but we took the Red Funnel car ferry from Southampton to Cowes. This takes an hour and is a great service complete with comfy lounge areas, and a canteen serving hot and cold meals and snacks.
Our girls enjoyed watching the world sail by from the the large picture windows and grabbing some fresh air on the promenade deck. You can also get the Red Jet passenger ferry from Southampton which is a quicker crossing and suitable for anyone planning on walking, cycling or getting public transport around the island.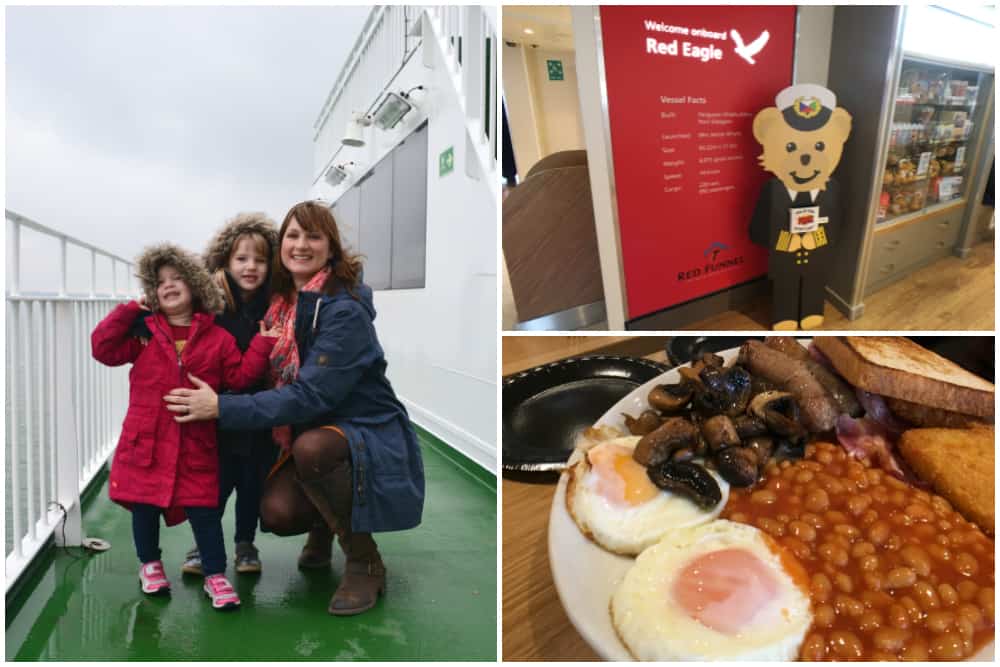 A crossing costs from £56 for a short-break return for a vehicle and up to seven passengers. The high-speed foot-passenger Red Jet service costs from £9.70 for an adult return. Find out about Red Funnel ferry times and prices on their website.
What about visiting the Isle of Wight without a car?
Mr Tin Box and I visited the Isle of Wight without a car about seven years ago. We caught the Red Jet passenger ferry from Southampton to Cowes where we were staying and got around the Island on food and by bus. It was easy to catch a bus from Cowes to Newport in the centre of the Island and get everywhere else we wanted to go from there.
During our week on the Isle of Wight visited Carisbrook Castle, Yarmouth, Osbourne House and the Isle of Wight Festival.
Disclosure: this post and video have been produced in a paid partnership with Parkdean Resorts. We received a complimentary return ferry crossing from Red Funnel in return for some social media and blog coverage.
Planning a visit to the Isle of Wight with kids or want some inspiration for things to do on the Isle of Wight with kids? Pin this post for later!