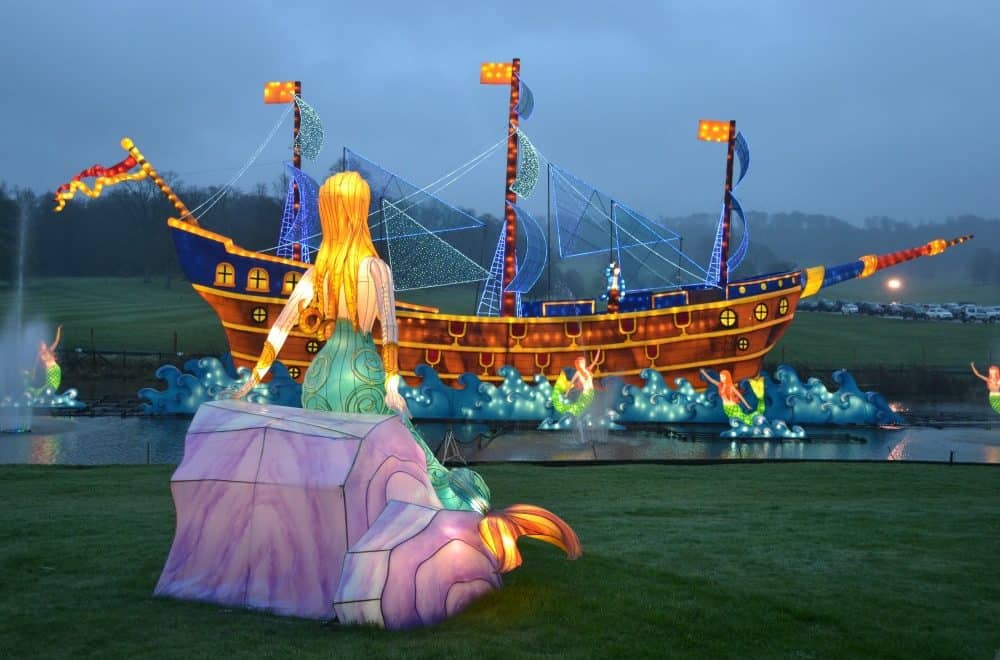 Longleat Festival of Light review – a magical winter experience 
Sparkle? Check! Fairy tales? Check! Dancing princesses? Check! Oh, and a dazzling 50ft Christmas tree spreading festive cheer through the medium of light and sound? Check! Could there be a more magical winter experience than Longleat Festival of Light in Wiltshire? After being invited to review the UK's largest Chinese lantern event, we think you'd be hard pressed to find winter illuminations to top it!
We visited the Festival of Light in 2017, so this post gives you a taster of the scale of this amazing event. In 2019 the theme is myths and legends. Read on to find out our tips for visiting, plus how to get tickets.
*Advertisement feature*
About the Festival of Light at Longleat
The Festival of Light is an incredible event. In the year we visited a whopping 30,000 meters of silk were used to create the displays including the Festival's tallest castle which stood at 25.5 meters.
Other fantastical fairy tale scenes featured Hansel and Gretel's gingerbread house with moving lollipops, a 30 meter floating galleon from where the Prince captures the heart of the Little Mermaid, and Twelve Dancing Princesses pirouetting the night away.
A wander through the magical lanterns
We saw the Festival of Light as part of a full day out at Longleat Safari Park with our girls aged two and four. It was the perfect finale to our visit and thanks to it going dark before 4pm we didn't need to push them on too far beyond their energy limits to see all the lanterns. Here's a taster of what we saw:
There's a one way system around the formal gardens but the rest of the lanterns can be viewed in any order. The lights started to switch on from 3.45pm outside Longleat House so this is where we began the trail.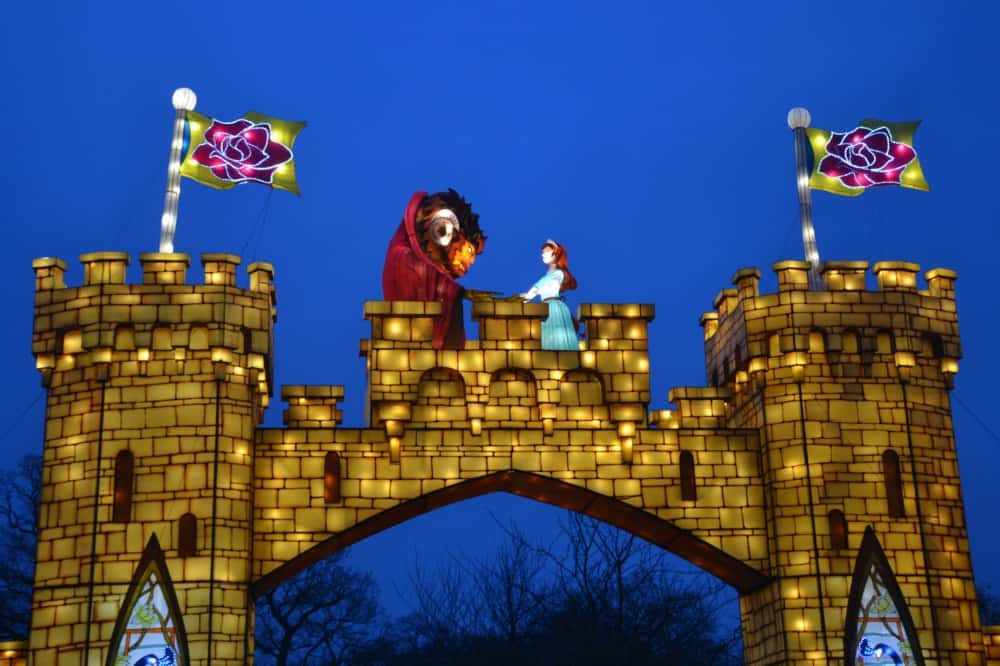 Don't miss…
As well as the lanterns there's other special activities happening around the Festival of Light in 2019:
A Winter Safari drive through
The stunning Longleat House will have special seasonal exhibition featuring King Arthur and Merlin; embracing the Festival of Light's 'Myths and Legends' theme. This house is just incredible, whether decorated for Christmas or not! We were wowed during our tour.
Admire the 50ft multimedia Christmas tree in the Main Square. There are several shows after the dark when the tree comes alive with light and music, and festive scenes are projected onto the buildings around it.
The A Flight Before Christmas show in the Longhouse is a wonderful opportunity to hear a different version of this classic seasonal tale. The stars of the story are the owls who spread their wings as pages turn.
Worried about visiting Longleat on a wet day? There's still plenty of things to do at Longleat in the rain.
Tips for visiting The Festival of Light at Longleat
The whole lantern trail is outdoors so wrap up warm.
The trail is buggy friendly, but if you decide to go into Longleat House or the Longhouse you'll have to leave your pushchair outside.
There's plenty of places to sit down to eat indoors or at food stalls outside, but these will get very busy around dusk. Arrive early, leave yourself plenty of time to dine or bring some snacks. We ate in the Pizzia Piazza at 1pm and didn't have problems getting a table. But by 4.30pm there were long queues.
Throughout the Festival of Light the Winter Safari opens at 9:30am. Last entry is at 2pm. You need to leave
Final thoughts on Longleat Festival of Light
This truly is a magical event and, for us, was a special way to start the Christmas holidays. It was a sell out on the Sunday we visited and did get busier as the day progressed but the crowds were manageable. Arrive early – it doesn't need to be fully dark for you to appreciate the lanterns – and take a slow walk around to admire the illuminations and soak up the atmosphere.
Tickets for Longleat's Festival of Light 2019-2020
Tickets for Longleat's Festival of Light must be booked in advance. Some dates are already on limited availability. The 2020 festival is themed on myths and legends from across the world. The Festival runs from 9 November 2019 until 5 January 2020.
Read more about things to do at Longleat, especially on a rainy day!
Disclosure: we were given free entry to Longleat Safari Park for the purposes of writing a review. All opinions are my own and those of my family.
Planning on visiting Longleat's Festival of Light in 2019? Pin this post for future reference.
SaveSave
SaveSave
SaveSave
SaveSave
SaveSave