Everything you need on your family camping checklist
If you are planning a family camping trip then you want to rock up with the right camping equipment. Whether you are checking your camping gear ahead of the season or are going camping for the first time, here is our family camping checklist with everything you need for your holiday under canvas.
Planning a camping holiday during COVID-19? Here's some tips for safe camping this summer.
Here's what to expect at UK campsites reopen.
*This post contains affiliate links*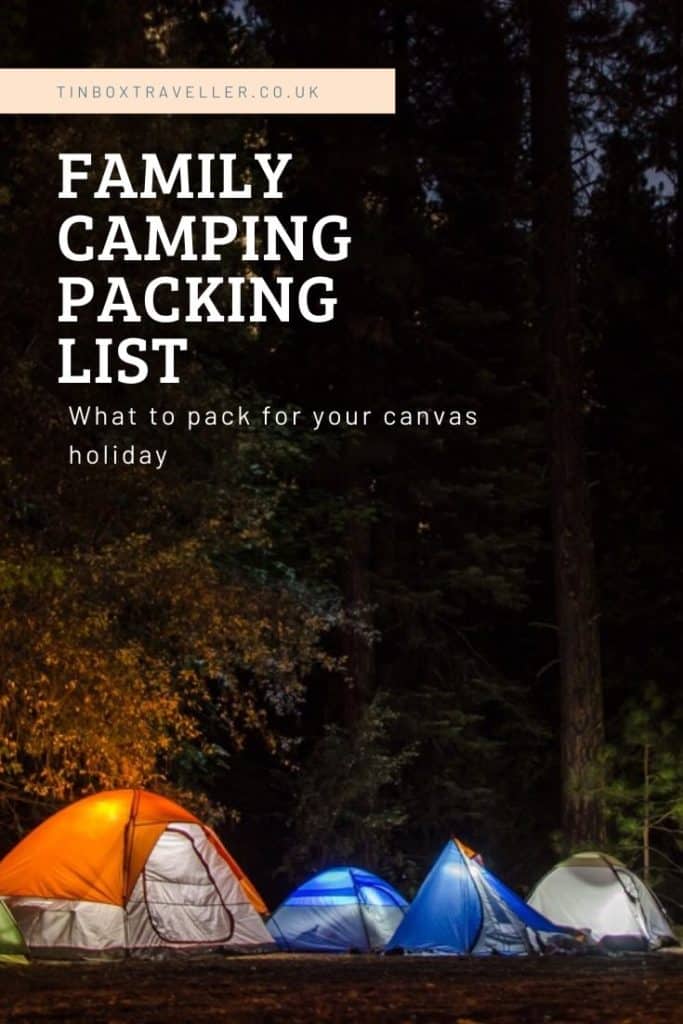 Camping equipment list
This is your list of essential camping equipment – don't leave home without these!
If you don't mind filling your car with camping equipment, here's some extras you might like to add to your family camping checklist for comfort and convenience:
Check out our 10 simple camping tips for advice on how to pack your car as well as more advice.
Groceries for your camping trip
It's easy to pick up groceries on the way to your campsite or when you get there, but you can save yourself time and money if you take some groceries from home. Here's some of the kitchen basics on our camping essentials list:
Kitchen roll
Toilet roll
Tea and coffee
Condiments
Cooking oil spray
Squash/fruit cordial
Cling film
Tin foil
Margarine
Breakfast cereal
Washing up liquid and sponge
Antibacterial wipes or spray
Bin bags
Hand wash
Washing detergent.
If you are planning your menu before your trip take a look at these camping food ideas.

Must-haves for family camping
If you are camping with kids then we can recommend adding these practical items to your family camping checklist:
Sun cream
Insect repellant
Hayfever medication
Sun hats
Swimming costumes
Warm blankets
Layered clothing
Pencils, colouring pens and paper
Wellington boots
Bikes or scooters
Must-haves for camping with toddlers and babies
Some of our first family holidays were in our caravan. Here are the essentials for camping with toddler and babies that we always packed:
For more packing lists for travel with babies, toddlers and children take a look at my ultimate guide to family holiday checklists.
More family camping checklists
Camping comes in many different shapes and sizes. If you are going glamping or away in a caravan, motorhome or camper van then you might also like to check out these other camping packing lists:
You might also want to check out these common camping mistakes you can easily avoid.
More camping blog posts
Here's some more caravan and camping blog posts you might enjoy:
For more travel advice and reviews take a look at my tips for smashing travel with kids and sign up to my newsletter.
Disclosure: this post contains affiliate links marked with *. If you click on one of these and make a purchase I may earn some commission. This does not affect the price you pay.
If you have found this family camping checklist helpful then why not save it on Pinterest.