Caravanning with a baby: beds fit for newborns to toddlers and pre-schoolers
Over the years I have had messages from lots of new parents who have started caravanning with a baby or toddler and are wondering what's the best sleeping arrangements for young children in a caravan?
*This post contains affiliate links*
We started caravanning with Baby and Tot when they were just weeks old. A lot of people think that might be quite hard but I found it easier than being at home. Everything I needed for feeding, burping and nappy changing close to hand.
Plus, there was always someone on the campsite who wanted a cuddle while I did otherwise complicated tasks like going to the loo on my own.
Since we became parents we've had a few different baby sleeping arrangements in two different touring caravans. Our kids are now aged seven and five-years-old and we have a camper van so we've had to reassess our sleeping arrangements again!
Here's how our family sleeps in a VW T5 van.
But most importantly for families caravanning with a baby, here's what's worked for us in a touring caravan:
Caravan baby beds – newborn to toddlers and pre-schoolers
Newborn caravan bed
Both Baby and Tot started off sleeping in the flat pram top of our Quinny Buzz. We either positioned this on one of the seating benches or at the end of our bed to give us easy access to them.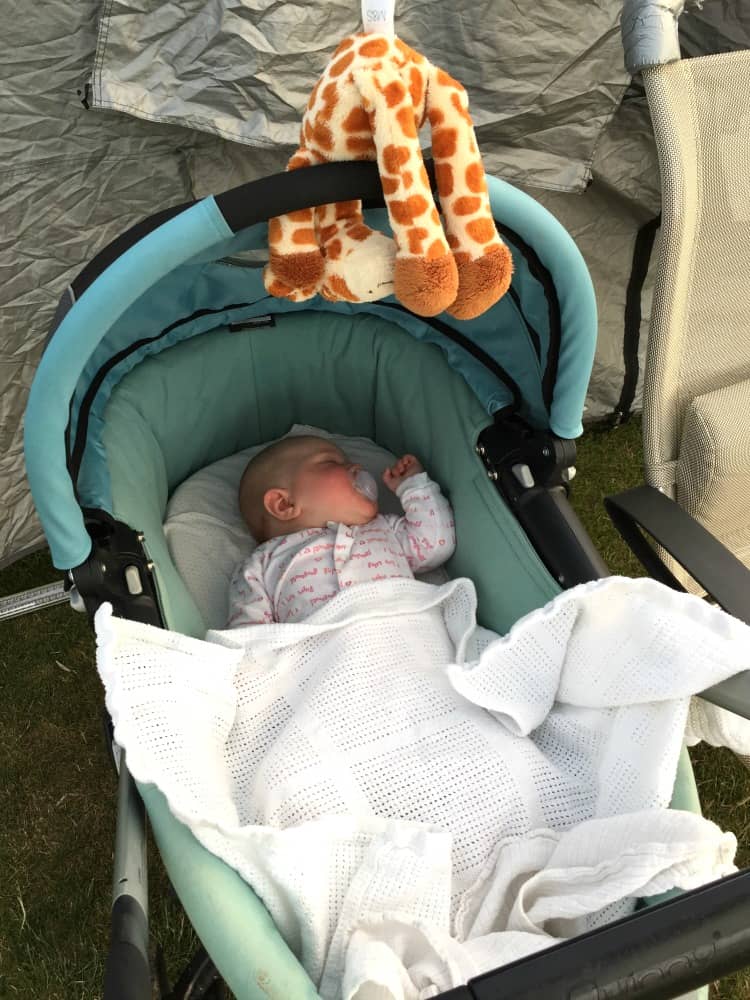 A compact Moses basket like a Koo-di* would also work.
I'd recommend putting this on your bed or a seat if possible as the floor of a caravan can get cold at night if you have an older, less well insulated model.
If you have a newer model caravan with underfloor heating then it could also get too warm for your little one.
Baby caravan bed
At six-months-old Tot was getting far too long for her pram top so we had to come up with another solution. At the time we had a Bailey Senator Arizona with a side dinette that converted into bunk beds.
We didn't need the top bunk so Mr Tin Box did some modifications to the bunks.
Explained simply, Mr Tin Box unscrewed the two planks that make up the folding side dinette bunk bed. These provide barriers on either side of the 'cot'. The seat cushions can be arranged to make the bed larger or smaller to suit.
You could achieve something similar with a bed guard*.
We used the bedding from the girls' baby cot at home with the addition of a Pampers bed mat in case of leaks. It was simple but effective. Later we got this washable waterproof sheet*, which is excellent.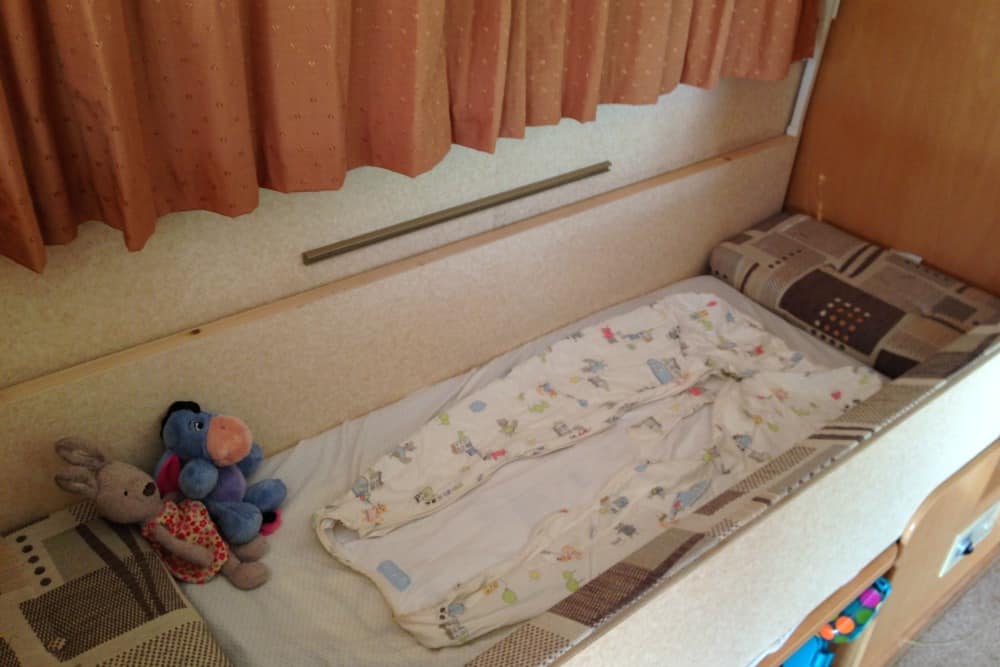 When Tot became a bit more mobile we made sure there were cushions on the floor to break her fall if she did try to crawl out at night. You'll find that spare cushions become your friend when setting up any kind of caravan bed for young kids!
Sleeping bags are also a must. We loved Grobag sleeping bags* for our girls when they were caravanning as babies. These meant if they rolled around a bit they were still snug.
There are various togs and you can add an extra blanket for colder months.
Toddler caravan bed
The bottom bunk with sides worked well for Tot until we changed caravans when she was two. This coincided with Baby arriving.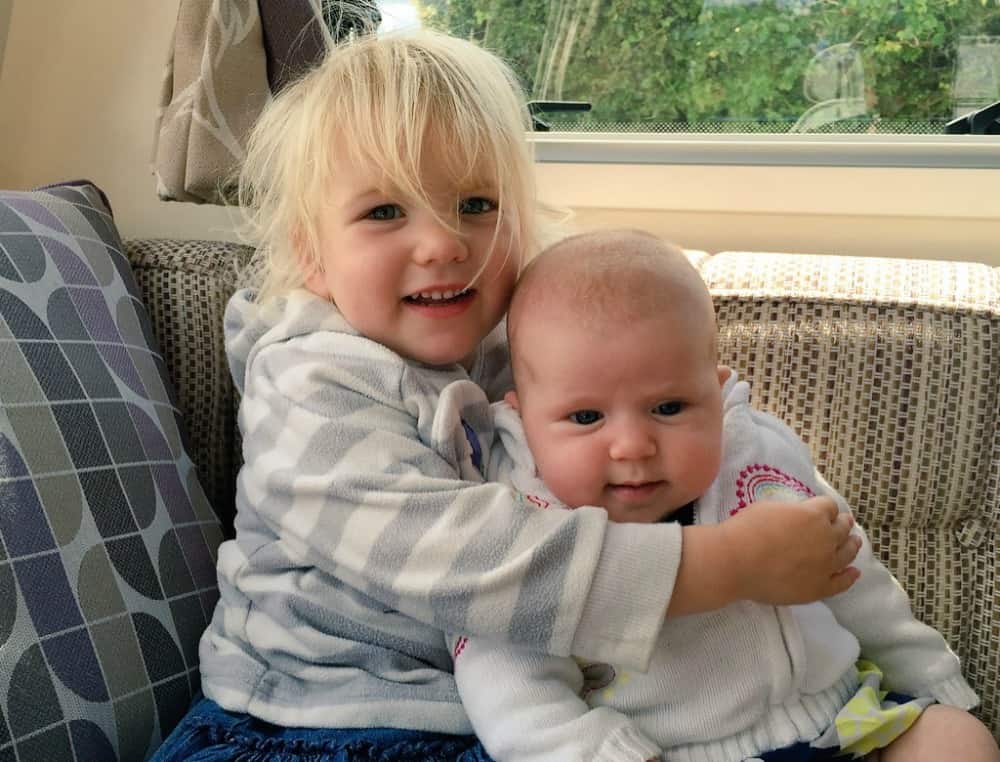 In our Vanmaster Applause 580 we had a fixed double bed towards the back of the caravan and two seat benches at the front. These converted into another small double bed.
This is what we turned into Tot's caravan bed at the age of two. We made up the whole bed with cushions down the middle and at the end so she didn't roll around too much or fall out.
We put more cushions down the middle to form two sleeping areas when her little sister was old enough to join her.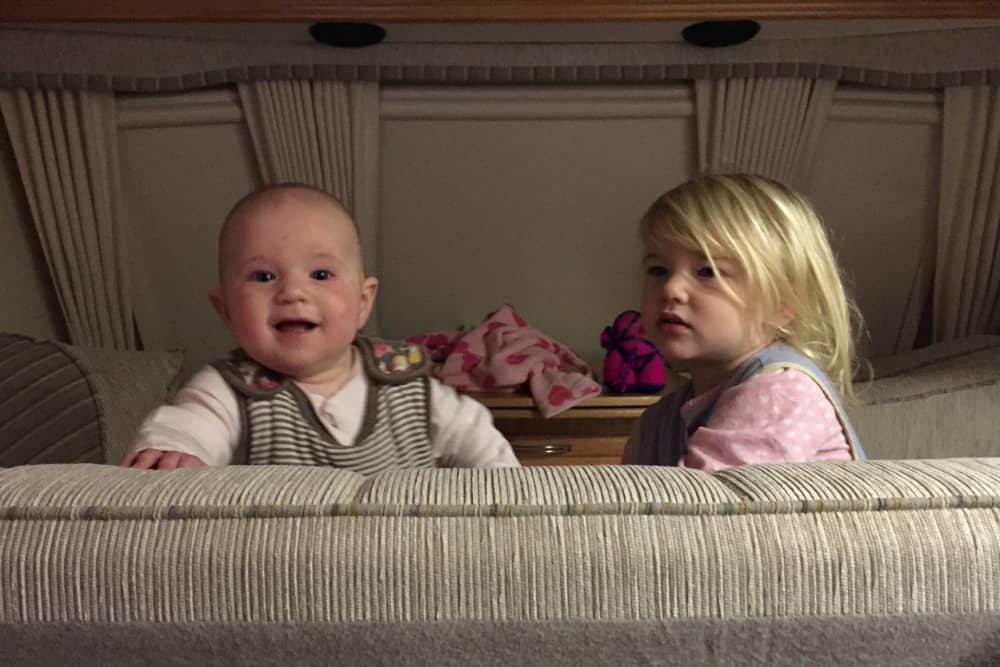 Pre-schooler caravan bed
When the girls turned five and three we didn't make up the whole front double bed.
Instead we made up two single beds for them on the benches and arranged cushions in the gap in-between incase either fell out in the night. This generally didn't happen.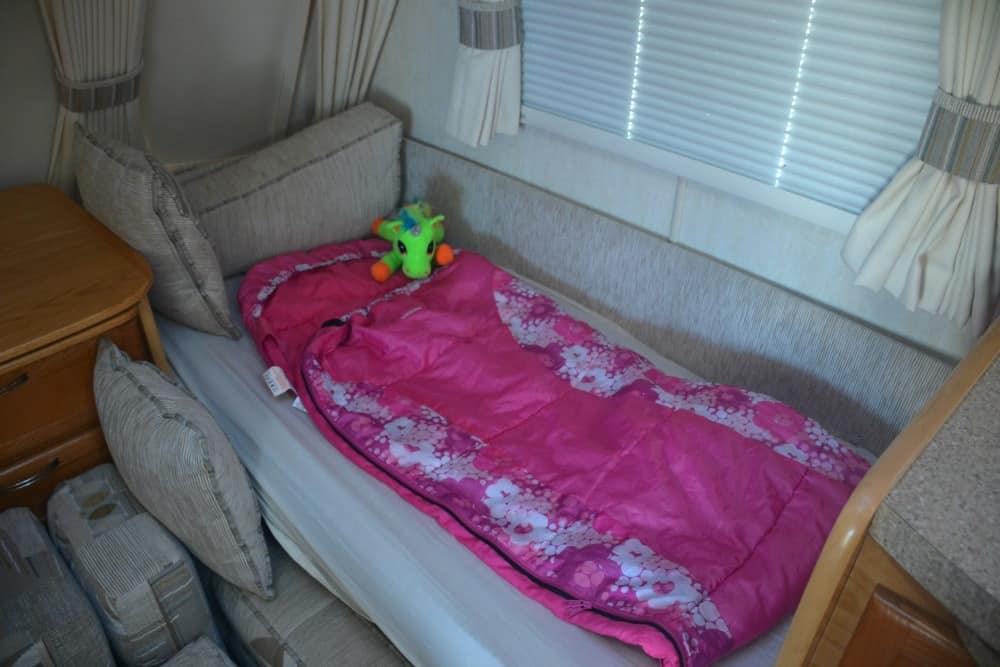 This arrangement lasted until we sold this caravan when the girls were three and five. It would have worked for longer or at least until they grew out of the 1.5m in long benches.
At this point we bought our camper van but if we had been in a position to get another caravan we'd probably be looking for a caravan with bunk beds. Something like the Bailey Phoenix 650 family caravan would be ideal.
Luckily, once your kids hit five-years-old caravan manufacturers seem to cater a lot more for family needs.
Read our Bailey Phoenix 650 review.
Bigger sleeping bags are a must once the kids hit three. We have reviewed the Vango Kanto Junior sleeping bags.
Travel cots for caravans and mobile homes
At the time we were caravanning with babies we couldn't find a travel cot that was compact enough for using in our touring caravans.
The Koo-di mentioned earlier would have been a good option. But our pram top was just an useful, especially as we didn't need to buy another piece of baby kit.
If you are staying in a mobile home caravan and a travel cot is not supplied then you might want to consider something like this which is compact and lightweight:
More tips for camping and caravanning with a baby or toddler
If you'd like more tips on holidays and caravanning with a baby or toddler then check out these posts:
If you have any questions about caravanning with a baby or have any tips to share yourself then please comment below or get in touch.
*Disclosure: this post contains Amazon affiliate links which means I may earn some advertising fees if you click on an affiliate link and make a purchase. You will not be charged extra for this.
Planning on caravanning with a baby and wondering where they might sleep? Save this post for future reference!