5 tips for a civilised road trip with toddlers
This week were setting off on a staycation around England that will see us doing an 850 mile round trip towing a caravan. We'll be stopping in four different counties and clocking up around 20 hours on the road over two weeks. I can't lie, this epic road trip with toddlers is going to be a challenge, but it's one we're willing to take up in exchange for special summer memories.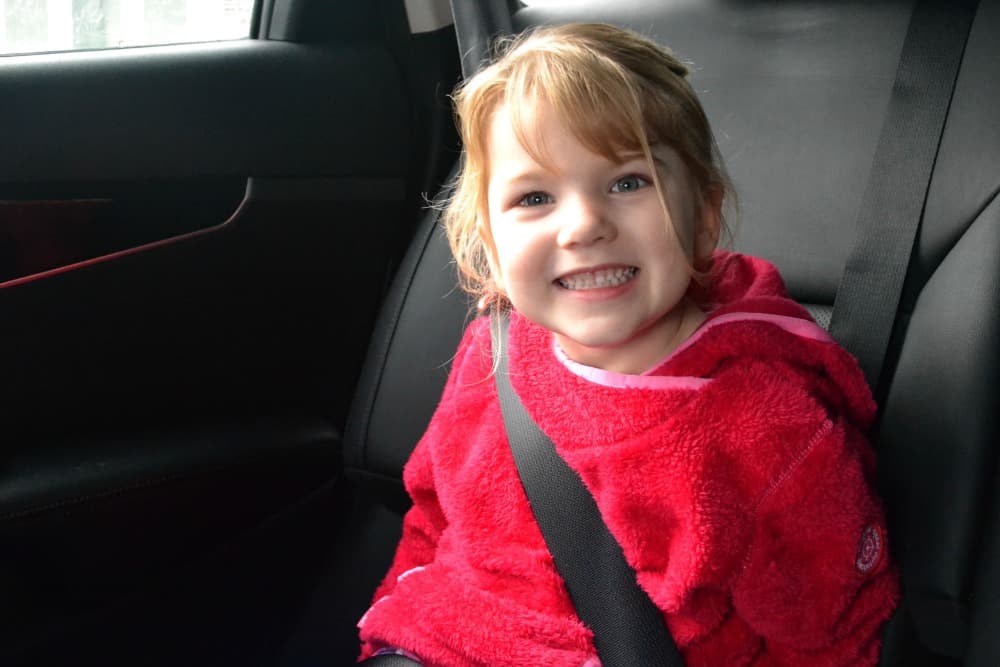 The great British family road trip
Having done many a long journey with our girls I know the rewards far outweigh a few fraught hours in a car. The motoring experts at Jardine Motors* agree. They carried out a survey of 1,400 adults with children under the age of 16 to find out what motivates family road trips. Top destinations include beaches, theme parks and national parks, while 27 percent of families will visit five or more city destinations in a year.
I think we're already well on our way to travelling the average 1,957 miles by road in 2017, having already made trips to Derbyshire, Cornwall, Hampshire and Surrey. You can see a roundup of the survey results in this handy infographic about family road trips.
Jardine Motors also found a lot of common tricks for avoiding situations that might potentially ruin a road trip. Eye spy proved a popular game for avoiding boredom on the back seat with 70 percent of families playing it during car journeys. Half of parents also admitted passing over electronic devices to entertain the kids.
During each of our long car journeys with kids we have experienced situations with the potential to spark a toddler meltdown. So I speak from experience when I share my tips for avoiding them.
Tips for a road trip with toddlers
Allow for potty training toddlers
We've made two long cross-country road trips with our toddlers just at the point at which they've been potty training. I know you're not meant to go back to nappies once you've introduced proper pants but when your toddler has got to go you'll be glad you reached for the pull-ons. An alternative is lining their carseat with an absorbent bed mat to catch any accidents. Also make sure you have a travel potty to hand for when you stop. This will save a mad dash to the service station loos.
Combat boredom
This is always a tough one as what entertains our girls one day is old hat to them the next. I'm sure your kids are the same. It's always best to have a full armoury of boredom busting ideas. Here are just a few that we rotate:
Eye spy
Wrapping up little toys to open each hour doing the journey. You needn't buy anything new. Ripping off the paper is half the fun
Spotting cars, caravans, sheep and cows
Magazines
Stickers
Colouring books and washable pens
Etch A Sketch
Flash cards and trading cards
Feed hungry tummies
A mistake I make far too often is not bringing enough snacks or putting them somewhere I can't reach. Always pack more than you think you'll need – ALWAYS! Healthy treats that go down well with our girls include raisins, squeezey yoghurts, Babybels, satsumas, hummus and vegetable sticks, ham wraps, and Organix soft oaty bars. Don't forget to fill their water bottles before you leave too. Food is bound to make them thirsty.
Avoid car cabin fever
Traveling around nap times will save a lot of toddler frustration and might even help you avoid too many enquiries about 'are we nearly there yet'. When the kids are due to wake up, stop to allow them to burn some energy before you set of again.
Make a day of it
Speaking of stops, don't let your road trip be all about your ultimate destination. Plan in some interesting places to visit along the way. National Trust properties are one of our favourites as we are members so the parking and entry are free. They usually have a good cafe too incase those toddler tummies are rumbling again. Other good places to pull over for a rest, apart from motorway service stations, are farm shops, country parks and tourist attractions. Check your route before you leave home.
What are your top tips for keeping things civilised during a road trip with toddlers?
*Disclosure: this post has been written in collaboration with Jardine Motors. All opinions are my own.
Pin for later