Woodlands Theme Park Santa's Grotto – the best Santa experience in Devon
We've visited Santa's Grotto at Woodlands Theme Park a couple of times and we think it gets even more magical every time. In 2018 were invited to a preview of the grotto and to meet Santa before the festive Devon attraction opened to visitors. The Woodlands grotto is back in 2021! Here's a hint at what you can expect from Woodlands Theme Park Santa's Grotto, including a video of our grotto tour in 2018.
*Advertisement feature*
Tickets are now on sale for the 2021 Santa's Grotto at Woodlands Theme Park.
Woodlands is a family attraction including indoor and outdoor thrill rides and play in South Devon. It's one of our top things to do in Dartmouth with kids come rain or shine. Each school holidays there are additional themed activities for families including a truly spectacular Santa's Grotto.
Santa's Grotto at Woodlands Family Theme Park
Woodland's Santa's Grotto was a sell out when it last happened in 2019 – so book early for 2021! If you have tickets already then you will love it. We think it's the best Santa's Grotto in Devon – we've certainly not experienced one better.
Here's where you can see our review of Woodland's Santa's Grotto in 2017. Read on for our review of 2018.
If you'd prefer not to have any spoilers then you might like to skip over my video which gives you a tantalising taster of what the grotto's nine rooms and Santa experience looked like in 2018.
However, the grotto and Christmas experience at Woodlands in 2021 promises to be bigger and better.
If you'd like more ideas for things to do this Christmas, then I have festive day out round ups for Christmas in Devon, Christmas in Cornwall and the rest of the UK.
Meeting Santa in Devon
2018 was the first year we were properly in the Christmas zone. Five-year-old Tot knew exactly what it was all about and three-year-old Baby was hot on her heels.
As soon as we arrived at Woodlands the girls heard the festive music and spotted thousands of fairy lights glistening through the bushes at the entrance. There was no stopping them – they fearlessly went off in pursuit of Santa.
The walk towards the grotto took us down a tree and light lined footpath where we were caught in a flurry of snow (foam). This entrance to the grotto is just one of the aspects that Woodlands had upgraded in 2018 to make the whole Santa experience feel slicker.
Our elf guide Chip greeted us at the grotto entrance, checked our special grotto tickets and began our tour. The girls didn't even look back to see if Mr Tin Box and I were following!
The walk-through Santa experience
Woodlands included many of the features that made their first walk-through grotto such a success and fine tuned others. Favourite features that made a come back included the elf tunnel, the singing reindeer, Santa's post room and the elves bedroom.
New for visitors, in addition to much more snow and many more lights, were more animated woodland animals and interactive features in the toy workshop. You can see more of these in my video as the lighting was a bit difficult for still photos.
When we reached the grotto finale we were met by a dancing Mrs Claus who invited us into a toasty warm room. Santa was there, sat by a fireplace. We had a lovely chat with the Big Man before he decided to check his 'Naughty' and Nice' lists to make sure the girls deserved a gift.
After a bit of comedy wavering, we decided they'd probably been good enough.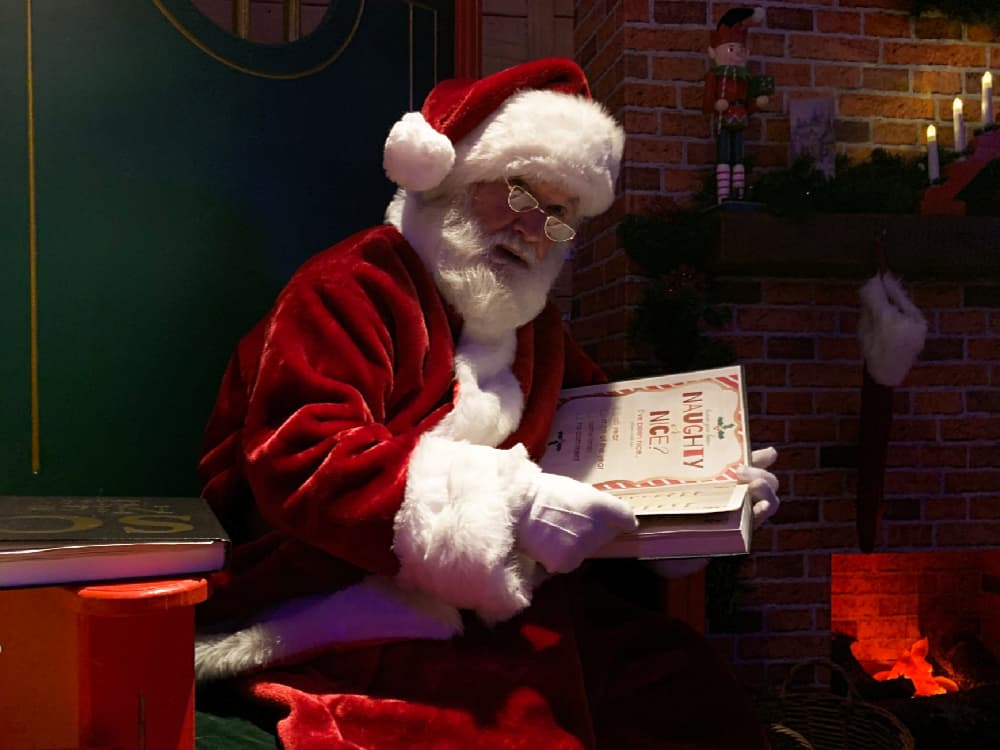 Are the gifts from Santa value for money?
Each child gets age specific wrapped gift. Three-year-old Baby received a farmyard jigsaw puzzle and five-year-old Tot received a glow in the dark magic set.
Both were probably worth more than £8 each based on Amazon prices. Even without the larger grotto I'd not have been disappointed with the value of entry to Woodlands Theme Park and meeting Santa.
What's included in the 2021 Woodlands Santa's Grotto price?
Included in the 2021 grotto ticket price are:
a visit to the grotto, including a walk through 10 magical rooms
a gift from Santa
photo opportunities with Santa and his elves
reindeer food to take home
a festive drink for the adults
a sweet treat for the kids
and entry to the theme park between 10am and 5pm.
Check the Woodlands website for prices for season ticket holders and non-season ticket holders in 2021.
Woodlands Santa's Grotto – need to know
If you are going to Santa's Grotto at Woodlands in 2021 then you'll have all the information you need on your tickets. If you are thinking of booking this year then here's some handy information that you need to know:
Woodlands annual pass holders can enter the park for free during its open days in December but have to buy/book tickets for the grotto. See the website for full details.
Grotto tickets must be bought in advance rather than on the day
Up to two adults per grotto booking. See the Woodlands website for advice on booking if there are more than two adults in your group.
Some of the Park's attractions are closed for the winter but there's still plenty going on to fill your day.
Find out more about special events and prices for Woodlands Family Theme Park by visiting its website.
Disclosure: we were invited to a preview of the Woodlands Theme Park's Santa's Grotto in 2018 and were not paid for promotion. All opinions are my own.
Thinking of visiting the Woodlands Theme Park Santa's Grotto in 2021? Why not pin this for later?