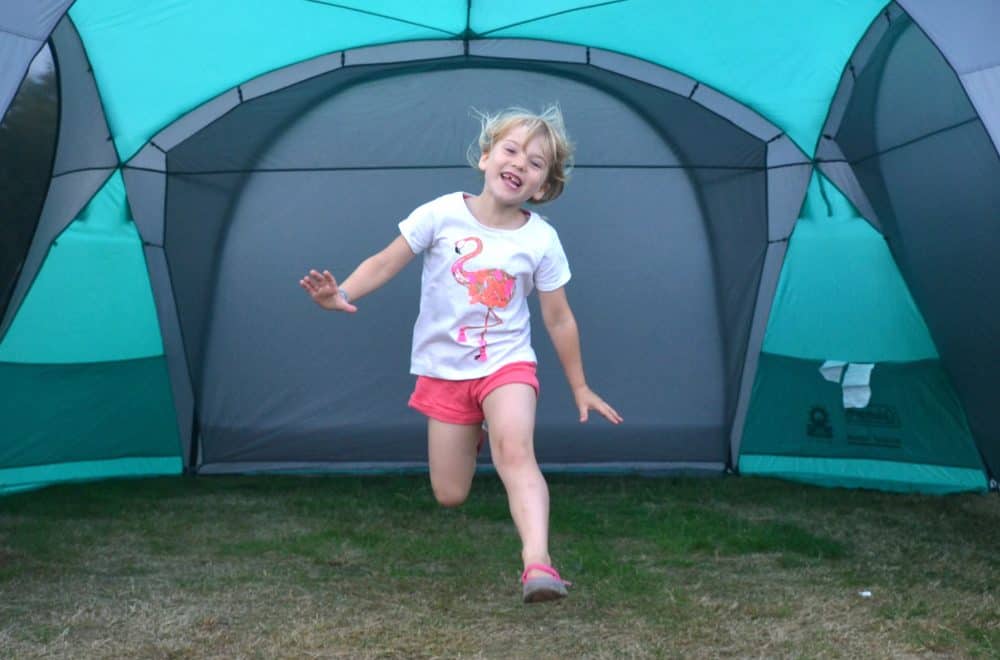 Coleman Event Dome XL shelter review
When we go camping or caravanning we love expanding our living space into the great outdoors. Having an awning or gazebo helps us to do this. Before the summer we were sent the Coleman Event Dome XL shelter to test during our caravan staycation in Devon. Here's our review and why we think this event dome is the best gazebo for camping that we have tried.
*Advertisement feature/contains affiliate links*
Is this the best gazebo for camping?
We have tried a number of gazebos over the years and have experienced the frustration of putting them up and making them stay put. A lot of cheap gazebos will only last one season because of flimsy poles or weak canvas.
I'm happy to report that after three seasons of use our Coleman Event Dome is still going strong. Here's what you need to know about it if you are thinking of buying the Coleman Event Dome XL shelter.
Coleman Event Dome XL features
Here's the vital specs for the Coleman Event Dome:
Polyester, fire retardant flysheet with 1000 hydrostatic head and taped seams for water resistance, plus PU coating for SPF50 sun protection
Fibreglass poles
4.5m x 4.5m foot print
20.25 m2 living space
Four removable mesh walls and two shade walls
Headroom: 228cm (centre), 190cm (sides)
Weight: 15.5 kg
Rectangular zipper bag measuring 65 x 26 x 26cm
Check prices for the Coleman Event Dome XL on Amazon*.
How easy is it to put up the Coleman Event Dome XL shelter?
The marketing literature on the Coleman Event Dome says you can put it up in 10 minutes. We put this to the test for the first time during the final stop of our summer holiday in Devon at Crealy Meadows.
We hadn't taken the event dome out of its bag before so this is our first ever attempt:
Between us Mr Tin Box and I (read: mostly Mr Tin Box) put up this event dome* in 25 minutes from opening the bag to pegging the last guy line.
There was minor faffing as we worked out the construction and we were slightly restricted on space. When we got home Mr Tin Box was able to put up the dome in 15 minutes to dry off some rain that had passed through the night before.
With a bit of practice you can put up the Coleman Event Dome XL in 10 minutes as advertised. Mr Tin Box regularly puts it up solo while I'm dealing with the kids elsewhere.
The construction is simple and the instructions (found in the dome's carry bag) are easy to follow.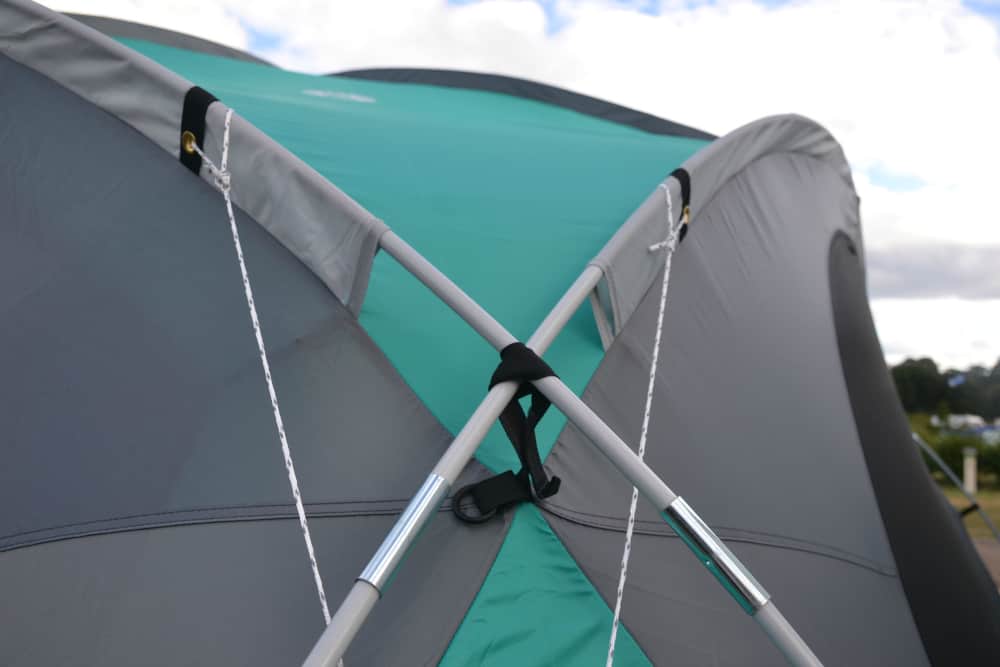 What makes this a great gazebo for camping?
The fact that it is compact is a real bonus when you are camping in a tent as car space is always short. Being lightweight also helps if you are stowing it in a caravan for your journey.
Size-wise the Coleman Event Dome XL shelter is wider than our caravan awning and just as tall. When we had finished putting it up Mr Tin Box couldn't resist driving our Kia Sorento in to demonstrate the space fully.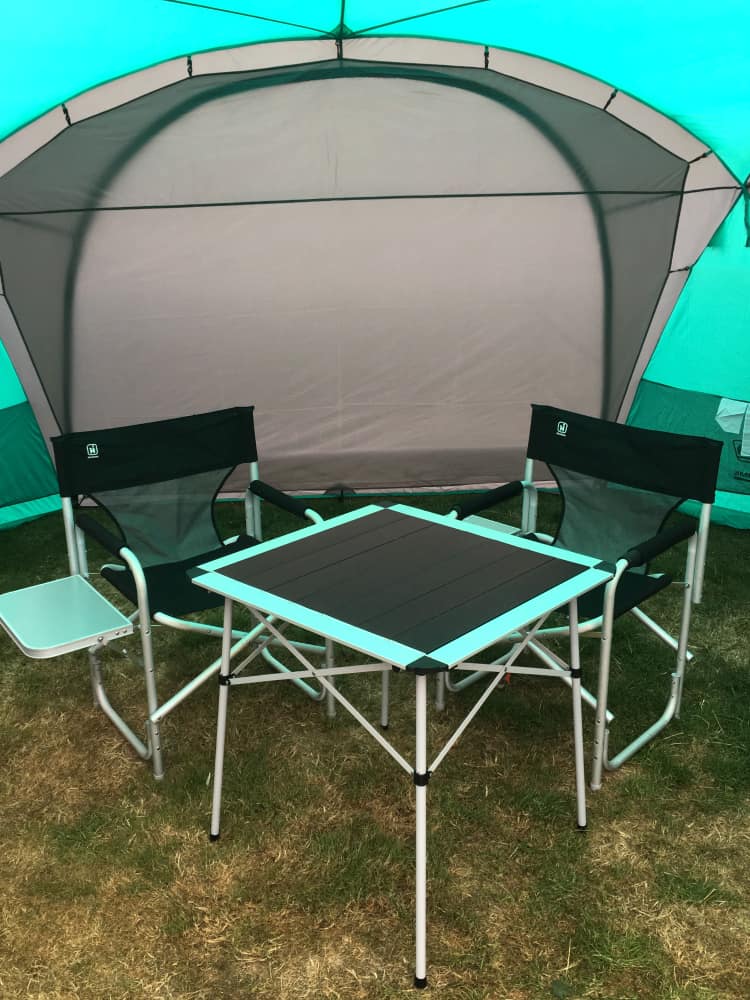 The Coleman Event Dome XL shelter is also a smart piece of kit. The mesh walls and shade walls are easy to attach and provide variable levels of protection from the sun and wind as well as insects.
The large mesh pockets in the flysheet's wide legs are handy for stowing the walls when they are not needed and there's a hook for a lantern in the summit dome to allow you to light the space at night.
This where there are also large vents to air the space.
Other Coleman Event Domes and shelters
Coleman also have event domes and shelters in other sizes*, ranging from beach shelters to garden gazebos and smaller event domes.
Final thoughts on the Coleman Event Dome
If you are looking for a large camping gazebo or event shelter suitable for the summer time then we think this is a great buy.
It's not going to protect you from an unseasonable down pour but is ideal for giving you extra living space when camping.
Back at home it provides shelter from the sun at family barbecues and gatherings in the garden.
Check prices for the Coleman Event Dome XL shelter*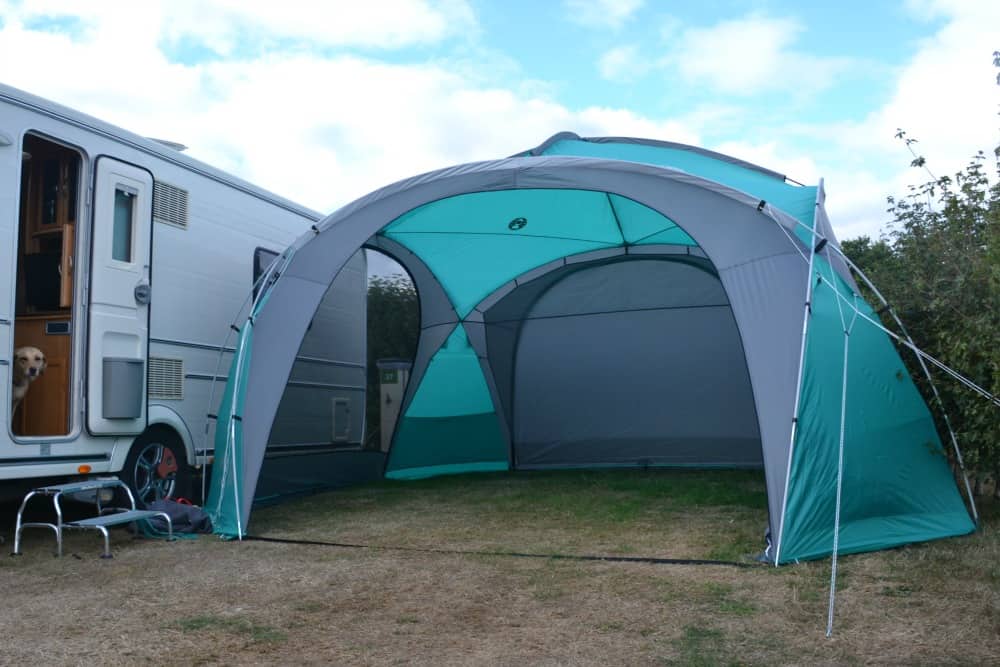 More camping and caravan equipment reviews
Want to read more camping and caravan product reviews? Take a look at what we thought of these:
You might also like our: no nonsense caravan packing list | how to organise your caravan | a guide to caravan insurance | camping mistakes to avoid
Disclosure: we were sent the Coleman Event Dome XL free for the purposes of a blog review. All opinions are my own and those of my family. This post also contains affiliate links marked with a *. If you click on one of these and make a purchase I may earn some commission. This does not affect the price you pay.
Looking for a event dome and gazebo for camping? Why not use Pinterest to save this Coleman Event Dome review for later.