Carnival Vista: our 8 day family cruise in the Mediterranean
I can't remember the last time I got teary at the end of a holiday. But as we disembarked Carnival Vista that's what happened. It surprised me a little. But after 48 hours to reflect on our eight day Mediterranean cruise on Carnival's flag ship it dawned on me that this was a totally natural reaction.
In just over a week we had experienced so much as a family, visited some iconic European destinations and had a lot of fun. A LOT. Cramming so much into such a short space of time is difficult for the brain to process, so I can forgive myself for getting a tiny bit emotional over a 133,500-ton ship.
I have so much to share about our Mediterranean cruise but before I delve too much into what we thought about Carnival Vista and some of our ports of call I wanted to share an overview of our first family cruise.
About Carnival Vista
Vista is Carnival's largest cruise liner and claims to be its most innovative. With the world's first IMAX at sea, a brewery and brand new attractions, such as the SkyRide 150 feet above see level, it has pretty good reason to boast. The ship can carry nearly 4,000 passengers as well as 1,450 crew, accommodated across 15 decks.
My parents are cruise fans, so I've heard loads about their experiences and why cruising appeals to them as retirees. It's safe to say that they haven't sailed onboard anything quite like Carnival Vista. It doesn't just allow for families onboard, it offers them dedicated facilities.
There's a huge splash pool with breathtaking slides, high ropes, an excellent kids club and play room, family focussed staterooms with their own lounge, and a club house.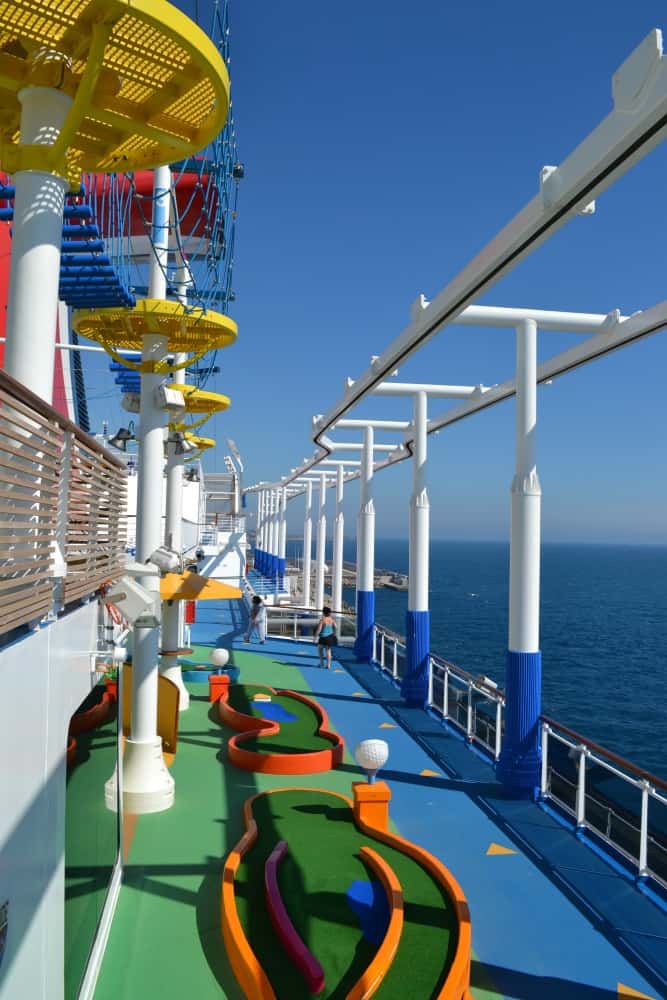 While our girls, at one and three-years-old at the time, were at the bottom end of the age range catered for onboard there was still so much going on to entertain them.
Find out more about in the ins and outs of cruising with a baby.
So, on to our eight day Mediterranean itinerary. We had two days looking around Barcelona and a lovely hotel stay just off Las Ramblas before joining Carnival Vista, so were well into holiday mode before we walked up the gangway.
There are plenty of other Western Mediterranean cruise itineraries and ports to choose from if ours doesn't take your fancy.
Day one: Barcelona
As total cruise rookies we were a little overwhelmed when we stepped onboard – where do you start on a ship measuring more then 1,000 feet? Something we realised we should have done was download the Carnival HUB app before boarding as this had all the familiarisation information we needed, from deck plans to daily activities.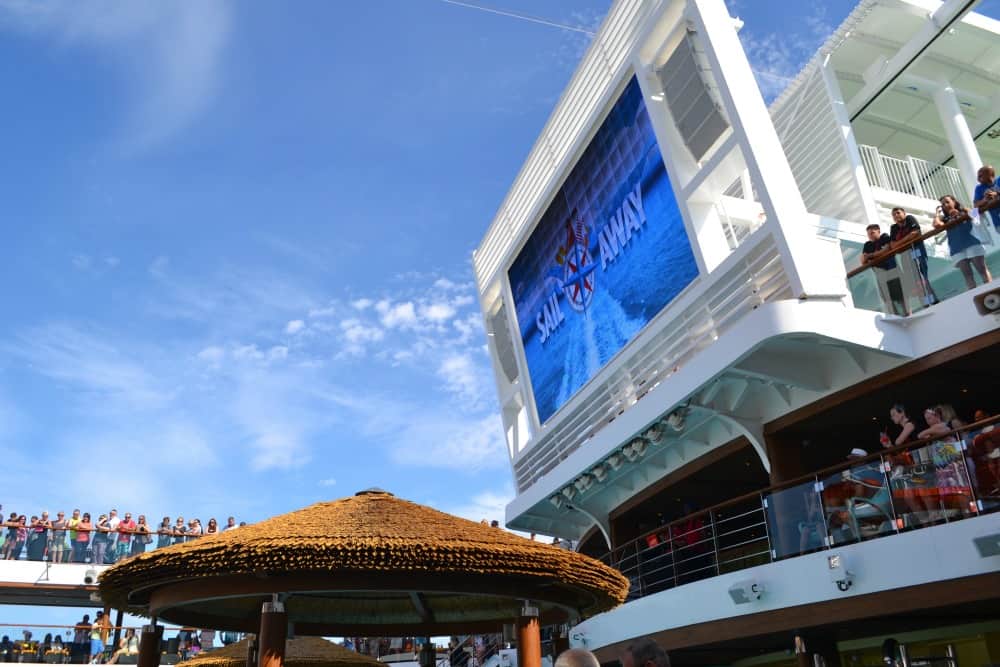 It wasn't long before we had located our stateroom and joined the Sail Away party on Lido deck. Tin Box Tot was enthralled. As soon as the music started she wanted to dance. Mr Tin Box and I took it in turns to spin her around the Lido deck. It was an awesome way to kick off our cruise. The Tot went to bed a very tired little Tin Box.
Day two: at sea
Our first full day was spent sailing to Sicily which gave us the perfect opportunity to get to know the ship. First we had a lovely lay in. The black out curtains in our stateroom certainly agreed with our girls.
The weather was overcast all day but that wasn't going to stop us from trying out WaterWorks – Vista's splash park with two slides. Unfortunately, Tin Box Tot was too short for the big slides but there was a mini one that she loved. Mr Tin Box and I took it in turns looking after the girls and trying out the flumes, for research purposes of course. Boy, were they fast!
Our evening at sea was the first of two formal, or elegant, nights where everyone glams up for dinner. I had worried about what I was going to wear having not had room in my suitcase for a formal gown. I need not have worried. Think disco attire more than ballroom onboard Carnival Vista.
Tin Box Tot also put her posh frock to good use at the Princess and Princes Party in the Ocean Club. She absolutely loved the activities laid on each evening and always came out with a hat, mask or other crafty bits and pieces she had made.
Day three: Palermo, Italy
We arrived in port at 8am on a Sunday morning and the town was still very quiet when we got off the ship at 10am. However, it had clearly been a lively Saturday night before as there was a lot of rubbish on the streets.
Once the cafes and restaurants began to open just before midday Palermo came alive and was much more appealing. It offers pretty little side streets, a beautiful cathedral and some glimpses of impressive Italian architecture.
I wish we'd made more of our visit here and have since written about all the things to do in Palermo, Sicily that I'd like to return and experience another time.
Day four: Naples, Italy
Mr Tin Box and I were very excited about visiting Naples as it was our opportunity to see Pompeii. We had decided before joining the ship that this was our must-see landmark and it was everything we had hoped it would be. Our tour guide was terrible, but Carnival's guest services team were great when we complained later on.
Read about our visit to Pompeii with kids.
We only caught one show during our cruise and tonight's was the night. It was a family-friendly juggling and comedy act that had both our girls agog and giggling for a full hour. Perfect pre-dinner entertainment.
Day five: Civitavecchia, Italy
If you're better at geography than me you'll know this is one of the ports for Rome. Well, it's an hour and a half away by bus. It was for this reason – plus the fact that after seven days of early mornings, packed days and late nights our girls were flagging – that we decided the 10 hour round trip might be a bit too much. Even though a tiny piece of me regrets not going, Rome will wait for another time.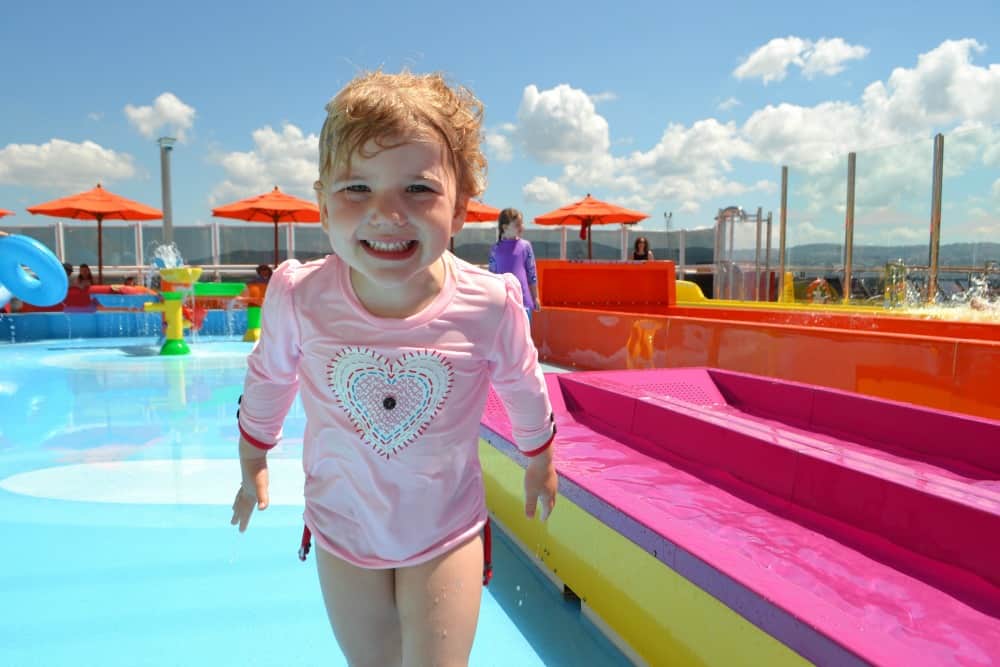 Instead we kept cool at WaterWorks and Mr Tin Box tried out the SkyRide.
What should have been chill out time turned into a bit of a drama mid-afternoon when Tin Box Tot fell over in the splash pool. One of her front teeth is now testament to why you don't run on wet surfaces. Vista's medical centre team were a great help and after a nap the Tot felt much better.
Day six: Livorno, Italy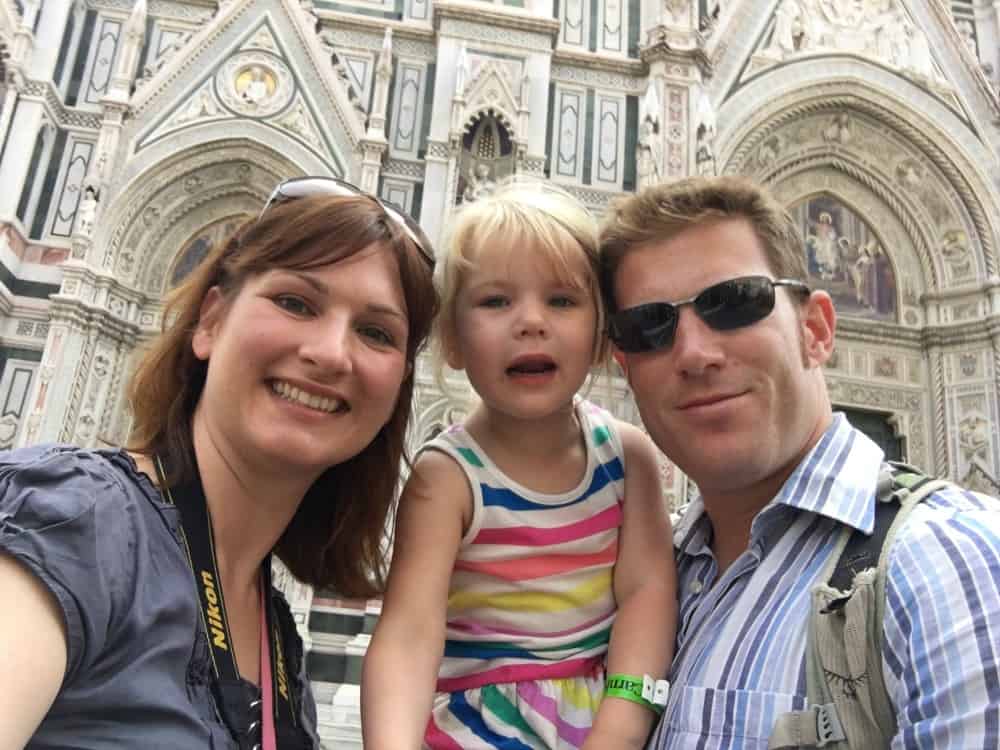 I was so pleased we chose to save our longest day of sightseeing for Florence, which is an hour and a half from Livorno.
It's a city I visited four years ago but only saw a glimpse of what it had to offer because I was working. Our three and a half hour self-guided tour revealed so much more. We walked from the river Arno up to the elaborately decorated Duomo and then back down to the Ponte Vecchio – the oldest bridge in the city lined with shops dating back to the 13th Century.
Along the way we admired lavish architecture, famous statues and an antique carousel.
We have returned since and enjoyed a family-friendly tour of the Uffizi Gallery and a foodie tour of Florence.
Something we hadn't planned was a trip to Pisa, but this was included on the ship's tour that was available when we booked the night before. By the way, the guide on our coach, Elisa, was brilliant and so kind to the girls. We will definitely seek her out again if we are in the area.
We had just 45 minutes in Miracle Square but it was just enough time to get the typical tourist shots of the leaning tower and grab the best gelato we had tasted in Italy.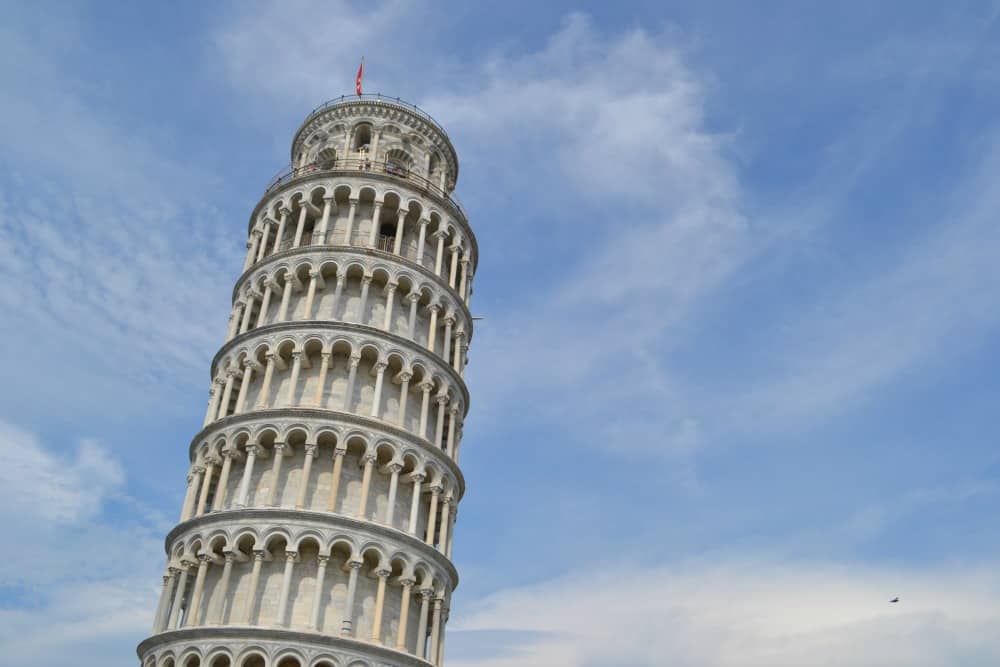 Day seven: Marseilles, France
We took the ship's shuttle service into Marseilles for $15 per adult. It was worth the money as it would have taken more than an hour to walk, which wouldn't have been pleasant in temperatures over 30c with two little ones.
It was so hot that we quickly decided to remove the hard work from our sightseeing and got tickets for Le Petit Train. This fun road tour took us around the harbour, along the beautiful waterfront with its dazzling azure sea, and up to Notre Dame de la Garde Basilica where were enjoyed amazing views of France's second city.
The train ride cost €8 for adults and €4 over three-year-olds – well worth it if you're short on time.
Day eight: Palma de Mallorca, Spain
All too soon it was the final day of our cruise. We arrived in Palma late morning and with temperatures set to be the hottest of our holiday so far we admitted defeat and spent another relaxing day onboard. Tin Box Tot splashed around in WaterWorks, we played mini golf and enjoyed the views out over Palma before getting down to the sad task of packing our bags to disembark the next day.
During the evening the Tot went to the farewell party at Ocean Club while Mr Tin Box, Baby and I had a final stroll around the deck and a couple of cheeky drinks to toast our amazing holiday.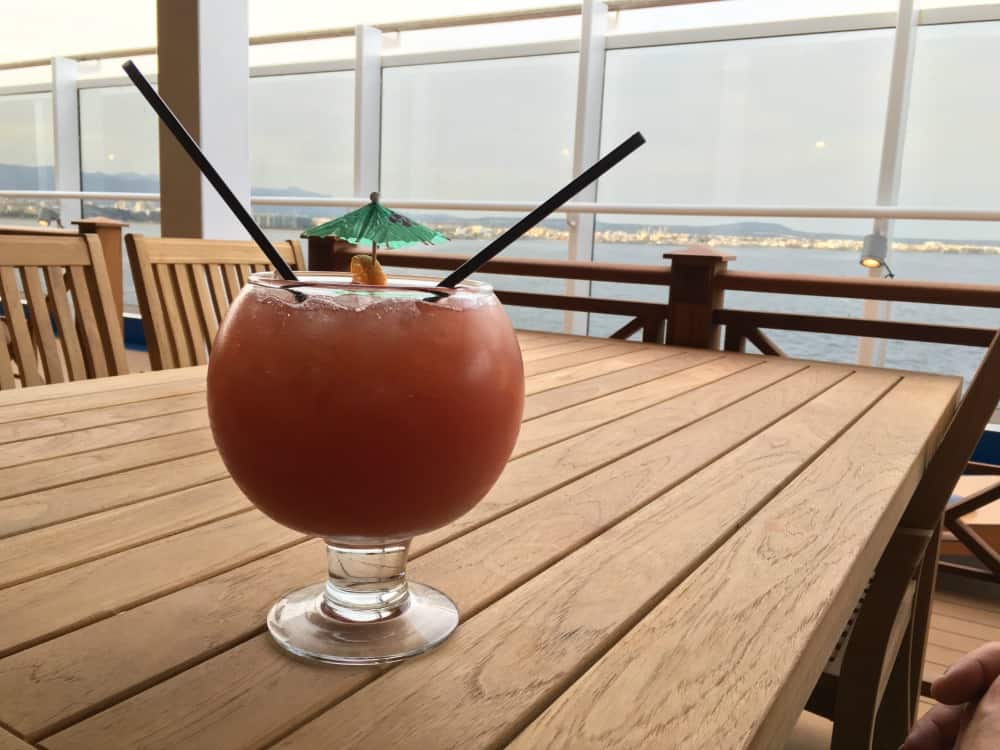 So there you have it – a 'short' overview of our Carnival Vista cruise. See what I mean when I say we did a lot?
Since having children it's been extremely rare for us to travel abroad and we have never been on a cruise. Carnival Vista opened our eyes to a whole new way of travelling, with world class facilities and whistle-stop tours of places we've always wanted to go and where we will certainly return.
If you have children and are thinking about cruising I can highly recommend Carnival Vista as a family-friendly cruise ship.
If you're planning your first family cruise with a baby and/or toddler, check out these tips from experts.
Disclosure: we won our cruise on Carnival Vista at the Family Travel Show. We paid for our own flights, excursions and expenses. I was under no obligation to write about our experiences and all opinions are my own.
Planning a family cruise in the Mediterranean or a cruise with kids on Carnival Vista? Save this post for later.
I love hearing what people think about my blog so feel free to leave a comment below or browse around. You can also find me on Bloglovin', Twitter, Facebook, Instagram, Pinterest, Youtube, and LinkedIn.