9 things you probably don't know about cruising with a baby
Holidays on cruise ships are becoming more and more common for families. But if you're planning on cruising with a baby there are some essential things you need to know.
Our first family cruise was booked when our youngest daughter was just seven-months-old and we set sail when she was 13-months.
In-between I had a 101 questions in my head about how baby-friendly cruise ships were.
What baby equipment would be available on board? Could I get nappies on a cruise ship? And would our little one be able to go to the kids club?
Cruising with a baby: things you need to know
Here's what we learnt through research and experience that we certainly didn't know before we booked our cruise with a baby:
When can you cruise with a baby or bump?
Cruises holidays are a significant investment so it's likely you'll be booking yours in advance to break up the cost. If you fall pregnant in the nine to 18 months before your cruise then it may affect your ability to travel.
Cruise lines like Royal Caribbean, P&O Cruises, MSC and Disney do not allow cruising with infants under the age of six months.
If you are going transatlantic, or have more than three days at sea, your baby will need to be 12-months-old on the first day of your cruise.
Also check with your cruise line if you are planning on travelling beyond 24 weeks pregnant.
Are baby supplies available at sea?
Baby essentials like nappies, wet wipes, formula milk and baby food are not stocked by cruise ship shops. So it's important you top up these items while you're in port.
Always carry more than you would usually need to be on the safe side.
Do cruise ships have baby-friendly food?
If your baby is weaning you'll find plenty of finger food in the buffet. Pasta, vegetables, cooked meat, fruit and cheese are all standard buffet fare.
If you prefer to serve your weaning baby pureed food then bring your own mini hand-blender, or pre-prepared food pouches and jars.
Are shore excursions suitable for infants?
Speak to your shore excursion team about the most family-friendly days off the ship. Some excursions will involve long coach journeys or lots of walking in large groups, which can be challenging with babies and young children.
Consider what you can do within easy reach of the port and opt for half day excursions so you can factor in essential nap and meal times.
Will your water baby be able to swim?
If your young children are not potty trained then they will not be allowed to bathe onboard the majority of cruise ships. This is to limit the spread of infectious bugs.
Disney and Royal Caribbean are among the cruise lines that have some ships where babies can enjoy a dip in a splash park or special children's pool.
Read more about our Royal Caribbean cruise.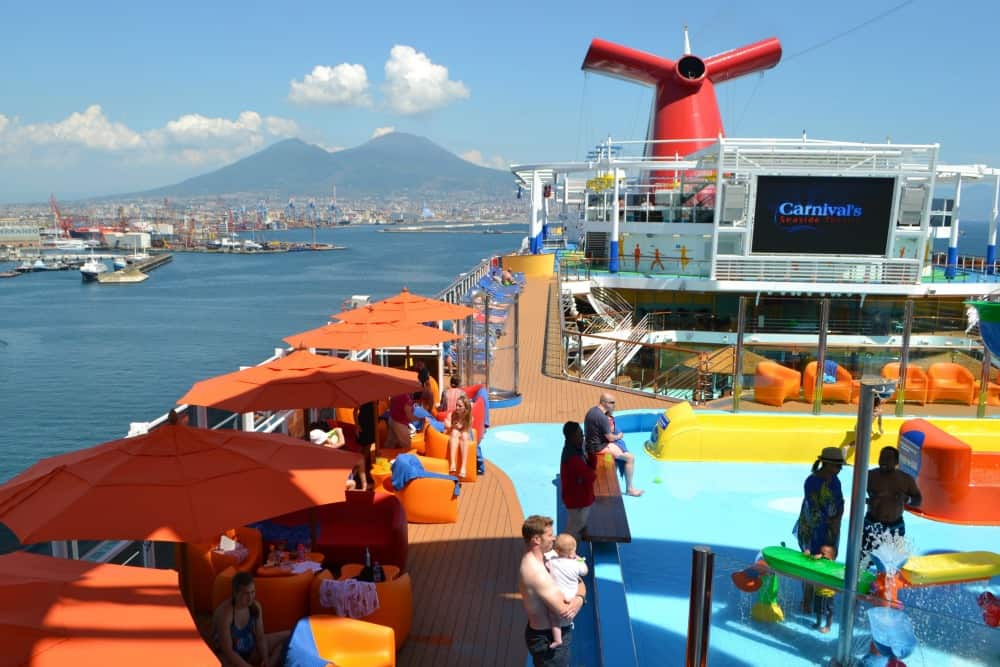 How do you do baby laundry at sea?
Poo-namis happen, so it's best to be prepared. There may be a few options open to you when your little love soils their last playsuit.
If you've thought ahead you'll have brought your own detergent so you can wash items in your cabin sink. If not, make arrangements with your steward for your washing to be done for you; or, if available, use the passenger laundry room. These are small, so avoid them on a sea day as you could get caught in a queue.
MSC have a special baby laundry service onboard, which uses a different machine and gentle detergents – ideal for sensitive baby skin!
Read more about family cruises with MSC.
Are cots and high chairs available on cruise ships?
Travel cots are available on cruise ships. Just make a request to have one in your cabin when you book or get in touch with your cruise line before you sail.
Linen was provided for us on our Carnival cruise but we brought along Baby's usual sleeping bags to keep her tucked in. You'll also find high chairs in the dining rooms on family-friendly ships.
Can you bath a baby on board?
Showers are more common in staterooms than baths. If your baby doesn't get on with them line your suitcase with a baby bath or washing up bowl.
Check the specifications of your room or contact your cruise line so you know exactly what you'll find in your WC.
Can babies go to kids clubs on cruises?
Packing your baby off to a kids club might be the dream for many tired parents but you may find not all activities or sessions are open to infants.
Two-years-old is the minimum age on Carnival and P&O Cruises. Norwegian Cruise Line have play sessions for children aged six months to three-years-old, supervised by their parents, as do MSC for children up to the age of two.
MSC also offer baby-sitting for children over one-year-old.
Disney Cruises have the 'gold standard' in baby care with a bookable nursery for mini-cruisers from six-months-old.
Is cruising with a baby worth the hassle?
Yes! We had an amazing cruise with our baby and toddler.
Read more about our cruise itinerary and our family-friendly cruise ship. Or take a look at our cruise holiday video:
If you have any specific questions about cruising with a baby comment below or get in touch.
You can also read more about cruising with children of all ages on the Cruising With Kids website which I contribute to with a team of other cruise-happy mum bloggers.
Want to find out what it's like cruising with a baby? Read about our first family cruise.
And if you have slightly older kids you might like to see how we got on during our cruise with a three-year-old and a five-year-old.
Read more of my blog posts about cruising:
Planning on cruising with a baby? Why not save this post for later.