Tin Box Traveller Diaries: May 2016
When I started the Tin Box Traveller Diaries back in January I didn't quite realise how busy this year was going to be. Each month seems to have been packed full of things going on at home and away, and each month I wonder if the next 30-odd days will go any slower. Five months in I have come to accept that 2016 is a whirlwind year. There is no pause button, only fast-forward. This makes recording some of the finer details of family life even more important to me. Anyway, enough of reflection and on to May. Here's what we've been up to this month:
Travel
We started the month in West Sussex which was our stop off on the way home from London where we spent the last week of April. This is where we celebrated Tin Box Baby's first birthday with a party at the caravan and caught up with lots of friends from Hampshire. There were also trips to Chichester and West Wittering beach (above).
In the second half of the month we travelled to North Devon for a family wedding. It was in Hartland, which we had visited a few months before. This time we stayed on the caravan site at Fosfell. Tin Box Tot was so excited to spend time with her cousins again and had a whale of a time making her pretty party frock filthy on the muddy playground at the reception!
Home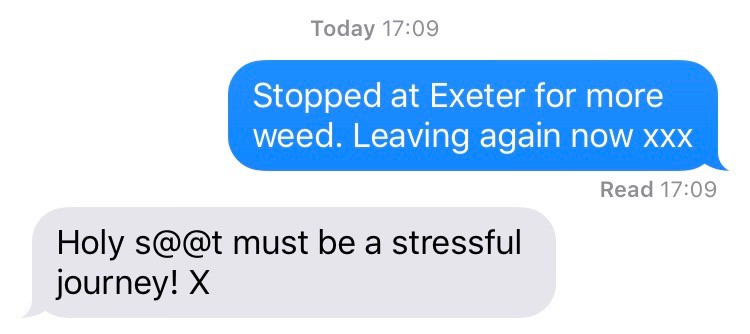 I spent a few days working in Hampshire early in the month and took the Tin Box girls with me so they could spend some time with their grandparents. The five hour trip there and four hour trip back were difficult without Mr Tin Box to fall back on – especially as Tin Box Tot wanted to stop every hour for wees. However, it did result in autocorrect gold in a tweet I sent Mr Tin Box while we were at Exeter Services (above).
At the end of May we had Tin Box Nana and Grandad visiting. They stayed at the Caravan Club Site at Start Bay, which was about half an hour down the road from us in Dartmouth. Their visit gave us a great excuse to visit the South Devon Railway. More on that in our Adventures below.
Adventures
As part of our stop off in West Sussex we visited Goodwood Race Circuit for its Soft Top Breakfast Club. This is one of a series of events staged at Goodwood during the summer months when car owners are invited to show their unique and interesting vehicles. The best thing is it's free for spectators to attend, making it a great value morning out.
One of our weekend beach walks back in Devon was at Slapton Sands in Torcross. This was the site of a tragedy during the Second World War when 749 American troops were killed during preparations for the D Day landings. In stark contract, this is now a popular seaside destination but a Sherman Tank stands on the site as a reminder.
In the middle of the month Mr Tin Box went at his cousin's stag do, leaving us girls with a day to ourselves. Totnes Rare Breeds Farm had been a hit with Tin Box Tot the month before so we decided to go again. Sadly the lambs had all left, but there were still lots of goats to feed and guinea pigs to cuddle.
The following weekend was the family wedding in North Devon. The day after the nuptials we had a chance to visit Hartland Quay for a bit of beach combing and rock pooling.
The same week, the girls and I made a day trip to Paignton. The main purpose was to drop our car in to the garage but also enjoyed a trip to the seafront where there's a lovely play park.
In honour of Tin Box Nana and Grandad's visit at the end of the month we took a ride on the South Devon Railway from Totnes to Buckfastleigh where we walked to Buckfast Abbey before making the return trip. It was a lovely way to spend time together.
We also made an impromptu visit to Exeter where we did a little bit of shopping and visited the Royal Albert Memorial Museum.
To round off the month we visited River Dart Country Park near Ashburton, Devon, with more family visitors. The Great British weather played a blinder and we had such a fun day on the activity trails and artificial beach.
You can see pictures from all our adventures at a glance on our Instagram account.
Blogging
My most popular post of the month was Cruising with a baby and toddler – the ultimate guide for which I received a lot of help from fellow travel bloggers including Karen at Mini Travellers, Sarah at Extraordinary Chaos and Lisa from Travel Loving Family.
Voting closed in both the 2016 Brilliance in Blogging Awards and the Mum and Dad (MAD) Blog Awards in May. Thank you so much again to everyone who nominated me and voted – I am so grateful for your support. I'm also absolutely thrilled to say I've made it into the finals of both awards. The results are out in June and September.
I also made it in to the top 250 UK parent blogs ranked by Tots100 for the first time, in at #145, and have maintained my Trips100 position at #30. Even though its a bit of a mystery how these charts are put together, I find them a helpful benchmark on how my blog is doing each month.
Blog posts that I contributed to on other websites in May included sharing my top family travel destination in Europe with the folks at GoEuro. Can you guess which holiday hot spot I chose? It might not be where you think! There's also some great tips on their blog from some of my family travel friends Marta at Learning Escapes and Cathy at MummyTravels.
It was in May that I started a weekly newsletter rounding up my latest posts. You can now sign up for Tin Box in your inbox.
I also created a media kit to share all my blog information with brands I'd like to work with. This is something I've been meaning to do for a while so I'm so pleased to have finally found the time. I've also already used it in pitches with some success. More on those collaborations next month.
Over on Travel Timehop I had contributions from The Helpful Hiker, Jo Jacks Travel, Hopes Dreams and Chocolate and Scottish Island Adventures With Kids. Thanks to Lauren, Jo, Kathy and Karen for taking part. If you'd like to send me a photo that captures a favourite travel memory for this guest post series here's how.
During the month I also blogged about making the BiBs travel blog shortlist, our day out at the Wild Place Project in Bristol, five family attractions in Cardiff, a visit to Lanhydrock in Cornwall, and some happy memories from our trip to London in April.
As ever, thank you so much for reading! I love hearing what people think about my blog so feel free to leave a comment below or browse around. You can also find me on Bloglovin', Twitter, Facebook, Instagram, Pinterest, Youtube, Google+ and LinkedIn.