I invited other bloggers to share their travel memories with me in my Travel Timehop series. This is an archive of these special moments:
Contents - jump to what you'd like to know
Plutonium Sox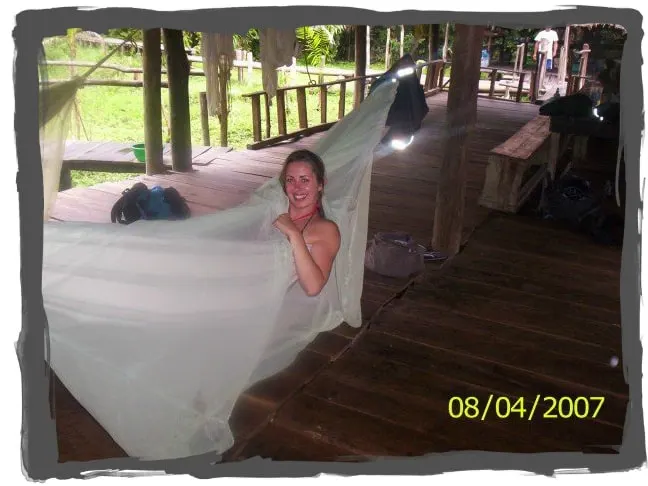 I'm very excited to be sharing this, the first edition in a guest post series inspired by a project I began just over a year ago.
Travel Timehop has been about recalling and recording my travels from the past decade. Now some of my favourite family and travel bloggers are sharing moments from their stand-out trips here too.
First up is Natalie from Plutonium Sox whose post makes me feel like an absolute amateur when it comes to adventurous travel. She's one brave lady! Without further ado, here's her Travel Timehop:
When are we time-hopping to?
This photograph was taken in August 2007. It was my last girly holiday before I met my (now) husband and my life started to change. My friend Fiona and I had decided that we were going to go to Venezuela for several reasons.
Venezuela is one of the few South American countries that has vast areas that really haven't changed that much as a result of tourism and industry in recent years. There are still incredible unspoilt areas of equatorial rainforest where native tribes live their traditional lifestyle.
It is a stunningly beautiful place with features found nowhere else on earth such as the tallest waterfall in the world, Angel falls. Plus, my friend wanted to visit all of the countries in the world that began with a V and I was more than happy to tag along.
When we went to book the holiday, we were pretty much warned by the travel agent that it was a dangerous place to visit, especially as two females on our own. He was willing to book our flights but wasn't happy about it.
I've never been one to take warnings like that seriously and with a bottle of rosé inside us, we just laughed at the words of wisdom and booked it anyway.
Where in the world?
When this photograph was taken, I was in the Orinoco Delta in the equatorial rainforest in Venezuela. Having taken a plane journey on a very rickety little four seater and a long drive to the nearest town, we then travelled for a day up the river. Here, we were welcomed by a tribe who spoke only their indigenous language. Our guide for the journey and the only person able to speak a few words of that language was a very cheerful drunk man with a gun.

Despite the seemingly stressful situation, being completely unplugged and out of contact was actually very relaxing. As we settled down in our hammocks for the night, I was strangely comforted by tales of the tarantulas living above me that would keep the bugs away.
Plutonium Sox timehop moment
The photograph was taken soon after arriving at the camp. That night, we bathed in the river that was full of piranhas. I was so desperate for a wash that I was happy to believe the stories that they were all too well-fed to take a chunk out of us.
The following morning at dawn, I woke up in that same hammock to the sound of monsters. Their roar was deafening and they were really close by. Trying not to appear panicky, my friend and I ventured out of our hammocks. One of the tribe beckoned us over and pointed out what was making all the din.
Over the other side of the river was a group of howler monkeys calling to each other. It was one of the most amazing things I'd ever seen – and heard. If anyone tries to tell you that howler monkeys just howl, they are horribly mistaken. And if you ever find yourself in a rainforest full of monsters, you know what it is.
This photograph takes me back to that night and that last fantastic holiday before my life changed forever.

You can read about Natalie's more recent adventures with her two gorgeous girls, dogs and husband at on her blog or follow her on Twitter, Instagram and Facebook.
Babi a Fi
It's Thursday, so that can mean only one thing: it's time for a Travel Timehop. Each week I share special memories from great trips around the world, both mine and those of other bloggers.
This week I'm delighted to welcome Jessica from Babi a Fi – she's super busy mum, councillor and history buff from South Wales in the UK. Jessica is sharing a Travel Timehop that I think we can all relate to: a care-free holiday with friends before the serious stuff of parenthood kicked in.
When are we time-hopping to?
The summer of 2009.
Where in the world?
Turkey, just outside Marmaris.
Babi a Fi timehop moment
We had just finished our second year of uni and, having done 'real France' the year before, we went the total tourist route. It was all pool lounging, boat trips, and guided tours.
I was determined not to lose my goth white pallor though and, as you can see, four days in and I was doing pretty well! Even if I did get the nickname 'milk bottle' for my troubles…
I can remember a similar girly holiday in Turkey, but I'm pretty sure I came back with sun burn! You can check out Jessica's blog Baby a Fi here, or follow her on Twitter, Facebook, Instagram, Pinterest, Google+ and LinkedIn.
Wave to Mummy
Since turning Travel Timehop into a guest post series my inbox has been packed full of little travel treats from other bloggers. I'm in awe of the places they've been and the experiences they've written to tell me about.
Today's Travel Timehop from Sanna at Wave to Mummy is one of those moments that would have had me pinching myself to see if it was real. Enjoy!
When are we time-hopping to?
The picture was taken in the summer of 2008.
Where in the world?
Bwindi National Park, Uganda.
Wave to Mummy's Travel Timehop moment
This was my second time seeing mountain gorillas live. The first time was in Rwanda a few weeks before this picture.
I went hiking near Diane Fossey's old stomping grounds, and got to see some of "her" gorillas in the forests. I had stayed in Uganda for a couple of months and I was a bit dubious about the whole gorilla tracking experience, as it was very expensive.
As I remember it, it cost about one months rent in London! But once I got to see them in Rwanda, I was so captivated I decided I must must must see them before I go back to UK.
I managed to bug the permit office long enough for them to find me one extra place for the next weekend. Apparently I was very lucky as the permits are often booked a year in advance!
Out of all of my travel experiences this has got to be one of the most magical. After a long and arduous trek through the forest we were suddenly surrounded by gorillas. They were moving around us, between the trees, and the big silverback was quietly observing our every move.
I was just taking pictures of one of them (youngish female called Wakaba) when she started running towards me.
She passed about an inch next to me and had I extended my hand down my side I would have touched her back. I was told that she was a particularly mischievous one and liked to spook people off!
That's Wabaka by the way, behind me in the picture, a few seconds before she decided to spook me 🙂
And that's the story of my travel timehop!
Wow! What an amazing experience and obviously worth the persistence with the permit office. Thank so much for sharing this Sanna. Follow the rest of Sanna's adventures on her blog and give her some love on social media: Twitter, Instagram, Facebook, Pinterest, and Bloglovin'.
Cosmochicklitan
Welcome to another Travel Timehop and another great memory from the adventures of a fellow blogger.
This week my guest poster is Heidi from Cosmochicklitan – a book obsessed mum to a lovely little girl not too dissimilar in age to my own Tin Box Tot. I've followed her family adventures through the #MyCapturedMoment blog link up and I was really pleased when she agreed to take part in this series. Her Timehop is brilliant. Enjoy!
When are we time-hopping to?
2008
Where in the world?
Tongariro National Park, New Zealand
Cosmochicklitan's Travel Timehop moment
My husband took this picture after our 8 hour mountain crossing (ok, by that point I was showered and changed already – no one wants to see the picture of me straight after the hike…). By the time we arrived at Tongariro National Park, we had already travelled quite a bit and just wanted to relax for a few days.
However, the owner of the lodge we were staying in convinced us to partake in the mountain hike. I am so glad we took his advice. Although it was another 5am start and the hike wasn't easy (I am probably the most unfit person), it really was worth it!! The views were stunning. We walked through volcanic rock, snow and forests.
At the end of the hike there was an assembly point where people would wait to be picked up by coaches (after all, we were in the middle of nowhere). The atmosphere there was absolutely electric. Walkers who had finished already were cheering everyone else, who made it across the finish line, on. There was a lot of clapping and high-fiving between complete strangers – an experience never to be forgotten!
Thank you so much to Heidi for sharing this fantastic moment with me. You can follow the rest of her adventures on her blog, on Twitter and Instagram.
Little Hearts Big Love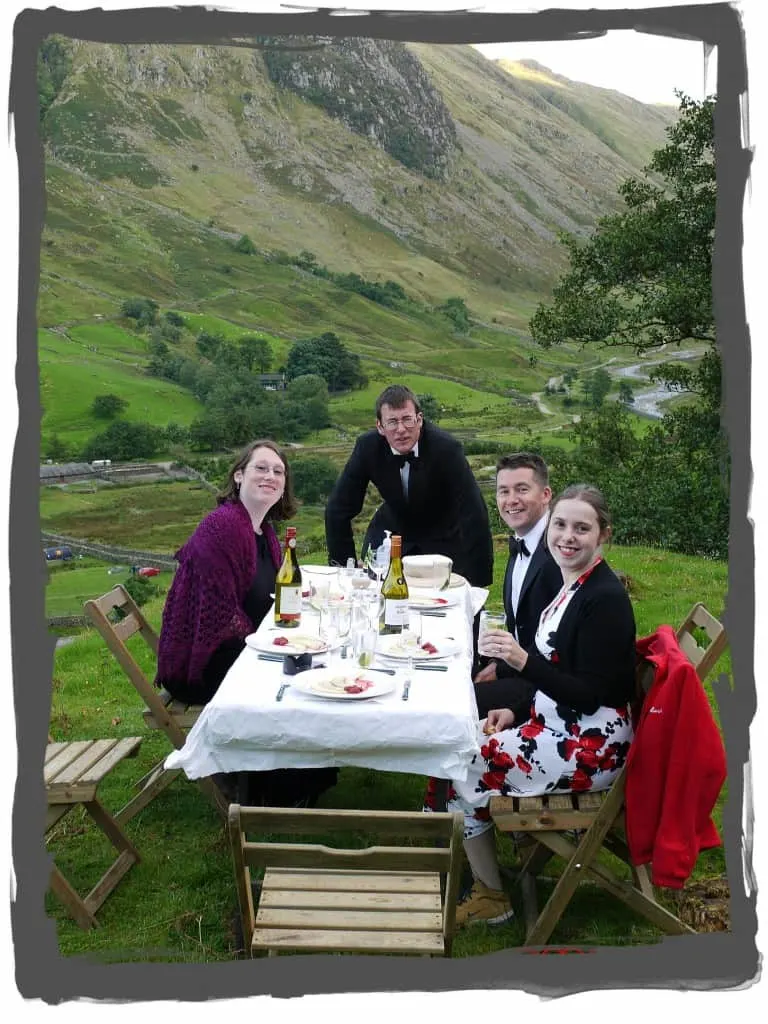 Welcome to week seven of #TravelTimehop and another fantastic guest post from a fellow blogger who has been kind enough to share a memory from their travels.
This time it's Louise from Little Hearts Big Love. Louise is one of those all round lovely people with an amazing story to tell. Her eldest daughter Jessica was born with half a working heart. Her blog posts about congenital heart defects help other families experiencing the same thing. She's also local to where I used to live the South of England, so I love her posts about family days.
Here's Louise's Travel Timehop about another of my favourite places in the UK.
When are we time-hopping to?
August 2010.
Where in the world?
The Lake District, Cumbria, UK.
Little Hearts Big Love's Travel Timehop moment
My Travel Timehop photo was taken at the Sixteenth Annual Eccentrics Dinner – a black tie dinner which took place somewhere out in the open air and was held every year from 1995 until the last one in 2013.
The Eccentrics Dinner started out originally with a group of friends having a New Year's meal outside in an igloo and became an annual event, usually held somewhere in the Lake District over the August bank holiday.
My hubby met Fred, one of the organisers, whilst doing his PhD and we attended our first Eccentrics dinner in 2003. This was held at the Butter Bowl in the Lorton Valley and was the biggest one with 39 diners.
I went to two more in 2004 and 2005 and then our final one was the one in the photo – 29th August 2010.
We were instructed to bring black tie, sleeping bags, a torch and a sense of adventure and meet up at Seathwaite Farm camp site. After pitching our tents, we changed into evening dress and made our way up the hill to Seathwaite Wad Mine, Gilberts Level where we enjoyed a glass of gin and tonic before the meal itself – a four course meal with wine and port served.
Needless to say, the black tie instructions didn't extend to footwear – as you can see I'm wearing my walking boots with my pretty dress – a black-tie dinner out in the open air might be a little crazy but fell-walking in heels would be crazier still (not to mention somewhat dangerous).
This was the quietest of the Eccentrics dinners that we attended – that year there were just five people and I think the last few dinners that followed were similar in size – the additional of small children and busier lives made it a lot harder for people to take part.
It was such an amazing experience though and I'm glad that we got to do it a few times. The morning after was fun too – there was always plenty of tea and coffee and bacon and egg rolls, which helped to ease any hangover that might have resulted from the previous night!
I'd have loved to have been invited to an Eccentrics dinner – what great fun! Thanks so much to Louise for sharing this unique experience. If you'd like to read more from Louise check out her blog or follow her on social media: Twitter, Facebook, Instagram, Pinterest, Google+.
Love From Mim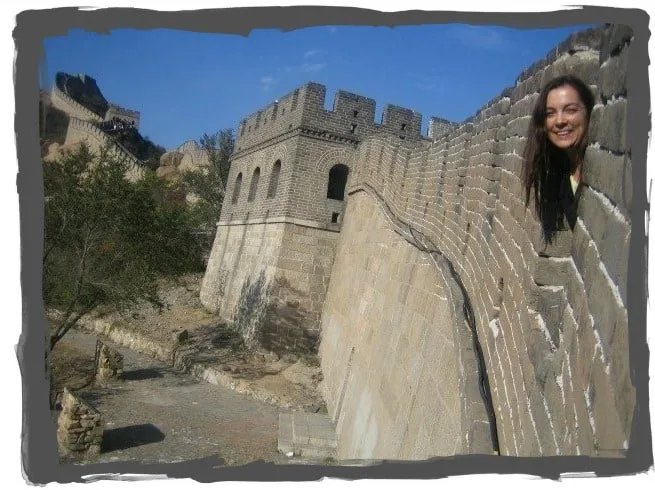 Hooray for Thursday! It's just one day away from the weekend and, even better, it's Travel Timehop day! This weekly feature allows me to share my favourite adventures from years gone by as well as some from other fab bloggers.
This week's guest post comes from Mim at Love From Mim. She's got a lot going on at the moment, so I am thrilled that she has found time to share this beautiful memory from her travels with me. Please pop on over to her blog and show her some love – she's amazing. As is this Timehop. Enjoy!
When are we time-hopping to?
In October 2007 – 2 days in to my sabbatical from work to travel around South East Asia, Australia and New Zealand.
Where in the world?
On the Great Wall of China in Beijing. Never in my wildest dreams did I expect to be able to visit China, let alone walk on the Wall!
Love From Mim's Travel Timehop moment
The trip was on the second day of a 6 month sabbatical I had taken from my busy job. I was overworked and exhausted but waking up that morning in China, I felt instantly refreshed and ready to see what adventures my sabbatical brought.
I hadn't ever been interested in the whole 'travelling the world' thing before. I saw some friends don backpacks and never felt any jealousy – I always wanted to see as much of the world as possible but I intended to do that in a semi-luxurious manner!
In 2007 I was 26, single and fancy free and decided it was then or never. I bought my own backpack and booked a trip to see China, some of Indonesia, Singapore, Australia and New Zealand.
The first month would be spent in Xi'an in China where I would teach English at an orphanage where many of the children were disabled. I was really looking forward to being able to do something so rewarding and to live and work in China rather than just travel through. It was one of the best experiences of my life.
The day before that project started was the day I travelled to the Great Wall of China and it was just an amazing experience. On the wall I could see for miles and it was just beautiful and such a freeing experience. Any stresses faded away instantly and it was a phenomenal start to my travels.
The next evening I met up for a night out in Beijing with some of the volunteers I would be working with the following week. One of the guys in the group invited along a friend he had met that day (also on the Wall!) and that man is now my husband!
I wrote a travel blog at the time and I distinctly remember writing that I wasn't interested in him but by the following night, I was smitten and as they say, the rest is history.
Mr M was Australian but on holiday in China and we met up a few times throughout my travels in the Philippines and Thailand too. After a few weeks he asked me to move to Australia to give our relationship a real go and it just felt like it was the right decision, so I did!
In January 2008 I went back to the UK earlier than planned to pack up my belongings and emigrate to Australia. Now we have two children who are lucky enough to have dual UK and Australian citizenship and I hope they share our love of travel.
I never did make it to so many of the travel destinations I planned to see – I hope they will feature in our travel timehops of the future!
This is so romantic! I've already mentioned to Mim that Mr Tin Box and I met over a deep fat chip frier in a pub kitchen. I'm not sure it's a story I want to recount to our grandchildren in quite the same way that I know Mim will with hers. If you'd like to read more from Mim please check out her blog and follow her on Twitter, Facebook, Instagram, Pinterest and Google+.
MummyTravels
Hello travel fans! Welcome to another Travel Timehop sharing special memories of trips from years gone by. This week feels like an extra special treat as my guest is one of the first family travel bloggers I came across when I began shaping my own corner of the internet.
Cathy from MummyTravels has been on some amazing adventures, proving that travel is most definitely possible with a kid in tow. She's also an incredible writer and can transport you from a cold and wintery UK to the balmy Caribbean in the space of a few paragraphs.
Here's her Travel Timehop:
When are we time-hopping to?
This photo was taken in May 2011, around a year before my daughter was born and one of my last 'big' trips before I was pregnant.
Where in the world?
At Vakona Forest Lodge in Andasibe, Madagascar – a few hours east of the capital Antananarivo.
MummyTravels' timehop moment
I have always loved lemurs – they're incredibly cute but also fascinating creatures, so I was hugely excited about the chance to see them in the wild when I visited Madagascar. I hadn't guessed just how close I might get though.
On our first full day, we headed straight out towards Andasibe where the Vakona Forest Lodge hotel has rescue lemurs living semi-wild on an island in the lake. They're less fearful of humans than wild lemurs, but they're certainly not pets so there's no guarantee you'll see them up close.
But as soon as we arrived, I knew we were being watched by dozens of inquisitive eyes: tiny cautious little bamboo lemurs gazing out from the trees and some of their bigger cousins, including a very laid-back black and white ruffed lemur hanging from a branch by one foot, and a golden 'dancing lemur' – properly known as Verraux's sifaka – prancing elegantly along the path.
Out of the corner of my eye, I saw a sudden flurry of movement. And as I turned, a brown lemur landed squarely on my shoulder, pouncing on the piece of banana I was holding before making himself comfortable on top of my head.
Once he'd finished his snack, he wrapped his tail around my neck like a furry tickly scarf and started playing with the sunglasses on top of my head: pushing them down onto my nose and generally enjoying himself.
It had been a tricky start to the trip.
The airline had lost my luggage, we hadn't had much sleep that night as a result of leaving the airport so late, and Madagascar's roads meant a bumpy journey, but I just couldn't stop grinning.
It was the first of many lemur encounters for me on Madagascar: with the rare indri in one forest, with wild lemurs hooting and calling at dusk as we left another, on isolated islands where we snorkelled as tiny paws rustled the trees above us.
But this first moment meeting the lemurs is still one of the most magical. I loved my two weeks discovering some of this incredible island, but shot captures one of my favourite travel experiences ever. And still makes me grin today.
Having recently seen some lemurs up close, I share Cathy's excitement about this moment – they are super cute! Thank so much for sharing this with me Cathy. If you'd like to read more from MummyTravels check out the blog, and follow her on Twitter, Facebook, Instagram, Pinterest, Bloglovin' and YouTube.
This Panda Writes
This is a first for Travel Timehop – we have an animal adventurer sharing a favourite travel memory with us. This huggable fellow is Panda Kennedy from This Panda Travels.
It's a new blog to me and that's fantastic. I love it that bloggers from all over the world have been asking to share photos from their trips and the stories behind them.
This Panda Travels follows the exploits of Panda Kennedy who was adopted at Edinburgh Zoo and now lives in South Africa. He's a well travelled bear, having notching up trips within his new adopted nation and Mauritius. The Travel Timehop that Panda Kennedy is sharing with us here is from his beautiful new home country.
When are we time-hopping to?
November 2015
Where in the world?
The V&A Waterfront in Cape Town.
This Panda Travels' Timehop moment
This is by far my favourite 'travel selfie'. Behind me is the world famous Table Mountain. There was not a cloud in the sky when I captured this photo and about 10 minutes after I had taken it, the 'table cloth' flooded in from behind and covered the mountain in a thick heap of clouds hiding the incredible world wonder for the rest of the day.
Thanks so much to Panda Kennedy for sharing this Travel Timehop. If you'd like to follow more of his adventures you can do so on his blog or follow him on Instagram, Facebook, Twitter, Youtube and Snapchat as 'pandatravels'.
The Weekend Tourist
Welcome to another Travel Timehop where I share moments from memorable trips. Throughout 2016 I'm inviting fellow bloggers to tell me about their favourite adventures. This week it's the turn of Jessica from The Weekend Tourist.
She's picked a story from a road trip that I'd love to do myself, along with an extra special moment that was maybe not such a surprise, but well worth the wait. Over to Jessica to spill the beans…
When are we time-hopping to?
2014.
Where in the world?
New Orleans, Louisiana – United States.
The Weekend Tourist's timehop moment
As we inch our way into April, the spring blossom reminds me of the Natchez trail, the favourite leisure drive that winds its way from Memphis towards New Orleans. During April, the tree blossom creates a pink corridor which winds 444 miles across the southern US states.
Last year, Tom and I were entering the second week of a 22-day epic road trip which started in Atlanta and would eventually take in Dollywood, Nashville, Memphis, New Orleans, Orlando and Miami.
During our second 'leg' we stayed four days in New Orleans for the 'French Quarter Festival' weekend – the city's largest free music festival. Over 700,000 people flood into Jackson Square to hear a hot line up of NOLA Jazz!
I've picked this particular weekend as my #TravelTimehop because there are so many unforgettable moments from those four days.
I'll own up now and say I had my suspicions that Tom had been carrying round a precious sparkly item, big enough to fit in a ring box for the best part of a fortnight and there had been plenty of opportunities when the thought, 'is he going do it now?' had crossed my mind.
Indeed on our first night in NOLA, as we floated down the Mississippi on a traditional steam engine at sunset and the jazz band played in the background, I thought that might be our moment…
But Tom had other plans and decided to do the honours in our hotel room at The Columns, a beautiful mansion in the Garden quarter, which looked like it was straight out of 'Gone with the Wind'.
It was memorable, because he candidly asked if I'd forgotten 'something' as we were about to leave for our day at the Festival.
He got down on one knee, brandishing a sparkly rock, surrounded by all our wet washing, which I'd hand washed in the tiny bathroom sink and that had filled the room, hanging from every available clean service in a bid to dry off before repacking!
We really enjoyed our morning, newly engaged, at the French Quarter Festival, which celebrates the best of the city's street music. Every well known New Orleans restauranteur also opens a food stall selling their signature creations to punters; it's often the only way to actually get your hands on these delicacies without making a reservation or steadfastly queuing to get in to the actual establishment.
Our afternoon was capped off with a session with Lizzie, our Flytographer – a brilliant scheme that hooks up holidaymakers with local photographers for a photo shoot. Lizzie captured our NOLA engagement in a fantastic fashion right in the middle of the entire festival hubbub!
And last, but not least, before my head hit the pillow, Tom and I crammed in to Preservation Hall. A legendary Jazz hall, which still plays in an energetic, yet to-cool-for-school style… so all in all, it was a pretty memorable day!
Thanks so much to Jessica for sharing this amazing moment from her travels and apologies that I had to chop your beautiful picture for WordPress. Check out the pinnable image below for the Flytographer snap in all its glory. If you'd like to read more about Jessica's adventures visit her blog, or follow The Weekend Tourist on Twitter and Facebook.
The Writing Greyhound
Welcome to another Travel Timehop where I share moments from memorable trips. Throughout 2016 I'm inviting fellow bloggers to tell me about their favourite adventures. This week it's the turn of Lorna from The Writing Greyhound.
She's sharing an adorable moment from her travels with her dog Max. Tin Box Dog would love to go chasing sticks on the beach with him!
When are we time-hopping to?
July 2014.
Where in the world?
Wells-Next-The Sea beach, North Norfolk, UK
The Writing Greyhound's timehop moment
We always used to have family holidays at Wells-Next-The-Sea when I was little. My grandparents had a static caravan in the Pinewoods holiday park which we'd stay in when I was a kid, then we graduated to big family gatherings in our own touring caravans when I was older.
We still like to visit Wells every year if we can, and this photo was taken during our day trip there in July 2014.
As you can see, it wasn't the nicest weather, but we persevered and took our dog Max (pictured) for a run on the beach. At this point the tide was out, but there were still a few deceptively deep channels running down to the sea.
While running to fetch a stick we'd thrown for him, Max unwittingly found himself caught in the middle of one of these channels. He's not exactly the most water-friendly dog, so I think he was as surprised as we were to see him suddenly having to doggy-paddle to retrieve the stick!
The funniest thing was that instead of just swimming to the side to get out, for some reason he decided to paddle all the way down the length of this channel to where it finally petered out to get out – all while clamping the stick in his jaws for dear life!
Thanks so much to Lorna for sharing this moment from her travels – as a second generation caravanner it all sounds wonderfully familiar. If you'd like to read more about Lorna's adventures visit her blog, or follow The Writing Greyhound on Twitter, Facebook and Instagram.
The Helpful Hiker
Welcome to another Travel Timehop where I share moments from memorable trips. Throughout 2016 I'm inviting fellow bloggers to tell me about their favourite adventures. This week it's the turn of Lauren at The Helpful Hiker.
If you're not familiar with Lauren's blog it is your go-to resource for everything related to walking and camping with kids. She's been having outdoor adventures with her toddler Finn since day dot. So if it's camping packing lists, family-friendly trails or campsite reviews that you are after I can recommend checking out her blog.
In a slight deviation from her camping pursuits, Lauren has chosen to share a very different type of holiday as her Travel Timehop. Over to Lauren…
When are we time-hopping to?
August 2013
Where in the world?
Crete
The Helpful Hiker's timehop moment
I really love this photo and not just because I'm thinner, more tanned and younger than I am now! This holiday was a real indulgence, and it'll be a long long time before we get to do anything similar.
We were on our way from the beautiful port of Elounda to visit Spinalonga. I had just finished reading 'The Island' by Victoria Hislop so was very excited about the trip.
I had sold some shares that I got through work and made a little bit of money. Not a life changing amount, but enough to treat ourselves.
Of course the sensible thing would have been to put the money in an ISA or saved it for a rainy day. But you only live once, so we decided to blow it on an adults-only luxury holiday.
At the time I did feel a bit reckless, it was a bit extravagant, but I have such amazing memories from that week and I'm so glad we did it. By the next summer I was pregnant, and the summer after that we had a baby and a mortgage.
Don't get me wrong, I'm happy with family camping holidays for the next few years, but I'm very much looking forward to a distant time when I can lie on a beach and properly relax again.
Thanks so much to Lauren for sharing this moment from her travels. Those child-free indulgent holidays seem a lifetime ago, but the good news is they will come round again. They will! If you'd like to read more about Lauren's adventures visit her blog, or follow The Helpful Hiker on Twitter, Facebook and Instagram.
Jo Jacks Travel
Welcome to another Travel Timehop where I share moments from memorable trips. Throughout 2016 I'm inviting fellow bloggers to tell me about their favourite adventures. This week it's the turn of Jo at Jo Jack's Travel.
Jo's travel philosophy flies in the face of people who say there's no point in going places with kids because they won't remember. She says: "They probably won't remember. But they will learn." I know I learnt a lot from my travels in the UK, Europe and beyond as a child!
Jo is an expat living in the Middle East with her family of five. Here's her Travel Timehop with a story of the kindness of strangers.
When are we time-hopping to?
October, 2014.
Where in the world?
Jordan – specifically a scenic overlook in Jordan somewhere between Mt. Nebo and Petra.
Jo Jacks Travel's timehop moment
Our family had recently moved to the Middle East as expats. I now had 3 boys – ages 4, 1.5, and 4 months. This was our first big family trip in the region and as a family of five. We were nervous about security on the trip because of the wars and terrorism in nearby Egypt, Syria and Iraq.
We knew that Jordan is a dry country and that conserving water is very important to the country.
That was especially apparent during the long drive from Mt. Nebo to Petra where we passed barren brown landscapes.
At one point we were at the top of a valley with water at the bottom. It was so nice to see some blue after all that dust and sand.
We pulled over at the scenic overlook and we all got out to stretch our legs. Soon, though, our family became one of the attractions. Many kind Jordanians and other tourists came over to meet our children, pinching their cheeks and offering them sweets, posing with them in photos.
One couple in particular seemed smitten with my fair-haired middle child. The couple were in a decorated car and had just been married and were driving off on a honeymoon.
As they started to drive away, waving goodbye, they reversed quickly and screeched to a stop in front of us. The wife jumped out of the car, handed me a box, then jumped back in, and sped off. Inside the box were two dozen homemade cookies.
These unexpected gestures of friendship happened throughout our trip. The hospitality of the Jordanian people was phenomenal. Never have a I felt so welcomed or my children been so cherished.
Thanks so much to Jo for sharing this wonderful moment from her travels. If you'd like to read more about Jo's adventures visit the blog, or follow Jo Jacks Travel on Twitter and Facebook.
Scottish Island Adventures With Kids
Welcome to another Travel Timehop where I share moments from memorable trips. Throughout 2016 I'm inviting fellow bloggers to tell me about their favourite adventures. This week it's the turn of Karen at Scottish Island Adventures With Kids.
Karen writes about spending quality time with her family on the West coast of Scotland. She claims she's not your average travel blogger – less adrenaline, more family experiences (I'll join that club!) – but if you're considering a trip to the Scottish islands then I'd thoroughly recommend checking out her posts.
Over to Karen for a glimpse into her world: the Scottish isles.
When are we time-hopping to?
August 2015
Where in the world?
The Isle of Gigha, off the West Coast of Scotland.
Scottish Island Adventures With Kids' timehop moment
During a very wet week in Argyll, Scotland, the sun briefly came out and we chose to utilize the window of good weather with a trip to the tiny Isle of Gigha. It's only a twenty minute ferry ride from the mainland but it is like another world. I have never been anywhere so beautiful. The island has turquoise, clear water and silvery white sands. The water was so shallow that it was warmed by the sun and we had the best paddle of our lives.
I love it when the weather plays ball. What a gorgeous place for a paddle. Thanks to Karen for taking part in Travel Timehop. If you'd like to follow Karen's other adventures check out her blog and why not follow her on Twitter and Facebook.
Learning Escapes
Welcome to another Travel Timehop where I share moments from memorable trips. Throughout 2016 I'm inviting fellow bloggers to tell me about their favourite adventures. This week it's the turn of Marta at Learning Escapes.
I had the very great pleasure of meeting Marta at the Traverse travel bloggers conference in Cardiff in April after quite a few months of chatting online. She's an Italian expat living in Ireland and what she doesn't know about Rome isn't worth knowing!
Over to Marta for her Travel Timehop moment.
When are we time-hopping to?
August 2014
Where in the world?
Toronto, Canada.
Learning Escapes' timehop moment
It was a beautiful day in Toronto and the blue sky had prompted us to take the ferry across the equally blue waters of lake Ontario to centre island amusement park, just in front of the city.
We had spent the last three weeks sightseeing and we could see that the kids were getting tired of the constant moving around.
They had been great, hopping on and off buses and trains, but they had that unmistakable look in their eyes that told us they needed some down time: with a combined age of 5, they just wanted to play and, taken by the whirlwind of making the most of our time away, we probably hadn't given them enough space to just do that.
To rectify the situation, we had planned a full day dedicated to them and the vintage style amusement park on the island seemed to fit the bill perfectly.
We got tickets for all the rides suitable for small children and they were immediately attracted by one that had small cars running on a remotely operated track.
They wasted no time in joining the line and, while waiting, they discussed the arrangements: who would drive with mama and who would drive with papa?
Our turn arrived while the conversation was taking place and brought it to an abrupt end: adults were not allowed on the cars, kids had to go alone!
Our hearts dropped: our kids don't take well doing things without us and we though tears would flow and disappointment would ruin their special day
Except, it didn't: after a quick look at each other, they both hopped on the car, together, and waved to us during the 1, 3, 10 rounds they took! They had the most amazing time.
We were immensely proud of them and their smiles, captured in this photo, stay as one of our favourite family travel memories.
I love this memory. Our children have the ability to delight and inspire us wherever we go and in the most unexpected of circumstances. Thanks to Marta for taking part in Travel Timehop. If you'd like to follow Marta's other adventures check out her blog and why not follow her on Twitter,Facebook, Instagram, Google+ and Pinterest.
Kiddieholidays
Welcome to another Travel Timehop where I share moments from memorable trips. Throughout 2016 I'm inviting fellow bloggers to tell me about their favourite adventures. This week it's the turn of Jo at Kiddieholidays.
Jo is a mum of two whose blog will give you plenty of inspiration about travelling with babies and toddlers in the UK and abroad. Her Travel Timehop comes from a recent holiday in a beautiful part of England where they enjoyed one of Tin Box Tot's favourite activities: riding bikes! Over to Jo:
When are we time-hopping to?
May 2016.
Where in the world?
The Peak District in the UK.
Kiddieholidays' timehop moment
We spent a week in the Peak District with our 2 young sons aged 6 and 3.
We had spent ages packing the car and trying to fit everything in, and were debating about if we could fit the boy's bikes in too. Anyway, with a bit of jiggery pokery, we managed to fit them in – and thank goodness we did.
We had a great week in the Peak District visiting attractions like the Chatsworth estate, the Heights of Abraham and Crich Tramway Village – but as well as visiting all these places we did A LOT of cycling!
The Peak District is great for young children learning to ride their bikes confidently. There are so many flat, wide and traffic free cycling trails, like the Tissington Trail, Manifold Valley Trail and Monsal Trail, and they all pass through breath taking countryside.
We had such a great time riding up and down these trails; over viaducts, past farms, rivers and even caves too, and by the end of the week the boys were experts on their bikes.
They zoomed off into the distance, without even a backward glance to my husband and I who were puffing along after them on foot. They would stop after a bit, hop off and have a look at something we had passed (a river or something similar) and hop back on and continue exploring this beautiful part of the world with their newfound freedom.
This photos says it all to me. It is of my youngest son speeding along on his balance bike week having the time of his life. And that's what being on a family holiday is all about.
Absolutely Jo! There's nothing quite like popping a kids on a bike to make what might have otherwise been a 'boring walk' turn into an adventure. And what a great way to see the Peak District! Thanks to Jo for taking part.
If you'd like to read more about Jo's family travels and advice hop over to her blog, or follow Kiddieholidays on Twitter, Facebook, Google+, Pinterest and Instagram.
Marcie in Mommyland
Welcome to another Travel Timehop where I share moments from memorable trips. Throughout 2016 I'm inviting fellow bloggers to tell me about their favourite adventures. This week it's the turn of Marcie at Marcie in Mommyland – a Seattle-based blogger sharing her baby and toddler travel adventures.
Marcie's post is making me itch to return to Italy. We had three stops in this wonderful country of myths, legendary food and iconic sights during our recent cruise.
But we didn't visit Rome and yes, I am sad about that. Marcie and her family clearly had a great time. Read on to find out how her son became an attraction himself at the Colosseum!
When are we time-hopping to?
August 2015 after our family had just finished a Mediterranean cruise and were on our way to Tuscany for a family wedding.
Where in the world?
This was on our last day of our Mediterranean cruise and we opted to do the cruise excursion tour of Rome before meeting up with family.
We had done a super cool golf cart tour of the city a few days before our cruise started. We had gotten to see the Colosseum from the golf cart, but hadn't had the opportunity to get out and explore.
This was our opportunity to see the major sights of Rome.
Marcie in Mommyland's timehop moment
I'm really big into costumes at tourist attractions. When I realized we'd be at the Colosseum (months before the trip,) I went online and got our toddler a gladiator costume! He loved all the attention he got from other tourists!
At this moment, my husband is carrying our son on his shoulders so he can see above the Summer crowds.
It's been a long day for our son, but he just took out his pacifier and started grinning at me! It had been a funny juxtaposition to see a toddler with a pacifier against the mighty backdrop of the place where gladiators fought bloody battles.
What a cute gladiator! Thanks to Marcie for taking part in Travel Timehop. If you'd like to read more about Marcie's family travels and advice hop over to her blog, or follow Marcie in Mommyland on Twitter and Facebook.
After the playground
Welcome to another Travel Timehop where I share moments from memorable trips. Throughout 2016 I'm inviting fellow bloggers to tell me about their favourite adventures. This week it's the turn of Sharon from After the Playground – a blog all about being a mum to children who are at high school and beyond, and how this redefines your role as a woman.
Sharon is sharing a holiday memory from a beautiful destination I'm yet to visit. Her story will be a familiar one for all parents. It doesn't matter where you are in the world, at least one member of the family will always be bored!
When are we time-hopping to?
August 2014
Where in the world?
The island of Nalaguraidhoo in the South Ari Atoll of the Maldives.
After the Playground's timehop moment
The picture was taken towards the end of a very special holiday that I thoroughly enjoyed with my husband and three daughters. It was our 'big' holiday to celebrate our eldest daughter finishing her GCSEs and leaving school.
Our villa was on the other side of the island from the restaurant and so every morning we walked along the beach to get to it. Despite the fact that this has got to be one of the most scenic breakfast routes in the world, in true 8-year-old style our youngest daughter found it boring after the first couple of days. This swing made all the difference!
The picture sums up the very different ways in which members of my family enjoy a holiday.
Sadly, the coastal erosion is also visible which makes me think about how transient this beauty may be. I worry that my daughters may never be able to show their children this amazing part of the world.
It's a sobering thought that we are living in a very different world today to the one our children will know in the future. However, I'm sure phrases like 'are we nearly there yet?' and 'I'm bored' will live on forever! Thanks to Sharon for taking part in Travel Timehop. If you'd like to read more about Sharon's adventures in motherhood hop over to her blog, or follow After the Playground on Twitter, Instagram and Facebook.
Rainbows are too beautiful
Welcome to another Travel Timehop where I share moments from memorable trips. Throughout 2016 I'm inviting fellow bloggers to tell me about their favourite adventures. This week it's the turn of Ann at Rainbows are too beautiful.
Ann's blog shares her positive thoughts, ideas and experiences of life with her autistic and neurotypical kids. Her Travel Timehop talks about the preparations her family went though ahead of a huge holiday experience and how it ended in a triumph. Enjoy!
When are we time-hopping to?
Last evening of our Easter holiday 2016.
Where in the world?
200ft infront of Magic Castle, Disney World, Orlando, Florida.
Rainbows are too beautiful's moment
Anthony is one of the 75% of people with autism who is verbal. This means that, unlike his brother (who is five and doesn't talk), he can try to say when something is upsetting him.
Enabling him to describe how he is feeling is part of the our job as autism parents and we do our best to calm Anthony's anxieties and help him understand and communicate how he is feeling.
And like many people with autism, Anthony has been able to tell us that he is scared of fireworks.
It's common for many kids including our neuro-typical daughter to be scared of the loud blasts and bangs that accompany the beautiful lights on the night sky. Some children with autism are sensitive to sounds, you may see them covering their ears when you vacuum or near busy roads.
Anthony has been able to tell us that it's the sudden bangs, effectively the unpredictability of the loud noises of fireworks, that scares him.
Recently, we went Disney World over the holidays with a large family contingent. Trust me, it is no small feat taking five kids all under 8, with the oldest three having multiples of autism, ADHD and hyper-mobility amongst them. That's why we went with six adults!
All of those going would love to see the end of day light parade, show and fireworks by the Disney Castle.
As autism mummy I think, bright lights, loud noises, crowded spaces, losing kids in the dark…to name but a few. But sometimes you just have a feeling that actually this could work and you prepare what you can and then go for it.
The biggest preparation was with Anthony. A while before we went on holiday we talked to Anthony about him having autism and ADHD. We wrote a social story for Anthony that explained why he found some things easy, some things difficult and that he and we can help him when he feels he is finding something hard or confusing.
With his new found, "I have autism and ADHD" knowledge we were able to help Anthony focus on a few things prior to the fireworks. First was how he could help himself, by not focusing on his fear.
Once Anthony had told us about being scared a few times we then asked him to try and not talk about it after that because talking about it made him feel more anxious, like dwelling on a problem. He would still start to mention it many times of course and then stop himself.
Secondly, we asked him to trust us that just as his social story said, we would help him if he found it difficult and we could leave at any time if he really wanted to.
Of course, when the lights went low and the music started, Anthony was still extremely nervous, but after a few bangs with a loving adult by his side he was mesmerised.
Disney do a fantastic light and firework display. They incorporate a story to music and use characters that the children know and love. Anthony was totally enthralled. He was jumping around and squealing with excitement like Tigger himself. His knowledge and trust resulted in a moment of anxiety becoming and experience of joy, for us all.
So for us it's more than a picture of fireworks. It's a picture of triumph. Well done my son. Another success you can be proud of and enjoy.
What fantastic news that Anthony was able to overcome this fear and enjoy the fireworks so much. Thanks to Ann for taking part in Travel Timehop and introducing us to Anthony. If you'd like to read more from Ann hop over to her blog, or follow her on Twitter, Facebook, Google+ and Pinterest.
Wander with Jo
Hello there Travel Timehoppers! Welcome to another guest post from a fellow blogger with a passion for adventure. This week it's Jo from Wander with Jo.
First, I have a teaser for you…I know Travel Timehop has only been back for a couple of weeks after its summer break but I'm going to start running the feature less regularly from now. The reason is I have a very exciting project coming up with some of my family travel blogger friends that is going to take up a bit more of my time. Enough for now. Watch this space and do keep sending me your Travel Timehop memories!
Right. Onto this week's Timehop. Jo is a girl after my own heart. She likes to explore and she likes a beer. Her fun accounts of her travels are compulsive reading. I was intrigued when Jo sent me one of her favourite travel photos. Here's the story behind it.
When are we time-hopping to?
December 14, 2014
Where in the world?
This picture was clicked in Kawa Putih, also known as the White Crater situated close to Bandung in Indonesia.
Wander with Jo's moment
This is a breathtaking sulphur lake in a volcanic crater and very popular among tourists for its scenic beauty.
I camped the night before in a nearby camping ground with a bunch of couch surfers and early next morning we rode to Kawah Putih on our rented bikes.
Once there, we found some very random and lovely photography spots. This is one of the most beautiful places I came across in my 11 months in Indonesia. Tip – wear masks to avoid the stench of sulphur.
Thanks for sharing Jo! If you'd like to read more from Jo hop over to her blog Wander with Jo, or follow her on Twitter, Instagram, Facebook and Pinterest.
Gamin Traveler
Well, this is a throwback Thursday for all sorts of reasons. Firstly I've got a fab travel memory for you from the team at Gamin Traveler. And secondly, it's been quite a while since my last Travel Timehop. The series never really stopped but other projects, like Monday Escapes, have taken over a bit. But it's always great to hear from fellow travellers keen to share some of their special moments from around the globe.
Ruben and Rachel of Gamin Travelers are seasoned digital nomads with plenty of advice for other wanderers hoping to make a living from sharing their adventures. I'm quite tempted to try out one of their free email courses! Anyway back to their Travel Timehop. Over to Ruben and Rachel:
When are we time-hopping to?
This picture was taken in 2016.
Where in the world?
The beaches of Koh Phangan, Thailand.
Gamin Traveler's moment
This picture is so special to us as it was clicked on our 3rd wedding anniversary. We also love Thailand a lot so it commemorates our love for travel and each other.
Thailand is one of our favorite destinations because of the amazing food, people, stunning beaches and lovely resorts.
As bloggers, we are always busy clicking pictures of beautiful destinations to share with our readers but as you can see from the picture – we do find time to spend together and relax once in a while.
That is why we cherish our moments on the road and feel lucky to have an opportunity to travel together and be true digital nomads.
Thanks for sharing an insight into your adventures Gamin Traveler team! If you'd like to read more from Ruben and Rachel hop over to their blog, or follow them on Twitter, Instagram, Facebook, and Pinterest.
More travel memories
And that's a wrap for the Travel Timehop series. You can read more of my own special, funny and notable moments from our travels in my 2015 Travel Timehop series.