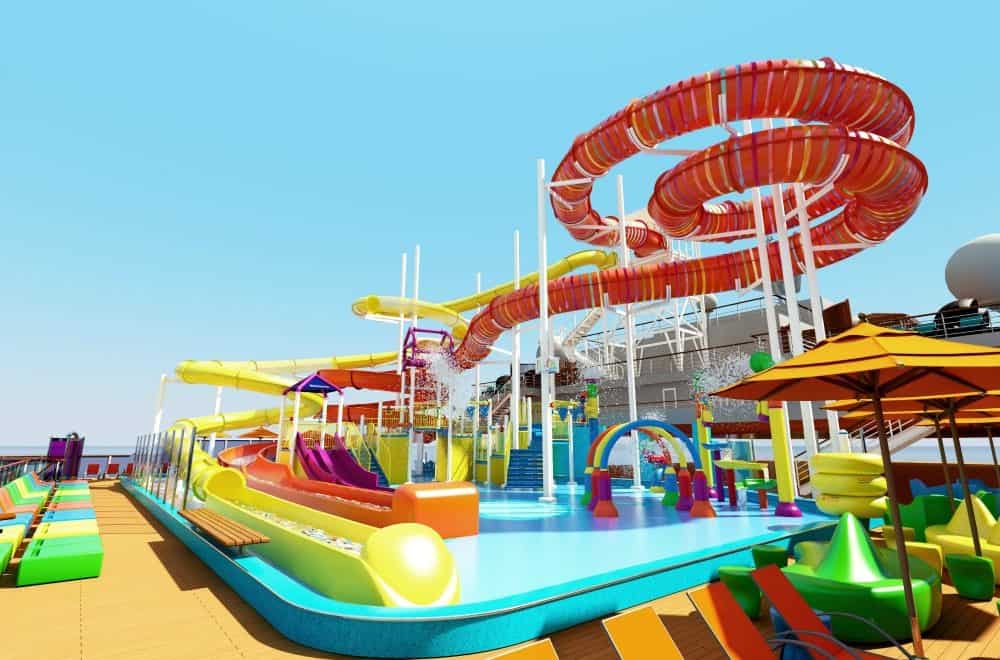 Cruising with a baby and toddler – the ultimate guide
When I originally published this post we were about to embark on our first ever family cruise onboard, Carnival Vista. To say I was excited was an understatement. We would also be cruising with a baby aged 13-months-old and cruising with a toddler aged three.
Cruising is something I've always wanted to do. The luxurious food, the West End-style entertainment and day after day of exploring remarkable destinations is my idea of heaven.
And Carnival Vista was just the most awesome ship (I've included a few pictures to make you dribble).
It's all about family fun with the first IMAX at sea, an airborne bike ride, a waterpark, an ice cream bar and kids clubs. That's not to mention the indulgent spa, numerous restaurants with sea view tables and a theatre come night club to keep mums and dads entertained.
However, cruising was not something I envisaged doing when our kids were so young (the Tin Box girls were three and one-years-old). Our eight day western Mediterranean cruise only came about thanks to the luck of a business card draw the year before.
Cue my squeals of disbelief and joy…swiftly followed by thoughts of 'eek, are we ready to cruise with a baby and toddler?'. I rapidly started doing what any travelling mum would do: online fact-finding and asking my blogging friends for their expert advice.
Here's the best tips, advice and tricks I came across to help us plan for our big adventure cruising with a baby and toddler. I hope you find them useful too:
Hot questions about cruising with a baby and a toddler
Are cruises really family-friendly?
If like me you are a little sceptical about whether a cruise is really the best type of holiday for young children then it's worth checking out this post by Cathy at MummyTravels. She easily rolls off 5 reasons to take a Caribbean cruise with a child, including the numerous beaches, the family friendly service and the food. Reading this made me feel a lot less worried.
Carrie at Flying with a Baby also has some more handy tips for choosing the right family cruise.
What do I pack for a cruise?
We're joining Carnival Vista in Barcelona, Spain, which means everything we take has to fly with us from the UK. With a baby and toddler also along for the ride we want to make sure that everything we pack is essential as we'll have no hands free for 'nice to have' items.
So what do we need to take? Sarah at Extraordinary Chaos has a great packing list for first time cruisers. I love her tips about taking seasickness remedies for your kids and a separate shore bag so you can be ready to explore each day.
Another pro cruiser, Nadine at Juggle Mum, has the low down on the wardrobe requirements for day time and night time cruising. Oh, and the handy facilities on board for if you run out of clean outfits. It doesn't matter what age your kids are and how much you pack, they'll always run out of clean clothes!
What baby supplies should we take?
While we're on the subject of essentials, let's talk nappies. It's a good idea to take a hefty supply with you.
This baby essentials packing list by David at Ports of Call is a must-read of you're cruising with a child that drinks formula milk, is teething, or crawls a mile when they see a shower.
You may run short of things that you can usually pick up at the local supermarket while on holiday. For example, Carnival do not carry nappies or baby food, which could cause problems during sea days when cruising with an infant.
Are state rooms suitable for young children?
So you're finally onboard. How are the sleeping arrangements going to work? And will the room be safe for kids?
Karen at Mini Travellers had similar concerns before going on her first voyage, but very quickly came round to the idea of family cruising.
Here's her advice on state rooms: "Think about the age of your children and how happy you would be with a room with a view and the prospect of them getting out?
"In reality mine wouldn't have been able to open the doors on our ship and I was happy with that, but if you are concerned then paying less and having an internal room may just be the way forward!"
When it comes to baby nap times travel cots are available onboard. Make sure you request one for your state room at the time of booking.
What do I need to know about our destinations?
Usually we visit one or two destinations during a holiday, not six or seven. That's a lot of research to do before you set sail.
Lisa from Travel Loving Family explains why it's so important to know your cruise destinations: "Even if you have have cruised before make sure you carefully check your cruise itinerary and know which cruise ship terminals you are going to be berthing at.
"Some ports have more than one cruise ship terminal and you do not want to be caught out thinking you are going to be within walking distance of a town if you are are not."
Excursions – to book or not to book?
This is something that we have laboured over as our 2016 holiday budget hadn't accounted for the expenses of foreign travel. However, when in (a port close to) Rome…
Lisa at Travel Loving Family is a bit of an expert on sightseeing from cruises having worked as Shore Excursions Manager for P&O Cruises.
Her advice is: "In my experience shore excursions offered by cruise lines are usually very well organised, they have been risk assessed and are therefore safe. In addition, as a passenger you have the reassurance that the cruise ship will not leave without you.
"However on the downside shore excursions can be expensive especially when travelling as a family. By researching your itinerary in advance you will know which ports you need to book shore excursions for and which ones you go off and explore independently.
"Alternatively you may wish to stay onboard the ship and make the most of the ship's facilities whilst they are quieter."
Sarah at Extraordinary Chaos is an advocate for shopping around for excursions and exploring solo: "My top tips for the first time cruiser are to do your research on ports before you go. You can sometimes save a considerable amount of money on excursions if you book it all yourself. And quite often get a much more personal service.
"For example a trip to Rome from Civitavecchia can be quite costly yet it is only a 10 minute walk to the train station which costs roughly 16€ for a family of four for the 40 minute trip into Rome.
"Of course you need to be organised and get an earlier train back just in case you miss your train. But we had a wonderful tour of Rome this way and visited all the things we wanted to in a day."
Can our children use the kids clubs?
Something that piqued my interest early on when I was looking through the details of our Vista cruise was that there are kids clubs. Woohoo! Mr Tin Box and I are in for some adult time.
However, you need to be aware of age restrictions in cruise ship kids clubs if you are travelling with children under the age of two.
Lisa at Travelmamas explains some of the different cruise lines' kids club options in her post about tips for cruising with kids.
If your children are over the age of two then the world is your oyster. Jennifer at Kid Friendly Europe 101 had a great experience with the kids clubs on her first cruise, enjoying adult meals and shore excursions safe in the knowledge that the children were also having a great time.
Unfortunately Tin Box Baby was too young to take part in a lot of the daytime kids club activities on our Carnival cruise, but she could nap down during the evening sessions.
Will my kids like the food?
I had two relatively unfussy eaters and Tin Box Baby was weaned on to solids when we sailed so I was not too worried about this. There was a great variety of restaurants on Vista, so I was sure we'd have no problem finding something to their tastes.
Having also read a post about cruising with a baby by Chris at New Dadio I knew that pureed baby food was available on some cruise ships too, even though they were in poor supply during his family's trip.
I found this post about food and drinks on Carnival cruises by Stefanie at Mommy Musings really informative about the different dining options. Tin Box Tot appreciated her complementary milk and cookies at bedtime.
Can my baby go in the ship's pools?
My girls love a trip to the swimming pool and what better way to cool off after a day of sightseeing?
However, a bit of research on the web revealed that a lot of cruise ships do not allow babies in their pools unless they are potty trained.
Even swim nappies are a no-no. This is the case on Carnival cruise ships for public health reasons but some other cruise lines do offer splash pools for tiny tots.
Remember: every ship is different, so if you have a specific question about travelling with a baby and/or toddler then get in touch with your cruise line. Here's a whole bunch of handy stuff about Carnival cruises with babies and toddlers.
Have you been on a cruise with a baby or toddler? What are your top tips? You can also read our tips for cruising with a baby based on our experience from our first and subsequent cruises.
If you'd like to see how our cruise panned out then have a read about the family-friendly Carnival Vista here.
More about cruising with kids
Did you know that as well as writing Tin Box Traveller I'm an editor on the travel blog Cruising with Kids? Hop over there for cruise reviews, port guides and plenty more tips for cruising with infants through to teens.
Disclosure: pictures courtesy of Carnival Cruise Lines and Pixabay. I've not been asked to write this guide or been compensated for it – I'm just so blinking excited!
Pin for later
I love hearing what people think about my blog so feel free to leave a comment below or browse around. You can also find me on Bloglovin', Twitter, Facebook, Instagram, Pinterest, Youtube, Google+ and LinkedIn.