11 reasons Carnival Vista is a family-friendly cruise ship
After writing about all the things we got up to on our eight day family cruise on the new Carnival Vista I received quite a few questions about how family-friendly it was as a holiday. In a nutshell, I would say 'very'. Here's a bit more information about what guests with young and older children can expect on this family-friendly cruise ship.
Carnival Vista: a family-friendly cruise ship
A family-friendly team
Everyone on the Carnival Vista has a smile for you and your children. OK, mainly the children. They really are made to feel like the stars of the show. From the moment we were ushered to the Priority check in lane at Barcelona Port, to our extremely attentive cabin steward, Francisco, we were made to feel special. I lost count of the number of towel and napkin animals that were spontaneously made to entertain our girls during the week.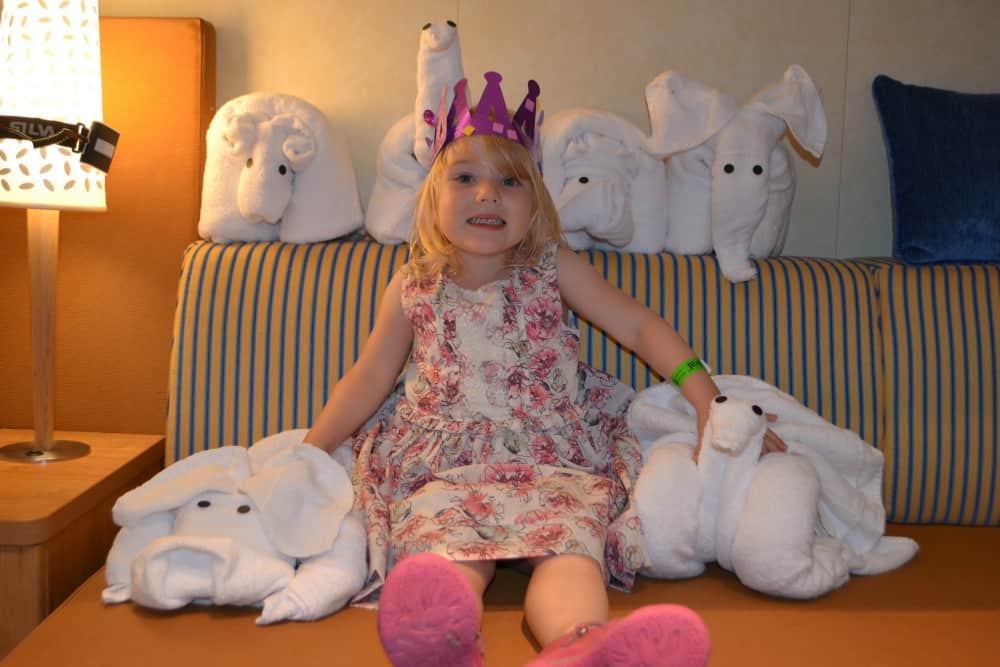 Family staterooms
Carnival Vista is the first ship in the fleet to offer accommodation designed specifically for families. The Family Harbor Staterooms are decorated with a colourful nautical theme, have a lot more space and, at the higher end, offer separation between the adults' and children's sleeping areas – essential for those nights when the kids are pooped and you want to watch a film. Guests in Family Harbor Staterooms also have exclusive 24-hour access to the Family Harbor Lounge where they can have breakfast, grab snacks and enjoy board games, movies and video games.
We stayed in an Ocean View Stateroom and were really impressed. It could sleep up to five people with twin beds, a bunk and double sofa bed below. We requested a cot for Tin Box Baby and this sat comfortably in front of the sofa, which we had no intention of using anyway. There was loads of wardrobe space, draws, shelves, and storage for cases under the bed.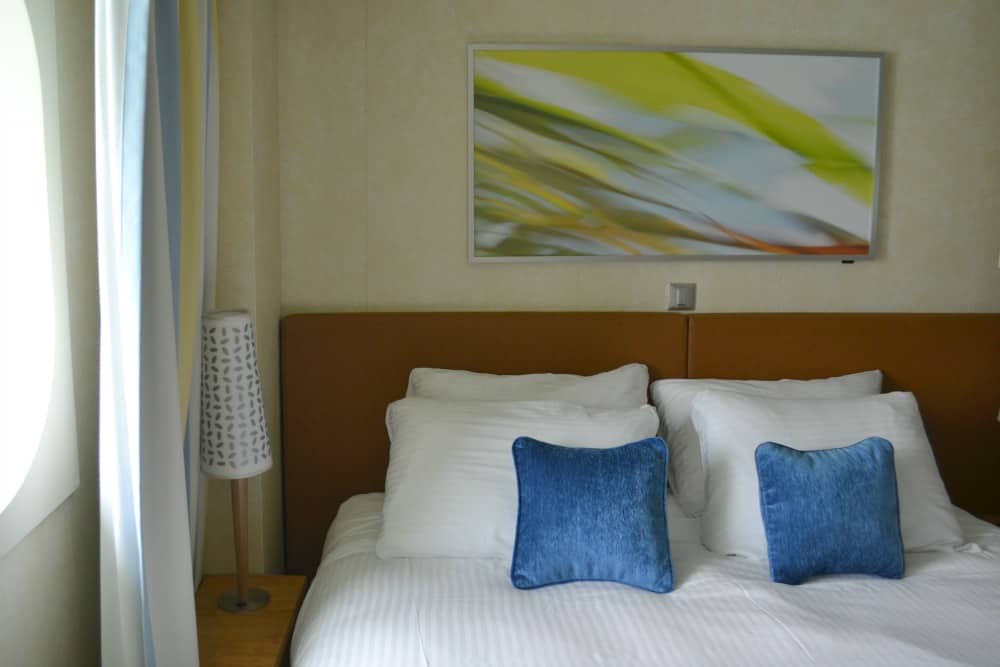 We had two bathrooms, one with a small bath with a shower over it and a sink, the other with a sink, toilet and shower. This meant the girls could have their own bathroom and we could give them a proper dunk in the tub after the pool.
The power sockets are US so you need travel adaptors to suit. There are also a couple of USB ports above the desk for mobile phone and tablet charging. Under the desk there was a fridge where we kept some milk for the girls. Top tip: you can order milk and cookies from room service.
One of our very favourite things about our stateroom was the large window, which gave us great views of the Mediterranean and our ports of call. It also became a spot for us to relax and plan our next day when the kids had gone to bed.
Soft play for babies
Throughout the cruise we had access to the Dr Seuss Bookville – a children's library come soft play area with shelves of books, baby toys and board games. We spent a lot of time here with Tin Box Tot allowing her to roam around and play with toys larger than we could bring in our suitcases.
Ocean Club for children and teens
We registered both our girls, aged three and one, for Carnival Vista's kids club and babysitting service before joining our cruise. We knew Tin Box Baby wouldn't be able to use all of what Ocean Club had to offer because she was under two. However, we were pleasantly surprised about what was available for her.
Ocean Club is open from early morning (the start time varied each day depending on our arrival in port) right through to 1am. If your child is over the age of two then sessions are free up until 10pm when the Night Owls babysitting service takes over. This cost $6.75 (plus 15% gratuity) per hour, per child and was available for children of all ages. During the morning there was between two and five hours (again port dependant) when under two-year-olds could join in with play sessions for an additional fee.
During the afternoon there was a full schedule of themed activities for children aged two to 11-years-old ranging from shell painting to story time, and parachute games to magic shows. You could also leave your kids with the Ocean Club team for lunch and dinner if you wished.
We used the club during the evenings either after we'd eaten an early dinner together or the girls had had their food. Tin Baby Baby would nod off in her pushchair (most nights) and Tin Box Tot would go to parties in Ocean Club. She always came away with a huge smile, crafts or gifts, and a lot of stories to tell.
Finding adult time
You may have surmised that after we dropped Tin Box Tot off at Ocean Club each evening we did go off and have some date nights, albeit with a sometimes napping, sometimes not 13-month-old. At home the girls would usually be in bed between 6pm and 7pm, so having this natural break was really valuable for us especially when our days were so full.
We spent our adult time eating dinner in the Horizons Restaurant, catching an open air film on the Lido Deck big screen or chilling out in one of the many live music bars.
Swimming and splash pools
Tin Box Tot couldn't get enough of Vista's Waterworks – Carnival's largest ever splash park. While she was too short to go down the 455-foot-long Kaleid-o-Slide or the cruise line's first tube-riding slide, she did enjoy the smaller mini-racers waterslide. Meanwhile Mr Tin Box and I took turns at the big slides and, boy, they are fast!
We also used the seawater Beach Pool on the Lido Deck a lot and could have taken a dip in Tides Pool at the ship's stern but this seemed more suited to adults with jacuzzis and easy access to the bar.
One disappointment for us was that only children who are potty trained can use pools on Carnival ships, so Tin Box Baby had to sit out during the water fun. This is not an unusual policy and is the same on a lot of cruise lines for health reasons.
SkyRide
If you're into adventurous sports then Carnival Vista can cater for all your adrenaline needs with bicycles suspended 150 foot above the sea. SkyRide is another new feature for Carnival. It involves two pairs of recumbent bikes on a 800-foot monorail track with sea views to give you goose bumps. Mr Tin Box had a go while I looked after the girls. Sadly the queue was a bit long the next time I had the opportunity to have a go (cough cough – I'm not great with heights).
Eating on Carnival Vista
Where do I start? There are so many places to eat on Carnival Vista and far too little time. The buffet in the Market Place Restaurant was our go-to place for breakfast and most lunches as we could guarantee a variety of food to suit the whole family's tastes. In the morning, the Tin Box girls feasted on cereal, yogurts, toast and fruit, and then helped polish off our cooked breakfasts.
If we were onboard at lunchtime the buffet also offered a wide choice of toasted sandwiches, pasta, rice and salads followed by fruit, cakes and ice cream.
We changed things around a bit in the evenings either eating al a carte in Horizons, grabbing an early bite at Guy's Burger Joint, sampling the pub food at the RedFrog Bar or ordering a fresh pizza at Pizzeria del Capitano. This is just a fraction of dining choices on offer, but they were probably the most family-friendly. We never had problems finding somewhere to dine whenever the Tin Box girls' bellies were rumbling and the waiting staff were happy to locate a high chair for us within a couple of minutes.
Tours and excursions at your own pace
Our eight day Mediterranean cruise took us to Sicily, Naples, Civitavecchia, Livorno, Marseilles and Palma de Mallorca. There were guided or self-guided excursions from every port and some cities could be explored by walking or taking a short shuttle ride from the ship costing up to $15 per person (although we didn't pay for our baby and toddler).
We knew it wouldn't be a good idea to take too many excursions with our girls so we chose two that we really wanted to do: a guided tour of Pompeii from Naples and a self-guided tour of Florence and Pisa from Livorno. The self-guided tour involved getting on a coach chartered by Carnival and being given instructions by a local guide about places to see and meeting points for our return journey.
As both our girls are under the age of four they went free but they had to sit on our laps on the coach. We really enjoyed the experience of exploring these magical places with our children and it was good to be part of excursions that we knew would get us back to the ship on time. Taking a relaxed walk around Florence (and not having to worry about keeping up with a guided tour) was one of the highlights of the cruise for me.
We also went ashore in Marseille and saw the sights from Le Petit Train.
Family entertainment
As with the restaurants, we only scratched the surface of the entertainment programme on Carnival Vista. We took the girls to enjoy early evening live music in the bars, watched some very entertaining competitions run by the fantastic Cruise Director, Matt, and saw a juggling and comedy show in the Liquid Lounge theatre. On deck we visited the open air SportSquare to play mini-golf, Twister and table football. There's also a small children's playground and interactive light and movement games in the NEOS(R) Playzone on the same level as the Ocean Club.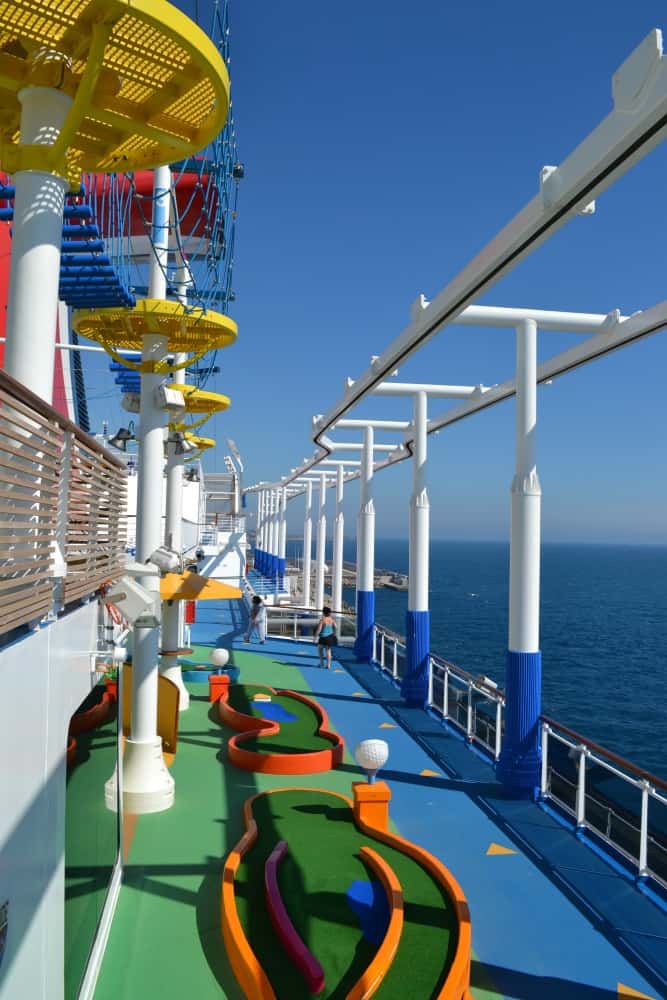 Had our girls been a bit older I'm sure they would have been asking to go to the first IMAX cinema at sea, the family-friendly comedy shows, bowling in the ClubHouse and the SkyCourse high ropes.
Getting around Carnival Vista with a pushchair
Having read a few cruise reviews by parents with pushchairs I was prepared for long waits by the lifts as we travelled between our stateroom on deck one and the main amenities several decks above. However, we were pleasantly surprised about how little time it took to get around with our stroller. Even on disembarkation day we were able to get up to the buffet on Deck 10 and back down to the gangway on Deck 3 for our allocated leaving time without any stress. There were plenty of lifts and they took no time at all to travel between the 15 decks.
The only time we did find bottle necks at the lifts and on the stairs was on busy port days when everyone was leaving to see the sights in Rome and Florence at the same time.
At the end of the day and at nap time there was plenty of room to park our Britax stroller in the corridor between the wardrobes and bathroom in our stateroom. Some parents also parked their's in the passageway outside their cabins without issue. There was still plenty of room to get by.
Carnival Vista: a family-friendly cruise ship
If you are thinking of taking a cruise with your family I hope this post has answered some of your questions. If there's anything else you'd like to know then drop me an email or comment below. You might also find my post about cruising with a baby and toddler handy.
Pin it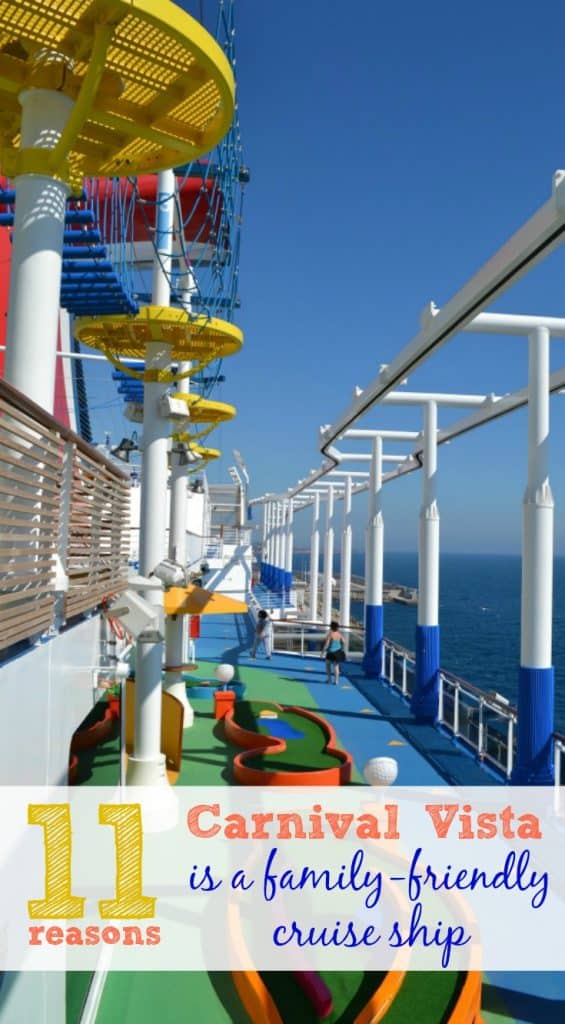 Disclaimer: we won our cruise on Carnival Vista at the 2015 Family Travel Show. We paid for our own flights, excursions and expenses. I am under no obligation to write about our experiences and all opinions are my own.
I love hearing what people think about my blog so feel free to leave a comment below or browse around. You can also find me on Bloglovin', Twitter, Facebook, Instagram, Pinterest, Youtube, Google+ and LinkedIn.