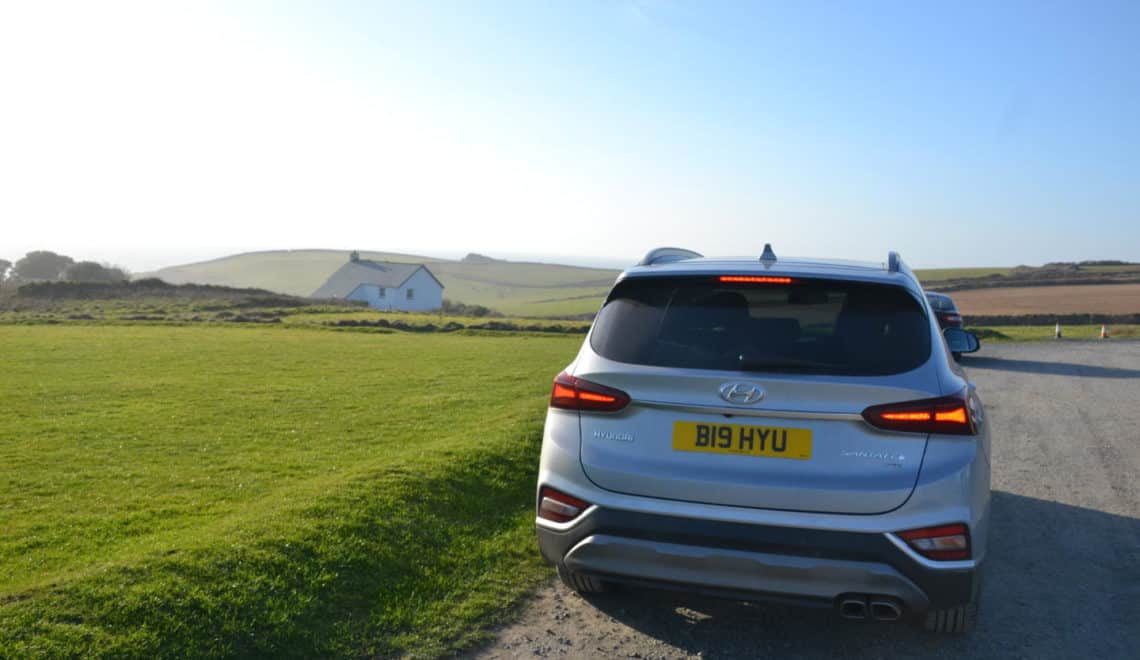 Hyundai Santa Fe Premium SE review: the best large family car for holidays with kids (and a dog)?
Mr Tin Box has always been a bit of a petrol head and motoring journalist features highly in his list of dream jobs. So, when we were offered the chance to test drive the new Hyundai Santa Fe Premium SE to see whether we thought it was the best large family car, he was overjoyed to channel his inner Clarkson. Here is Mr Tin Box's motoring review debut:
*Advertisement feature*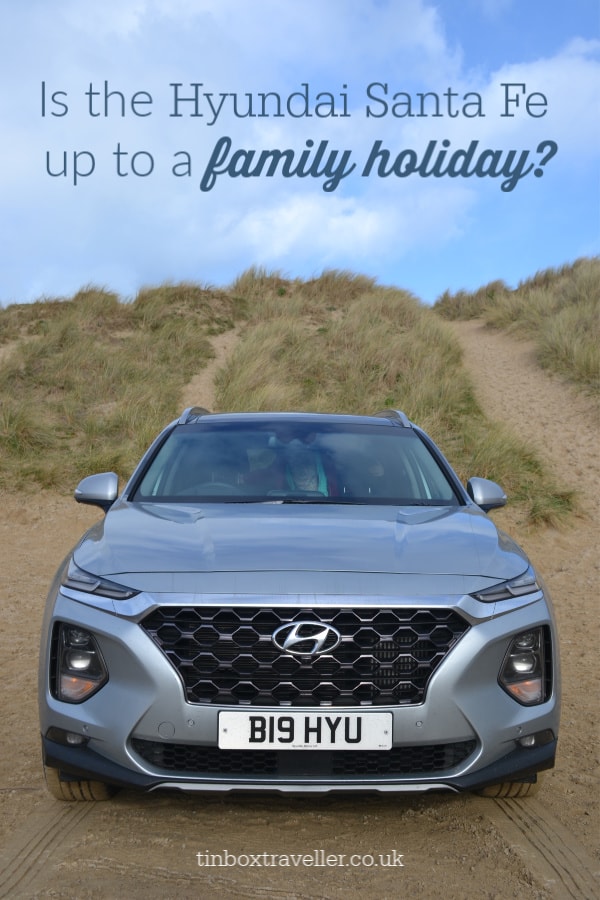 The Tin Box household is no stranger to big 4x4s, having owned them for many years to tow caravans and generally transport the huge amount of cargo necessitated by two children and a dog. They are our go to vehicle for practicality. But also for the confidence that comes with four wheel drive when you live in a rural area that can experience interesting weather and has no supermarket in walking distance.
Followers of Tin Box Traveller may have noticed our current vehicle is a large Korean 4×4, albeit a couple of years old now. We also have fond memories of a Hyundai Getz that we took on a road trip around Europe just over ten years ago. So we were well placed to put the Hyundai Santa Fe Premium SE 2.2 CRDi 4WD Auto through its paces on a recent trip to The Valley luxury cottage resort in Cornwall.
B19 HYU, which we quickly nicknamed 'Big Hugh', arrived the day before we set off, giving us time to get to grips with packing him for our week-long adventure with two kids and Tin Box Dog in tow.
Top tech in the Hyundai Santa Fe Premium SE
The top of the range model we were testing came packed with technology to enhance the experience for both driver and passengers. Initially I was sceptical about the usefulness of the Head Up Display projected onto the windscreen, but was sold after the first few miles.
Being able to see speed limit, lane departure and blindspot warnings and Sat Nav directions, all without taking your eyes off the road, is really clever. And if it's good enough for fighter jets, why not a family car?
The kids' seemingly tireless requests for The Greatest Showman or Moana soundtracks were dealt with by the excellent Krell Premium Audio System. Featuring Apple Car play and Android Auto connectivity, it was easy to stream music directly to the system as well as to use car enabled apps or third party satellite navigation systems.
The wireless charging pad built into the centre console was also a big hit with Mrs TB who is normally never far from a charging cable.
Safety features
As well as the normal array of airbags and isofix points, the Santa Fe Premium SE 2.2 CRDi 4WD Auto also had a couple of smart active safety features that I had not experienced before.
The Lane Departure Warning System with Lane Keep Assist (LKAS) not only gives an audio and visual warning when the car starts to leave its lane but it can also actively steer the car back between the lines. It's an odd sensation when it first happens but could be a life saver on longer trips when attention wonders or tiredness gets the better of you.
There is also a blind spot detection system and Autonomous Emergency Braking, which will automatically bring the car to halt if it detects an imminent crash. It's surprising how quickly you become accustomed to these systems and how well they work.
How many seats are there in a Hyundai Santa Fe Premium SE?
The Hyundai Santa Fe Premium SE is a seven seat car with three seats in the back and a further two that pop up in the boot. A question that I know many large families will ask is: can the Hyundai Santa Fe Premium fit three car seats in the back? Sadly the answer is no, but we did fit two isofix seats in the two outside seats and there is room for a small adult to sit in-between.
Find our more about capacity and safety features on the Hyundai website.
Hyundai Santa Fe boot space and packing it for holidays with kids
If you're in the market for a car like the Santa Fe Premium SE, practicality has got to be at the top of your wish list and it certainly delivers. The boot is cavernous with the two rear seats down and you can still get a few bags in with them up. Put the middle seats down and you have a huge flat load space which we used to double as a picnic area on more than one occasion during our holiday.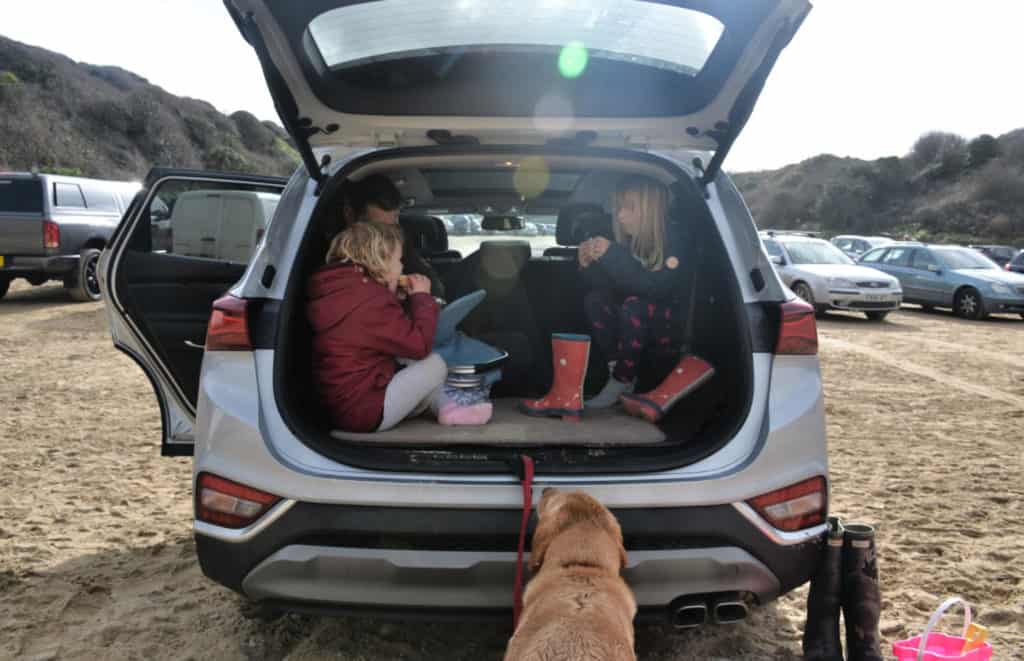 To help pack the boot for our family holiday, and make sure Tin Box Dog still had a bit of travel space, we used a cargo net attached to the back of the middle seats with karabinas. This contained our holdalls during the road trip to Cornwall and our ever essential wellies and picnic basket on days out. Dog had oodles of space throughout the week.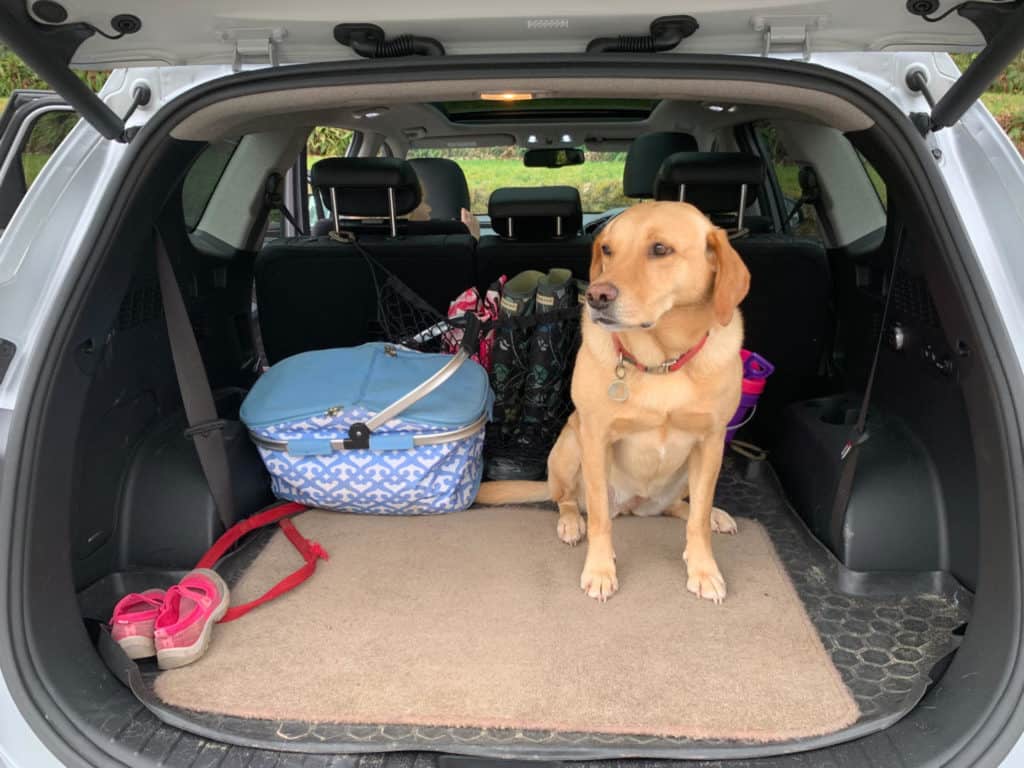 A nice touch is the buttons in the boot which allow you to drop the middle seats without having to find the right lever on the chairs themselves. The addition of a 110v inverter in the rear seats, whilst probably intended for laptop charging, also has a myriad of potential uses for campers and caravanners.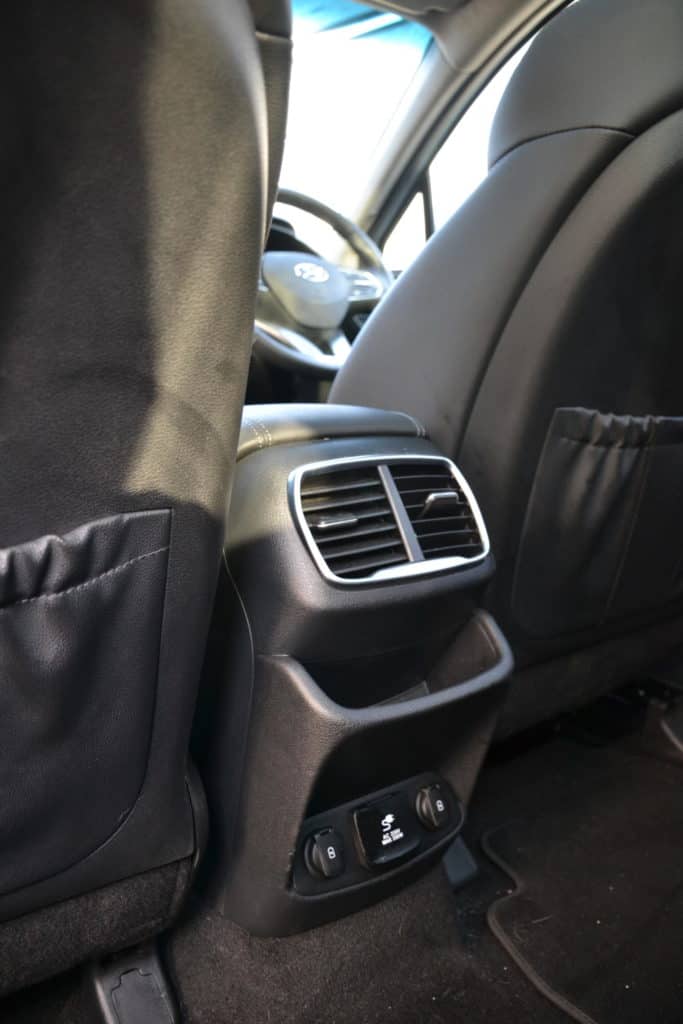 Can the Hyundai Santa Fe Premium SE tow?
Speaking of caravanning the car is well set up to be an ideal tow car. The 360 degree camera system with on screen guidance is ideal for quickly hitching up.
Plus, the self levelling suspension combined with trailer stability assist should make for a safe and stable tow. The 2.2 turbo charged diesel packs plenty of punch and the auto gearbox comes with a manual paddle shift mode for those times when you need to be in control of gear changes.
Take a look at Practical Caravan's review of the new Santa Fe as a tow car for more information.
Our family holiday with the Hyundai Santa Fe Premium SE
We had a great week in the Santa Fe Premium SE. The luxury interior combined with practical family car features meant it took everything the Tin Box clan could throw at it with ease. It absorbed all our clobber for a week-long holiday and day trips. It handled well on main roads and country tracks. And throughout, we all felt safe and comfortable as we explored Cornwall.
So, is the Santa Fe the best large family car? If you're looking for a combination of practicality, space, 4×4 capability, flexible seating and safety, then this could be the car for you.
We were all more than a little sad to see 'Big Hugh' go, and I must admit I was more than a little guilty at the amount of sand and mud we left in the boot. Sorry Hyundai!
Find our more about the all-new Santa Fe on the Hyundai website.
Disclosure: we were loaned the Hyundai Santa Fe Premium SE to use during our family holiday to Cornwall and have been compensated for our time conducting this review. All opinions are our own.
If you're looking for the best large family car or have the Hyundai Santa Fe Premium SE on the shortlist for your next vehicle, pin this post for later!