24 Hours in Iceland: must see sights from Reykjavik
Dad's gone to Iceland! While the girls and I were road tripping in the UK during October half term Mr Tin Box was floating around the Arctic Circle. How did he get away with leaving us behind I hear you ask? Well, this trip was actually a work one with the Royal Navy rather than a holiday. But he still managed to get 24 hours in Iceland in-between the serious stuff. Here's his advice on the must see sights from Reykjavik in Iceland if you are time challenged like him:
If you are visiting Iceland chances are you will have planned more than 24 hours in which to see all its amazing sights. But if, like me, you only have one day in Iceland while on 'business' here's what it is possible to see.
24 hours in Iceland: itinerary from Reykjavik
Reykjavik is the ideal base for a short Iceland adventure. All of the must see Iceland sights in this post are within two hour's drive.
Reykjavik hospitality and nightlife
Reykjavik is a thriving town with excellent nightlife and cuisine. The locals tend to drink at home before heading into town due to the cost (two pints can cost up to £20), so pubs and clubs don't get busy until after midnight. My particular favourite was Saeta Svinid or the Sweet Pig, a pub in the centre of town serving excellent food and beer with happy hour from 3pm daily.
Top Tips:
It's an expensive town. Download the AppyHour App to get a good deal on drinks.
If you want a quiet night, go out early. If you fancy a party, leave it until after midnight to hit the bars.
For more inspiration on things to do in Reykjavik Iceland with kids then check out what Monkey and Mouse got up to during their visit to South West Iceland.
Golden Circle self drive hire car tour
The Golden Circle describes a circular route starting and finishing in Reykjavik taking in some of the must see sights on the island. A hire car is without a doubt one of the best ways to get around and see the sights. There are of course plenty of bus tours but with your own car there is so much more freedom to stop and take in the many fantastic vistas.
I visited in October after the main tourist period was over so hire car rates were very reasonable at well under £100 and traffic at the main tourist sights relatively light. The roads are easy to navigate, well maintained and there are plenty of picnic sites and rest stops at which to take a break. If there is a small group of you it represents great value for money.
Top Tips:
Read up on local driving laws. Headlights must be on at all times!
Be prepared for four seasons in a day and dress appropriately with plenty of layers.
Take a picnic as prices in Iceland are expensive. A packed lunch can be a great alternative to dining out if you are on a budget.
If you'd like more tips on budgeting during a trip to Iceland Monkey and Mousey have this covered.
Snorkelling at the Silfra rift, Thingvellir National Park
This is definitely bucket list stuff. Snorkelling between the American and Eurasian tectonic plates in this national park is an amazing experience. I found floating over the fissure, which in places is 40m deep, is both relaxing and exhilarating in equal measure. The water is incredibly clear due to the water filtering through masses of volcanic rock for 30 to 100 years. Don't worry about being cold. The dry suit keeps the worst of it at bay. And the hot chocolate and cookies at the end get the blood flowing again.
I dived with Troll Tours Iceland who were very friendly and professional. You are led by a PADI Divemaster and all your equipment is provided. The guides even capture photos which are emailed to you after the tour at no additional cost. The minimum age for the snorkling tour is 12 and under 18s must be accompanied by an adult. Being physically fit is a must.
Top Tips:
It's worth booking online in advance at busy times.
Try and go for the first session of the day to avoid queues.
Long sleeved thermal underwear is a good idea if you feel the cold.
To read about more adventurous activities in Iceland check out these posts about white water rafting and snowmobiling by Mum's Gone To…
Get your Game of Thrones fix at Thingvellir National Park
Translated literally as 'Parliamentary Plains' this amazing historic World Heritage Site was the seat of ancient Icelandic Parliament and is the meeting point of two tectonic plates.
The geographic features are breath-taking. But don't be totally seduced. There is some grizzly history at the drowning pools at the bottom of the waterfall. TV buffs may recognise the 'Wall' from Game of Thrones. You can pay a visit on your way to the Sifra Snorkelling tour (see above) or pop in after.
Top tips:
You can walk up to the visitors centre from the Silfra car park.
Pay for parking at the automated machines by card. Just remember your hire car number plate.
The visitors centre is a good place to stop for a toilet and coffee break before you continue your whistle-stop tour.
Lunch and spa at Laugarvatn Fontana
We stopped at Laugarvatn for lunch away from the central tourists sites. The Lindin Bistro and Café served excellent lamb burgers. You can also try Reindeer. If you have a little more time enjoy a Geothermal Bath and Spa experience at Fontana.
There's also the famous Blue Lagoon. Read everything you need to know about a visit in this post by My Travel Monkey. Or read about these tried and tested Iceland pools visited by The Family Adventure Project team.
Stand among the eruptions at Geysir
This geothermal field of bubbling pools and steaming streams is magical. The water is between 80 and 100c and bubbles up from underground in dramatic fashion. Strokkur is the most active geyser shooting water up to 30 meters into the air every 10 minutes or so. It's free to park and walk amongst the bubbling caldrons. There is also a visitors centre with facilities, a café and plenty of souvenirs.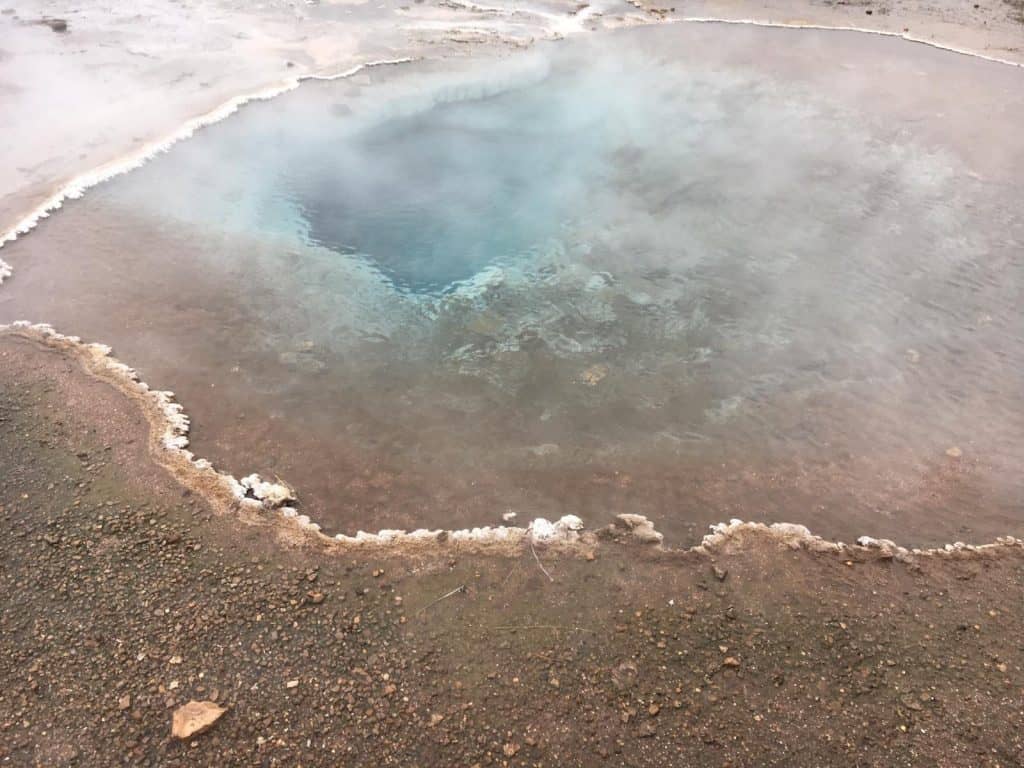 Top tips:
Don't touch the water for obvious reasons!
Don't be in a rush to leave once you've seen one eruption. Watch a few; each is different and some can be significantly more dramatic than others.
Witness the power of Gullfoss
This stunning Icelandic waterfall cascades over two large drops into a 70m deep canyon. There are walkways out to several vantage points, one right by the first drop. Prepare to get wet from the spray! Any hint of sunlight brings out beautiful rainbows in the airborne water puffing up from the canyon. Again there is a café, facilities and free parking.
Top tips:
Waterproofs are essential if you plan on getting close to the waterfall.
See the Northern Lights
The beautiful but often elusive northern lights can be seen from September through to April. You need clear skies and a bit of luck to see them. The good news is there is an Aurora forecast. I wasn't lucky enough to catch the lights on my visit to Iceland but did a few days later out at sea.
If 24 hours in Iceland doesn't take your fancy then read about how to spend 10 days in Iceland by Mini Travellers.
It's safe to say a full Tin Box family visit to Iceland is on the cards sometime in the future. Have you visited Iceland? What sights would you recommend? And what's the ideal length of time to stay in the country? I'd love to know!
Pin for later