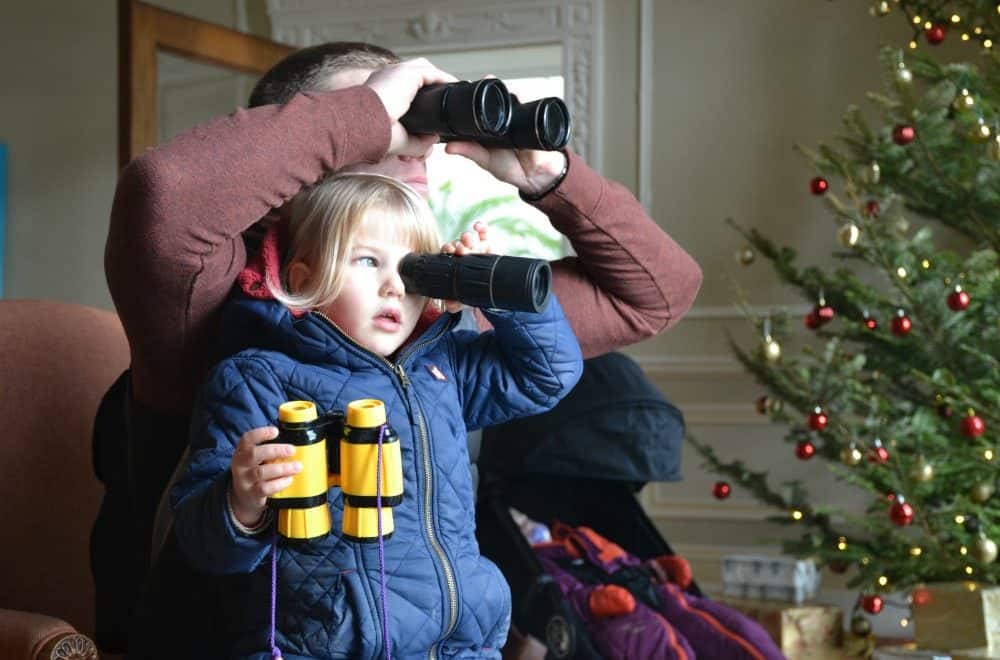 Visiting Trelissick National Trust with kids
A year ago we visited our first National Trust property for years and haven't looked back. The combination of children's treasure trails, wide open spaces and houses packed full of curiosities has been a winning one as our girls start to explore the world around them. At Christmas we couldn't resist a visit to the estate not far down the road from where we were staying at Bosniver Farm Cottages – Trelissick National Trust. Like all the other properties we visited in 2016 this place came with it's own little quirks. One being that it was the perfect place for a game of eye spy. Here's what we got up to visiting Trelissick National Trust with kids: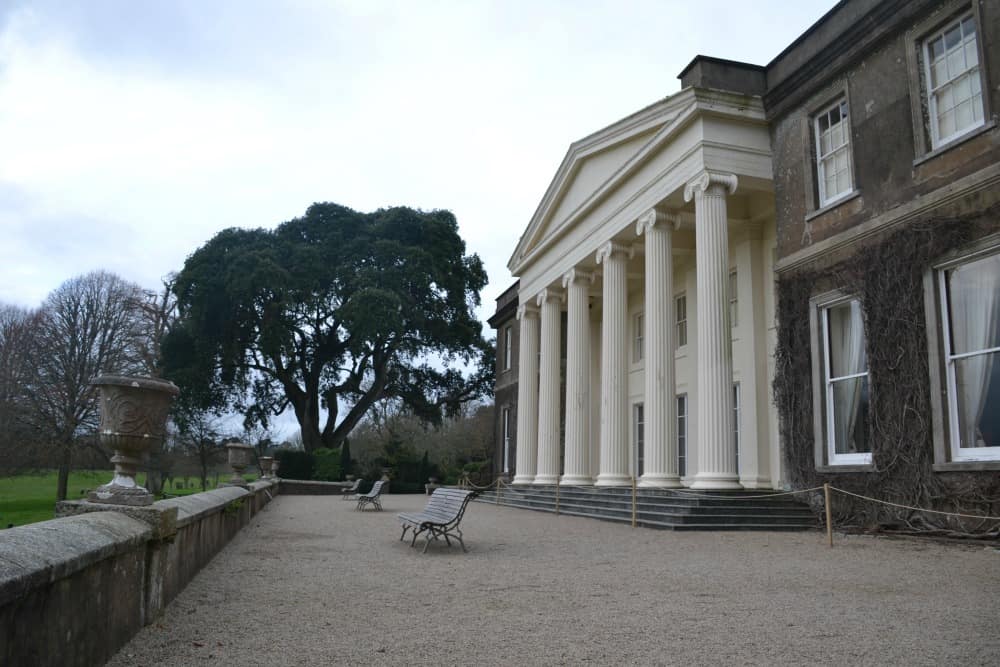 Trelissick house history
The Trelissick estate was gifted to the National Trust by the Copeland family in 1955. They continued to live in the house right up until 2012. It has a fascinating history which includes the riches to rags story of Thomas Daniell. He fled to France to escape debtor's prison after his love of gambling and an economic downturn decimated his finances. More recently, more than 400 of the house's items were sold at auction. This has left it feeling a little bare in places but with whispers of its former glory. You can still see some of the lots online that were sold by the auctioneers Bonhams in 2013.
Today the estate boasts beautiful gardens stocked by a previous Victorian plant hunting owner, a partly furnished house with some of the original contents obtained by the Trust, a contemporary art gallery, as well as a lovely cafe and stunning walks around the estate.
Trelissick walks with kids
On arrival our first order of business was to give Tin Box Dog a good run around. There are lots of different paths, woodland walks and circular walks around the estate which are helpfully detailed on a map in the car park. With Tin Box Tot and Baby, and only a light weight pram, we chose a relatively short walk down to Trelissick beach at Channals Creek. From the beach you can really appreciate the beautiful scenery and understand why the house was built in this location.
There's also an upturned boat which has been made into a shelter overlooking the creek. The girls spent quite a while trying to spot birds through a weighty pair of binoculars that were chained to the wall. If you are going for a spot of bird watching yourself you might want to take your own bins as these ones had seen better days.
Exploring Trelissick's gardens
Tin Box Dog had to go back to the car at this point (dogs aren't allowed in the house or gardens). Even in winter there is plenty to see in the gardens thanks to the mild Cornish climate. A volunteer at the entrance told us the secret garden was a must-see. So off we went clutching a free map.
This part of the garden is only accessible by a bridge which crosses a road cutting through the estate. There's a circular walk through the ancient trees, with an orchard and summer house to look at along the way. Mr Tin Box amused the Tot by pointing out the more unusual plants and trees. They also played 'helicopters' with sycamore seeds – a favourite game.
Back in the main garden we followed another path around to find views out across the River Fal. My favourite spot was the second summer house we came across here, which overlooked the tennis lawn. It was a perfect place to rest tired legs while admiring the view. The estate's gallery had installed one of its exhibits on the grass, which the Tot particularly enjoyed. From a distance it looked like a polished marble seal but up close we could see it was wooden.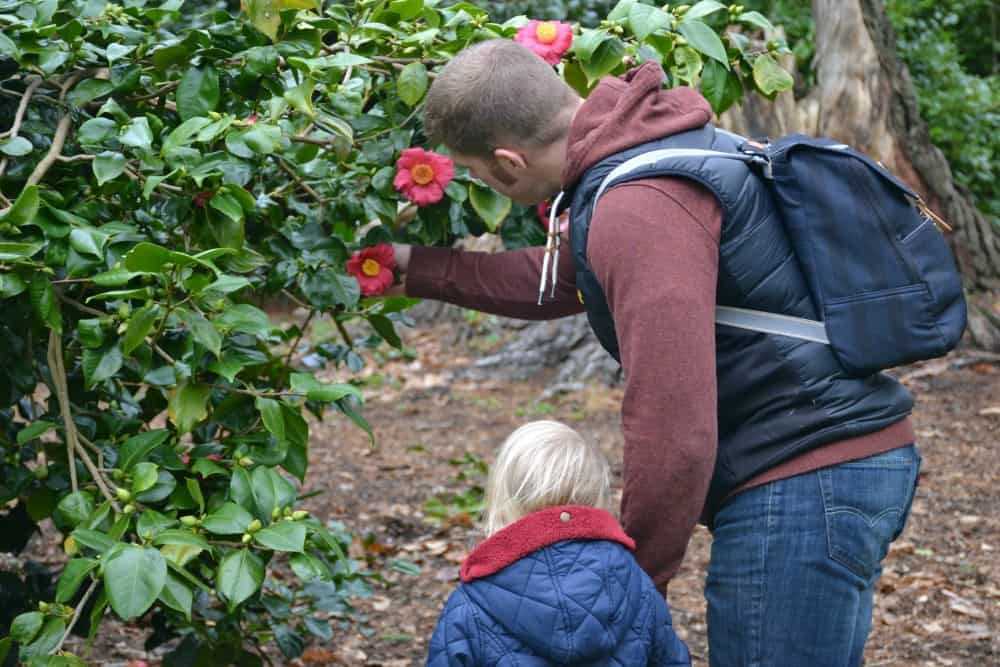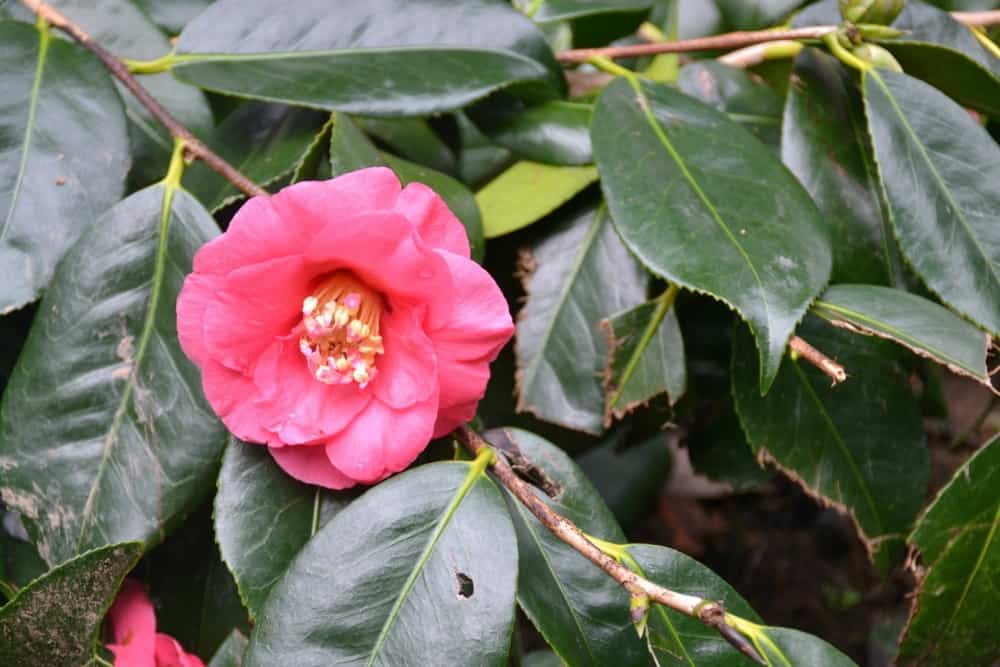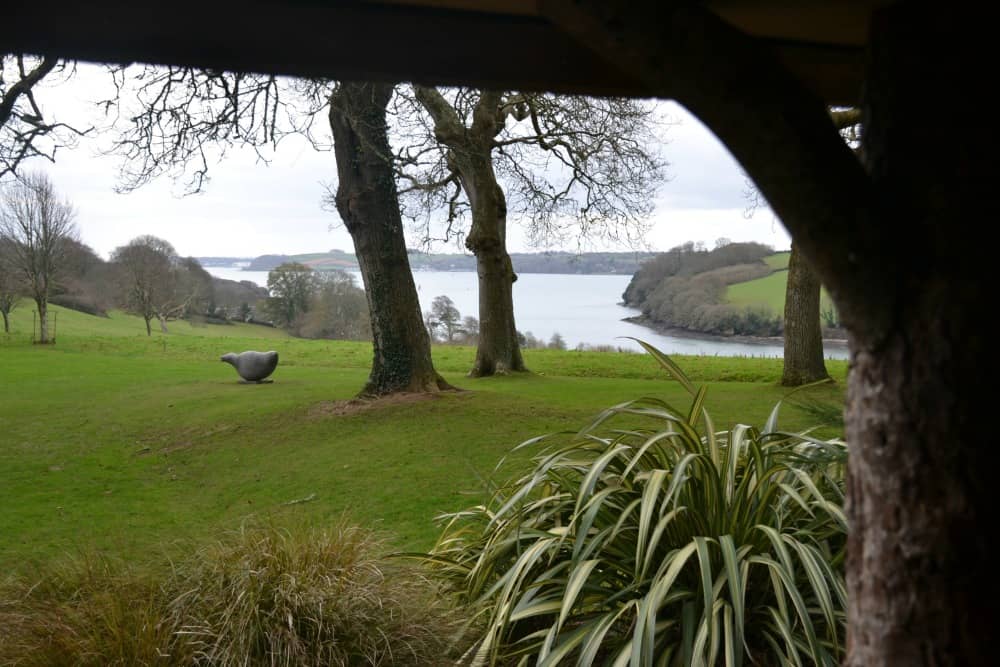 Enjoying the view from the house
Trelissick is only partly furnished, so some areas feel quite bare compared to other properties we have visited. However, this is a relatively new property for the National Trust which is looking at how to develop it further. There's plenty of ceramics on show including some of the original Copeland Spode collection. And there is an impressive conservatory, which was home to a large Christmas tree when we visited after Boxing Day.
The real star of the show is the view across the estuary. All of the southerly facing rooms have magnificent panoramic vistas and some have viewing stations set up with binoculars and maps. As ever, the volunteers around the house were keen to engage with visitors pointing out areas of interest and answering questions. Tin Box Tot was intrigued by the different sizes and shapes of binoculars.
Tips for visiting Trelissick National Trust, Cornwall
You can visit the house or just pay to use the car park and enjoy a walk around the estate. Members park for free. The postcode is TR3 6QL.
The National Trust website includes details of several walks around the estate including a 'Secret Walk'
We walked the estate and gardens with our pushchair but were warned there were steps down to the ferry, which crosses the River Fal from King Harry.
The King Harry Ferry runs every 20 minutes giving quick and easy access to the Roseland Heritage Coastline and the beautiful coastal village of St Mawes.
We visit Cornwall several times a year and can't wait to see more of its National Trust properties. Can you recommend any here or elsewhere in the country?
Disclosure: we were given free entry to Trelissick National Trust in exchange for a review of our visit. All opinions are my own and those of my family.
Pin for later