If you have a trip to Oman on your bucket list, congratulations. You are one step ahead of me! Before we decided to move here I'm ashamed to say I wasn't even sure where to pin point Oman on a map. Roll forward a year and I feel like we've been let in on an amazing secret. There's so many reasons to visit Oman.
In this post, which I know I'm going to be adding to, I'm sharing some of our top tips for things to do in Oman. There's plenty of ideas for places to go with kids. Adventures for visitors of all ages, couples and solo. And a few experiences we've discovered off the beaten track.
*This post contains affiliate links*
Contents - jump to what you'd like to know
About Oman
Oman is a country of incredible natural beauty that's also brimming with history dating back further than any other state in the Arab world.
As early as the 2nd Century AD Muscat played a pivotal role in the trade of spices, textiles and timber between Asia, Africa and Europe. Waves of merchants, as well as less welcome invaders from Persia, Portugal and the Ottoman Turk empire, have shaped the people and place across the centuries.
Why visit Oman?
In more recent times Oman has shied away from developing itself in the style of its glitzy northern neighbours in favour of embracing its rich culture and stunning geography.
It is very much a destination for outdoor adventure. If you're into anything from camping to canyoning or kite surfing to scuba diving Oman is a brilliant winter destination.
Of course, there's also activities that can be done in the heat of summer. As I publish this post we are in thick of discovering things to do in Oman to escape the unforgiving sun and humidity.
Work has brought us to Oman so we have the luxury of exploring in slow time. I hope this adds some extra insight to this and my other posts about the must see places and experiences.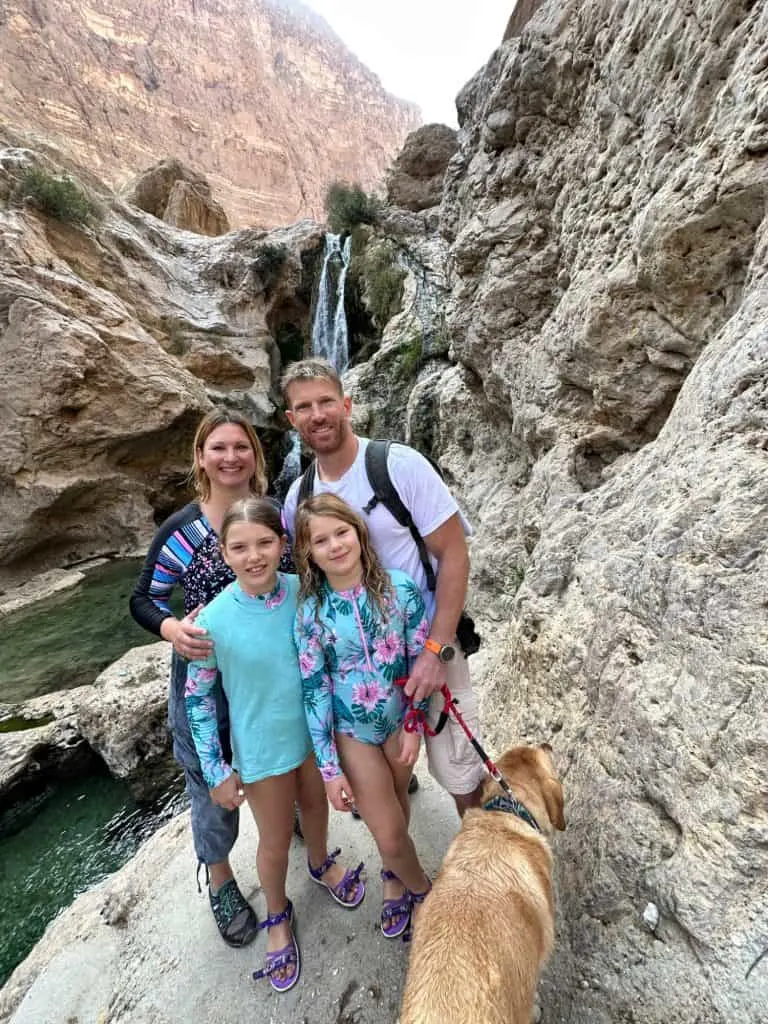 We are here with our two daughters (and our Labrador retriever), so if you are planning a family holiday I can give you plenty of tips for visiting Oman with Kids too.
Things to do in Oman
Whether you have a long weekend to visit Muscat while exploring the Middle East or you can commit to a 10 day itinerary, you have to check out some of these things to do in Oman:
1. Swim in a wadi
By far the one of our favourite things to do in Oman has been exploring its wadis.
They are valleys carved out of the landscape by rivers that flow from the Hajar Mountains down to the Gulf of Oman. They aren't always flowing with water but after rain they become credible wild swimming spots.
Here's some of the most popular Oman wadis we have visited so far:
A visit to one of Oman's wadis often involves some off-roading and hiking, so you need to come prepared.
Take a look at my guide to exploring wadis in Oman for some recommended places to visit, what to wear and the best times to go.
2. Explore an abandoned village
If you want a taste of old Oman then head to the Hajar Mountains where you'll find simple but beautiful villages to explore including some that are a ghostly apparition of their former selves.
But why are there abandoned villages in Oman? Since the 1970s the Sultanate has been undergoing a rapid period of modernisation; a renaissance.
Families who once farmed in the valleys moved closer to roads, electricity, schools and hospitals leaving their rural homes to crumble.
Valley hugging villages like Wadi Bani Habib on Jabal Akhdar are now curiosities from a bygone era.
You'll find way markers painted onto rocks around the ruined streets. But watch your step as the dwellings are not maintained.
3. Watch sunset over Wahiba Sands Desert
Seeing the sun sink down into the silky ochre dunes of Wahiba Sands is one of the most magical things to do in Oman and not to be missed.
The northern edge of the Wahiba or Sharqiya Sands dunes can be reached from Muscat in two hours by car.
As well as enjoying the natural beauty of this 12,500 sq km desert you can book dune bashing, nature tracking and camel rides with local guides.
We can recommend staying at a desert camp for an overnight adventure. There are plenty of options from traditional Bedouin camps to sci-fi style domes.
Find Wahiba Sands Desert camps*.
4. Hike in the mountains
Oman's northern landscape is dominated by the Hajar Mountain range, which stretches from Oman's Musandam Peninsular through the UAE and down the Arabian coast to Sur.
Incredible places to hike include the Balcony Walk on Jebel Shams, the Wakan to Hadash mountain path on Jabal Akhder and Snake Canyon in Wadi Bani Awf.
The mountains are also a great place to escape the worst of the summer heat. In the winter it even snows!
5. Wild camping in Oman
If you want to truly immerse yourself in Oman's impressive landscapes something you must do is try wild camping.
It's possible to pitch your tent anywhere as long as you are away from the road and out of sight of permanent dwellings. Outside the cities, Oman is a sparsely populated country so the opportunities to wake up to awesome views with no one else around are unlimited.
Take your pick from pitches in rugged mountains, lush wadis and deserted beaches. And not so deserted beaches like Sifah (below). The further you venture from Muscat the fewer people you find.
We have our own outdoor equipment as we intend to spend most of the winter camping. If you're hoping to wild camp in Oman while visiting, specialist tour companies like iDrive4x4 can arrange your off road vehicle and camping gear.
6. Explore an Omani fort
Oman's forts have a distinctive style with rounded merlons on top of the sand coloured battlements. There are more than 500 forts across the country.
Many on the coast were built by the Portuguese in the 16th and 17th centuries while inland, in places like Nizwa and Bahla, the forts were constructed by Imams – tribal rulers.
They played an important role in defending trade hubs between Asia and Europe.
Some key forts to visit include Mutrah, Nizwa and Bahla.
These are among 23 forts that have been restored in recent years giving you a better idea of what they would have looked like in their heyday.
One of the things to do in Oman that's more off the beaten track is to see some of Oman's abandoned forts and watch towers.
Suwadi watch tower, which is located on an island off the Suwadi Al Batha peninsular, is an hour East of Muscat and can be reached by boat or on foot at low tide.
7. Visit Sultan Qaboos Grand Mosque
Sultan Qaboos Grand Mosque is one the list of most popular things to do in Muscat. And no wonder. Its architecture, scale and atmosphere are a heady mix that leaves a lasting impression on worshippers and tourists alike.
It took six years to build and when it opened in 2001 it boasted the largest handmade carpet in the world and the biggest chandelier. While the UAE has now claimed both records Muscat's grand mosque is still awe-inspiring.
Allow at least and hour and a half to explore. And make sure you wear culturally appropriate clothing.
Find out more, including tips for visiting with children, in my post about Sultan Qaboos Grand Mosque.
8. Barter at a souq
Visiting a souq is one of the fun things to do in Oman, especially if you want to take home some frankincense as a souvenir of your travels.
The best known market is Mutrah or Muttrah Souq in Muscat Old Town. Don't expect to find bargains as this is a tourist hot spot, but do haggle for the best price.
Within the maze of shops you'll find spices, clothing and even traditional Omani items like al jeriz walking sticks and khanjar knives in their right-angled scabbards.
The mountain city of Nizwa also has a famous souq. On Fridays there's a livestock market where you can see people buying goats and cows. Get there early, like 6am early, to see the action and avoid the heat.
You can visit the rest of Nizwa Souq, which has an array of souvenirs, antiques and food, every day of the week.
9. Take a trip to the Daymaniyat Islands
You'd be forgiven for thinking you'd be transported to the Maldives if you add a boat trip to the Daymaniyat Islands to your must-do list of things to do in Oman.
This archipelago is 42km off the coast of Muscat and is one of the top places to for snorkelling and diving in the region.
You can see green turtles, dolphins and even whale sharks slipping through the tropical waters at the right time of year.
And this is an all year round activity. Just make sure you wear plenty of marine-friendly sun cream and drink loads of water. A rash vest, sun glasses and hat are also a really good idea to help avoid the sun.
Find boat trips running from Al Mouj Marina, Seeb Port and Muttrah Marina.
10. Kite surf at Barr al Hickman
This addition to my list of things to do in Oman isn't one you'll see mentioned often. Why? For the simple fact not many people have time to venture more than a couple of hours from Muscat when they visit Oman.
However, if you can spare a few extra days you will not regret the five hour drive south to Barr al Hickman.
It's a stunning white sand bar on the Indian Ocean where you can learn to kite surf with Khareef Kitesurfing.
Of course you don't need to be into water sports to visit Barr al Hickman. This is also a hot spot for nature with turtles swimming right up to the beach and an abundance of birdlife.
We wild camped here and enjoyed a relaxed couple of days beside the lagoon. There's also accommodation. See my tips of where to stay in Oman below.
A word of caution: hiring a guide to get you here is a must. Do not attempt to drive solo across the salt marsh between Mahoot on Route 32 and the coast. You could easily get lost or stuck and there is no mobile phone signal to allow you to call for help.
If you send me a message via my contact page I can share details of the guide we used.
11. Cool off in the Middle East's largest snow park
Looking for fun things to do in Oman that are a bit out of the ordinary for a desert country? Go to where it snows!
When Snow Oman opened in Muscat in December 2022 it became the Middle East's largest snow park, boasting 14,830 square meters of indoor entertainment space chilled to a refreshing -4°C.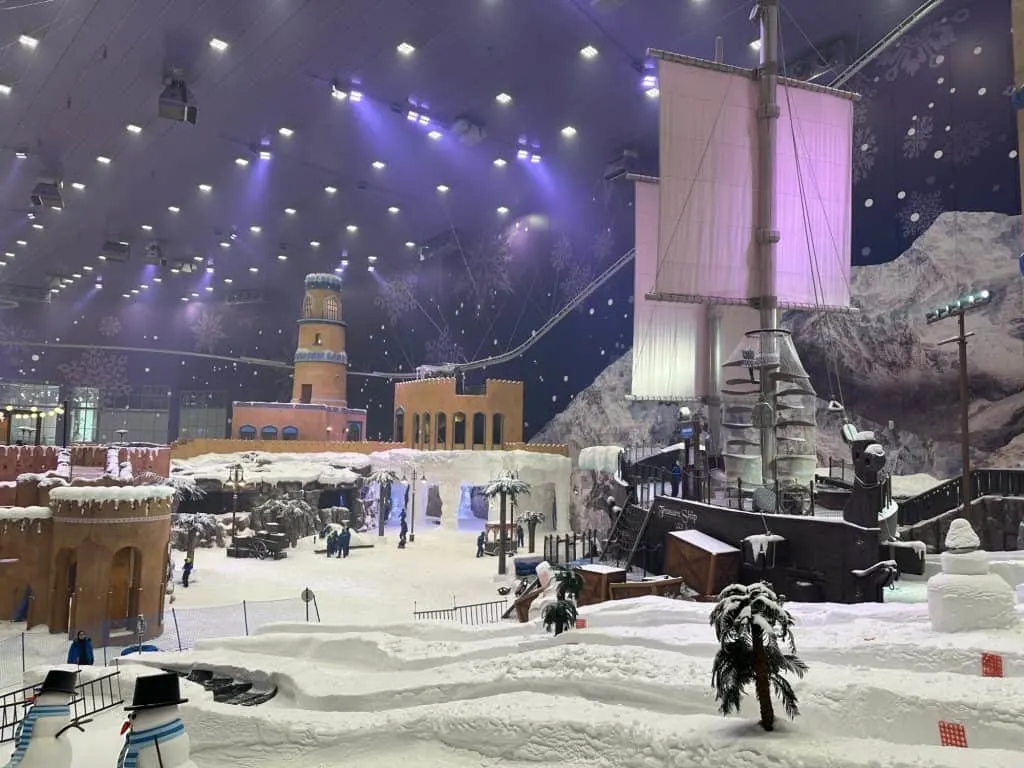 There's more than 20 activities including ringo runs, zorbs, icy slides, an ice rink, an arial ride and snowy play areas modelled on Omani landscapes. There's a light house, forts and even a frozen Treasure Ship in homage to Oman's seafaring legend Sinbad.
The snow park is set to become one of the top things to so in Oman during the summer alongside other attractions in the county's shopping malls like VR suites, fair ground rides and play zones.
Find out more about what to expect from Snow Oman in the Mall of Oman.
Read more about visiting Oman with kids in my comprehensive travel guide for families.
Where to stay in Oman
While we have our own home in Oman we have also taken off around the country for a seven day road trip and experienced some of Muscat's hotels.
Alongside this we have plenty of friends who have given us first hand recommendations on places to stay in Oman that we are keen to check out.
So, based on our experience and some hot tips from people we know, here's some accommodation options for anyone visiting Oman:
Where to stay in Muscat
Muscat is a long thin city that sprawls along the coast for around 50km with the Hajar Mountains at its back. Taxis aren't cheap and walking far isn't an option in the Arabian climate. So staying close to the places you wish to visit will save on your budget.
There's plenty of options for places to stay in Muscat* including international hotels, guest houses and self-catering apartments spread out along the length of the city.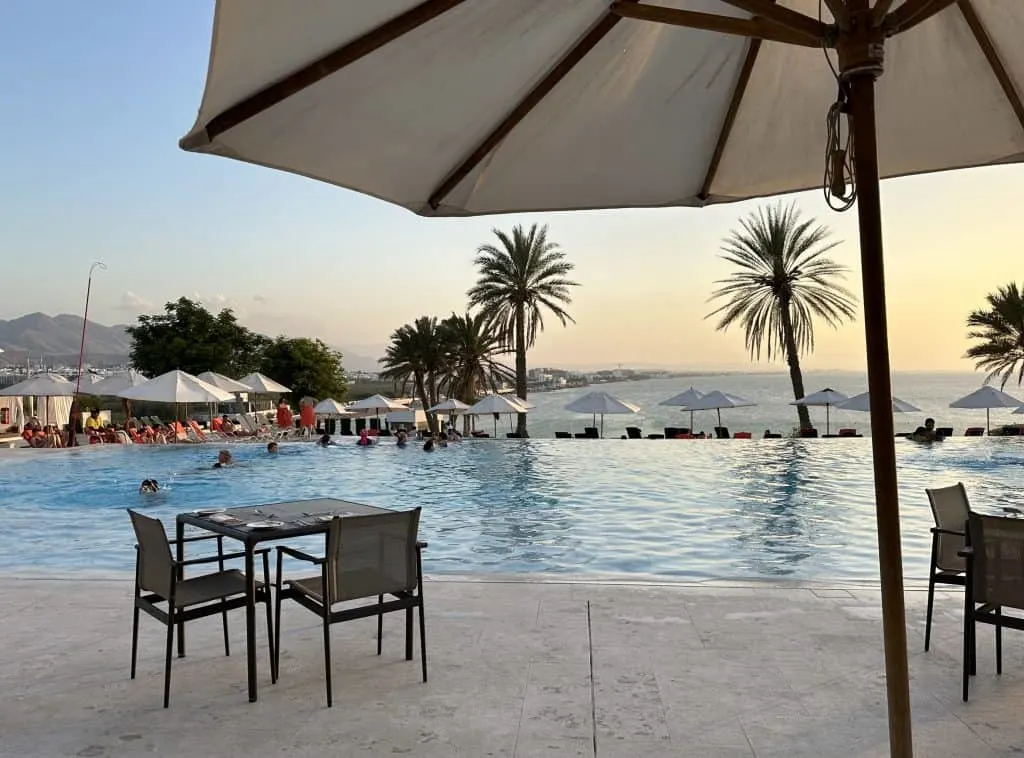 If you want to visit the Grand Mosque we can recommend the Crown Plaza Muscat*. It overlooks the sandy beach at Shati al Qurum and is a short taxi ride from the mosque as well as Muscat Opera House and the Children's Museum.
It also as a tempting buffet of international dishes.
The Sheraton* at Ruwi is a short hop from Mutrah Souq, the fish market, Corniche and port where you can find boat trips. It has mountain views, a great pool and beautiful restaurant serving international and Arabic dishes.
If you want to stay right on the seafront the Kempinski* is a luxury hotel in Al Mouj were you are right on the beach. It's within easy reach of the marina where you can find lots of companies offering snorkelling, diving and boat trips.
We know it best for its happy hours at Zale Bar which overlooks the sea.
Where to stay in Nizwa
We can recommend staying in Nizwa to get the best start for the market.
Valley Cliff Inn* offers two self-catering villas set in lush gardens with private swimming pools. We stayed here during our first visit to Nizwa and loved it. It's a short drive from the centre of Nizwa.
If you prefer a hotel the Antique Inn* comes highly recommended. It's a traditionally decorated hotel with swimming pool and is located just 200m from Nizwa Fort and Souq.
Where to stay in Wahiba Sands
Booking a night in the desert is a must.
For our first stay here we booked Desert Retreat Camp*. We wanted starry skies and huge dunes, and it delivered on both. As a bonus we could also bring our dog.
Desert Retreat Camp is one of the larger camps with an oval of 14 traditional goat hair tents, each with a private open roof bathroom.
Check out some of the other options*.
Where to stay in Barr al Hickman
If wild camping is not on your agenda then Whale Head Camp is a permanent glamping-style option nestled between a lagoon and the Indian Ocean. There's rooms in the two-storey beach villa and Bedouin tents on the sand, all with proper beds and shared bathrooms.
Full board is available and it's a good idea to take this up as unless you bring your own food, cool box and cooking equipment its a long drive across wetlands to the nearest small food stores.
Read more about visiting Oman with kids in my comprehensive travel guide for families.
More essential reading before visiting Oman
As well as reading my blogs including what you need to know about driving in Oman and visiting in Ramadan, I can recommend buying the Lonely Planet guide* to Oman, UAE & Arabian Peninsular.
I bought this before our move here and found it invaluable as an introduction to the country and culture.
You might also like to check out our tips for visiting Oman during Ramadan. It's the ninth month in the Islamic calendar and the dates change every year so it's important to know when it is and what to expect.
Disclosure: this post contains affiliate links marked with *. If you click on one of these and make a purchase I may earn some commission. This does not affect the price you pay.