If you're looking for a one week Oman itinerary packed with authentic Arabian heritage, places of outstanding natural beauty, bustling towns and iconic sights then this seven day trip has it all. I'll even share how to turn it into a 10 day Oman road trip if you've got longer to explore.
I can guarantee by the end of either itinerary you'll have a greater understanding of this incredible country and have your eyes opened to just how much more there is to see. It really does have something for everyone.
*This post contains affiliate links*
Contents - jump to what you'd like to know
Our 7 day Oman road trip
We set out on this road trip after two months of living in Oman. We wanted to get to know our adopted home better and see some of the incredible places we'd been hearing about from other families.
But we also had a few important criteria when planning our road trip. It had to be child and dog-friendly.
If you are visiting in Oman with kids or you are expats looking for an Oman holiday that will also suit your pet then I think you'll find our road trip itinerary and tips helpful.
Equally, if you are a couple visiting Oman for adventure there's plenty here for you too.
Find out more about visiting Oman with kids in my comprehensive travel guide for families.
Read on to find out where we visited and where we stayed each day, as well as some general tips for making the most of your holiday in Oman.
Easy Oman itinerary overview – what you'll see
We spent seven days doing a ground trip out of Muscat to cover some of the must-see sights in the north of Oman.
Included in this easy itinerary are:
wild camping at the base of Jebel Shams in the Hajar Mountain range
swimming in the pools at Wadi Damm
exploring the hillside village of Misfat al Abriyeen, also spelt Misfah al Abriyyin
scaling Nizwa Fort and shopping in the Souk
climbing the dunes of Wahiba Sands Desert
experiencing the hot spring water at Wadi Bani Khalid
and visiting the Sultan Qaboos Grand Mosque in Muscat.
In total we covered 862km / 536 miles in our 4×4.
The same route would be possible in a two wheel drive, except for a section between Wadi Damm and Nizwa where our nav system took us up an unmade mountain road.
For peace of mind we'd recommend hiring a 4×4* for Oman road trips. It's not possible to complete the same trip using public transport, so if you want to do it without driving yourselves you'll need to hire a guide.
We had originally planned to be away for 10 days but decided to head back to Muscat early for a relaxed weekend at home.
If you fancy some extra days exploring I'll share below how you can extend you trip along with a suggested route.
One week Oman itinerary
Seven days is the ideal time to spend in Oman if you are working around shorter school holidays like October half term and February half term.
These are also more comfortable times to visit Oman as they are outside the scorchingly hot summer season.
Of course, if you are not tied to school holidays then the best time to visit Oman is still in the winter for the Northern Hemisphere. The ideal months are from the end of October to beginning of April.
We took our road trip in February half term when temperatures ranged between 18°C at night and 28°C in the day.
It's worth saying that the daytime temperature in the shade and in the sun it feels much hotter.
It is possible to do this road trip route clockwise or anti-clockwise. We decided to go clockwise and get the longest drive out of the way first.
Day 1: wild camping in the foothills of Jebel Shams
From the urban sprawl of Muscat, with a low rise charm that sets it apart from the neighbouring UAE, we travelled up into the Hajar Mountain range.
You hardly notice that the roads climb slowly through the foothills, passing through rocky landscapes dotted with white-washed villas, elaborately decorated mosques and rows of small shops, often offering the same products and services as those next to them.
Setting your business apart from competitors doesn't seem to be a thing here in Oman!
After two and a half hours we took a right off Route 21 sign posted Wadi al Ain and Amla. Half an hour on we passed Al Ayn, which is a popular spot to stop and see beehive style tombs.
We spotted these from the road but continued on to Wadi Damm on the other side of Al Matabbah village admiring the zig-zig sedimentary layering of the mountains.
The aim for our first night was to find a camping spot from which we could explore the wadi early the following day.
Camping at Wadi Damm
We drove past the entrance to the wadi and along the off road track at the top of the valley rim to the camping space marked on Google maps.
However, when we got there, not long after 4.30pm, it was already full of motorhomes – two and four wheel drive versions.
We decided to continue further up the rim, along an unmade road, and found an alternative camping spot with the most incredible view.
We were treated to a sunset of burnt orange, pinks and purples between mountains.
There was also a warm breeze that whipped away any hungry mosquitos while bringing a low rumble of singing from the Wadi Damm campsite below.
A far as first holiday nights go, this one was pretty special.
Here's the spot where we camped with views down the valley towards Al Matabbah and the foothills of Jebel Shams behind us:
If you aim for the same spot as us you'll need a 4×4 to reach it along the unmade mountain road between Al Matabbah and the village of Misfah (not to be confused with Misfat al Abriyeen that I mentioned later in this Oman itinerary).
Also be aware that the camping ground is very rocky. We moved a few of the larger stones out of the way for our tent but even then it was the most uncomfortable sleep of our whole trip.
The beauty of the sunset, dark skies and sunrise more than made up for our mild discomfort.
Day 2: Wadi Damm pools and camping
After our night under the stars we packed up and took a short drive back down the valley past the main Wadi Damm camping area to the entrance of Wadi Damm itself.
We'd discounted it without a look the afternoon before because we thought it might be busy. It was a long weekend and we've got used to easily accessible camping spots filling up fast.
It turns out there was only one family camping there overnight. We chatted to them and they said it had been really good so we decided to make this our second wild camping spot of the trip.
But first we headed into Wadi Damm.
Wadi Damm hike and pools
If you're into geology this place is special. While we were there a team of geology students arrived to explore. They'd come all the way from Germany.
There were also amazing petroglyphs – ancient artwork – scratched into the rock of the wadi walls.
We spent six hours slowly walking to the main wadi pools and waterfalls, swimming in other magnificent lagoons and lunching in a cave on the way.
We could have gone quicker but did some back-tracking to find the best route for the kids and dog. We've also found it's best to take wadis slowly because of the heat and terrain.
This is not the easiest of wadis to visit in Oman and requires scrambling over rocks and navigating high paths if you want to avoid climbing ropes up a waterfall in the lower pools.
If you visit with anyone with low mobility the first set of pools is the best place to stop.
If you do make it to the main pools they are like something out of a movie.
Water cascades over fern covered boulders to create warm showers that flow into turquoise lagoons.
Where to stay at Wadi Damm
We opted to wild camp at Wadi Damm as this put us in a good position to start exploring early in the day.
Our first camping spot, which I've talked about above, had the best views but was also quite exposed.
Our second night was much more sheltered and comfortable with valley walls on either side. If we were to camp here again I think we'd go straight for the wadi car park. It's also the best spot for anyone doing this road trip in a two-wheel drive vehicle.
The camping area on the rim of the wadi was best for motorhomes as the road was accessible for RVs with off-road capability. However, we don't think it had the best views as it was lower down the valley.
If wild camping is not on your agenda then there are some alternative accommodation options an hour to the West in Ibri.
This three-bedroom villa* comes highlighly recommended for families with a pool and plenty of space.
If you'd prefer a hotel, the 3 star Royal Vista Hotel* is in the centre of Ibri with lots of places to eat close by.
Day 3: Misfat al Abriyeen and arriving in Nizwa
The next part of our Oman road trip took us on the heritage trail to see the sights of the ancient trading hub of Nizwa.
But with several hours before we could check into our accommodation we decided to stop somewhere on the way.
We drove around the base of Jebel Shams, across the plateau at Al Hamra and up again to an extraordinary village on Misfat al Abriyeen in the Hajar Mountains.
A note on our route: we use Waze for navigation in Oman as it tends to be more up-to-date than Google Maps. However, between Al Matabbah and Al Mahaffah it sent us on an unmade mountain road which would be unsuitable for two-wheel drive vehicles.
If you are following our road trip itinerary and want to avoid this take the long way to Misfat al Abriyee via highway 21.
Our route across the mountain pass took and hour and a half. The route on smoother roads is about double the distance buy only 20 to 30 minutes longer.
The village of Misfat al Abriyeen
Like many places that have had their Arabic names translated into the Latin alphabet, Misfat al Abriyeen is also spelt Misfah al Abriyyin. You might spot either spelling on road signs but they all point to the same incredible place.
The older part is made of mud and rock houses, many of which are still inhabited although there are a few abandoned dwellings which add to the charm.
It's one of these places that appears untouched by time aside from the freshly printed signs at the top pointing you towards places for food, drinks and free wifi.
Further down the slopes are small hotels and plantations of fruit trees fed by a gushing falaj.
Amazingly we spotted a few tiny fish zipping around in one of the calmer sections as if it was a goldfish bowl. Where on earth had they come from?
Facilites in Misfat al Abriyeen
Our girls were pretty tired after two nights of wild camping and our wadi adventure the day before so they were soon flagging in the midday heat.
It was the promise of a smoothie that got them back up the maze of steps and passages to the Halwa Coffee cafe at the very top of the Hissen Al-Misfah Hotel*.
This has incredible views over the village, valley and across to the modern Misfat. And, most importantly, frappes to placate the most hot and bothered of explorers.
The staff also kindly allowed us to bring our dog up so we could all chill for a bit.
Parking for Misfat al Abriyeen is on the road at the entrance to the old village or there's a car park. You'll drive past this on the left a short way before reaching the on-street parking. There are toilets at the entrance to the village.
After a couple of hours of exploring we hit the road again for the one hour drive to Nizwa where we checked into our accommodation for the next two nights.
Where to stay in Nizwa
There's plenty of choice of hotels in Nizwa* but as we were travelling with our dog we decided to opt for a self-catering villa.
Valley Cliff Inn* is what came up top in our search.
And what a gem!
The best way to describe it is a private compound with two villas – one bungalow and one house. Each of the seven rooms is rented individually.
There are large shared gardens with a summer house with roof terrance, children's play area, farm animals and two swimming pools (not heated).
All the rooms are ensuite and lockable, and you have shared use of a kitchen, laundry room and living rooms.
We were the only guests staying so had the three bedroom villa to ourselves. It was the perfect place to relax after a busy start to our road trip.
Valley Cliff Inn is also in a great location for exploring Nizwa. It's just 1km from the fort and souks.
Day 4: Nizwa Fort and souqs
Fresh from our comfortable beds and hot showers we got up early to explore the main sights of Nizwa – the fort and souqs.
We might have walked the easy 1,000m there if we'd been in the UK. But knowing that we'd be schlepping back in the heat of midday we opted to take the car.
Parking on a Monday was not a problem. It might have been more difficult on a Friday, which is when Nizwa Goat Market takes place. This is a tourist attraction in itself and a lot of people time their visits to coincide with it.
If you'd like to see the market yourself it takes place from 7am and is all but done by 9am.
Nizwa Fort
Nizwa is one of Oman's oldest cities and was once its capital. So it's no surprise to find such an impressive fort at its centre.
It was built in the 17th Century to defend this important hub for trade, culture and learning, and could put up quite a fight against enemies of the ruling Imam Sultan bin Said bin Malik Al-Yarubi.
If you had decided to attack this fort four centuries ago you'd have been greeted with boiling hot date juice being poured on your head followed by a long drop down one of several man traps.
That's not to mention canon and musket fire from the 2m thick and 34m high walls.
It was the thought of these gruesome endings that put an extra skip in the step of my girls as we entered Nizwa Fort on day four of our Oman road trip.
There was much play acting as we climbed the zig-zag staircase up to the ramparts for 360 degree views of the city and Hajar Mountains.
Back down in the castle below we explored a maze of rooms including the Imam's accommodation with secret passages onto the streets of Nizwa, coffee making rooms and a prison.
There was also a large walled garden with crops, goats, oryx and a camel.
Nizwa Souqs
We still spent two hours in the fort before taking a slow wander around the souqs outside.
Here you can buy everything from souvenir magnets to traditional silver khanjar daggers and trays of Oman's jelly-like sweet, halwa.
You'll find the most touristy shops directly outside the fort. Cross the road into the food Souq and there's traders used by locals as well as a large antiques Souq upstairs.
By lunchtime we were hankering for some down time so headed back to Valley Cliff Inn for a relaxing afternoon by the pool before the next stage of our Oman road trip: the desert!
Day 5: Wahiba Sands Desert
Oman's Wahiba Sands desert is just over two hours South East from Nizwa, so would be an easy day trip if you used Nizwa as your base.
But we were continuing our road trip and had booked a desert camp for the next two nights.
In hindsight, one night would have been enough. But having said that, staying in the desert and watching the sun sink down into silky ochre dunes was a magical experience.
It was a road trip highlight for all of us.
About Wahiba Sands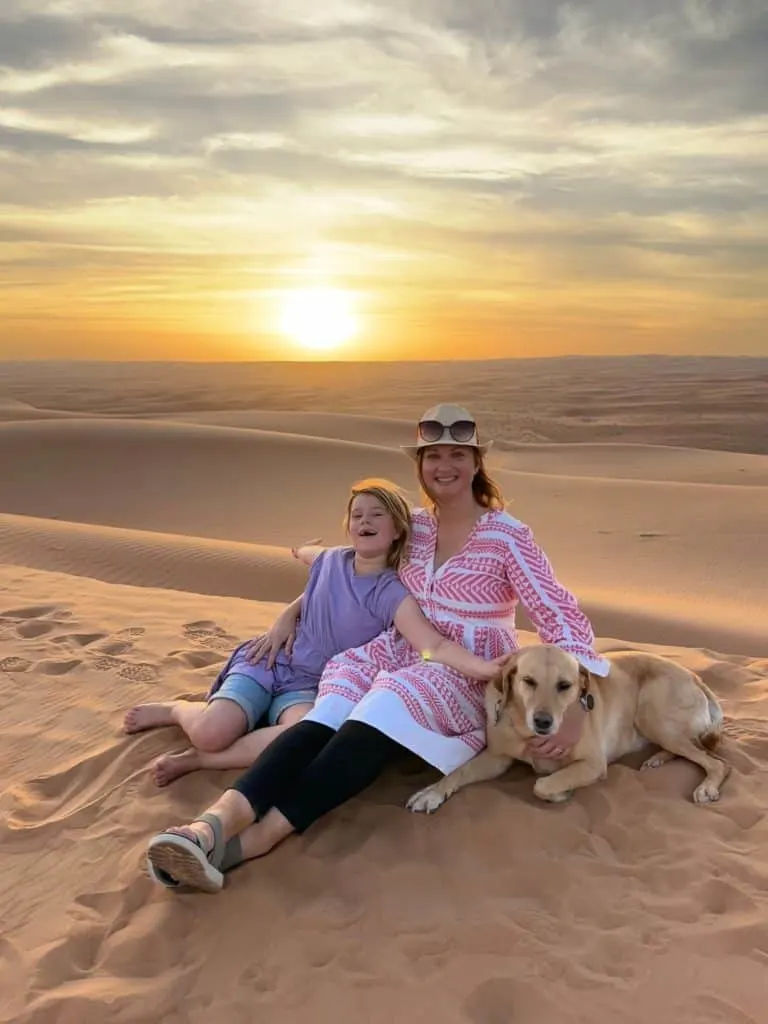 Wahiba Sands can be easily spotted from space because its 200km long and 100km wide dunes run in lines from North to South. It is inhabited by 3,000 Bedouins, but there's no permanent settlements once you've driven more than 10 minutes into the desert from Bidiyah.
It was the remoteness of the desert and our lack of experience in this terrain that brought us to the decision to book a camp* rather than try wild camping.
We also had the option to try riding camel and dune bashing excursions but decided not to as we have plenty more time to experience these things while living in Oman.
You don't have to stay at a desert camp to book these excursions in Wahiba Sands. They are also available as day trips from Muscat.
Where to stay in Wahiba Sands
We booked Desert Retreat Camp* as it was the furthest dog-friendly camp into Wahiba Sands. We wanted starry skies and huge dunes, and it delivered on both.
Desert Retreat Camp is one of the larger camps with an oval of 14 traditional goat hair tents, each with a private open roof bathroom. But on our first night we were the only people there.
The owner guided us into the desert from his office in Al'Wasil – a 20 minute drive – and explained over coffee and dates that in 2023 bookings continued to be down since the pandemic. In fact only 15% of his usual trade had returned.
Even more reason to book a trip to Oman now!
We settled into our tents – we had to book two as there was no family option – and then headed up the dune just behind us to watch the sun set.
The hike was more of a challenge than we'd expected but the view was magnificent. The desert really is as dreamy as it looks in the pictures.
Food and hospitality
That evening we ate a traditional dinner of soup, curry, dhal, rice, barbecued chicken and salad, followed by a cube of halwa and tea.
The food was excellent and the Indian staff were lovely, although quite wary of our four-legged friend.
The camp lacked some of the traditional Omani hospitality that we'd heard is common at other desert camps. But if you are looking for somewhere to stay with a large group of friends then you'd be able to bring your own atmosphere.
More places to stay
There are of course lots of other Wahiba Sands desert camps and accommodation* ranging from hotels to modern glamping resorts. It won't be hard to one that works for you.
Day 6: Wadi Bani Khalid
As we had our dog with us we decided to not spend the day in the desert and headed somewhere a bit cooler.
It is the most accessible and the most commercial wadi we have visited so far. There's toilets (pay 400 baisa to pee) and a mobile cafe in the car park and a restaurant beside the first large pool.
When we arrived at 9.40am there were a few hire cars in the large car park. Soon afterwards the guided tours started to arrive. And by midday, when we left, there were people queuing up to jump in our parking space.
It was a bit of a shock to our system after visiting much quieter wadis but we still enjoyed Wadi Bani Khalid.
Mr Tin Box and our girls swam up and down the length of the wadi while I walked alongside with our dog. I'd already counted myself out of a refreshing dip after leaving half my swimming gear in the desert!
Muqal Cave
The narrow entrance to Muqal Cave gives way to small and then larger chambers where bats dangle from the honeycomb roof.
As we moved deeper we were hit by walls of hot air and the rushing noise of water further in. This hot spring feeds the pools of the wadi making them deliciously warm.
We scrambled about 100m into the cave before returning to the surface where I kicked myself again for forgetting my rash vest. It was like stepping out of a sauna.
When we got back to the main facilities of the wadi things were getting busy so we decided to grab lunch somewhere else. This restaurant back down in the town was great value.
Wadi Bani Khalid didn't have the same secluded charm of Wadi Damm from earlier in our trip, but it was definitely worth a visit.
Read our full guide to visiting Wadi Bani Khalid.
Here's where to find it:
After our morning at the wadi we returned to Wahiba Sands for our final desert sunset before another delicious meal and night under canvas.
Day 7: return to Muscat and Sultan Qaboos Grand Mosque
By morning seven our minds were buzzing with everything we'd experienced – the mountains, wadis Nizwa and the desert. So we cut short what we'd originally planned to be a 10 day Oman itinerary and headed home.
If you take the highway 23, Muscat is just over two hours North from Wahiba Sands.
But our adventure wasn't quite over yet. We completed our week by visiting one of Muscat's most well-known sights.
Visiting Sultan Qaboos Grand Mosque
It is a work of art that took six years to build starting in 1996. When it opened in 2001 it boasted the largest handmade carpet in the world and the biggest chandelier.
The UAE has now snatched both titles, but this in no way diminishes the awe-inspiring spectacle as you enter the main prayer room.
The chandelier has to be seen to be believed – it's 8m in diameter, 14m high, and is decorated with 600,000 Swarovski crystals and 1,122 light bulbs.
Guides at the mosque
We hired a guide inside the mosque to get the full story. He was full of facts, ready to answer questions and enthusiastic to take our picture in all the popular vantage points.
After our tour we visited the Islamic Centre where we were offered water, coffee and dates while learning about Islam.
Whether you spend time in Muscat at the beginning or end of your Oman road trip you must see the Grand Mosque. There's no charge to enter – you don't need to get a guide – and if they have time the volunteers in the Islamic Centre can take you on a tour for free.
Tips for visiting the Grand Mosque
Here's a few tips for visiting:
Men and women need to wear clothing that fully covers legs and arms. Women must also cover their hair, so bring a scarf
If you do arrive in clothes that don't meet these requirements you can hire an abaya at the shop at the entrance
You can look around between 8am and 11am Saturday to Thursday. Allow at least an hour and a half
Eating, drinking and using phones is not permitted in the prayer halls (although you can take smartphone pictures)
Wear shoes that are easy to remove. You'll need to take them off to enter the prayer halls.
Find out moreand download my free spotter sheet for kids in my post about visiting the Sultan Qaboos Grand Mosque in Muscat.
For something completely different, and ideal if you've had enough of the Arabian heat, why not visit Snow Oman. It's located in the Mall of Oman and is the largest snow park in the Middle East.
Where to stay in Muscat
Muscat is a long thin city that sprawls along the coast for around 50km with the Hajar Mountains at its back. Taxis aren't cheap and walking far isn't an option in the Arabian climate. So staying close to the places you wish to visit will save on your budget.
There's plenty of options for places to stay in Muscat* including International hotels, guest houses and self-catering apartments spread out along the length of the city.
Here's some suggestions for hotels in different districts of Muscat and what they are close to:
Shati al Qurum
This is Muscat's diplomatic quarter and home to the Royal Opera House, Qurum Natural Park and Children's Museum. Sultan Qaboos Grand Mosque is also not far away.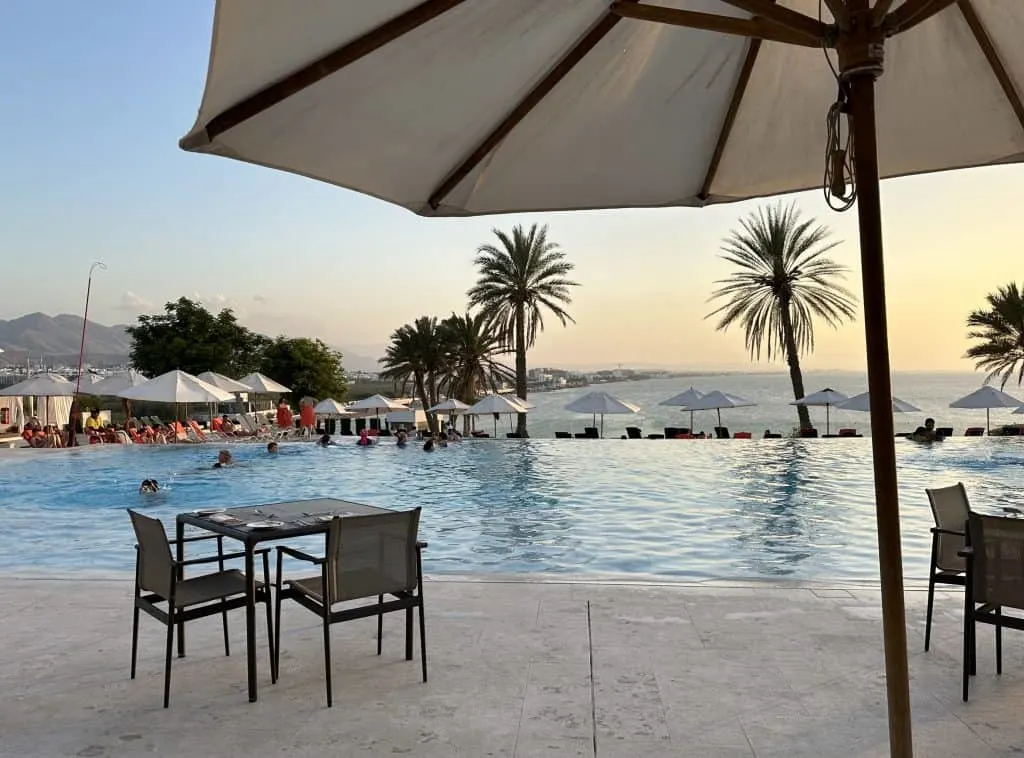 If you want to stay near these places we can recommend the Crown Plaza Muscat*. It overlooks the sandy beach at Shati al Qurum where you'll also find lovely places to eat like D'Arcy's Kitchen, which is a top spot for breakfast.
Ruwi
Ruwi sits behind the old town and port of Muttrah where you must visit the souq, fish market and Muttrah fort.
The Sheraton* at Ruwi has mountain views, a great pool and beautiful restaurant serving international and Arabic dishes. Top tip: sign up as a Marriott Convoy member to get discounted room rates.
Al Mouj
If you want to add a snorkelling or a wildlife spotting boat trip to your holiday in Oman then we'd recommend staying in Al Mouj. This has a marina where you'll find several companies who can take you along the coast and to the Daymaniyat Islands.
This area is popular with expats and has plenty of western style cafes and restaurants.
The Kempinski* is a luxury hotel right on the beach so you can choose between relaxing by the pool or on the sand.
Yiti
To the east of Muscat you'll find its most luxurious resorts including Shangri-La Barr Al Jissah, which is home to Oman's only lazy river.
The Shangri-La has two hotels. Al Waha hotel* is the most family-friendly with splash parks and waterslides as well as that lazy river. It's also right on the beach which is one of many places in Oman where turtles make their nests.
More places to stay in the Middle East
If you are on a tour of the Middle East you may be calling into Abu Dhabi or Dubai as well.
In Abu Dhabi check out the Rixos Premium Saadiyat Island Abu Dhabi which is a family-friendly, all inclusive resort. It sits in the perfect location close to some of the most beautiful white sand beaches and just five minutes from the sight of downtown.
My friend Karen who runs the Mini Travellers blog recently stayed at the Rixos The Palm Dubai* and had an incredible time.
It is right on the beach, has water sports, a kids club, delicious food and is just eight minutes from the World's largest water park Aquaventure.
Check out what Karen's family got up to over on her Instagram account.
How to make this a 10 day Oman itinerary
We had originally planned to add another couple of days to our Oman road trip itinerary, heading out to the coast from Wahiba Sands and then following the road north to Muscat.
But the lure a few days getting ready to return to work and school was too tempting. Especially, as expats, we have a lot longer than a week to explore Oman.
But it would be very easy to turn this seven day itinerary into a 10 day road trip.
More places to add to your Oman road trip
Below are my suggestions for places to stop over three or more extra days on the road in Oman. We haven't visited them all yet, but hope to soon.
See the turtles at Ras Al Jinz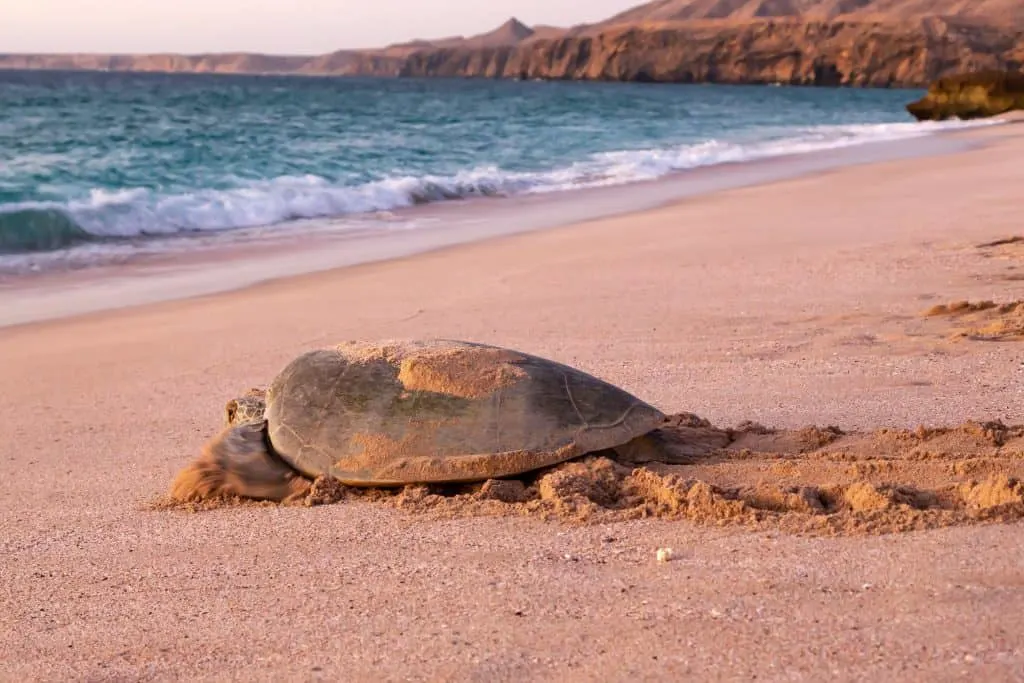 Two and a half hours East of Wadi Bani Khalid is the Ras Al Jinz nature reserve on the Gulf of Oman. This is one of the World's largest nesting sites for Green Turtles and a must for nature-lovers.
The main hatching season is from May to September but it is possible to see baby turtles in the cooler months too.
We are yet to visit but it's very much on our Oman bucket list.
It is possible to stay in Ras Al Jinz* nature reserve or you might want to use nearby Sur as your base.
Discover the Oman's maritime heritage in Sur
Less than an hour north of Ras Al Jinz is the historic maritime city of Sur. It was once an important trading port and site for ship building.
Today you can visit the Maritime Museum, walk along the picturesque corniche and see the lighthouse.
Here's where to stay in Sur*.
Explore Wadi Tiwi
Under an hour North of Sur is the entrance to Wadi Tiwi – a stunning 36km canyon that stretches out to the Gulf of Oman.
We visited Wadi Tiwi in our first month in Oman and had the most incredible day – wonderful and a touch outside our comfort zones.
It's peppered with green plantations that break up the rocky landscape and towering cliffs.
There's a cement road that you can follow 10km into the wadi to Mabim Village. This is the place from which to descend into the canyon for the most beautiful pools and waterfalls.
We used local guides to help us reach these as it's not straight forward.
I've written all about visiting Wadi Tiwi with our kids and dog, so do check this out if you decide to add this to your Oman road trip itinerary.
Visit Wadi Shab
We can't get enough of the wadis in Oman and this one is a must-visit.
It is the most famous wadi on the road from Muscat to Sur and is another wadi we have ticked off our bucket list in a separate visit.
You park on the South side of the wadi entrance and take a boat across to a trail through the canyon. After an hour hike you reach a set of pools where it is essential to swim to reach to see them all, so come prepared to hike and get wet.
At the very end there's a hidden cave where you can climb a rope to jump back down into the pool.
Wadi Shab is 10 minutes North of the entrance to Wadi Tiwi on Highway 17, so it is possible to visit Tiwi and Shab in one day. However, you'll want an early start to fit them both in.
Wild camping is popular along the coast road. Common spots include Fins Beach and White Sand Beach. You'll need 4×4 to access both. Expect them to be busy with picnicking and camping families on the weekends.
Find more accommodation options and tips for visiting in my guide to Wadi Shab.
Dip in Bimmah Sinkhole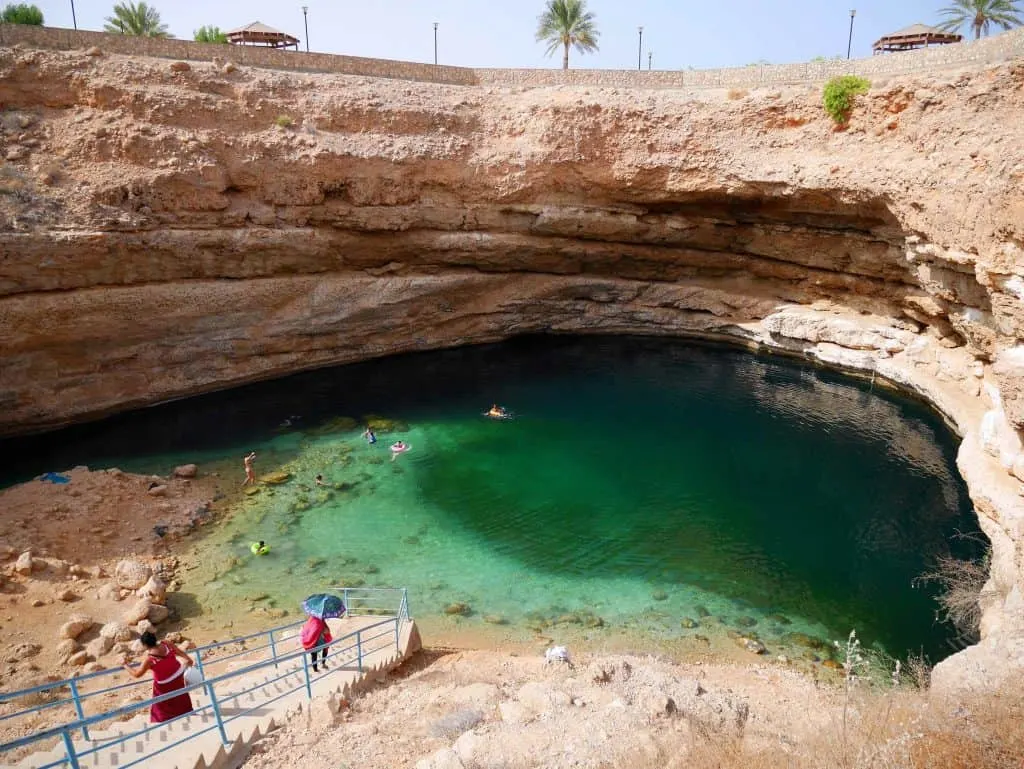 If you don't fancy the challenge of Wadi Tiwi and Shab, but still want to visit a natural beauty spot on the road back to Muscat, Bimmah Sinkhole is an easy stop off.
It's just off Highway 17 between Bimma and Dibab and has picnic tables, toilets and a play park for children. This isn't a full or even a half day experience. We've been told you need no more than an hour to experience the sinkhole.
However, we haven't stopped here yet as dogs are not allowed.
After Bimmah you are within and hour and a half of Muscat and the end of our recommended Oman itinerary.
10 day Oman itinerary route
Here's the route I'd suggest for visiting these extra must-visit places in Oman:
How many days do you need in Oman?
We'd recommend no less than seven days to make the most of your holiday in Oman and experience the variety of incredible sights it has to offer.
You could easily spend 10 days or two weeks following the road trip route we have suggested from Muscat.
And there's still a lot more to experience like the sub tropical climate of Salalah in the South of Oman, the balcony walk on Jebel Shams and snorkelling in Daymaniyat Islands.
These are all things we plan to do while living in Oman.
What is the best month to visit Oman?
If you want to avoid Oman's scorchingly hot months, when even the Omanis switch to an indoor lifestyle, visit between the end of October and beginning of April.
April is when the temperatures start to edge into the less comfortable early 30℃s peaking in the early 40℃s by June. They don't drop back down below 30℃ until the end of October.
A month you might want to avoid, particularly if you plan to spend time exploring popular attractions, is Ramadan. It's the ninth month in the Islamic calendar and the dates change every year so it's important to know when it is and what to expect.
Oman is a Muslim country where eating and drinking (even water) in daylight hours is not allowed during the holy month.
If you are not Muslim it is acceptable to eat and drink in private accommodation and international hotels, but this can make sightseeing a little difficult, especially if the weather is hot and you need to stay hydrated.
Check out our tips for visiting Oman during Ramadan.
Is it expensive to travel in Oman?
The cost of travel in Oman is not straightforward.
Road trip fuel
As an oil producing country fuel is very cheap compared to what visitors from Europe are used to.
It cost considerably less to travel 500+ miles in Oman compared to the UK.
Check car hire prices*
Eating out and alcohol in Oman
We have also found eating out at local restaurants to be cheaper or comparable to the UK.
Hotels and chain restaurants tend to be more expensive and alcohol is very expensive. Expect to spend £8 to £10 for a 33ml bottle of lager where it is available.
Accommodation prices
Depending on the type of accommodation you book you can still get a good deal here.
Our two rooms for two nights at the villa in Nizwa worked out at £250 in total. Whereas our two nights half board in basic glamping accommodation in Wahiba sands cost £500.
Wild camping is free and can be done anywhere that isn't within sight of houses or right beside a road. This means you really need a 4×4, which costs more to hire than a two wheel drive vehicle.
Flights to Oman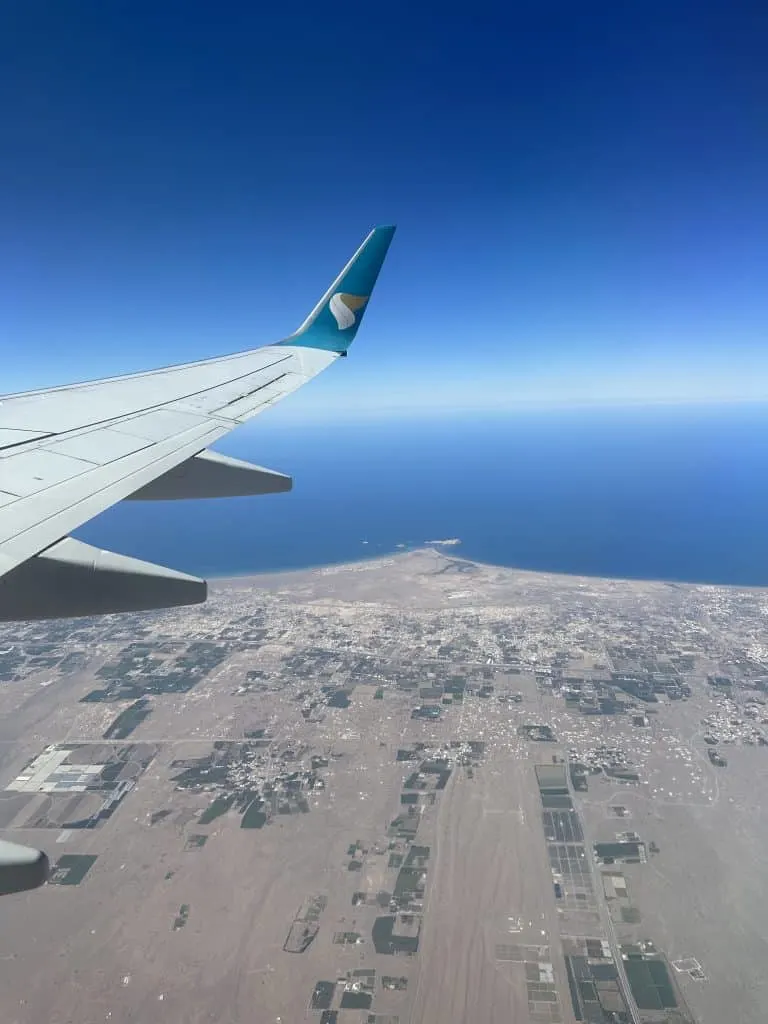 One of the biggest costs of any holiday to Oman, especially if you are coming from the UK, is going to be your flights.
Oman Air fly direct from London Heathrow and there are one stop flights from lots of regional airports in the UK.
The indirect flights via Frankfurt and other Gulf Cooperation Council (GCC) countries tend to be cheaper, but these take a lot longer so you need to weigh up the savings verses the time you have.
So that's a round up of our first big adventure in Oman. We can't wait to explore more and, of course, I will be writing about as much as I can.
Read more about visiting Oman with kids in my comprehensive travel guide for families.
If you don't already follow me on Instagram I am sharing our day trips and longer getaways there using the hashtag #TinBoxOman. You'll also find a highlight from our road trip in my Instagram profile.
More holiday itineraries for families
If you enjoyed this itinerary you might also like to read these:
Disclosure: this post contains affiliate links marked with *. If you click on one of these and make a purchase I may earn some commission. This does not affect the price you pay.