A family ski holiday with Chilly Powder – a catered chalet in Morzine, France
We're yet to go on a family ski holiday but regular Tin Box Traveller contributor, Katie de Pelet, has just got back from her first…and it sounds incredible! If you're based in the South West of England like us, then it's worth searching for ski resorts near Geneva, which can be easily reached from Exeter airport. Katie was also after ski holiday with minimal effort, so wanted a family-friendly catered chalet. Morzine delivered on accessibility and accommodation. To find out what she got up to and about her Morzine accommodation, read this review of Chilly Powder and the Portes du Soleil resort.
Flying from Exeter to Geneva is the Holy Grail of travelling with young children. Convenient flight times (10.30am departure), a short 15 minute taxi from city centre to the airport, no queues through security and only a 90 minute flight. It is for this reason that when looking for a place to spend our first family ski holiday, I had Googled 'ski resorts near Geneva'. Morzine was an obvious choice as it is only a 80-90 minute transfer from the airport versus some other resorts which take as much as three hours.
My accommodation search led me to Chilly Powder, a luxury family-friendly catered chalet located in Les Prodains a few kilometres up from Morzine.
A family-friendly catered chalet in Morzine
With over 300 glowing reviews on Trip Advisor and a wonderful website which takes you on a 360 video tour of the chalet, our decision was made. Booking was super easy, as was choosing the right room for our family, thanks to the interactive floor plan on the website.
There are also six self-catered chalets and apartments to choose from, which are naturally cheaper, but as we wanted a break from cooking and washing up this was never an option for us! Plus, the reviews seemed to suggest that the food at Chilly Powder would be superb.
The team at Chilly Powder were extremely helpful and arranged our airport transfers, ski hire and the kids ski school. The chalet also has on site crèche and a kids club which you can book in advance either by the half day, full day or for the whole week. They take children from the age of three months.
After being met at the airport by our friendly driver Ben, we set off for Morzine. A journey which took just under 90 mins. On arrival we were given a warm welcome by Nick, Chilly Powders general manager.
First impressions were really positive. Au Coin du Feu, the catered chalet, has a lovely cosy family feel to it. There are 16 separate bedrooms, some duplex, sleeping up to 47 in total. We stayed in the Toy Room which is one of the premier family rooms as it is larger than others and the kids' sleeping area was in a separate self-contained room above ours.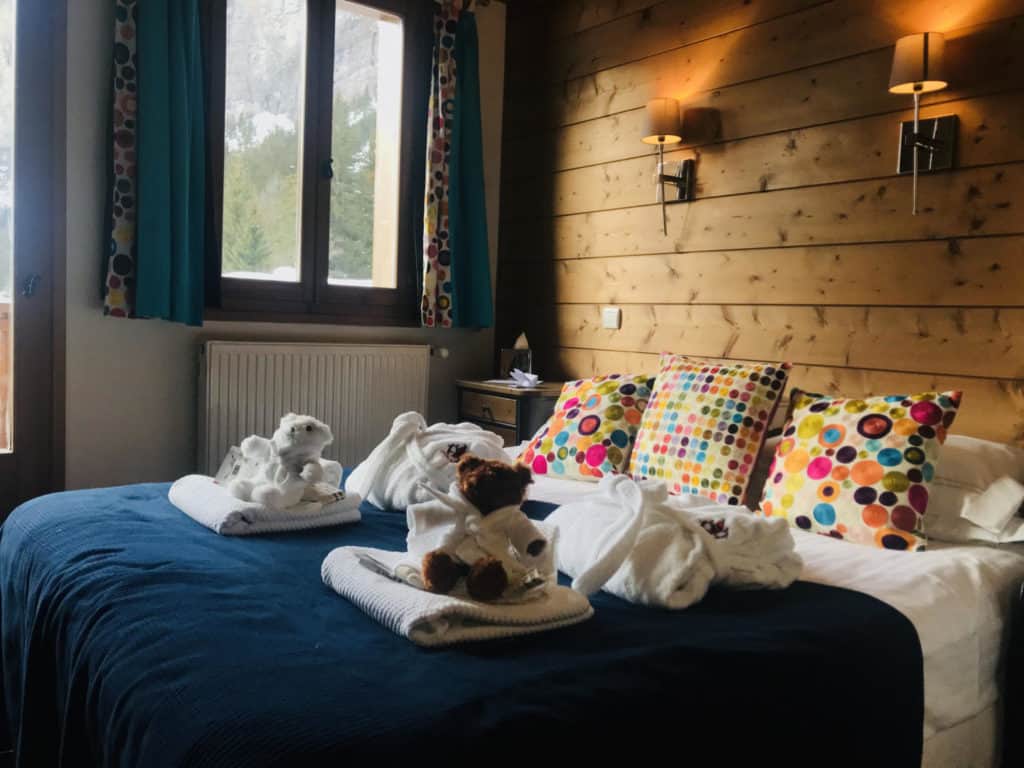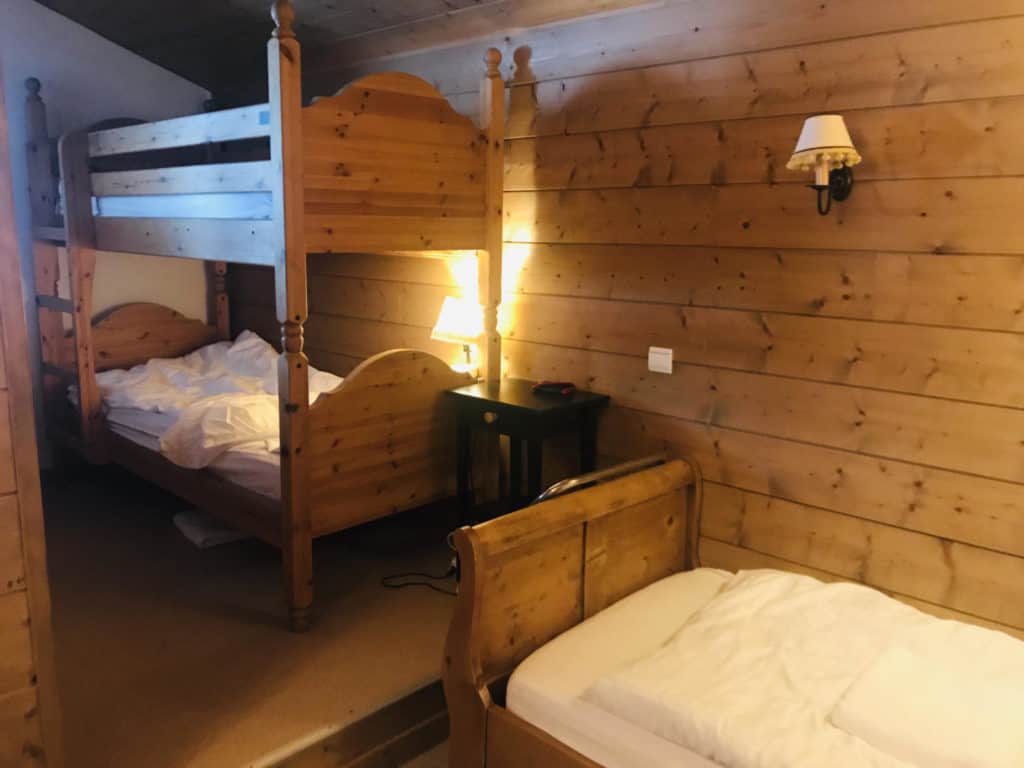 The view from the room down the valley was spectacularly dramatic with hanging cliffs on both sides and the king-sized bed very comfortable. The bathroom was small, but perfectly functional with some lovely touches such as the selection of toiletries and monogrammed bath robes. Each room has its own TV, hairdryer and plenty of storage space.
We timed our arrival perfectly – within a few minutes of arriving afternoon tea was served. Delicious homemade mini croque monsieurs and sticky chocolate coated rocky road. Tom was very happy to see a large TV in the bar area where he could watch the Six Nations! Max & Chloe made friends immediately with some of the other children. The communal areas are open plan with large windows looking out onto the mountains. As the name suggests, the chalet is built around a large open fire which lends a very cosy feel.
Later that evening, after kids tea, Doorstep Skis kindly delivered our skis and boots to the chalet, and fitted them on the spot. This amazing service means that you don't waste any more precious holiday time traipsing to the rental shop. They have a really good range of skis (and snowboards) for all levels.
A catered chalet with food for all the family
Children's meals at the chalet are served at 5.30pm and the menu caters for all levels of fussiness. Dishes included chilli con carne, roast chicken and pulled pork buns but there was always plain pasta with sauce on the side just in case! Adults canapés are served every evening around 7.30pm, with dinner at 8pm.
Food is a big deal at Chilly Powder. Francesca, the owner, is a cordon bleu trained chef and insists that high standards are maintained. Our starter on the first evening was a delicious butternut squash soup followed by braised beef shin pie (an all time top ten dish according to Tom!).
Dessert was a melt in the mouth chocolate fondant. There is always an impressive selection of cheeses too if you have room.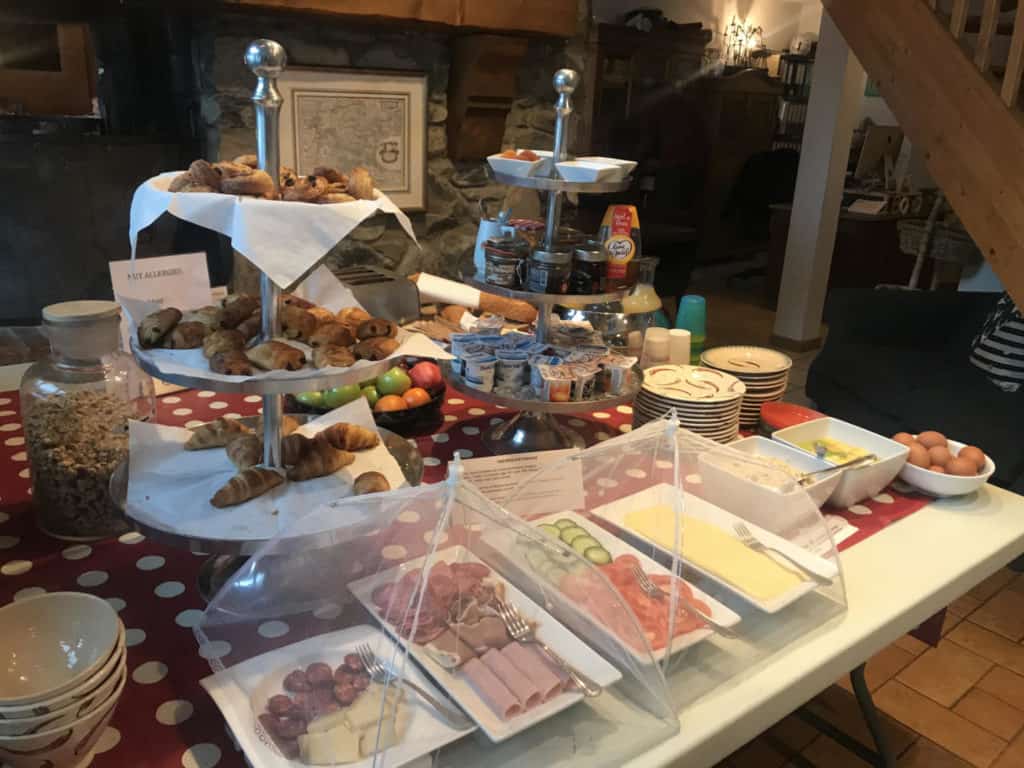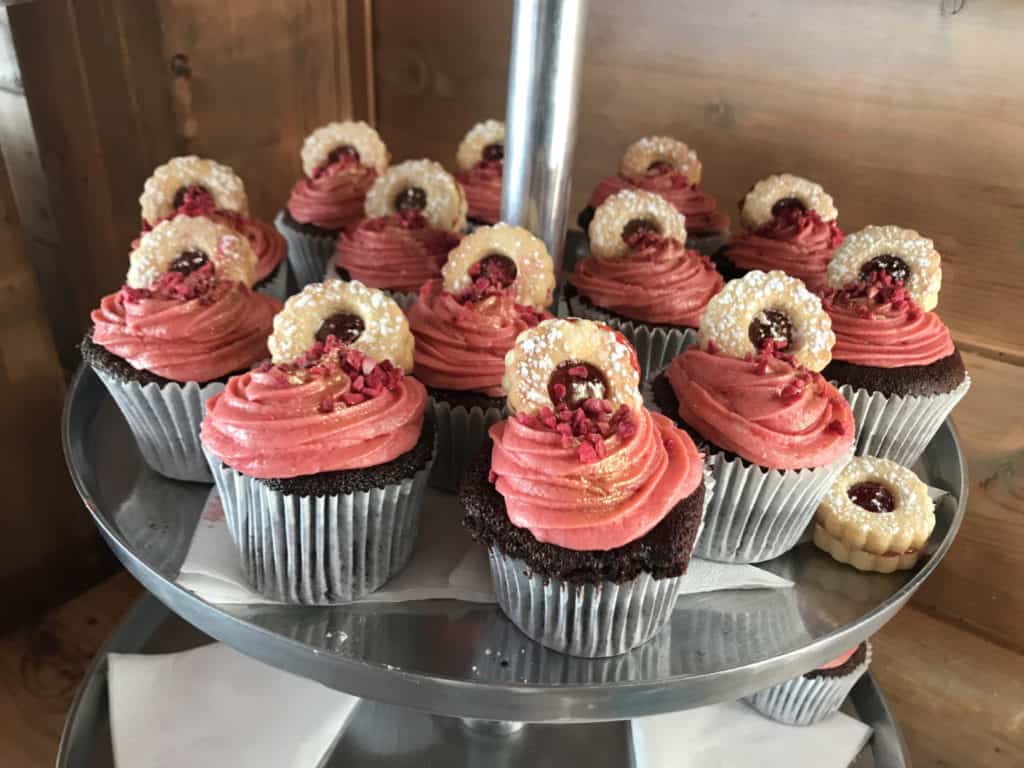 Wine, included in the cost of your stay, flows thanks to Richie the brilliant bar man. A Geordie with a big smile and an amazing ability to remember everyone's names. We head off to bed thoroughly stuffed and very content.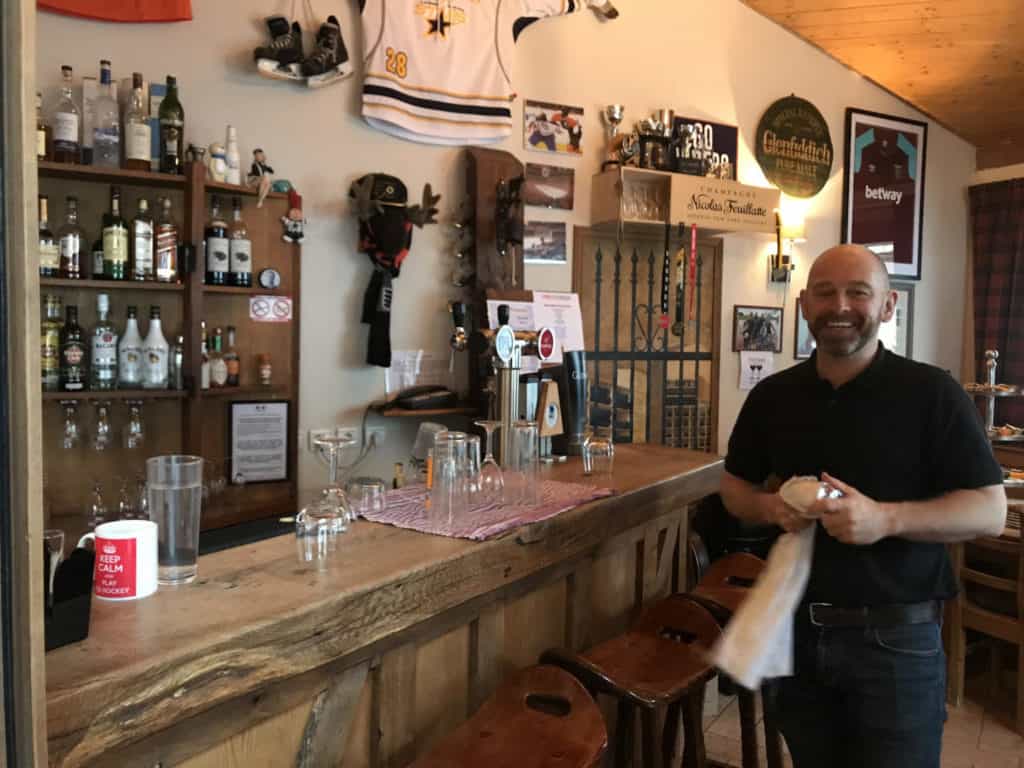 Children's ski school in Portes du Soleil
The next morning was quite a rush to get the kids up, dressed, fed and down to the ski school meeting point by 8.15am. However, Lucie who was in charge of getting all the kids up the mountain was brilliant (in a no-nonsense kind of way!). There were a few tears from the littlest ones who were reluctant to part from parents, but Lucie managed to not only prise them away but coax them, in caterpillar formation, up a fairly steep hill to the nearest chair lift. All the parents waved them off and promptly breathed a sigh of relief at the sheer effort of the morning but also at the prospect of a few blissful hours on the slopes.
Chilly Powder is about 200m from the Prodains Express bubble lift which takes you up to Avoriaz, a picturesque pedestrianised resort at an altitude 1800m. It is in the centre of the Portes du Soleil ski area which sits on the border of France and Switzerland and boasts over 600km of marked pistes.
A ski chalet with kids club
We decided to pick the kids up after their lesson at 12pm on the first day but Chilly Powder does offer a kids club option which means your little ones get picked up from ski school, taken back to the chalet, given lunch and entertained until 4.30pm. Activities include sledging, ice skating, eating crepes and watching movies.
There is a large self-contained area in the basement complete with soft play, toys, arts and craft materials and even a small pool table. Emma who runs the club has worked at Chilly Powder for several years and is excellent. My two were so happy they were actively asking to join in the afternoon activities on the subsequent days allowing Tom and I a full seven hours on the slopes. Not to mention indulgent mountain top lunches!
Why choose Chilly Power for a family ski holiday in France
Chilly Powder is unique in many ways. Like many well-known ski companies, it offers family friendly ski and activity holidays. However, unlike the larger companies it feels very personal. The owners live next door and are very present in the chalet. They join in several of the meals and there is plenty of family memorabilia around the chalet. Many of the staff have worked there for multiple seasons and are all brilliant at their jobs.
Chilly Powder caters for children in its food and facilities yet the experience for adults isn't compromised in any way. There are adult only areas as well as a wood fire heated treatments yurt where grown-ups can escape for bit of pampering. I treated myself to an aromatherapy massage on the fourth day and it was incredible.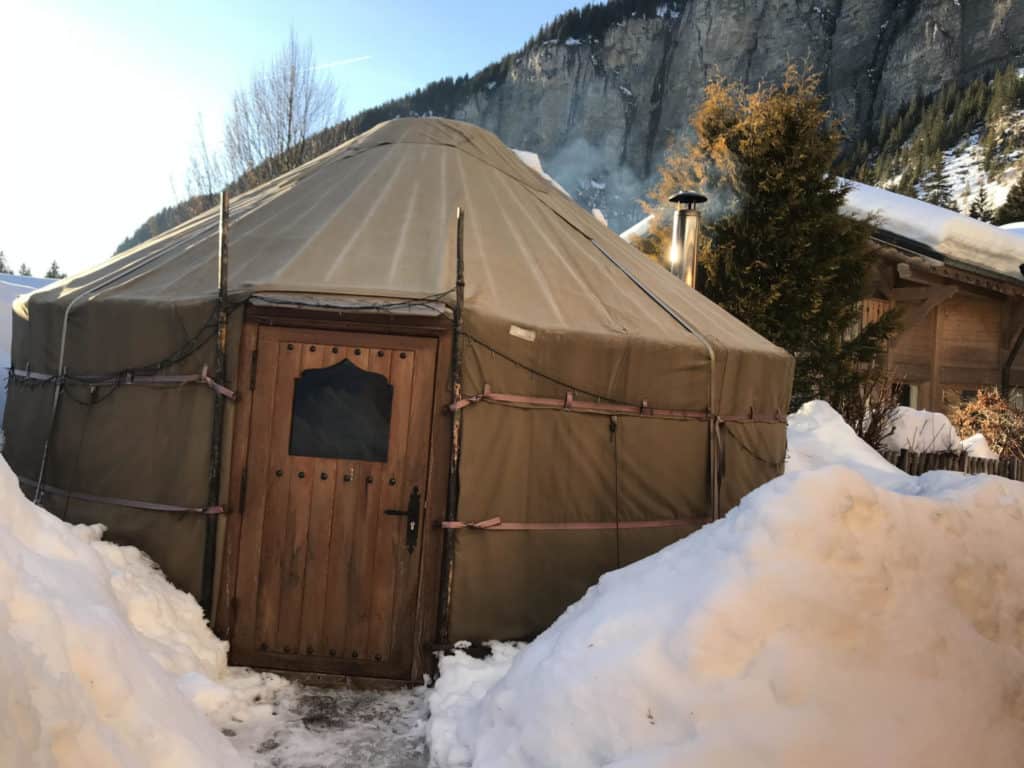 During our stay all children were generally in bed, or at least in their rooms, by 8pm so the adults could enjoy their delicious evening meal in peace. On Wednesdays, the chef has a night off, so there is no evening meal. You can choose to head out into nearby Morzine with the whole family or if you prefer Chilly Powder can arrange a babysitter. We were actually so skied-out and stuffed from afternoon tea, that we decided to get an early night!
Portes du Soleil resort
We found that the Portes du Soleil resort (which includes Morzine and Avoriaz) catered for all levels of ski ability with a good mix of black, red, blue and green runs.
There are also numerous options for those who want a break from the slopes. The tourist office in the centre of Morzine is packed full of useful information. On the last afternoon, Chloe was shattered so we parted with our skis and headed up the cable car to experience Avoriaz on foot.
We clambered up to the Igloo Bar, which as the name suggests is built from ice with impressive carvings adorning its walls. We slid back down on our bottoms and then took a horse and sledge further up into the resort to meet the rest of our group. We went for a hot chocolate in the Yeti Bar, but next door is the newly opened Folie Douce. This is après ski in all its Aperol fuelled, table dancing glory!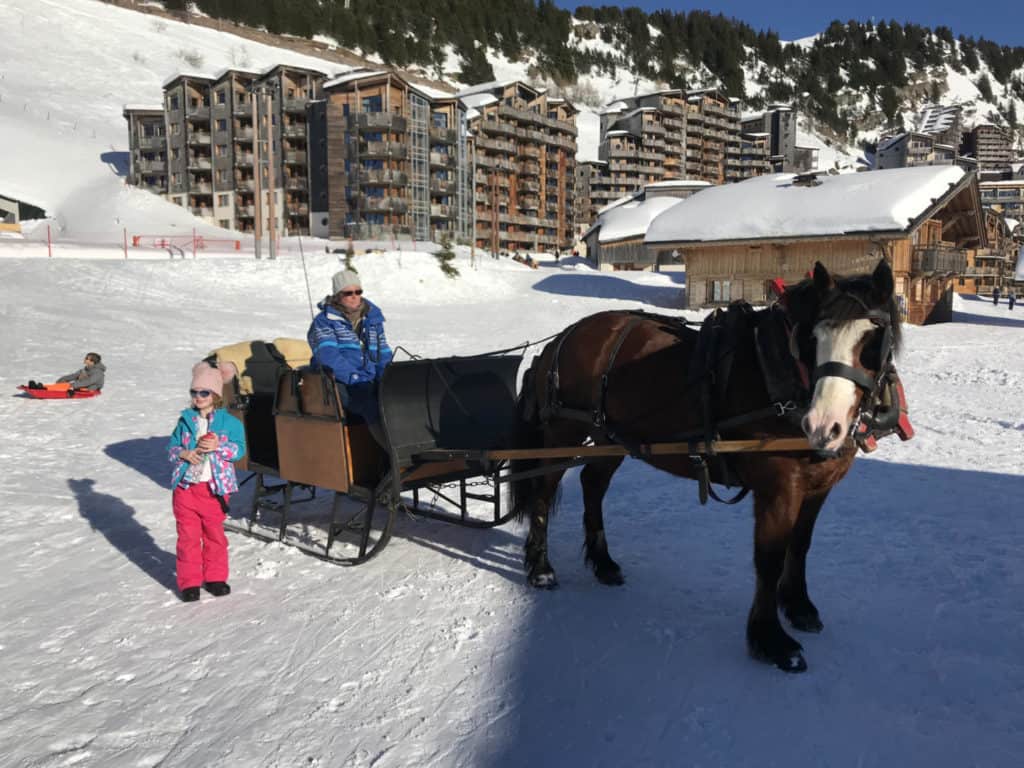 After an active day of skiing, it was always such a pleasure to return to Chilly Powder to refuel with a decadent afternoon tea or to melt into the outdoor hot tub, gin and tonic in hand.
Final thoughts on Chilly Powder catered chalets, Morzine
When we decide to head to the slopes again we will find it almost impossible to go somewhere else. And we're not the only ones. Some guests book their stays at Chilly Powder up to two years in advance. I think the reason for this is that it would be hard to improve on anything.
The accommodation is cosy, family friendly with luxurious touches. The food was consistently delicious. The childcare is outstanding, and the ski area large and varied. Combine that with the ease of reaching the resort from the South West of England and in my eyes, you have all the ingredients you need for a perfect, relaxing, fun-filled family ski holiday in France.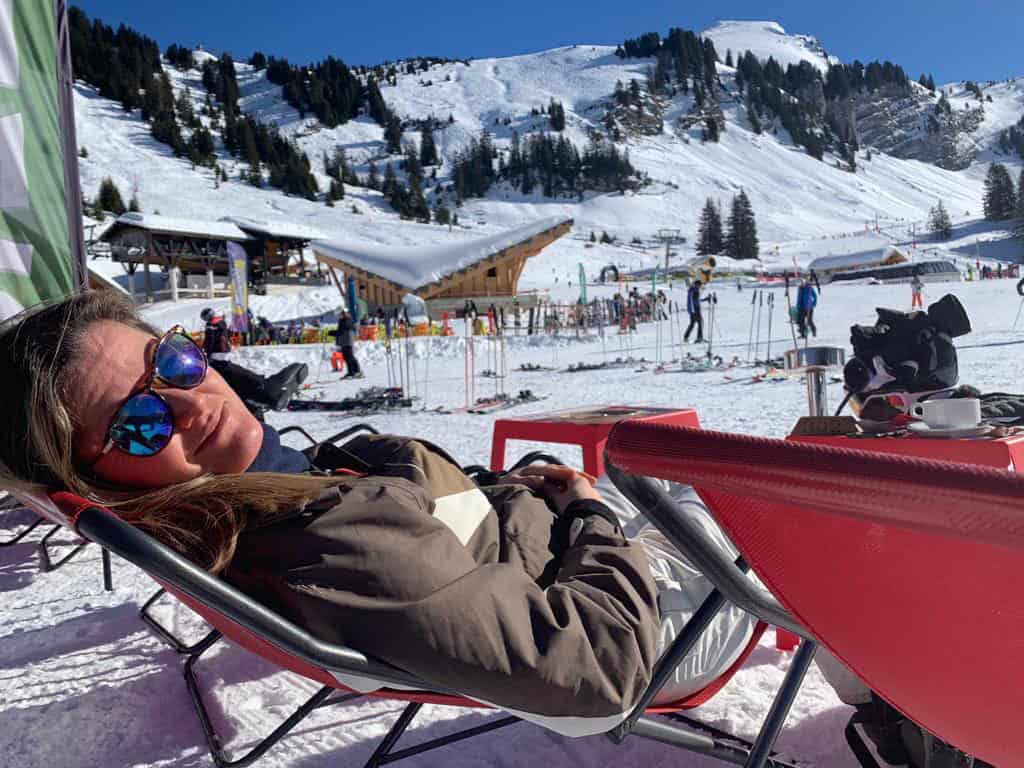 We stayed the week before the February half term. One week, catered accommodation for four (two adults, two children) in a superior family suite – the Toy Room – cost us €4418. Our shared airport transfer was €280 return. Six half days of ski school cost €275 per child.
If you'd like to read more of Katie's family holiday reviews, take a look at her luxury cottage stay at The Point at Polzeath in Cornwall and dog-friendly glamping at Strawfields in North Devon.
Disclosure: Katie and her family were gifted Morzine ski passes, ski hire, and use of the kids club, but paid for all other aspects of their family ski holiday in France. Costs for the gifted parts of their stay can be found here on the Chilly Powder website. 
Planning on hitting the slopes with the kids next year? Why not pin this post about a family ski holiday with Chilly Powder at its catered chalet in Morzine, France?