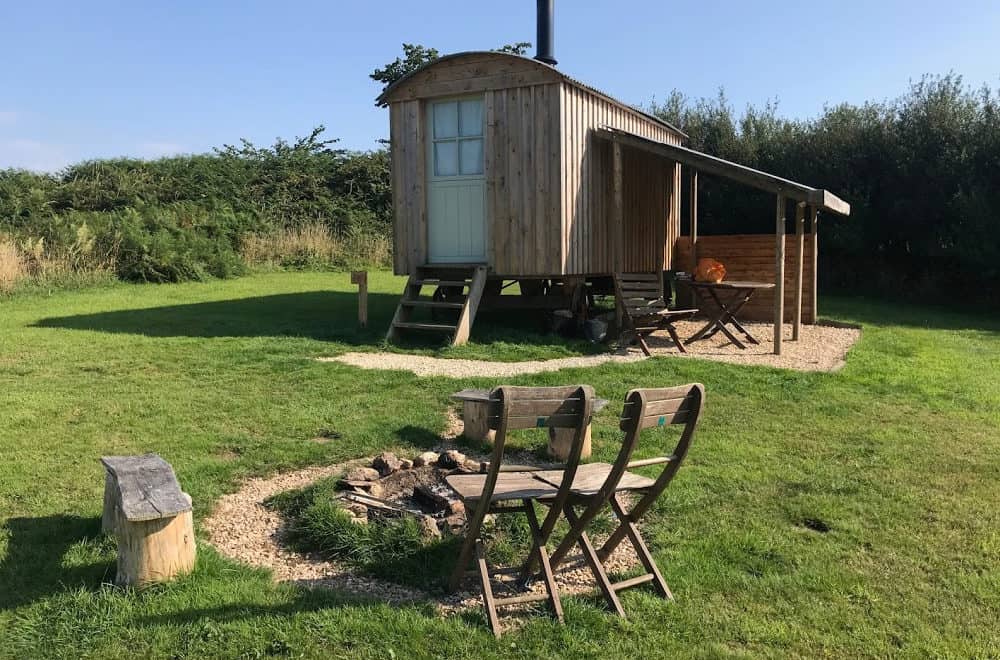 Glamping in North Devon: Strawfields review
If you're looking for a dog-friendly campsite for self-catering holidays or glamping in North Devon then check out this review of Strawfields by Katie de Pelet.
You can also read about Katie's stay at The Point at Polzeath in Cornwall.
After a three day drive back from camping in the Dordogne, I only had 48 hours to unpack, wash and repack before heading off on our next adventure. At the time it certainly felt like I had over planned the summer holidays and a week at home would have been kinder on my tired bones.
However, once we arrived at the beautiful Strawfields campsite I was reminded why I love camping so much. There I was, in a field, with my two kids, my dog and our Shepherds Hut. No internet, no TV (save the iPads!) and crucially no admin. Once we had transferred our kit to the hut via some very useful wheelbarrows there was nothing to do but explore, hang out and appreciate our surroundings.
If you've not tried luxury camping and fancy giving it a go here's a guide to glamping with kids.
About Strawfields – camping, cottages and glamping in North Devon
Stawfields is literally a dream come true for the Straw family. Alex Straw and her family had been dreaming of moving to Devon for many years before finally making the move in 2014.
They discovered Stawfields (or West Stowford Barton as it was previously called) and knew they had found the one. It offered the best of both worlds, a crazy old house in a wonderful rural location and close to the sea.
Since then Alex and her husband have transformed the parts of the property they don't live in into two holiday cottages, four Shepherds huts and two campsites.
The site is small and well laid out into three distinct areas. The main house and holiday cottages are at the top, then you walk down a hill towards the stream passing one hut (Lily Pad) on your way.
Over the stream and you are in the field with the remaining three huts, nicely spaced out for maximum privacy. In the top field are the two campsites – Poppy Patch and Twitty Song Meadow.
The former is open all year round but the latter is only used for pitching tents in the peak season for longer stays (min 5 night stay).
I had actually hired out the Poppy Patch (8 pitches + 2 campervan pitches) for a birthday celebration but we arrived a couple of days early so we could try out one of the Shepherds huts.
Dog-friendly shepherds huts at Strawfields
We stayed in The Hut which has a double bed, wood burner, fire pit and rustic outdoor seating area and is set in a large open field with a stream.
The hut was actually big enough to fit the kids and I in comfortably with one of them on a mattress on the floor. If there are more of you, you could always pitch a small tent by the side of the hut or choose one of the larger huts.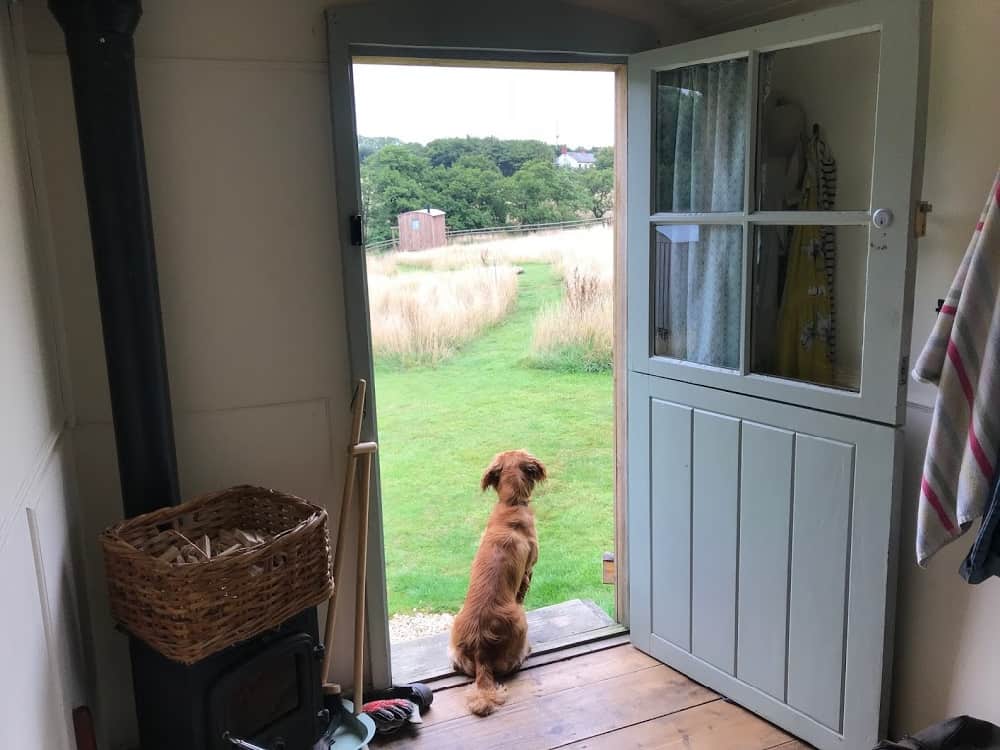 The whole site is dog friendly but dogs must be kept on a lead at all times. Bailey slept in his crate in the covered seating area.
The beautifully crafted toilet and shower block was only a short walk away in the Poppy Patch campsite and had two showers with warm water, two toilets and a sink as well as a washing up station with an additional two sinks.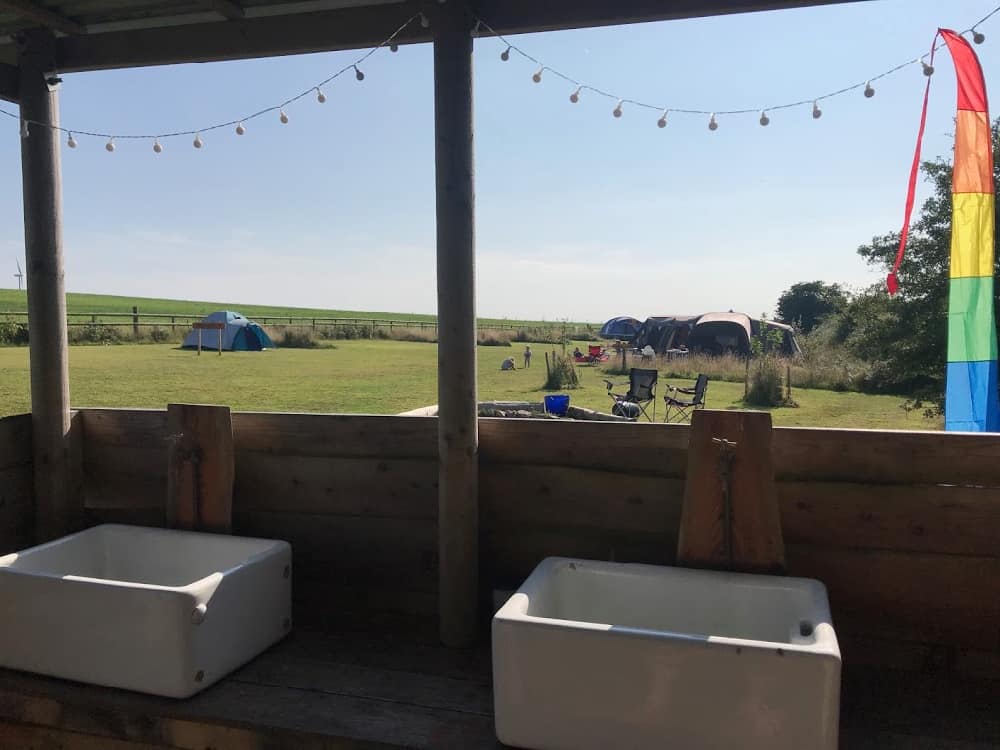 Things to do in North Devon
After exploring the whole site, including the trampolines and indoor play room by the main house, we took Bailey for a walk. There is a public footpath than can be reached by going through the courtyard by the main house and turning left onto the lane.
As it was getting late we decided to cook in the camper for ease but we could have lit a fire in the fire pit (wood available to buy at the main house) and used one of the grills provided. We then snuggled up warm and cosy in our hut for the night.
The next morning was a bit drizzly, we did find this most mornings but rest assured it is normally just a sea mist which clears. We were grateful for the undercover seating area where we had breakfast.
I then took Max to a football camp run by Exeter City Community Trust in nearby Illfracombe, before Chloe and I set off for Woolacombe to walk Bailey on its huge sandy beach.
To the far left of the beach is a dog friendly section where your furry friends can be let off the lead to run to their hearts content. There are also some fab sand dunes to run up and roll down!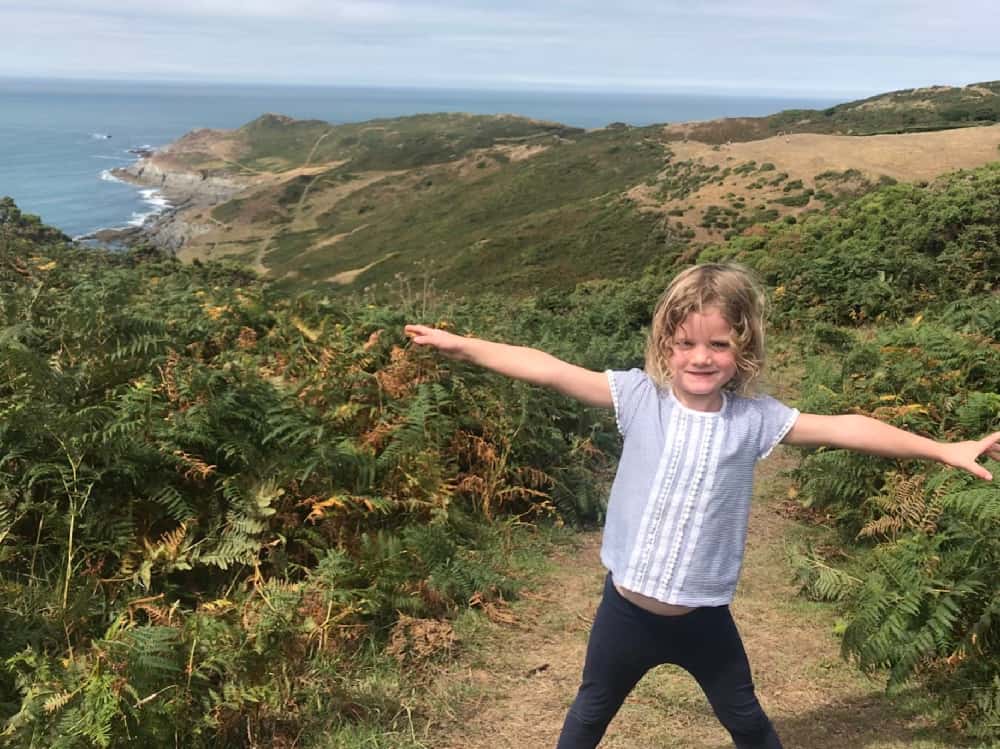 For lunch we headed to the lovely Morthoe, a very picturesque village, a few minutes drive from Woolacombe, where we ate at the Chichester Arms.
There are beautiful walks all along this stretch of North Devon coastline so after lunch Chloe, Bailey and I headed up the hill taking in some of the beautiful views over Woolacombe Bay.
A nice circular walk took us back to the car park and crucially to the Post Office where we were able to grab an ice cream.
After picking Max up we headed back to the campsite where the kids met the farm animals – ponies, pigs, goats and chickens.
There is so much for children to do at Strawfields with a play area, another slide built into a hill near the Shepherds huts as well as an indoor play room with ping pong table and plenty of toys to keep little ones happy if the weather isn't kind. After supper (I whole heartedly recommend the fish and chip shop in Morthoe – yum) we all had warm showers and headed to bed.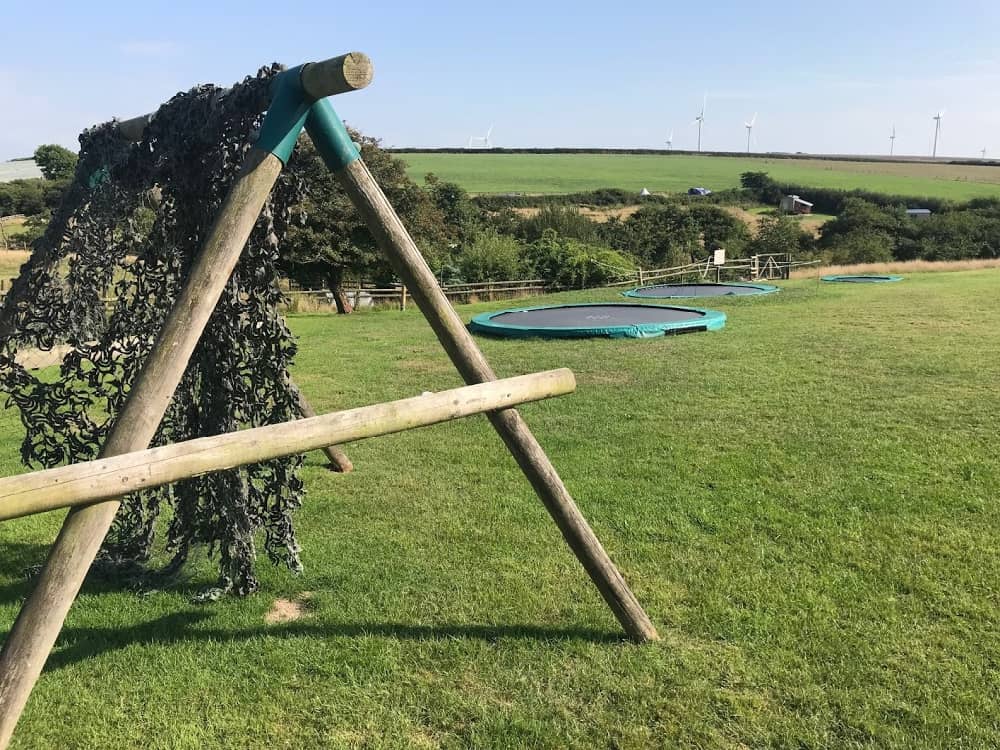 Read about more things to do in North Devon with kids.
Camping at Strawfields
The next day we said goodbye to our lovely hut and moved our stuff over to Poppy Patch. Alex and her husband had just finished constructing a large shelter in case of bad weather so I was able to decorate this with bunting and a disco ball (of course) ahead of the celebrations.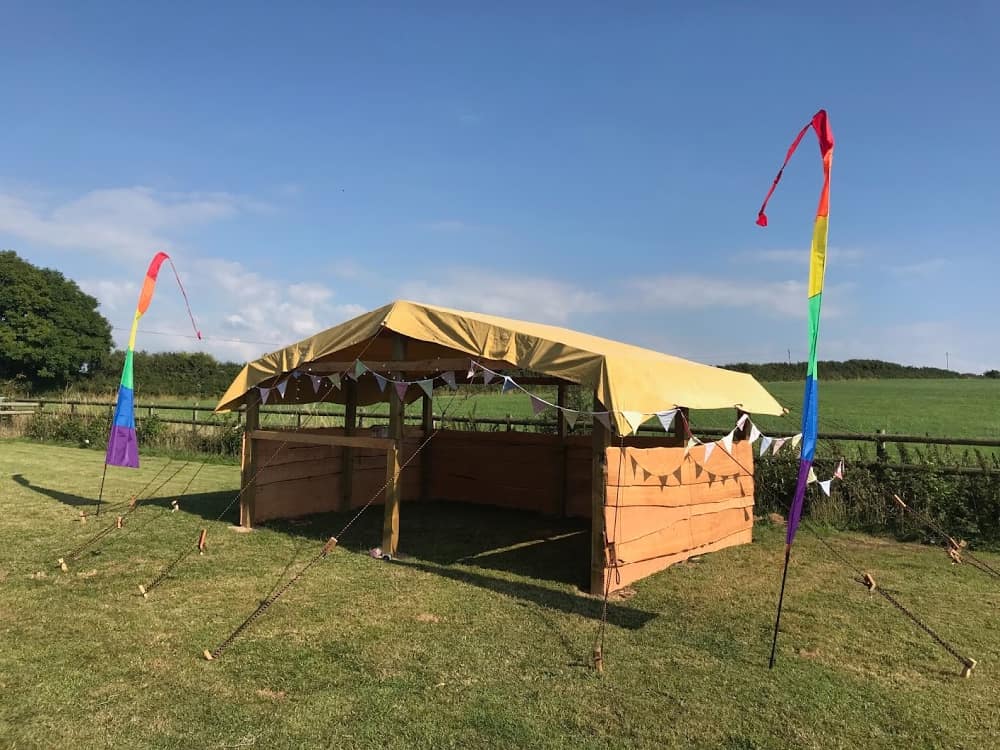 We were on one of the campervan pitches which are actually on the other side of a fence from the main campsite. This is because the Straws are committed to making it a vehicle free site which gives added peace of mind for parents as children can run around safely.
It didn't matter however as the shower block and toilets were still easily accessible as was the large firepit.
A campsite within reach of the beach
The rest of our group began arriving around lunch time and by mid afternoon camp was set and we were able to head to Barricane Beach for the legendary Sri Lankan curry.
While the kids roamed the rock pools, the adults ordered curries (from 5pm and you need to get there early to avoid disappointment) and sat watching the tide go out and thinking how lucky we were to live in such a beautiful part of the world.
The smugness subsided however when a thick sea mist descended, and we were forced to retreat to the campsite. As anyone who has ever camped in the UK knows, you can't let the weather ruin your fun.
So, we got back to camp, lit a fire in the large fire pit and cracked open the marshmallows. Strawfields does welcome groups but asks that the site is quiet by 10.30pm so not the place for you if you want to stay up all night partying and playing loud music.
The next day, the mist lifted around 11am and we headed to Putsborough. This beach is essentially at the other end of Woolacombe Bay and about a 25 minute drive from Strawfields on windy country roads.
Parking is expensive at £8 but the beach is stunning and there is a lovely café selling hot food, drinks and ice creams.
Pizza nights
We headed back to the campsite around 4pm as we had signed up to the pizza night that Strawfields offers every Saturday and Wednesday evening in peak season. It costs £9 for an adult pizza and £5 for a child pizza.
All ingredients (dough, sauce and toppings) are provided then you make your own and hand your masterpiece to Alex to place in the wood burning pizza oven. We were blessed with a beautiful sunny evening and eating our pizza on the terrace under the pergola felt as though we were in the Med and not North Devon.
The kids guzzled their pizzas and then played happily on the lawned play area in front of the terrace while we tucked into a few glasses of rose (you bring your own).
As the sun went down we headed back to the campsite to light a fire in the fire pit and dance in the shelter we had decorated. It was lovely having the whole site so we knew we wouldn't disturb any other campers.
However, the huts are still in earshot and at 10.45pm Alex popped up to remind us that it was quiet time so we reluctantly headed off to bed!
Sunday was our last day so after a leisurely breakfast we packed up the tents, cleared the site making sure we left no rubbish behind and waved good bye to the lovely Strawfields.
Final thoughts on Strawfields camping and glamping in North Devon
Everyone who stayed that weekend agreed that it is one of the best campsites they have ever stayed at. It is a lovely size, being not too big.
The facilities are fantastic – rustic yes but with hot showers and plenty for the kids to do what more do you need? The pizza night was great fun and certainly recommended if you do stay.
It isn't right by the coast but some of the best beaches in North Devon are easily accessible and being so rural means that the views are incredible and noise pollution is minimal.
I would certainly return to Strawfields, in fact we have already enquired to see if we can book the site for the same time next year!
For a four night stay in August, The Hut costs £49 per night and a camping pitch in Poppy Patch costs £20 per night. Find out more on the Strawfields website.
Planning a trip to Devon? Check out my other website Devon with Kids and download my FREE kids activity book.
If you're looking for somewhere to go camping or glamping in North Devon then why not pin this post?