A family day out at Wild Place Project, Bristol
What toddler doesn't enjoy a trip to the zoo? A few weeks back the Tin Box girls and I had the chance to visit a zoological park with a difference – the Wild Place Project near Bristol. Here's what we got up to during our day out.
About Wild Place Project
The Wild Place Project is on a mission to protect endangered habitats.  It was set up by the Bristol Zoological Society, which also runs Bristol Zoo just down the road. While you'll see some of the same wildlife at the Wild Place Project as you can at the Zoo, you'll also find a lot more animal encounters as the project take a hands-on approach to promoting its conservation message.
Our visit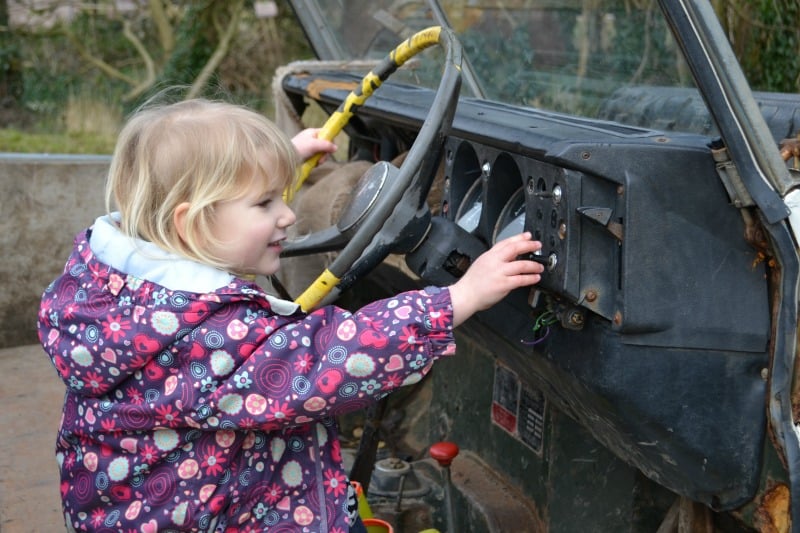 We were invited to the Wild Place Project as part of a blogger event with Trunki to help highlight its Giraffe House Appeal.
The Wild Place Project feels more like a cross between a safari park and a farm than a zoo. Compared to other animal parks we've visited it's rough around the edges but that's deliberate. Footpaths and woodland walks have been kept as natural as possible in keeping with the different habitats that have been recreated.
There's a focus on animal encounters and education with a daily schedule of opportunities to meet the park's residents so you can find out about their lives in the wild. It's all part of the park's roots in conservation and raising awareness of the human impact on important habitats.
We arrived an hour late for our event because of hold ups on the M5 and were whisked off to meet the lemurs. I'm so glad we didn't miss this as it was the highlight of our day.
They live in the Madagascar area of the park where you can find out how deforestation is affecting wildlife and ecosystems in South America.
The lemurs are in a walk-though enclosure. If you time your visit right you can see them being feed. Dozens of the inquisitive creatures seem to come from nowhere to chow down on fruit and vegetables.
We were lucky enough to see a pair of newborn lemurs with their mum – Dizzy. She gave birth to her babies the night before so we were among the first people to meet them. You can just about see them clinging to their mum's belly in my picture (above).
Once we'd had some lunch with the other bloggers we were free to have a look around the park by ourselves.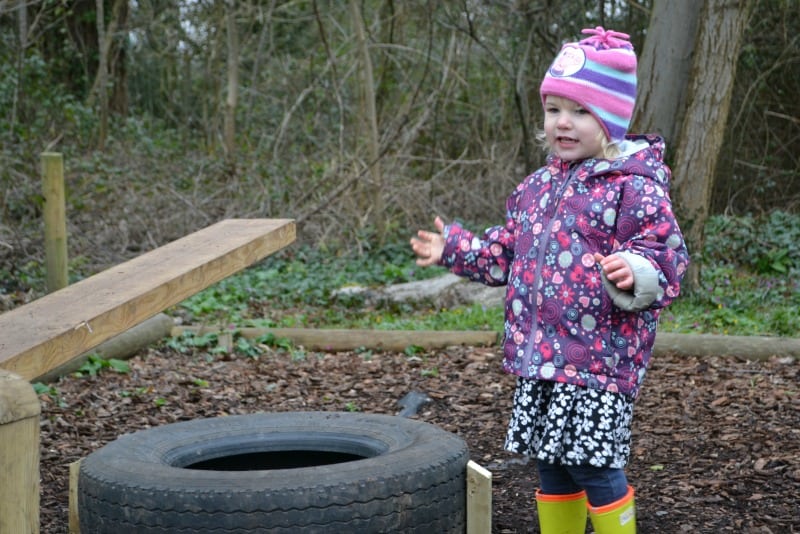 As well as meeting a variety of animals, there are lots of places for kids to play dotted around the park. This was perfect for Tin Box Tot to let off some steam and keep her interested in-between the enclosures as there was quite a lot of walking to do. She was also having one of 'those days' when parks were a lot more interesting than exotic animals.
We made a loop of the park, visiting the wolves, returning to the lemurs and seeing the cheetahs and zebra.
Before we got back in the car Tin Box Tot wanted several goes on the slides in the covered play area. As it was midweek and the end of the day we had it all to ourselves which she loved as she could take as long as she wanted clambering around the play equipment.
Places to eat
The park has a cafe with indoor and outdoor seating serving sandwiches, kids lunch boxes and light meals.
Toilets and baby changing
There's one set of toilets with baby changing area in the undercover play zone close to the park entrance. Make sure you stop here before you wander around the rest of the park as it's a bit of a trek back if you get caught short.
Handy tips for families
You can't take pushchairs into the lemur enclosure as they like to jump on them. Bring a baby carrier for any little ones not able to walk around themselves
If you're visiting on a wet day bring waterproofs and wellies in case you get caught outside in the rain
Sturdy shoes are recommended for all visitors as the paths can be uneven
Bring a picnic – there's indoor and outdoor picnic areas around the park. Just don't take any food into the lemur enclosure – it upsets their tummies.
Need to know
Directions: it's really easy to find the Wild Place Project as its just off Junction 17 of the M5.
Admission prices: adults £8, children aged two to 14 £6.50, under twos go free. If you book online you can save 10%.
Opening times: 10am until 5pm daily.
Disclosure: we were guests at the Wild Place Project. All views are my own.
Pin for later
I'm a blog awards finalist – yay!
I'm incredibly excited to share that I am in the finals of the 2016 MAD (mum and dad) Blog Awards and the shortlist of the Brilliance in Blogging (BiBs) Awards. If you've enjoyed what you've read and have a spare minute please consider voting for me in the Family Travel Blog category of the MADs and the Travel category of the BiBs.
I love hearing what people think about my blog so feel free to leave a comment below or browse around. You can also find me on Bloglovin', Twitter, Facebook, Instagram, Pinterest, Youtube, Google+ and LinkedIn.