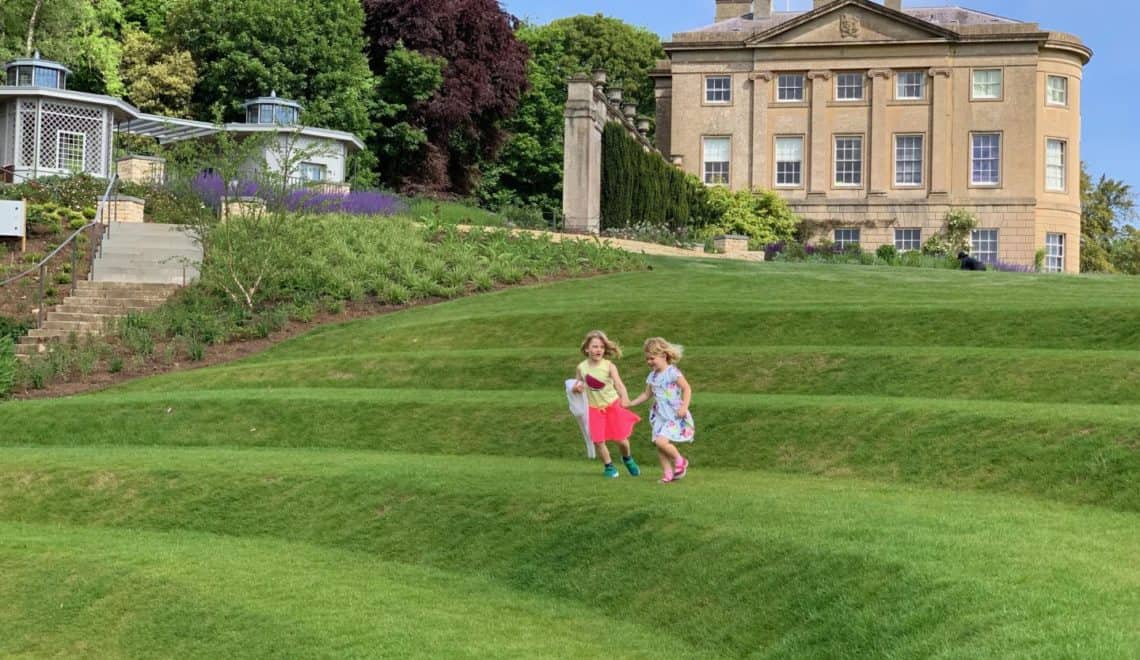 A visit to the American Museum Bath with kids
Bath is a city renowned for its famous Roman Baths, picturesque Pulteney Bridge and Sally Lunn's buns. But did you also know it is the home to the largest collection of American cultural artefacts outside the United States? We were invited to visit the American Museum, Bath, during our recent trip to the city and loved it. Here's what there is to see and do with kids at Britain's top American Museum.
*Advertisement feature*
The gardens
The incredible gardens overlook the Somerset countryside and are packed with busts of famous Americans and areas dedicated to important moments in the country's history or places of significance, such as George Washington's pleasure garden Mount Vernon in Virginia.
When we visited in May, the summer flowers were just starting to bloom into colour and an army of gardeners were hard at work tending to the flower beds in front of the main house.
If you enjoy pretty gardens then you will love it here. The girls were content with racing around the winding paths of the arboretum and down the grassy amphitheatre, while I paused briefly to read about areas dedicated to significant points, places and personalities in American history.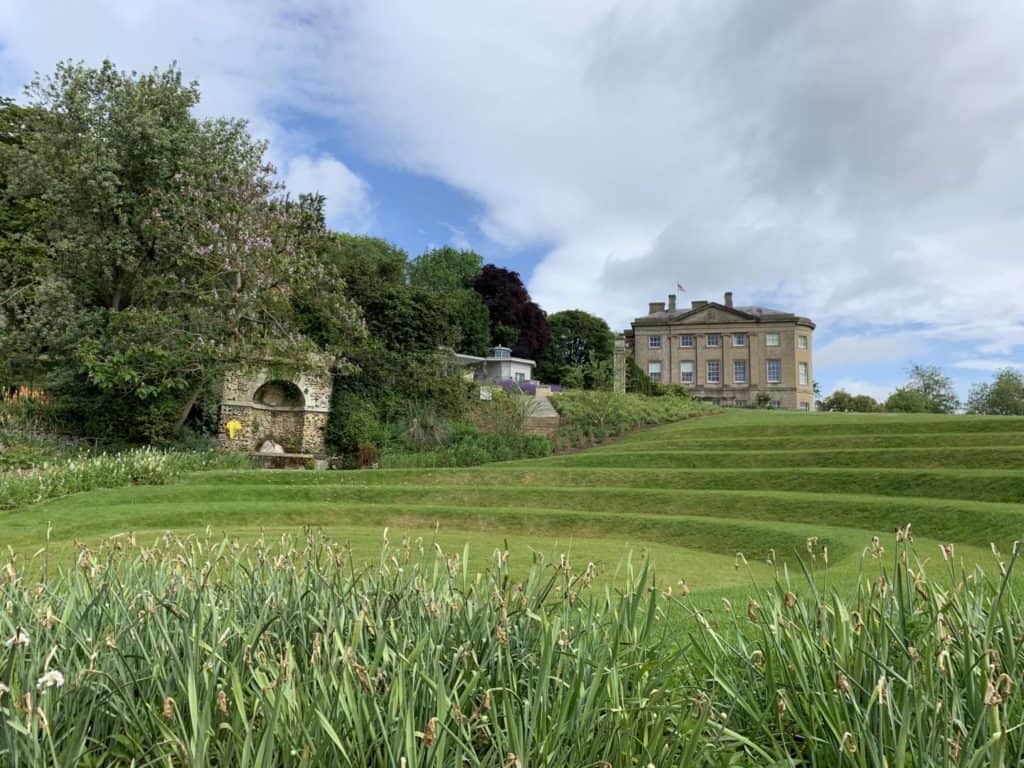 The museum
Inside the museum itself I was transported back to my days studying American politics at University with stories of colonisation, exploration and independence, as well as an extraordinary amount of decorative art collected here since 1958.
I could have lingered for hours soaking up the history but the kids were keen to move through the rooms quickly. Some were recreations of American homes dating from the 1600s and others housed extraordinary collections of quilt work. All, including furniture, ornaments and even wood panelling originate from America.
The carefully put together tavern even had old pub games that would have been played in the 18th Century. This is the Puritan 'Keeping' room which would have served as a kitchen, dining and sitting room.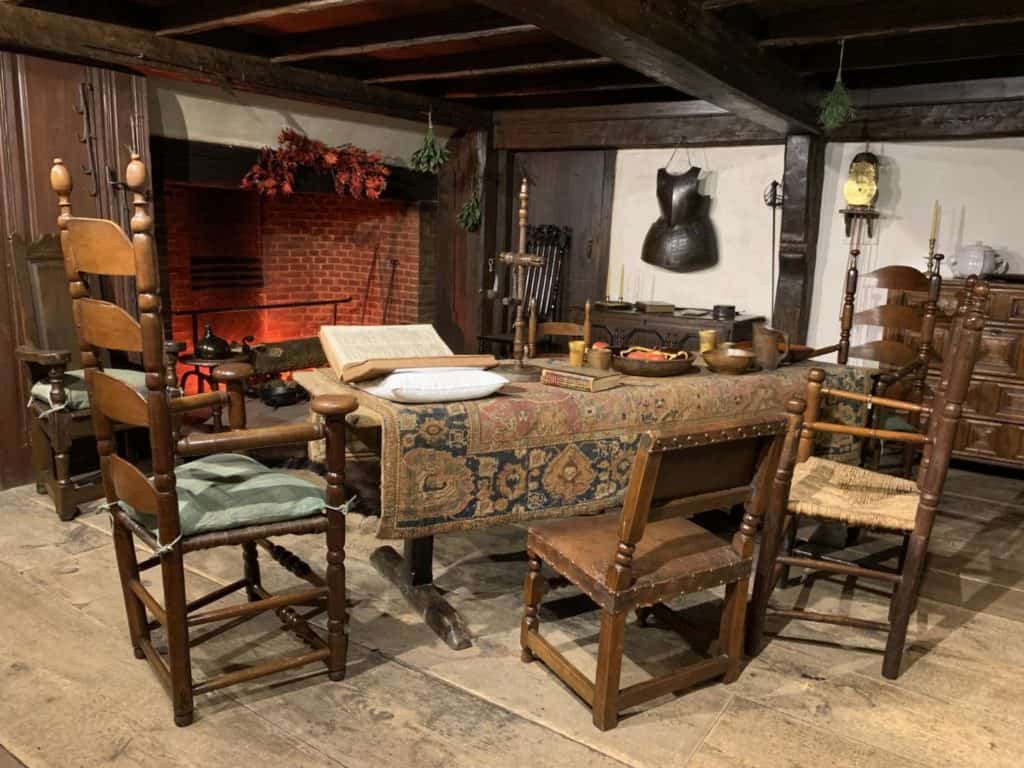 My girls, aged six and four, have incredibly short attention spans in museums. But excellent efforts have been made to make the American Museum accessible and interactive for younger visitors.
When you arrive at the entrance to the mansion the staff offer kids age relevant ruck sacks containing their own museum guide, a soft toy puppet to accompany them on their visit, and activities related to the exhibition.
We also found dressing up clothes and the girls loved looking for different animals that had been stitched and woven into bed spreads in the largest exhibition of American quilts outside the States.
School holiday events at the American Museum Bath
We visited during May half term and there were a few extra activities aimed at younger visitors. Be aware that you have to pay additional fee for these activities. I paid £2.50 for each of the girls to have an American clothing themed trail sheet – their prize was Stars and Stripes flag – and £3 each for a crafts session.
The girls sat in the stables creating unlimited fairies, butterflies and bunting for nearly an hour. There was also tea and coffee for adults, so it turned out to be good value as well as a welcome break for me. Find out more about activities for families at the American Museum.
The American Museum cafe
You can bring a picnic to the American Museum but we can recommend trying the various flavours of cookies in the cafe. You can also choose from reasonably priced jacket potatoes, quiche, salads, sandwiches, cake and kids lunch boxes.
Getting to the American Museum
We visited the American Museum & Garden from where we were staying at YHA Bath. This is on the U1 bus route from the city centre and took us up to the University of Bath campus from where we could walk to the Museum. The walk is half a mile, or about 20 minutes, down a woodland path to the left of the road.
If you are visiting by car there is a car park outside the entrance to the Museum and gardens.
Got a few days in Somerset? Read about more things to do in Bath with kids.
Our verdict on visiting the American Museum Bath with kids
We spent so much longer here than I had planned. It would be easy to fill a day if you are at all interested in beautiful gardens, art or history. Plus there's loads of activities to involve kids of all ages, particularly during the school holidays.
Personally, I could spend all day here with or without the extras, but I know my little ones would be nagging me to move on sooner.
A family ticket for the American Museum Bath costs £33 for two adults and up to three children. Find out more on the museum website. I've already been recommending this as a great place to visit in Bath with kids.
Find more days out in England, Wales, Scotland and Northern Ireland in my big round up of 101 UK attractions for families.
Disclosure: we were invited to visit the American Museum & Gardens, and had free entry in exchange for coverage on the blog. I paid for the children's half term activities and our refreshments during our stay. All opinions are my own.