36 hours in Bath with National Express – a budget city break with kids
We like to think of ourselves as being reasonably well travelled with kids. Since the girls came along we've taken them on road trips, trains, ferry rides and aeroplanes. But one form of transport we've not tried with them is coaches. During May half term the opportunity arose to put that right as the girls and I were invited to take a city break to Bath with National Express. Here's my experience of coach travel with kids and why I think it's a great budget option for families.
*Advertisement feature*
The last time I travelled by National Express was during my university days. The world was a very different place then. I had to go to a travel agent to buy my ticket, my entertainment was a paperback book, and once I'd climbed onboard I had no connection with the outside world (it was only in my second year of uni that I got my first mobile phone).
The biggest selling point was the price – it was super cheap compared to the train and saved me plenty of money for nights out with friends at either end of the journey.
Our budget city break in Bath with National Express
Roll forward 20 years and I'm stood at Paignton Bus Station in Devon about to board a National Express coach for a short break in Bath with the kids.
Why hadn't I travelled by coach in two decades? Learning to drive was a game changer. And when you're paying all that cash for insurance and the car you might as well use it.
I also travel a lot by train when it's just me going somewhere and I don't need the car at my destination. But the cost has always blown my mind, as well as threatening to do the same with my budget. It's OK when I'm able to book far enough in advance to get a cheap fare.
But I've lost count of the number of times I've been waiting for a train that's been cancelled or got onboard only to find it already rammed full of people.
Considering this, I'm not sure why coach travel has gone off my radar in recent years. It's often cheaper when booked in advance and National Express have services connecting 900 UK destinations. Our short break in Bath gave me the chance to reacquaint myself with coaches and see how they performed in 2019.
So, what can coach travel offer families today?
Leather seats and booster seats for kids. You can also bring your own car children's car seats but there are no isofix points.
Power points – the points on the four coaches we used during our journey had three pin sockets but some coaches have USB sockets too.
Free wifi and an on-board entertainment app called VUER, which gives you free access to TV, film and magazine content.
Onboard loo – essential for travel with kids who have small bladders. I lost count of the number of times I walked to the back of the coach with four-year-old Tin Box Baby.
Our journey from Paignton in Devon to Bath in Somerset went via Bristol and was scheduled to take five hours 40 minutes on the outward journey and five hours 10 minutes on the return. I can't lie; the thought of entertaining the kids for this long worried me. Driving our own car to Bath would have taken two and a half hours and the train would have taken two hours 15 minutes from Paignton.
However, the faster options come with their own draw backs. I have done numerous solo road trips with the girls. They can be difficult when you have to try to concentrate on the road, keep the kids entertained (ie stop them arguing), and plan pit stops for the loo and snacks.
The train is much more expensive unless you buy tickets as soon as they go on sale and you may not get seats together or at all for parts of your journey. This is not at all practical with a six and a four-year-old.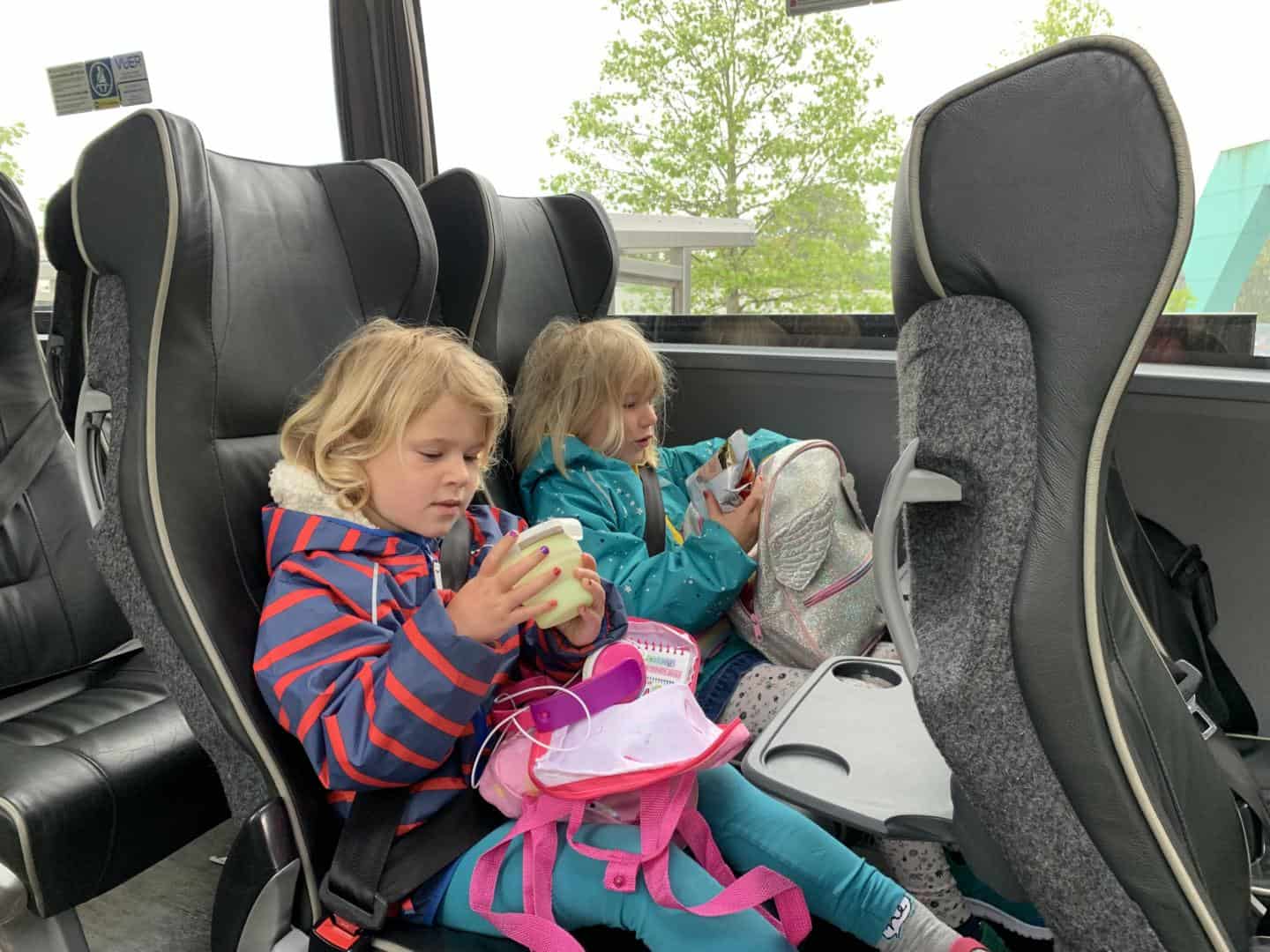 I'm very happy to report that keeping the kids entertained on the coach was a breeze. I'd packed their rucksacks with magazines, snacks, games and their Amazon Fire for Kids. This was loaded with films and I was also able to connect to the coach's wifi and use the VUER app on my iPhone.
I used this to find kids TV shows for Baby when she wanted to watch something different to her sister.
It was surprisingly relaxed and the five plus hours flew by, especially with the chance to get off the coach at Bristol bus station and stretch our legs. Here there are toilets (bring 20p to pee), a newsagent, and a couple of places to replenish your supply of drinks and food just outside the bus station doors.
Where to stay in Bath with kids
We arrived in Bath just a few minutes behind schedule at 5.20pm. Tummies were beginning to rumble so my first priority was to get to our accommodation and then find dinner. National Express had arranged for us to stay at YHA Bath, which is a five minute bus journey from the National Express coach stop at Bath Bus Station.
We've never stayed in a youth hostel so this was a city break full of firsts for us. The former mansion that YHA has taken over feels very family-friendly and is a great cheap accommodation in Bath for visiting families. The four person, private room in which we are stayed would have cost just £79 a night – bargain!
I've written more about my stay a YHA Bath with kids as I was really impressed and have already been trying to work out our next youth hostel stay.
Things to do in Bath on a budget
Bath is a wonderful city to visit with kids. It's brimming with culture, history, open spaces and heritage attractions geared towards families.
Here are some ideas for things to do in Bath that are free or cheap, and others that are good value for money.
The American Museum Bath
We spent the best part of a day looking around the American Museum, which is close to the University of Bath and a short bus ride from YHA Bath. It's home to the largest collection of American decorative artefacts outside on the United States and is set in the most beautiful gardens.
If your children are studying American history then it's a must visit. There is also plenty of space for young children to run around and interactive features in the museum to keep them entertained.
My girls loved walking around with a black bear puppet as their guide and working through activities in a rucksack they were allowed to borrow at the entrance.
A family ticket to visit the American Museum costs £33 for two adults and up to three children. You can read more in my review of the American Museum Bath.
The Roman Baths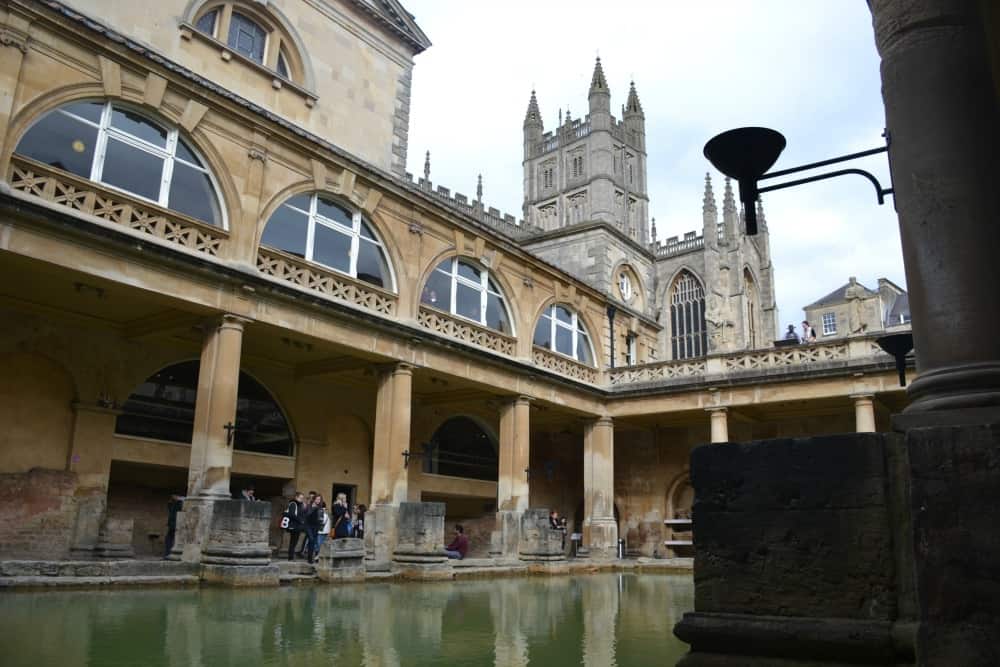 We visited the Roman baths with the girls last time we were in the city and were pleasantly surprised at how easy it was.
Considering this is an ancient heritage site it wasn't difficult to get around and there were plenty of interactive displays to amuse the kids. Read more about visiting The Roman Baths with kids.
You can buy a family saver ticket (two adults and up to four children) to visit The Roman Baths, the Fashion Museum and Victoria Art Gallery for £62.10. Your ticket is valid for 90 days.
Parade Gardens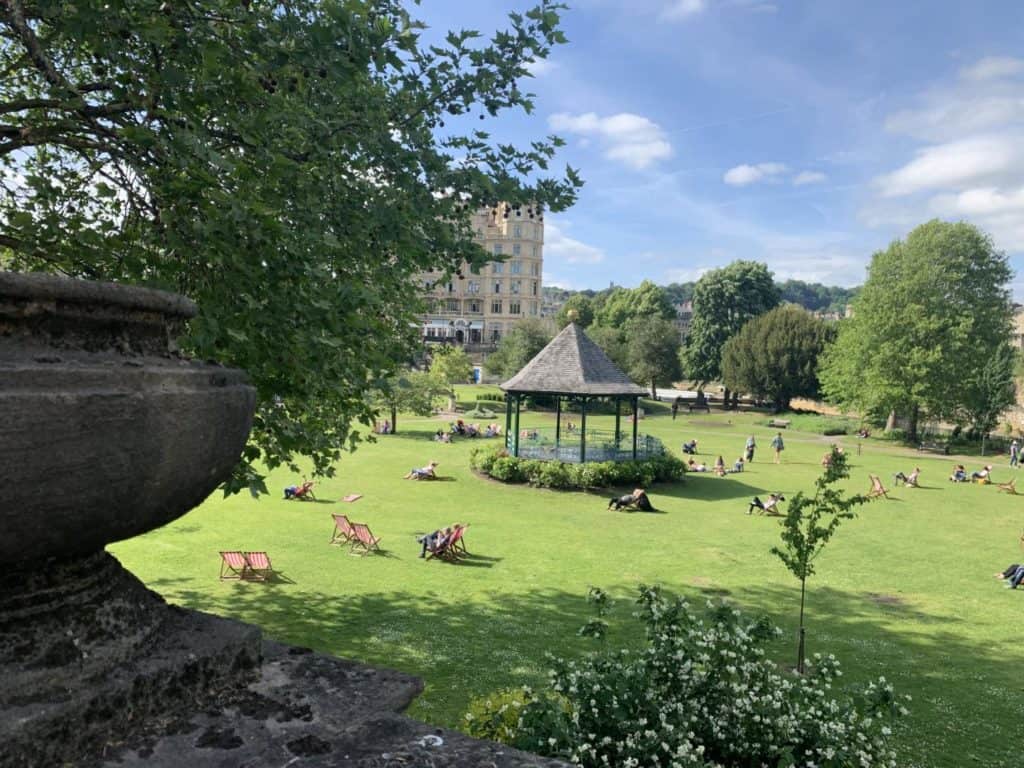 If you are looking for somewhere to just hang out with the kids then the Parade Gardens are a beautiful spot in the city centre. You can grab a deck chair and enjoy views of Pulteney Bridge and Weir. Picnics are allowed or you can get something from the cafe.
In the summer months there's also children's entertainment and music on the band stand.
Entrance costs £2 for adults and £1 for children. Under fives are free.
Royal Victoria Park
This is where you'll find a brilliant adventure play area for kids with equipment for all ages and its free. If you are lucky you might also see hot air balloons taking off from Royal Victoria Park in the evenings.
You will also find major events hosted here throughout the year.
Bath City Farm
Just outside the city at Twerton is Bath City Farm where you can meet pigs, ducks, cows, sheep, ponies and goats. There's also nature and history trails. I had hoped to get to the farm during this visit but we ran out of time. Just one more reason to return to Bath another time.
Entrance to the farm is free but donations are welcomed.
More free things to do in Bath
If you are planning a city break with kids in Bath you might want to allow yourselves more than two days – there's so much to do. In between seeing the American Museum and relaxing that the youth hostel we enjoyed wandering around the city centre, looking at the weir and spotting other Bath sights like the Abbey, Sally Lunns and fun street art installations.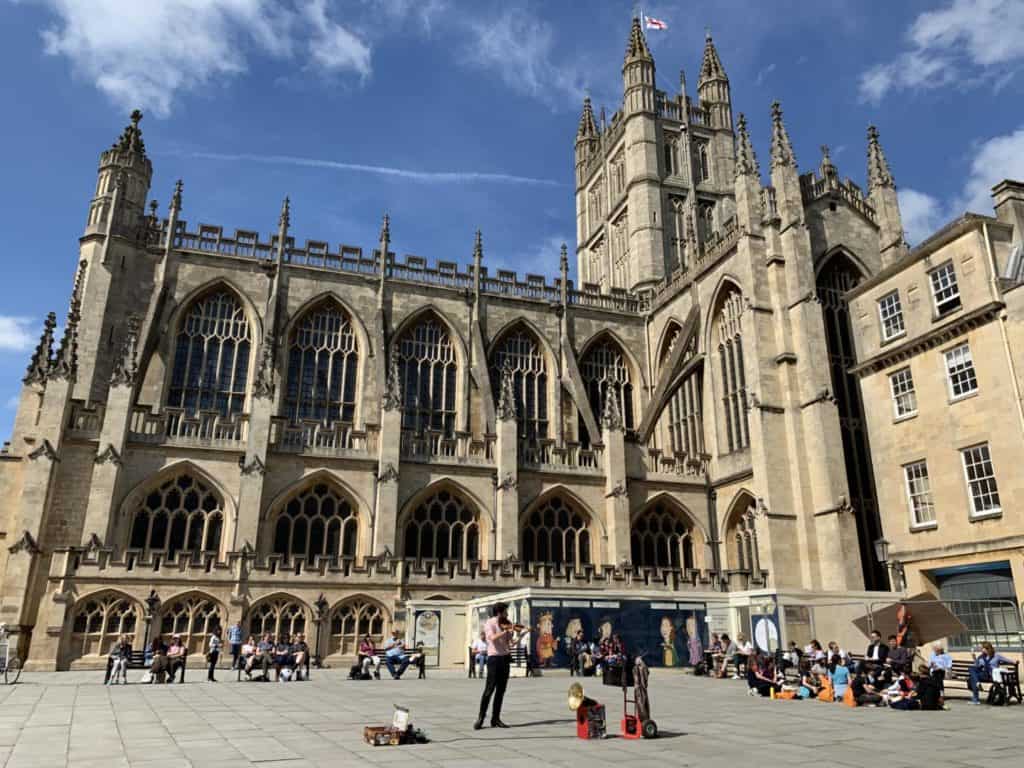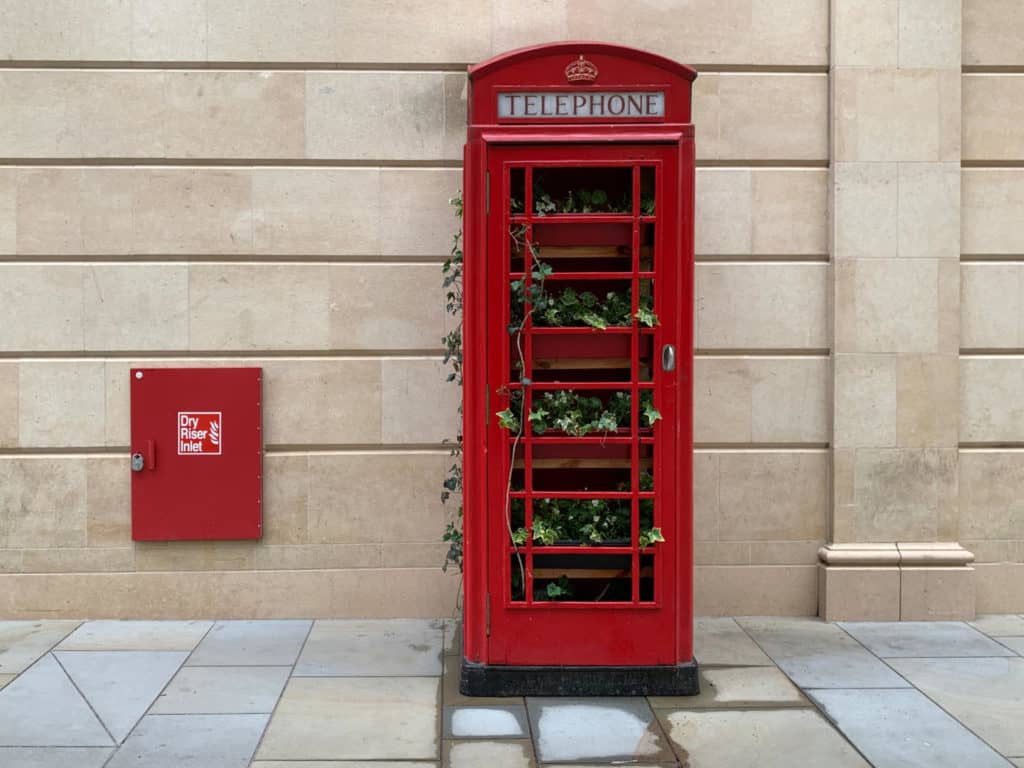 All to soon we were packing up and heading back to the bus station, buying a picnic lunch en-route.
Our return journey was just as simple, albeit that we were a bit delayed in Friday afternoon traffic. Even so, the overall delay was only half an hour, which I thought was pretty good having spoken to friends who were delayed for hours on the M5 that same day.
The only thing that made the last couple of hours of our journey less comfortable was that the weather had warmed up and the coach got very warm.
What we thought of our first National Express coach trip
City breaks with kids can be challenging but this one felt really relaxed, even though I was flying solo with the girls. I think the key was the combination of a stress-free coach journey, the excellent public transport, and staying in accommodation close to Bath city centre that was family and budget friendly.
There really was very little to worry about a part from deciding how to make the most of our 36 hours in this UNESCO city.
Booking a National Express coach is a great option if you are watching your budget and don't mind a longer journey. And if you want to take the stress out of travel with kids then I'd highly recommend it, particularly if you travel solo often like me.
Entertaining kids, and making sure they get all the necessary snack and loo breaks, is so much easier when you're not worrying about driving.
National Express return tickets from Paignton to Bath for myself, six-year-old Tot and four-year-old Baby would have cost £38 in total. This compares to buying return train tickets for between £52.75 and £83 depending on when you book.
All in all, the basic costs for this two night, budget city break in Bath with kids cost £210:
coach tickets: £38 (one adult and two child return tickets)
accommodation: £158 (two nights at YHA Bath)
bus tickets: £14 (Bath Rider multi-journey tickets on two days for one adult and one child over the age of five).
More handy things to know
Here's some questions I had before our National Express coach trip that I thought other travelling families might ask too:
What happens when your coach is delayed?
On our return journey our coach was delayed by about an hour because of the heavy Friday afternoon traffic and stopping longer at Exeter to pick up passengers from another coach.
Our driver kept us well informed, and managed to make up time so we were only half an hour behind schedule by the time we pulled into Paignton. If your coach can't get you to your destination for any reason then National Express will book a taxi for you so you can complete your journey.
Do I need to print my National Express ticket?
No, if you have booked online you can present your e-ticket to the driver when you board your coach.
Are there charging points on National Express coaches?
Yes, there was a 230v AC plug between the seats on our coaches. Some also have USB sockets. Remember your three pin plug for USB charging leads just in case.
How much luggage can you take on National Express?
Each passenger can take two medium sized suitcases weighing up to 20kg. We only had two small hand luggage sized cases that went under the coach and carried on a hand bag and the girls' rucksacks.
You can put these on the floor under the seat in front of you or in overhead shelves.
Can I reserve a seat on National Express?
Yes, this costs £2 per person. Check where you are on the coach's route before you do this. We were the first to board in Paignton and had the pick of the seats, so reservations weren't necessary. In fact, it was easy to get seats together on each leg of our mid-week journey.
Is there free WiFi on National Express coaches?
Yes. I used this to catch up on emails and the girls watched some of the kids TV programmes on the VUER National Express entertainment app.
Are there refreshments on National Express coaches?
No. Bring your own cold picnic. Hot food is not allowed. And hot and cold drinks need lids as they can spill with the motion of the coach on the road. I found myself on the coach floor a couple of times looking for the girls' drinks bottled which had toppled off their trays.
I hope that answers any questions you have about coach travel but do let me know if you want to ask anything else.
Disclosure: National Express invited us to book a trip to a UK destination using their coach services. We received free travel tickets and free accommodation at YHA Bath. I was also compensated for my time and expenses. Regardless, all opinions are my own.
Planning a budget city break with kids or looking to travel with Bath with National Express? Pin this for post for future reference: