Foamë – light-weight foam game travel bags for kids
I'm always looking for fun ways to entertain the kids when we are travelling. Whether we are off on holiday by car, plane or most recently, by coach, I have something packed for them to play with during the journey. But the very best travel toys are the ones that they can use when we reach our destination too. Here is our review the foam game travel bags offered by Foamë, who kindly sent us one to review.
*Advertisement feature*
If you're looking for travel toys for toddlers and tweens that work whether you are on the go or have reached your destination read on. I'm also running a giveaway for one reader to win a brand new Foamë set for their kids too.
Foamë is a UK company that designs foam play sets for creative kids. As well as being suitable for travel with kids, you can use them at home and even in the bath. Each building 'widget' is made with food-grade foam so is safe to go into inquisitive mouths. It's also tough enough to take extreme handling by little people but won't do the same damage to Mum and Dad's feet as harder building blocks – you know the usual suspects. Ouch!
Foamë Creatures game travel bags
We reviewed the Foamë Creatures set. There are 17 models in these foam game travel bags, including fish, mammals, birds and reptiles. They range from simple two piece constructions to ten piece creatures.
The bag is also well thought through for travels, with two suction cups on string that you could use to attach the bag to the drop down tray, window or seat on a plane, train or coach. The bag measures 25cm x 8cm x 20cm so is just right for fitting in a toddler or child's rucksack, so they can carry it themselves. There's also a carry handle and the bag is made of robust, quality materials so won't easily split.
Four-year-old Baby was the one keen to start making the animals but as soon as we'd constructed the first one she stepped aside to play with it. It was six-year-old Tot who was determined to finish making all the Foamë creatures in one sitting. She was totally obsessed.
Not all of the pieces went together in the right order straight away but, after a few attempts, each of the creatures was recognisable. Once they were all complete she proudly laid them out on display. It was a really lovely activity that definitely captured her imagination and encouraged her to solve problems. Baby loved the role play aspect the best.
The foam pieces are accompanied by a book showing you which pieces are needed for each creature and pictorial instructions on how to put them together. Baby glossed over this completely. Tot paid a bit more attention but mostly used trial and error to put together the right shapes.
After our initial trial of Foamë at home I was keen to see how this foam play set stood up to travel. Our half term short break in Bath gave us the chance to take this travel game bag on the road. To be specific, on a coach.
I popped the bag into Tot's rucksack along with some snacks and other entertainment for the journey. She was very excited to find it there and immediately set about fixing the Foamë bag to the coach window so it was in easy reach.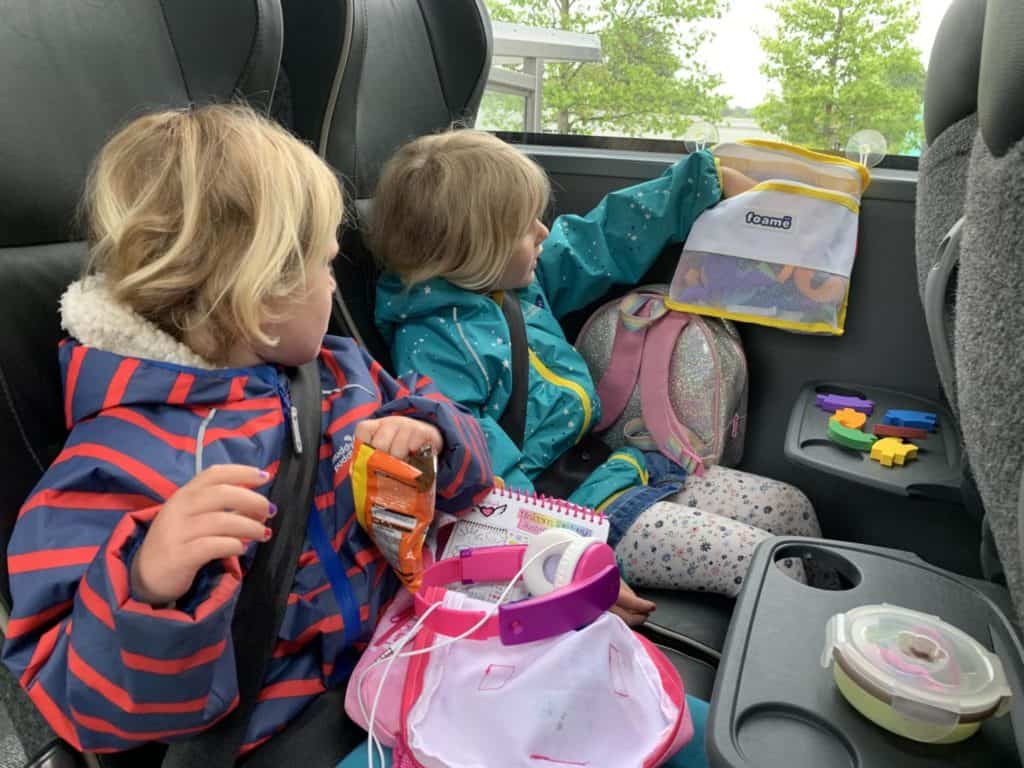 There wasn't a lot of space to rummage for pieces and lay them out, but she soon created her favourite creature: the snake. If we had been on a train the foam pieces would have been easier to use on a table with four seats as the fun part is getting everything out and being creative.
However, the bag was light enough for Tot to carry on and off the coach, and later on a bus trip before we reached our accommodation in Bath. This is where the pieces came out again for a proper play.
Foamë play set ranges
There are currently three sets of Foamë play sets. The Creatures set we have reviewed here costs £25 and is suitable for children aged three and up. I found both four-year-old Baby and six-year-old Tot enjoyed this set. Baby was keen to role play with the animals once they had been made and Tot was all about the creative side.
The other Foamë sets are Voyages (£30), which includes 18 models, and Adventures (£40), which includes 27 models. Both are designed for children aged five and up, and offer more opportunities to deviate from the suggested models and create something totally original.
Tips for using Foamë game travel bags
Get everything out of the bag before you use it with your kids for the first time as you'll need to push out some of the extra foam to allow them to construct the pieces. It's easier to set aside these bits at home than on the go.
Let your kids be creative. Some of our best creature constructions have included croco-ducks and octo-crabs.
Final thoughts on Foamë's foam game travel bags
Tot adores these little foam animals and has had them out to play several times since we were sent them. The bag is light and really portable, making it an easy game to take on holiday. It wasn't quite as easy to construct the Foamë creatures while we were travelling but the kids will be getting plenty of play time out of them when we reach holiday destinations this summer.
Find out more about Foamë products on its website.
Foamë giveaway – CLOSED!!
The lovely folks at Foamë have agreed to send one Tin Box Traveller reader a play set of their choice. For a chance of winning this prize simply follow the instructions in the Rafflecopter widget below. The giveaway closes at 23:59 GMT on Sunday 30 June 2019. Good luck!
Terms & Conditions
UK entrants aged 18 or over only.
There is no cash alternative.
The prize is non-transferable.
The closing date for this competition is 23:59 GMT on Sunday 30 June 2019.
The winner will be chosen at random through Rafflecopter and will be notified as soon as possible after the draw.
The winner will be emailed to ask for their choice of prize, telephone number and delivery address. These details will be shared with Foamë so the prize can be delivered. If the winner does not reply within seven days another winner will be chosen.
Events may occur that render the competition itself or the awarding of the prizes impossible due to reasons beyond my control, and accordingly I may vary or amend the promotion and the entrant agrees that no liability shall attach to me.
English law applies and the exclusive jurisdiction of the English Courts shall prevail.
By submitting an entry through Rafflecopter, all entrants are acknowledging and accept the terms and conditions for the giveaway.
The winning entry will be validated and if the instructions for entry have not been followed for that Rafflecopter entry a new winner will be chosen.
Each Rafflecopter entry is a single entry into the giveaway and stands alone as such. Any incorrect entries from the winner only make these entry methods invalid, not all the winner's entries. The winning entry method from them will still be valid as long as it complies with our other terms and conditions.
Entries using any software or automated process to make bulk entries will be disqualified.
The competition may be added to a number of sites for the purposes of promotion.
Disclosure: we were gifted one of Foamë's travel game bags in exchange for an honest review on the blog. Foamë has also supplied the giveaway prize. All options are my own.
Pin this post about foam travel game bags for later.