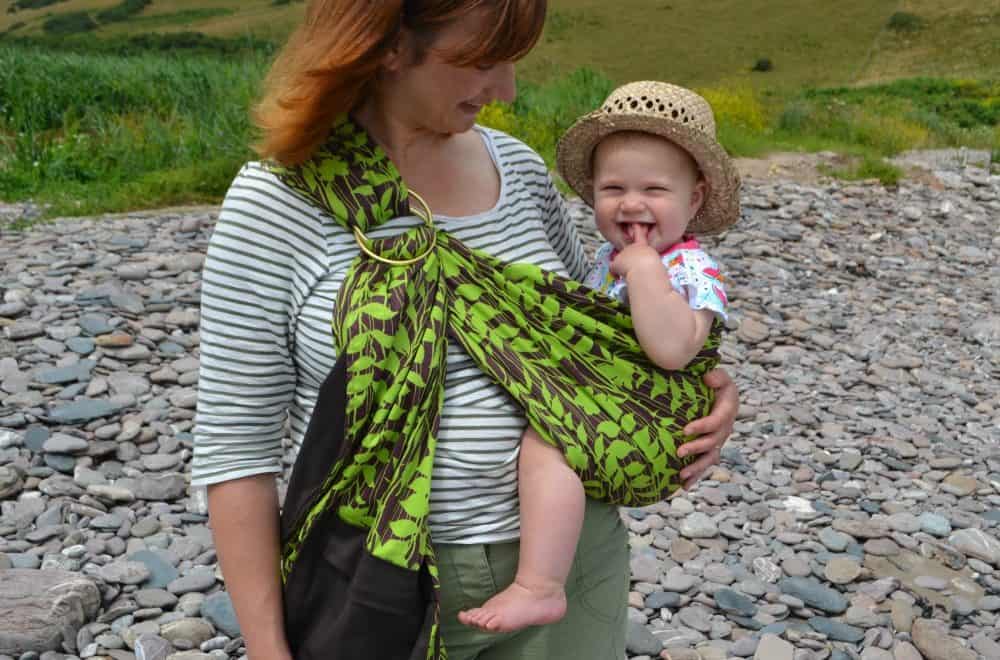 Going places pushchairs only dare with a Rockin' Baby sling
It doesn't matter how good your pushchair is at weaving through the crowds or negotiating rough terrain, sometimes here are places it just won't go. We quite often come across these situations during our adventures and our in every day life. The solution? A baby carrier.
We've had a couple of wraps and structured baby carriers, but never a sling. That was until Rockin' Baby got in touch to ask whether we would like to try one of its reversible slings.
About Rockin' Baby
We've previously had the opportunity to review Rockin' Baby's children's clothes collection, so I've already written about what a great company it is. For every item of clothing Rockin' Baby sells, it gives another brand new item to the international charity Child Fund. The same goes for Rockin' Baby slings and baby pouches. How great is that?
Its good work doesn't stop there. Rocking' Baby also teaches mothers in Haiti the importance of baby wearing for creating a bond with their child. They can hold their baby at the same time as continuing with their daily routine of gathering food and water for their family.
About Rockin' Baby's baby carriers
Rockin' Baby offer three types of fabric baby carrier: a pouch for tiny tots, a single ply sling suitable for hotter weather and a two ply reversible sling with a pattern on one side and plain material on the other. We had the reversible sling (RRP £49) in the brown and green Bamboo design.
It was after much deliberation that I chose this pattern as there are so many lovely designs, each with rock song-inspired names. This is another quirk that I love about Rockin' Baby – they definitely appeal to the 80s child in me!
How to wear it
The sling is really simple to set up. You concertina the wide end and push it through both hoops at the other end. You then loop it back through one of hoops and adjust the material to the right length, creating a hammock for you baby to sit in.
The reversible sling can be worn four ways: with you baby facing your chest, on your hip, cradled in front of you or piggy backing. A pictorial guide comes in the box to show you each of the positions as well as how to set up your sling to ensure comfort and safety.
Tin Box Baby is now 15-months-old and having her sat on my hip has been the most comfortable position for both of us. It feels natural for me and allows her to see where we are going.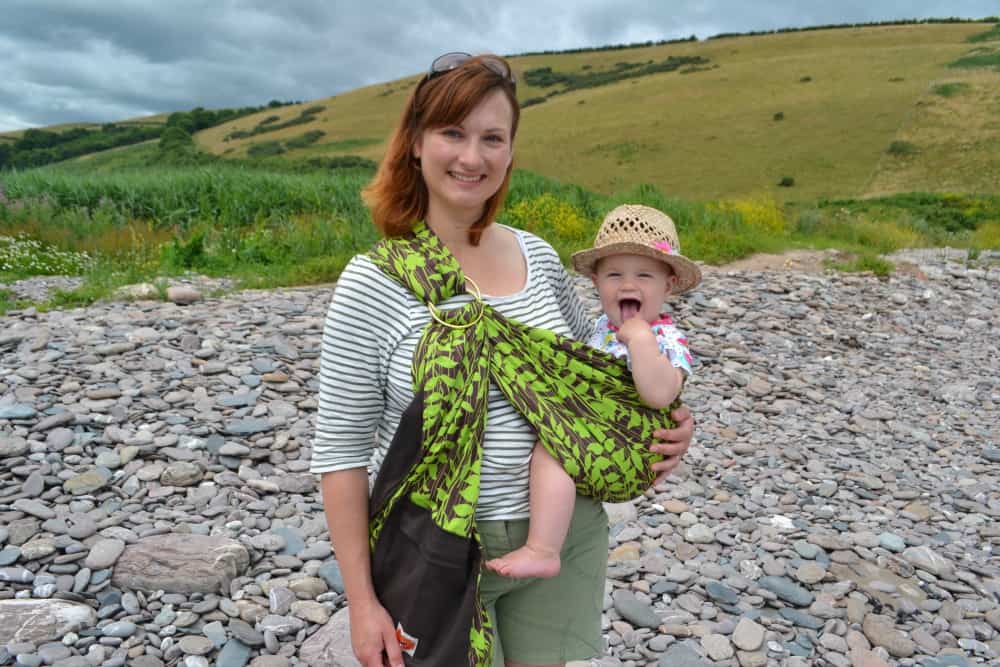 Using the sling
It took me a few attempts to get the right sized hammock for Tin Box Baby and to get the material tucked in correctly under her bottom. Had we been doing this together since she was tiny I'm sure it would have been a breeze. Right now she's all wriggly arms and legs.
However, after a few attempts, we aced it and Tin Box Baby relaxed into a cuddle.
We've used the Rockin' Baby sling for several trips to the beach where I wouldn't attempt to take the pushchair across shingle and sand. We've also used it for quick trips to the shops and dog walks – situations where the buggy can get in the way and I need to have my hands free for other things. It's going to be coming with us a lot during our summer adventures when we'll be having more beach days, visiting historic houses and going on walks in the Devon countryside. The only activity I wouldn't use it for is a long hike because of the amount of bending and moving around I might have to do.
A feature I really liked was the large, zip-up pocket sown into the wide end of the sling. This is perfect for holding a purse, mobile phone, dog ball or poo bags (for the dog, not the baby).
Washing the sling is really simple. It can go in the machine with a normal load of washing and can be tumble dried.
What we loved about the Rockin' Baby sling
The cuddles!
It's so much lighter to transport than a buggy
The patterns available are very attractive
The handy pocket.
Do you have a baby carrier for family adventures?
Disclosure: we were sent the Rockin' Baby sling in exchange for an honest review. All views here are those of myself and my family.
I love hearing what people think about my blog so feel free to leave a comment below or browse around. You can also find me on Bloglovin', Twitter, Facebook, Instagram, Pinterest, Youtube, Google+ and LinkedIn.