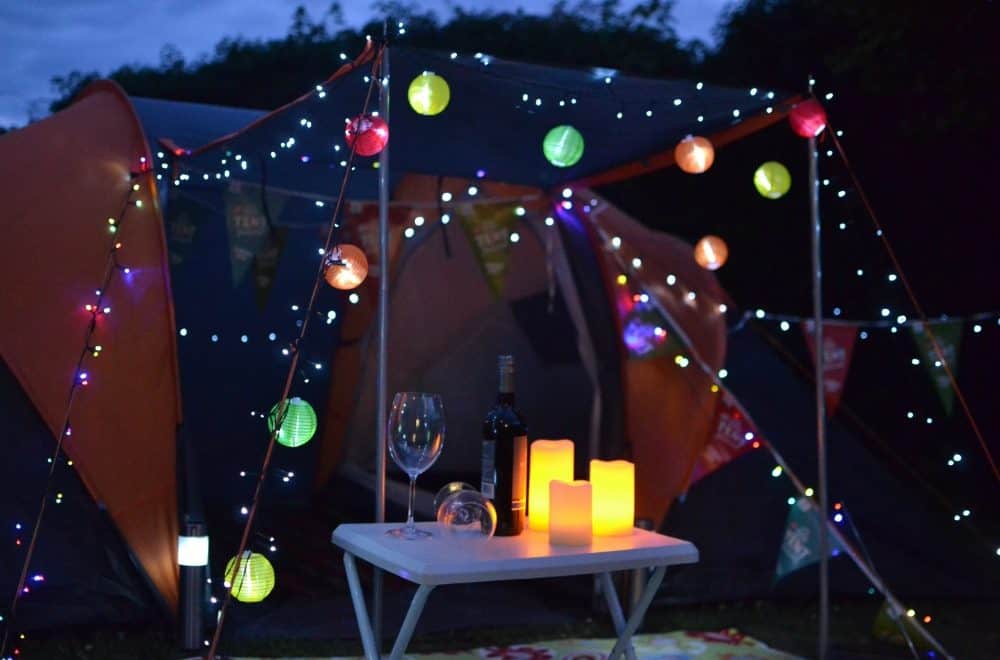 Our Big Little Tent Festival 2016 highlights
Last weekend we enjoyed a lot of time outdoors. This isn't anything unusual for the Tin Box family, but what was different was that we spent the time in our own garden. This happy event was thanks to Big Little Tent Festival.
The festival is an idea from The Caravan Club to encourage families to get outside and enjoy time together away from television screens and computer games. Garden festivals are happening all over the country right up until Sunday 18 September 2016. As well as providing free festival packs for families to stage their own tent event The Caravan Club is also offering some great prizes, including a camping holiday in France.
We are Big Little Tent Festival blogger ambassadors, so the pressure was on to stage a really fun event. Here's how we did – I hope you're inspired to have your own garden festival.
Pitching up for Big Little Tent Festival
With the luxury of setting up camp in our own back garden we decided to pitch our tent the weekend before our festival. When I say 'we', I mean Mr Tin Box as this Youtube video demonstrates. What a trooper!
Our weekend outdoors
Rather than have a day festival we spread ours out across the weekend, starting on Friday afternoon.
This was when the girls and I decorated our festival site. Tin Box Tot made some of her own bunting and we jazzed up the garden with the flags supplied by The Caravan Club.
The girls were already enjoying dashing in and out of the tent as well as performing some of their favourite songs on the 'main stage'. Take a look at the short video I tweeted on the day.
First up on the #BigLittleTentFest16 main stage, it's Tin Box Tot…and a stage invasion! #camping #familytime pic.twitter.com/nVDwJXtwOL

— Tin Box Traveller (@TinBoxTraveller) July 29, 2016
On the Saturday of our festival we continued to decorate, adding what some might consider to be an obscene number of fairy lights to our tent. However as they were all solar powered we let ourselves off. Besides, Tin Box Dog was a big fan.
Fun and games during the day included playing with garden toys, taking turns on our tree swing and splashing in the paddling pool.
That evening, after the girls had gone to bed we got the full impact of the fairy lights. Doesn't the tent look pretty? Oh, and Mr Tin Box and I might have had a cheeky vino to toast the weekend.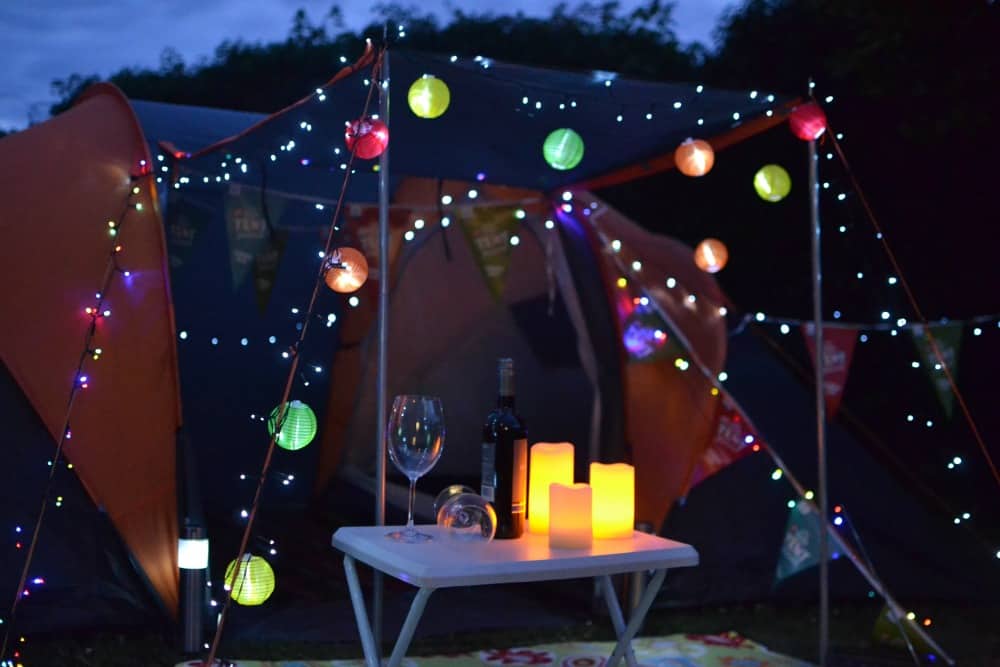 On Sunday morning the girls were up bright and early, eager to play outdoors again. This is when we got out the mega bubbles. We'd seen street buskers using bubble wands when we visited Barcelona a couple of months earlier. After a tiny bit of Googling I found some in time for our Big Little Tent Festival. This entertained Tin Box Tot and Baby for ages, either making bubbles for themselves or chasing them around the garden.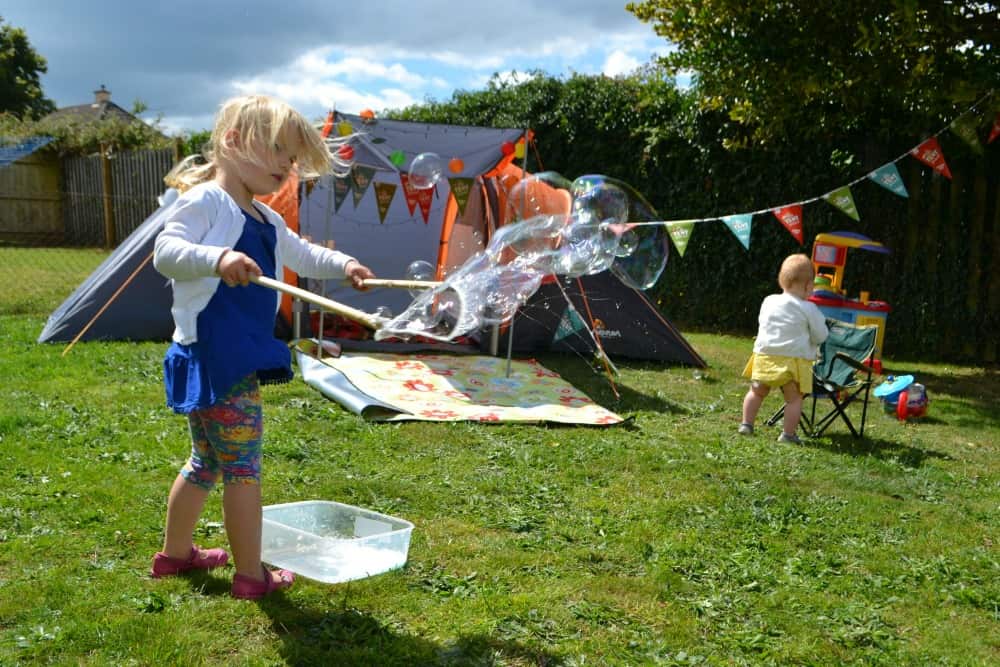 I have to confess, we didn't sleep in our tent. The call of our beds inside was too much at the end of each day, especially during a weekend when Tin Box Baby was cutting a molar. Ouch! However, without the Big Little Tent Festival I doubt we would have spent half the time we did in the garden last weekend. It was a fantastic way to encourage the girls to play outdoors and for us all to enjoy a bit of family time without rushing about and spending a lot of money.
Inspired to pitch up and party?
Holding your own Big Little Tent Festival is really easy. You don't need a fancy tent – last year we did it with a beach shelter – and you can apply to The Caravan Club for a free festival pack. This in itself gets you entered into a prize draw, so there's really nothing to lose.
If you need some more inspiration check out my tips for throwing a garden festival.
I'd love to hear about your Big Little Tent Festival plans or have you already held one? Let me know!
Disclosure: I've written this post as part of my role as a Big Little Tent Festival ambassador. All views are my own and those of my family.
I love hearing what people think about my blog so feel free to leave a comment below or browse around. You can also find me on Bloglovin', Twitter, Facebook, Instagram, Pinterest, Youtube, Google+ and LinkedIn.