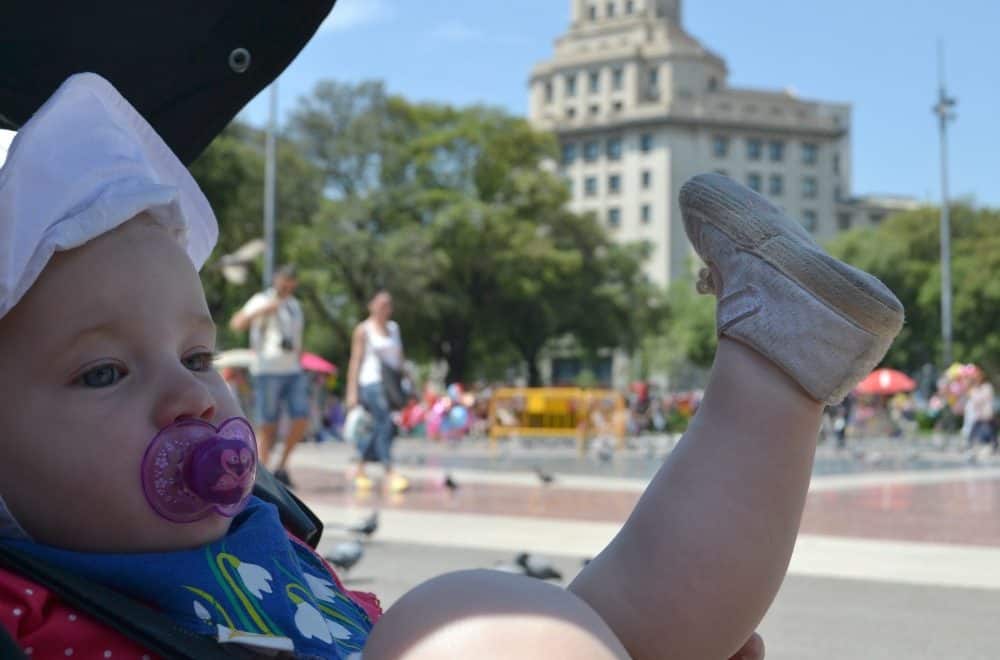 48 hours in Barcelona with a baby
Barcelona is a city I could return to again and again. There's something enchanting about its mix of Gothic and Gaudi architecture, its bustling marina and beautiful parks. In 2016 I had the chance to make my third visit to Barcelona. But this occasion was different. This time we were doing Barcelona with a baby.
Being parents in Barcelona definitely added a new dimension to our experience. We didn't sit out late on restaurant terraces or brave the museums with two hot and bothered children aged 13 months and three years old at the time.
However, having been tourists in the Catalan capital before we had some good ideas about things to do in Barcelona with kids.
A city break in Barcelona with kids
Our wonderful excuse for visiting Barcelona was that we were joining a cruise. We had given ourselves a day and a half to see the city before joining our seaborne adventure and a few more hours to conclude our sightseeing when we returned. So while our 48 hours in Barcelona might not have been consecutive we still made the most of them.
We flew into Barcelona Airport late on a Wednesday night so were absolutely shattered by the time we arrived at our hotel just off Las Ramblas in the city centre.
The next morning we had a slow and relaxed start. Even though we were itching to get out in the city we knew that rushing with two tired pre-schoolers was a recipe for disaster. Instead we had a leisurely breakfast and planned our day. By 10.30am we were ready to go.
CHECK BARCELONA FAMILY HOTEL RATES* | CHECK RATES FOR LEONADRO HOTEL LAS RAMBLAS*
Day one in Barcelona with a baby
A wander around Park Güell
First on our 48 hour Barcelona bucket list was Park Güell. Mr Tin Box and I had walked around the Antonio Gaudi-designed gardens during our last visit so knew it would be an interesting place for our girls to stretch their legs.
We took the Metro from Las Ramblas up to Lesseps. The Park is another 20 minute walk from there including a steep hill up to the entrance on Carmel Hill which overlooks the city. There are lots of signs pointing the way and a couple of escalators to ease the ascent.
When we reached Park Güell there were no slots available to see the central memorial garden, so we decided to take a walk around the vast public park instead.
Top tip: if you'd like to see the memorial garden, with access to some of the finer Gaudi mosaics and statues, book at least the day before.
However, there is still much to see without paying, including dramatic vistas of the city.
Tin Box Tot enjoyed running around the wandering paths and organic structures scattered around the park. Most of the paths are stroller friendly but there are some steep sections.
Tot had definitely tired by the time we found some shade for a picnic. However, she miraculously found a new burst of energy when we reached the play park at the bottom of the extensive park.
The one thing we didn't find in Park Güell was ice cream so we hopped back on the Metro to Las Ramblas in pursuit of a treat on the way to the next place on our bucket list: the beach.
Barcelona's urban beaches
Barcelona Beach and Sant Sabastia Beach next to it are quite a walk from Las Ramblas, but there's plenty to see on the way.
We walked through the huge Maremagnum shopping centre overlooking the port, around the marina which is full of impressive motor yachts, and took a short cut through some of the city's criss-crossing side streets to reach the Sant Sabastia Beach.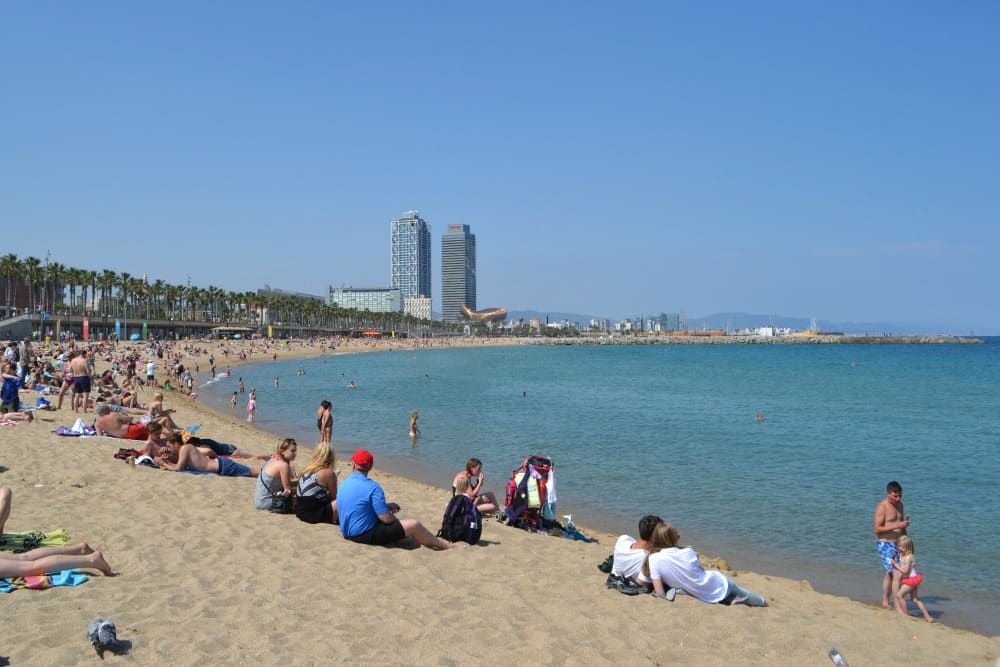 It may have been a Thursday at the beginning of June but there weren't many spots left on the sand. A few of the braver beach-goers tested the water, including Mr TB and the Tot, but it was still a bit nippy for me.
The beach is clean and has free open air showers. You also find lots of people selling cold drinks and blankets walking past every few minutes. After saying no to the fifth mojito you start to forget they are there.
You can also hire sun loungers and parasols if you plan to spend the whole day at the beach. I would recommend this if you are taking kids as otherwise there is no shade.
Dinner in Plaça Reial
Once Tin Box Tot had had enough of splashing her dad in the calm blue Mediterranean waters we popped back to the hotel for a quick change ahead of dinner.
We had no reservations but as it was early we found somewhere to eat straight away in Plaça Reial a few minutes from our hotel. The location – a nightlife hot spot – was fantastic for people watching while we ate in a tapas bar.
Sadly the food wasn't that exciting – a lesson that the best fare is always away from the tourist traps.
Our girls enjoyed their dinner though and Tin Box Baby munched through her first plate of tapas.
Day two in Barcelona with a baby
I'm ashamed to say we had another lay in and only just made breakfast and checkout by 11am. However we still had plenty of time to see a few sights before joining our cruise in the afternoon.
We decided to go on foot again with our stroller and two little tourists.
Next up on our bucket list was Catedral de Barcelona.
Barcelona's real cathedral
A lot of people mistake Gaudi's unfinished basilica The Segrada Familia for Barcelona's cathedral. In fact the real Catedral de Barcelona can be found in the Gothic Quarter. It was completed in the 1400s and stands on a site that has been used for worship for hundreds of years.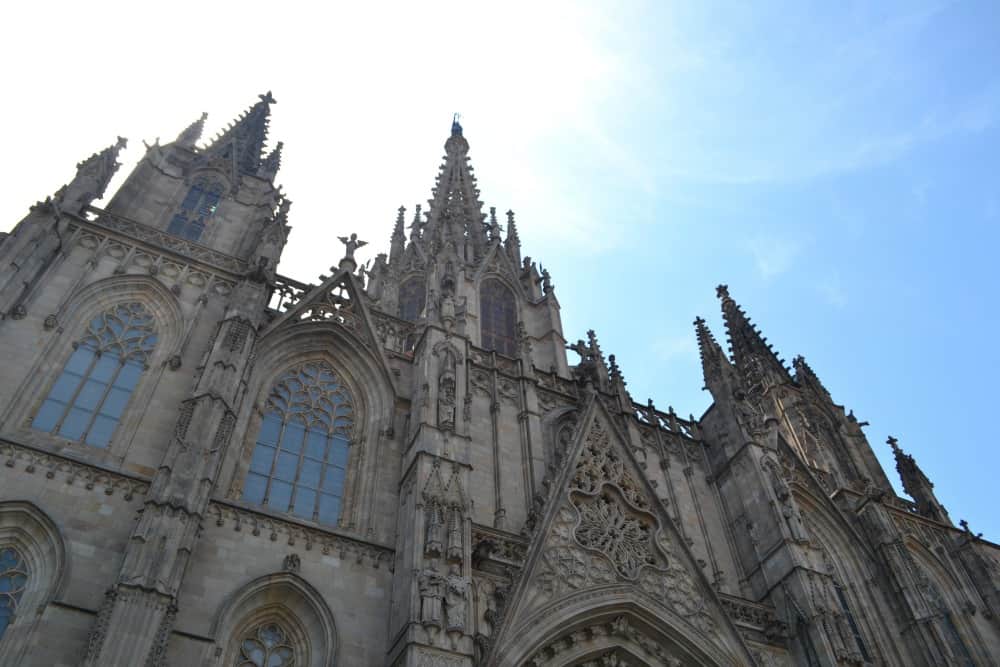 The interior of the cathedral is a masterpiece in itself and is free to walk around. There are also guided tours for a fee. Top tip: whenever visiting any place of worship in Europe make sure your shoulders are covered.
Bubbles and fountains at Plaça de Catalunya
Tin Box Tot had impressed us with her good behaviour in the cathedral so our next stop was somewhere she could let off steam. We walked back up through the commercial shopping street parallel to Las Ramblas and at the top came out on Plaça de Catalunya.
This is the most central part of the city with a wide, circular square (you know what I mean), fountains and flower beds. It was the perfect location for a coffee/ice cream while Tin Box Tot chased after bubbles being blown by the buskers.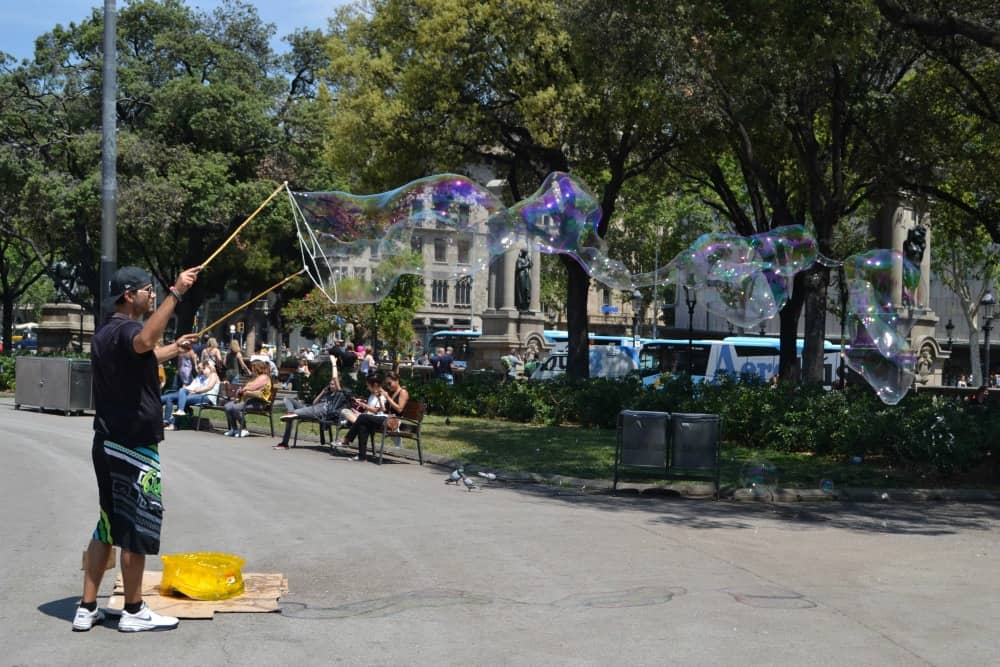 Evidently it was also an ideal place for an afternoon nap followed by a bit of toddling – Tin Box Baby was just starting to find her feet during our holiday.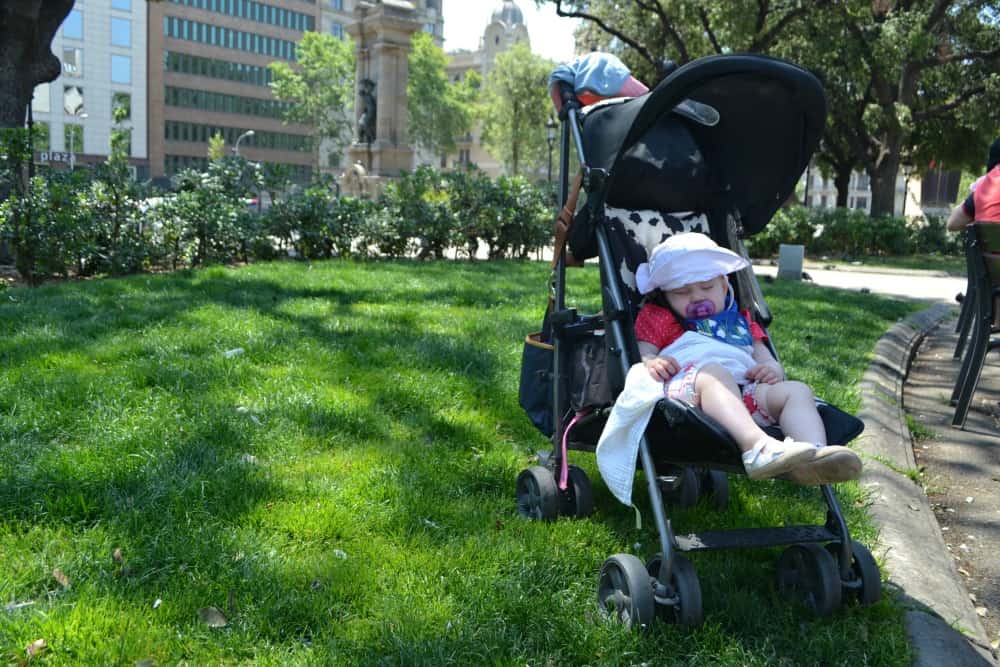 Here is where we took a break from exploring Barcelona to join our cruise.
You can read what we got up to during our eight day Mediterranean cruise or watch our video of family cruise highlights:
Day two in Barcelona with a baby continued
Eight days later we were back to conclude our sightseeing in Barcelona. During out first 40 hours in the city we'd walked past L'Aquarium Barcelona and it looked like a great place to visit before we caught our flight home. Read my full review of Barcelona's aquarium or check out the highlights in our video:
Feeding fish at L'Aquarium Barcelona
We arrived at the aquarium just as it was opening but there was already a huddle of excited families waiting by the ticket booth. This was the most expensive part of our sightseeing in Barcelona – up until this point most of it had been free – but it was definitely worth the extra Euros.
The aquarium has walk through tanks, an interactive children's zone, and penguins. The highlight for Tin Box Tot was feeding the hungry carp.
A few hours later it was time to go to the airport ready for our flight home. We loved our 48 hours in Barcelona. Tin Box Tot talked about the aquarium for ages afterwards. There are so many other places I'd like to see with our girls when they are a little older. We have left ourselves plenty of reason to return again.
Other things to do in Barcelona with kids
Top tip: if you are visiting any of these attractions during the holidays be prepared for crowds. A baby carrier might be more suitable than a pushchair or stroller.
Getting around Barcelona with kids
We opted to walk and use the Metro throughout our stay in Barcelona. We found there were plenty of lifts for us to use with the buggy on the Metro and lots of options for day, trip or week-long tickets.
However, the trains didn't run as often as we're used to on the London Underground. The first one we caught at about 10.30am on a Thursday was jam-packed with people.
The phrase 'perdón' was muttered a lot as we caught people's ankles with our pushchair. Thankfully, by the time we returned later that afternoon the Metro was much quieter.
Top tip: make sure you are on the right side of the Metro line before to go through the ticket barriers. We are used to entering London Underground stations and then choosing the right track. The first time we got the Metro from Las Ramblas we managed to go through the barriers for the platform heading south instead of north. It wasn't possible to cross over the track in the station so we had come back out and buy more tickets on the correct side. Rookie error!
Family friendly accommodation in Barcelona
I put out the word to some of my family travel blogging friends that we were visiting Barcelona and they came up with some great suggestions for places to stay. Airbnb seemed to be the accommodation of choice with people enjoying some lovely apartments that were ideal for families and close to the main attractions.
Sadly we missed out on the places recommended to us because we were booking relatively late. So instead Mr Tin Box began looking at hotel options. His favourite, and somewhere we would wholeheartedly recommend, is Leonardo Hotel just off Las Ramblas.
Check out my full review. Leonardo Hotels also have a hotel near The Sagrada Familia, which we didn't visit on this occasion.
CHECK BARCELONA FAMILY HOTEL RATES* | CHECK RATES FOR LEONADRO HOTEL LAS RAMBLAS*
Have you visited Barcelona with kids? What are your recommendations on things to do and see?
Disclosure: this post contains affiliate links – these are marked with a *. If you click on one of these links and make a purchase I might earn some commission. This does not affect the price you pay.
Planning a trip to Barcelona with a baby or young kids? Pin this post for future reference.
I love hearing what people think about my blog so feel free to leave a comment below or browse around. You can also find me on Bloglovin', Twitter, Facebook, Instagram, Pinterest, Youtube, Google+ and LinkedIn.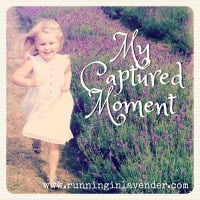 SaveSave