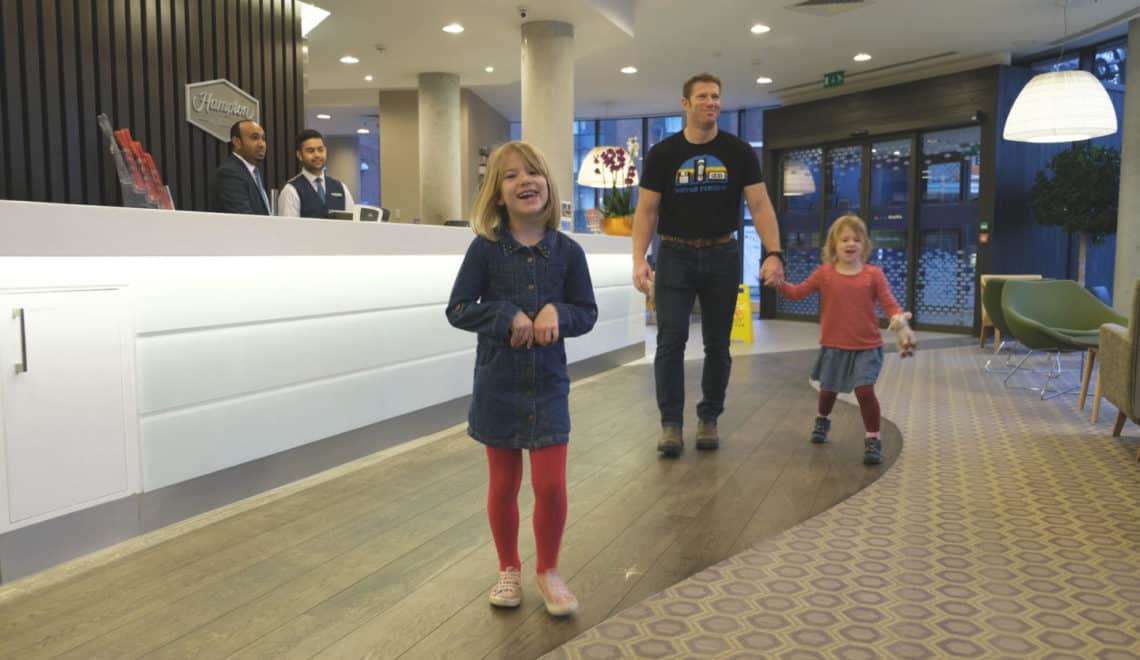 Keeping family city breaks real with Hampton by Hilton
Family city breaks can be full of high expectations. You've seen the amazing pictures on Instagram and trawled TripAdvisor for the best places to visit. But we know from experience that visiting a bustling metropolis with children doesn't necessarily always make a picture perfect break.
*Advertisement feature*
Hampton by Hilton is celebrating the real side of British travel and invited us to stay at one of their London hotels to capture the unfiltered truth behind family city breaks.
This is the cornerstone of Hampton by Hilton's latest campaign, #RealTravel. They know that holidays don't always mean lounging by an exotic pool, cocktail in hand, and that people travel for a huge variety of reasons. In response, Hampton by Hilton appointed one of the UK's leading documentary photographers, Ian Weldon, as its 'Realist in Residence'.
Ian captured a series of candid photographs showcasing the warmth, fun and human connection of travellers who needed little more than a welcoming bar, comfy bed and hot breakfast to fuel their football match, birthday party or university reunion.
Real Travel photos
Hampton by Hilton asked us to capture real moments during our weekend break in London, showing what a trip away means to us as a family.
I love a pretty picture as much as the next person but if you check out my Instagram feed you'll see that my grid posts are less than perfect.
Insta-perfection is hard to achieve with two busy primary schoolers who quickly get fed up of mummy pointing a camera at them.
And to be honest, that's not what we are about. We want to share the good and bad from our travels, including the funny faces, bloopers and when things have gone wrong, as well as our favourite memories.
So, here are some real travel moments from our stay at Hampton by Hilton Waterloo – candid and unfiltered – plus some of our top tips for making the most of city breaks with kids:
Tips for keeping family city breaks real
Travel with kids can be stressful, especially when you are visiting a big city.
We decided to get real and not make our trip to London with a six and four-year-old too challenging. After all, we have had previous experience of visiting London with a toddler and baby, so this time round we didn't want to make the same mistakes.
Having said that, exploring a city with your kids can be an amazing experience, especially if you are lucky enough to live in the country like us.
The girls couldn't believe their eyes when they saw not one, not two but seven buses parked at a bus stop.
At several points throughout the weekend they turned to us with questions about the things they'd seen and experienced. I'm sure they'll be processing it all for weeks to come.
We had a brilliant weekend and I'd do it again in a heartbeat. But I also remember the stress of previous city breaks.
Here's are our tips to make trips with with kids such a success:
Don't rush
We arrived in London on Friday evening and gave ourselves the whole of Saturday to explore before heading home on Sunday with plenty of time to get the pre-Monday chores done.
Our plan was to visit some of the famous sights that the girls knew from their Paddington Bear books, like St James Park and Buckingham Palace, as well as fun places like the Lego Store and M&M World.
We didn't have a strict timetable and would have been able to drop any part of the plan if it got too much.
On the Saturday I worked out a circular route starting and finishing at Hampton by Hilton Waterloo. And on Sunday we planned our morning activities to take us back in the direction of Paddington Station from where we travelled home.
Fill up at the hotel buffet
We started our day filling up on a big breakfast at Hampton by Hilton Waterloo including freshly made waffles for the girls.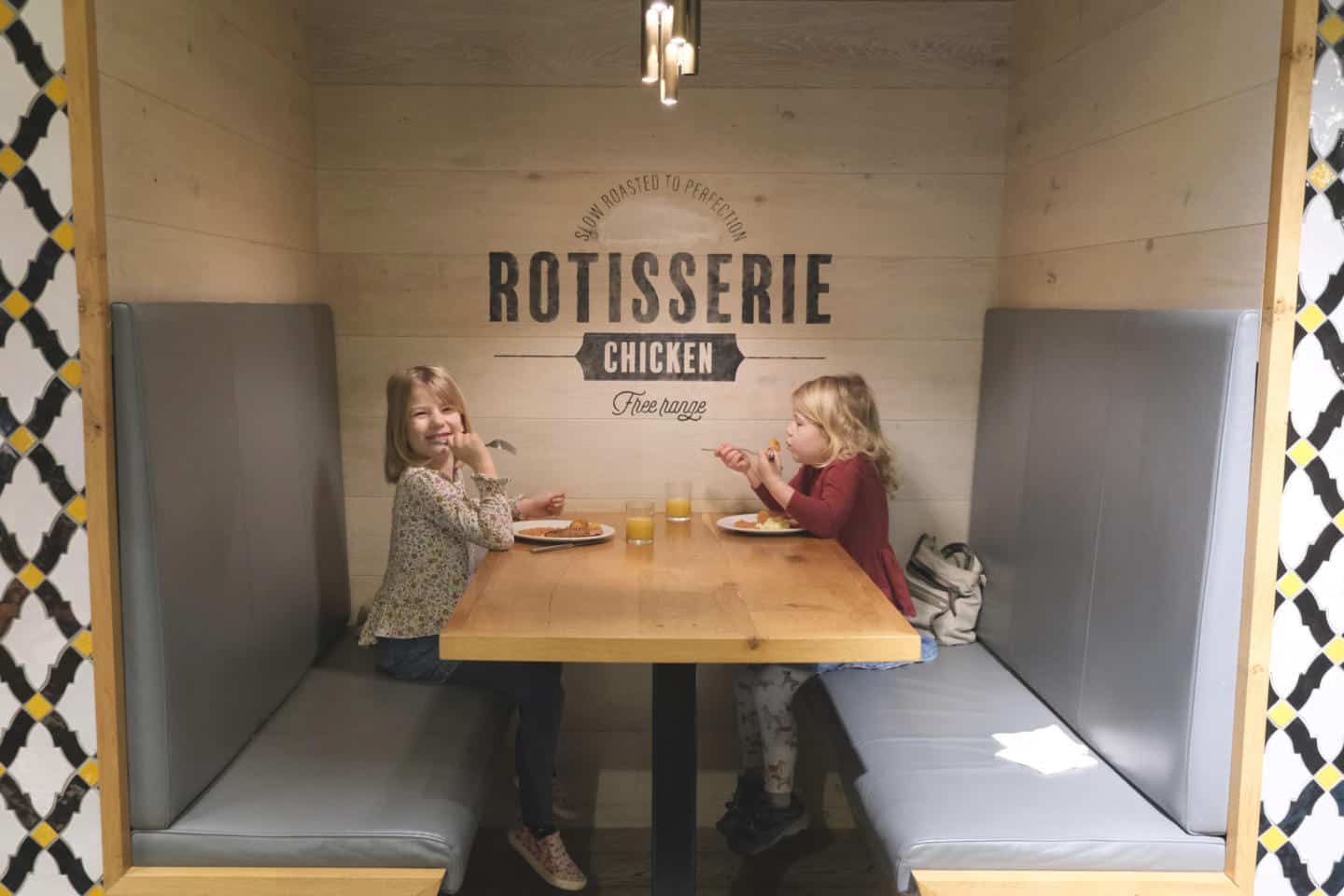 Find free things to do
There are so many free things to do in London with kids. We planned to do a few like spotting the city's famous landmarks, watching buskers in Piccadilly Circus and Covent Garden, and visiting the Natural History Museum.
And then there were many more that we just stumbled across, like the Modified Social Benches around the Southbank Centre.
Take plenty of breaks
When our kids need a break they let us know. We've learnt to take their cues and find a cafe or look for an alternative way to get around than on foot.
During our circular route around central London we took the tube once to appease the girls when they said they were getting tired. We didn't let on that they probably walked as far to get to the platform as they would have between Green Park and Piccadilly Circus!
Distraction is an important parenting tool.
Stay somewhere central
We stayed in a family room at Hampton by Hilton Waterloo, putting us within easy reach of central London's famous sights, attractions and experiences.
Being central also meant it took no time at all to head back and spend time chilling out before dinner. We'd treated the girls to something from the Lego Store in Leicester Square, and the hotel's family-friendly bar area was the perfect place to start construction.
The hotel's great location also meant we could get the kids to bed at a reasonable time before our final day of fun in the city. Family rooms at Hampton by Hilton come with a Queen-sized bed and a double fold-out bed.
For more information about family rooms read our review of Hampton by Hilton Bristol Airport, which we use when we have an early morning flight in the South West of England.
Family city breaks are definitely not all glamour, but they are great fun and always worthwhile – we make memories as a family that are so special to all of us. Yes, drinking an exotic cocktail by a pool is sometimes great, but the reality of travel is different and our girls' excitement at the big smoke was wonderful to see!
How do you feel about over-filtered and picture-perfect images of travel? Do they raise your expectations or can you see through the staged shots and editing?
If you've been inspired to take a family city break then take a look at the accommodation available at more than 2,500 Hampton by Hilton hotels in 29 countries.
Win a stay at Hampton by Hilton
If you would like to experience #RealTravel with Hampton by Hilton check out my Instagram giveaway to win a one night stay for two. Terms and conditions apply.
Disclosure: we were given complimentary accommodation and breakfast at Hampton by Hilton and had our travel expenses to London paid in exchange for sharing our #RealTravel photos and experiences while we were there. We paid for our own activities in London.