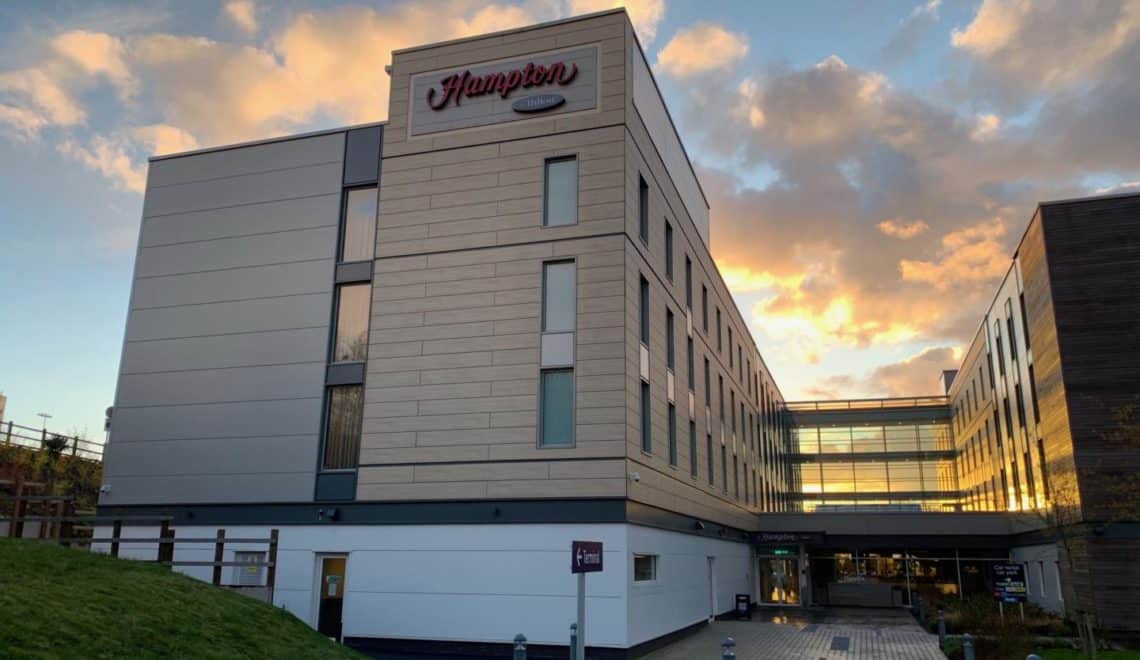 Hampton by Hilton, Bristol Airport review – hotel and parking 
If you've got an early flight from Bristol Airport, hotel and parking research is probably on your pre-holiday check-list. It was certainly on mine when we were planning our Easter trip to Crete. And I found an option we'd recommend for families for value for money, ease and location. Here's our review of Hampton by Hilton with Bristol Airport Parking, which I booked and paid for through Holiday Extras.
*This post contains affiliate links*
When flying from Bristol Airport before I've been on my own and have travelled up from Devon on the train. You can get a shuttle bus from right outside Bristol Temple Meads to Bristol Airport. As I've been travelling alone and my flights have been mid-morning rather than at the crack of dawn I've opted for hotels in Bristol city centre* and got a cab to the airport the next day.
This time, our 6.30am flight, and the fact it was more convenient for us to drive than all get the train from Devon, meant I had a look for a Bristol Airport hotel with parking for the first time.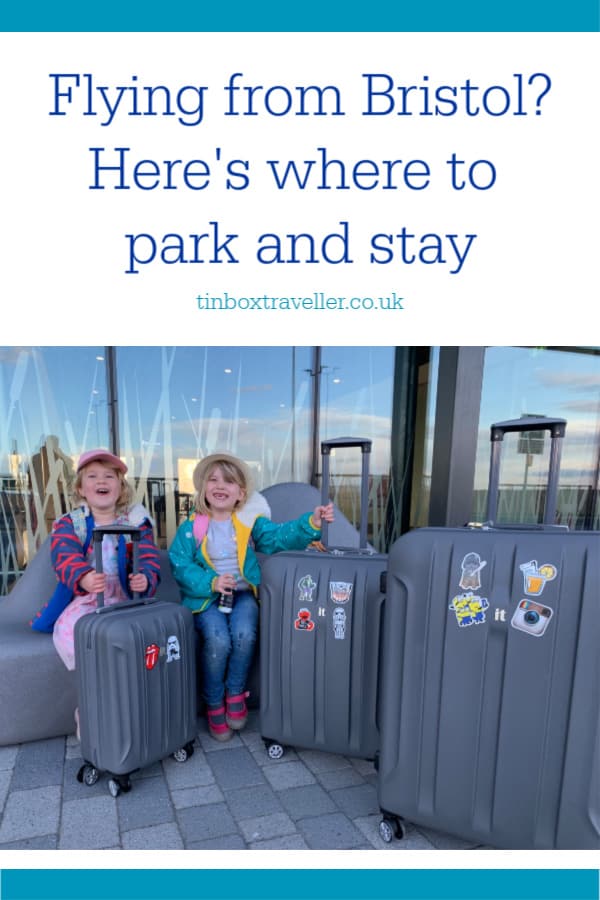 Bristol Airport hotel and parking
I usually go straight to Booking.com* for hotel searches but this time I also looked at Holiday Extras because I wanted to check parking deals.
I was quite shocked at the differences in prices that were coming up for our dates at the start of April. I even had to double check because I thought I must have made a mistake.
I searched a month before our stay and found if I booked the hotel and parking separately I could get Silver Parking at Bristol Airport for £52 for eight nights through the airport website and Hampton by Hilton for £226 through Booking.com. There were no family rooms available direct through the hotel website.
Yet when I popped into Holiday Extras* I was able to book parking and a family room at the same hotel for £188 total. Bargain!
Silver Parking at Bristol Airport
This is such a simple and easy service. You choose a space in the large holding car park next to the parking check-in building, remember your bay number, and head to the check-in desks. There's toilets here which is very handy if you've had a long journey.
You can also dump the remains of car snacks in the litter bins outside. I just remembered to pick an apple core out of a cup holder before we locked up our car. That would not have been pleasant to return to!
Checking in your car is easy. You give the receptionist your name, car reg, parking bay number and booking number. I had mine on my Holiday Extras app. They keep your car key and give you a green ticket with all your details on to exchange for your key when you return.
We arrived just after 6.30pm and the buses to the Airport were running every five minutes or so. The journey to the airport terminal building takes 10 minutes max and the super-friendly bus driver pointed us in the direction of our hotel.
I couldn't quite believe how close the Hampton by Hilton was. We crossed the road, went down two sets of steps, through a covered walkway and we were there.
When we landed at Bristol Airport a week later we hopped straight on a bus outside Departures and 15 minutes later had found our car, which had been moved to the main parking area. You are given the parking bay number where you'll find your car when you pick up your key.
Compare 204 car parking options at 27 UK airports with Holiday Extras*
Bristol Airport accommodation for families
Hampton by Hilton Bristol Airport is a 3 star hotel that is stylish, clean and quiet. Better yet, it's a two minute walk from the airport entrance via a couple of sets of steps or ramps.
The windows are quadruple glazed, so despite being right next to the airport you'd have to have supersonic hearing to be disturbed by the activity outside.
It also has free WiFi for guests and the speed is very good in rooms and reception – perfect for allowing you to check any changes to your flight. Although you can also do this using the departure boards in the lobby area
We booked a family room for four, which came with a double bed and sofa bed which was made up when we arrived.
There was a good-sized desk and chair, TV with freeview, kettle with mugs, tea and coffee, a hairdryer, luggage stand, safe, ironing board and iron, and an alarm clock. You can get a wake up call if you want. There was even a wardrobe with lots of hanging space…I doubt that gets used often!
In the bathroom we had a walk-in shower with toiletry dispensers.
Hampton by Hilton Bristol Airport menu
In reception there's a large open plan, airy seating area with a bar where you can order hot meals. We'd eaten at a service station on the way, but the smells coming from the tables made me wish we'd been able to hold on.
Hot and cold snacks are available 24 hours a day. These include soup, jacket potatoes, sandwiches, nachos and pizzas with prices starting at £4.35.
The broader menu with curries, salads, pasta, burgers and desserts is available to order in the bar. There's also a children's menu but you need to request this. The prices are what you'd expect to pay in a pub. The most expensive option was a salmon steak at £11.95. Here's the full menu.
Hampton by Hilton Bristol Airport Breakfast times
Breakfast is served from 4am all week, which was a bonus for us as we had to check in at 4.30am and I was a bit worried about finding time to grab food in the airport.
On week days and weekends you can get continental breakfast from 4am and cooked from 6am. Breakfast finishes at 10am. On weekends breakfast finishes at 11am.
We had time for a continental breakfast before checking in for our flight. There was a selection of pastries, cereals, fresh and dried fruit, yogurts, toast, cheese and cold meats, juices and hot drinks. You can also get a takeaway bag if you are short on time.
Bristol Airport hotel and parking review
We were super impressed with Hampton by Hilton and Silver Parking at Bristol Airport. And even more so that we'd been able to book it at such a good rate through Holiday Extras.
In fact we booked it for our next trip a few months later. And we got a further 15% discount in a Holiday Extras email I received a few days after our stay. So the second time it cost us £169.20 to stay at Hampton by Hilton Bristol Airport and park for eight nights in Silver Parking. What's not to love?!
Disclosure: we paid for our own hotel stay and parking. This post contains affiliate links marked with *. If you click on one and make a purchase I may earn some commission. This does not affect the price you pay.
Looking for Bristol Airport hotel and parking options? Why not pin this Hampton by Hilton and Bristol Airport parking review for later.