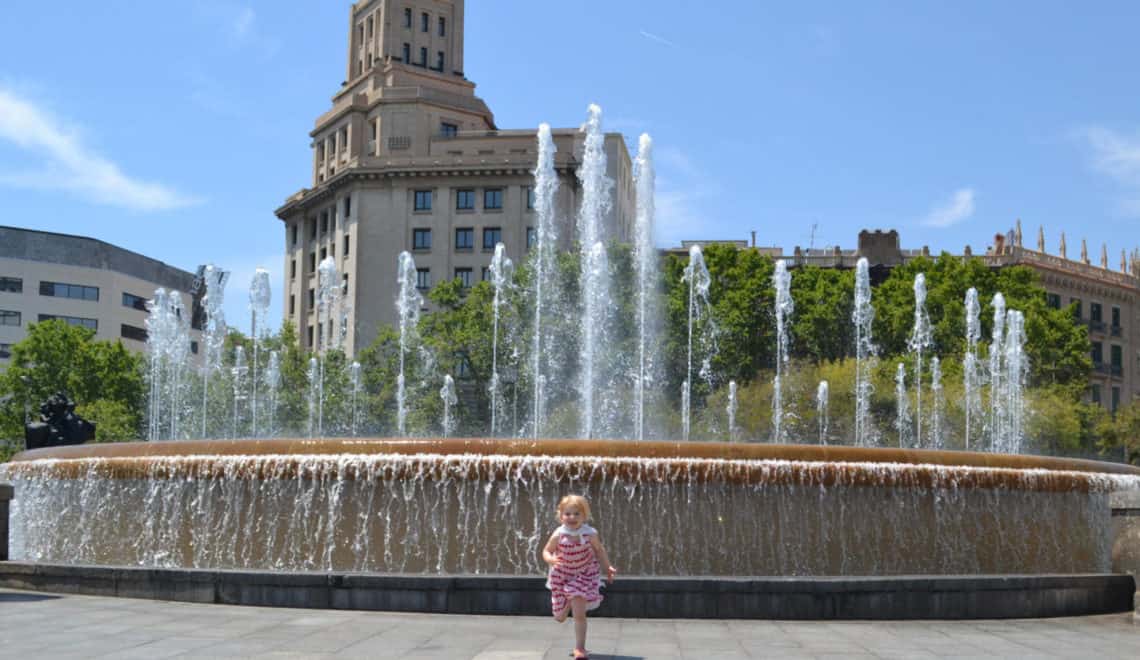 How to have stress-free city breaks with toddlers
Planning on hitting the big smoke with your kids? Hurrah! You're going to have a blast. But before you leave for this great adventure you might want to take some tips from us. We've been on several city breaks with toddlers – some amazing and some mildly hairy. The difference in our experiences has come down to preparation.
Read on to find out what's worked for us. I'd love to hear your tips too!
Check out more of our tips for travel with kids, the best UK city breaks with kids and the best European cities for families.
*This post contains affiliate links*
So, here's how to ace city breaks with toddlers:
Find free attractions
When we visited Barcelona with a toddler and baby, we found the sights and sounds of Las Ramblas could be just as intriguing to young children as the inside of Gaudí House Museum and La Sagrada Familia. Plus, taking advantage of free things to do in cities means if your toddler does get fidgety you'll not have forked out for an experience you can't enjoy.
Every city has free attractions including museums, gardens and monuments. Then there's the popular toddler pleasing activities of hitting the urban beach or feeding the ducks on the river.
My girls couldn't wait to get the buckets and spades out at the beach in the centre of Lisbon when we were there last year. Take advantage of these sights and experiences, and splurge on a couple of others you really want to do.
Take advantage of urban parks
Break up your day with some fun at a playground or running around in a park. Kids need to let off steam during a city break just as much as they do at any other time.
We found a lovely play playground near Park Güell in Barcelona and I hear people saying great things about the Diana memorial playground in London.
These urban oasis' for kids are all around. Take 30 minutes each day to incorporate them into your sightseeing – it will be worth it.
Leave the pushchair at home
We learnt the hard way that navigating around a city with a pushchair can be tough. I can recommend not trying it during the London marathon! It can be a difficult decision to leave the pushchair at home, especially if your toddler is still napping.
However, carrying them in a child carrier is much easier when you are negotiating public transport, steps and busy streets.
Our last child carrier was the Freeloader, which is sold in the US. There are some other options on Amazon:
Pace yourselves
Don't take on too much in one day. In fact, I'd recommend setting yourselves a goal to do one thing each day and let meal times, naps and snacks happen around that.
You will get distracted along the way and travelling around a city always takes longer than you think, regardless of whether you have kids or not. Go with the flow and avoid setting yourselves up for disappointment.
If you think that sounds unadventurous, then you might be surprised what you can fit into short spurts of sightseeing.
Here's what we managed to see during four hours in Florence with toddlers, a day in Florence when the kids were a bit older and a weekend in London. And here's how we paced things during a day in Venice with kids.
Book a stay somewhere central
Our best city breaks with toddlers have been when we've stayed in a central location. It may have been more pricy, but being close to the main attractions and not having to entertain the kids for too long on the tube or bus has always been the best formula for us.
In Barcelona we stayed just off Las Ramblas in Leonardo Hotel Barcelona, which has family-friendly mini-suites. In Bristol we had a serviced apartment in sight of Bristol Aquarium and Hippodrome. We were able to walk most places and other attractions were a short bus or Metro ride away.
Booking.com is where I start my search for places to stay in cities.
You can never have too many snacks
If you're a regular reader of the blog you'll know that my kids' mood is all about their stomachs. Have a ruck sack primed with drinks and snacks like rice cakes, grapes, apples and squeezey yogurts to offer in between meals when energy levels are running low.
These morsels come in super handy if you do find yourselves distracted and a meal time is creeping up fast.
Wondering which urban destinations are best for families? Take a look at the our tried and tested UK city breaks with kids and the best European cities we've visited as a family.
Do you have any tips for city breaks with toddlers? Or can you recommend any cities that are family-friendly? I'd love to hear about your experiences too.
Disclosure: this post contains affiliate links. This means that if you click through and make a purchase I may earn some commission. This doesn't affect the price you pay.
Planning a city break with toddlers? Pin our tips for later!