Things to do in London with children in a weekend – an easy itinerary 
London is a brilliant city to visit with a family. But the first time we did a few days in the English capital I remember returning home exhausted. However, our most recent trip there was different. We had such a brilliant time, so I wanted to share our city break itinerary, including plenty of the easy things to in London with children.
The key to the success of our weekend in London with the kids was keeping it simple. This is a family city break strategy I've talked about before.
Here's how we did it with a six and four-year-old.
*This post contains affiliate links*
An itinerary for a weekend in London with kids
We arrived in London on Friday evening in term time. This gave us the whole of Saturday to explore before heading home with plenty of time to get the washing and pre-Monday chores done on Sunday.
We stayed at a hotel in the city centre, putting us within easy reach of central London's famous sights, attractions and experiences.
From here it was possible to plan days out for all budgets. We opted to show the girls some of the places they'd seen in films like Paddington and spend our money on one fun experience.
Read more about our recommended UK city breaks with kids.
Here's the easy things to do in London with children that we included in our itinerary:
The South Bank
From our hotel at Waterloo it was an easy stroll along the South Bank where the girls had fun finding the wacky Modified Social Benches and spotting the London Eye.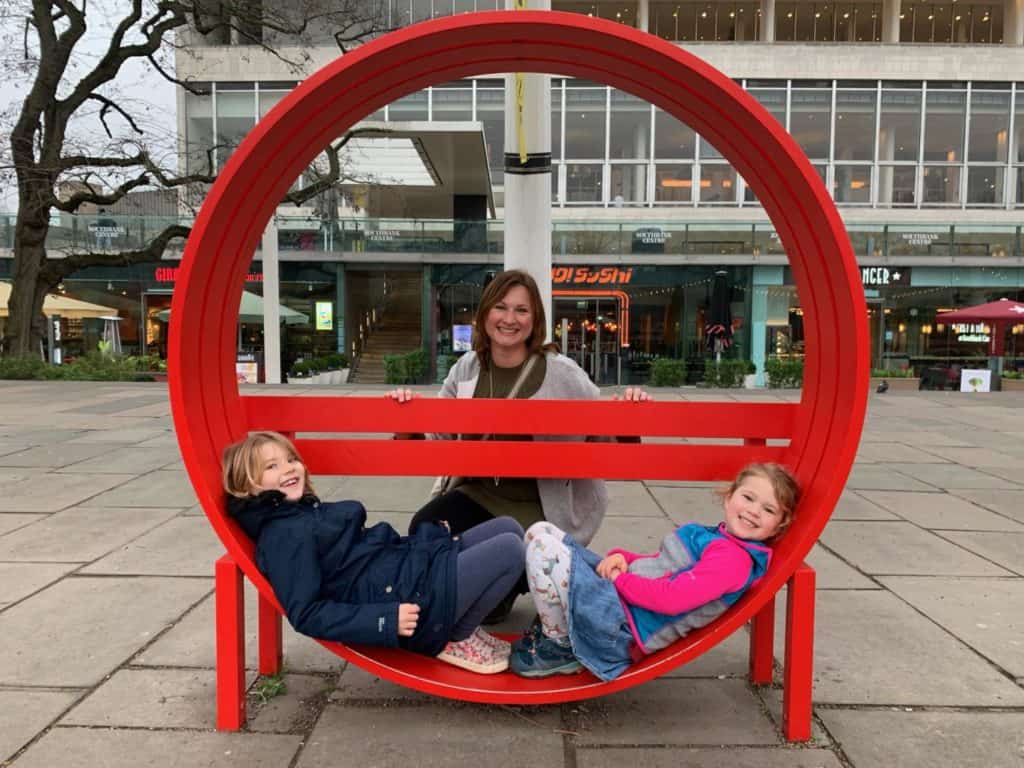 If you are looking for free things to do in London with children then the South Bank is the perfect place to wander and hang out. I've written about more of the sights to see here.
It's also where you'll find the London Eye*, Shreks Adventure, The London Dungeons* and Sea Life London*. If you have more time than us and want to see all of these attractions its worth getting the Merlin London pass*.
Big Ben and Elizabeth Tower
Next we crossed the Thames on Westminster Bridge to Big Ben. Elizabeth Tower is covered from head to toe in scaffolding until 2021. The girls couldn't quite believe it was the same landmark as I'd shown them pictures before our visit.
Whitehall and Horse Guard's Parade
Next we turned right into Parliament Street where we passed the Cenotaph and 10 Downing Street before reaching the gate to Horse Guards Parade. 
At this point Tot was getting a bit bored and asked to go back to the hotel. Luckily we'd got to Whitehall just as the Household Cavalry were changing at 10am. 
We were ushered into the yard and watched the horses prance around naughtily before going into their sentry boxes. Baby was thrilled to get a picture with one.
St James' Park
Once the short ceremony was over we walked across the parade ground to St James Park. This is somewhere that was familiar to the girls because of one of their Paddington Bear books. 
Mr Gruber had cautioned Paddington against picking flowers because they belonged to The Queen. The girls happily retold the tale before getting distracted by the squirrels, geese and other very tame birds in the park.
Buckingham Palace
As we approached Buckingham Palace the girls also remembered – thanks to Paddington – that if the Queen was home a special flag would be flying. 
Sadly the Queen wasn't home but the girls loved scouring the windows to see if they could see someone peeking out. 
After our Palace selfie, Tot mentioned that her legs were aching a bit. We had walked two and a half miles at this stage with only a short break in the St James Park cafe for a hot chocolate. 
More distraction was needed to keep up the momentum, so we suggested getting the Tube from Green Park to our next destination: Piccadilly Circus. We didn't mentioned that the distance was probably pretty much the same once we got down to the platform. 
Top tip: if you are travelling on the London Underground with children under 10-years-old they don't pay. Simply use the wide ticket gates at each station to scan your contactless card or Oyster Card and walk through with your child.
Piccadilly Circus and lunch at the Rainforest Cafe
There's always buskers at Piccadilly Circus so we stopped to watch for a while before walking to Shaftesbury Avenue for our lunch stop.
The Rainforest Cafe was our big treat of the weekend. Mr Tin Box and I ate at the cafe in Las Vegas during our honeymoon and have always thought it would be a fun place to take the kids.
They loved it immediately and caused us much amusement when they tried to shelter from the rain storms.
If you are thinking of going to the Rainforest Cafe you can book a table in advance online. However only 30 percent of tables can be reserved in this way. When I tried to book a few days before they had all been taken. 
So our tip, if you are hoping to go for lunch on a weekend, is to turn up just before midday or after 1.30pm. You're more likely to be seated quickly at these times. 
There are plenty of other places to eat around Piccadilly Circus and Leicester Square, including Planet Hollywood.
From the Rainforest Cafe we walked towards Leicester Square, taking a detour through Chinatown. Our city break coincided with Chinese New Year so we got the benefit of seeing Chinatown decorated with lanterns. 
We also saw lion dancers visiting businesses to wish them wealth and wisdom, and gobbling up lettuces hanging in doorways.
Lego Store and M&Ms World
We circled back around to the Lego Store and M&M World for a few treats. Both are free to enter but be prepared to come out with a bag or two.
The Lego Store in Leicester Square is the largest in the world. Even Mr Tin Box couldn't resist buying some Star Wars Lego from the hundreds of sets available. And the M&M Store has all manner of collectables and sweet dispensers.
If you have to queue to get into the Lego Store you're in a great position to be entertained by the buskers here too. There really are some great acts all over central London, giving every day a festival feel. 
Covent Garden
Next we wandered through Covent Garden, again stopping to watch buskers and marvel at restaurant doorways decorated with elaborate flower displays.
Back to the South Bank
Finally we crossed back across the Thames on Waterloo Bridge to the Golden Carousel and play park in Jubilee Gardens near the London Eye. 
Since I started to come to London in my 20s I've noticed so many more urban play parks. They are brilliant for giving young kids a break from sightseeing and letting them run off steam.
How long do you need for this central London sightseeing itinerary?
All-in-all we spent eight hours exploring and covered five miles. The girls were super stars.
Had they started to flag we'd have been able to cut our route short and hopped on the tube back to Waterloo. But there was enough happening every few minutes to keep them engaged and enjoying the experience.
More things to do in London with children
On the Sunday we had just enough time for a little more sightseeing before catching our train back to Devon.
Our original plan was to go to Trafalgar Square to see the start of the Chinese New Year parade. However, we realised that attempting it with our bags and the kids might be a bit too adventurous, even though we'd packed light. 
So instead we decided to visit the Natural History Museum on our way to Paddington Station. 
The reptiles, mammals and dinosaurs we managed to see in two hours were a big hit with the girls. We could have easily spent the whole day there if we had the time.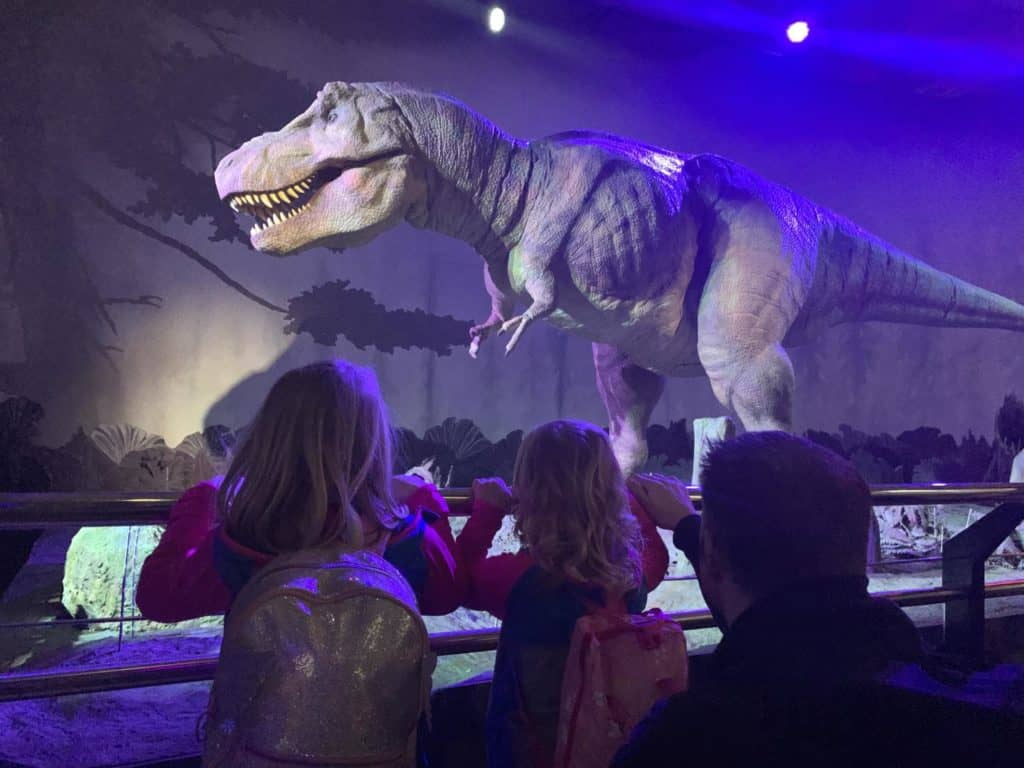 So that was what we managed to cover in our city break in London with kids.
Here's some more places to visit in London that we would love to fit in during another trip.
Our plan this time was always to keep things simple. We stayed in central London so we could walk to most of the famous sights; we had plan of what we wanted to see but didn't try to squeeze in too much or stick to a ridged timetable; and we stopped for breaks when the kids got antsy.
It may not have been anything to do with our planning, it may have just been luck – we've learnt that a lot of trips come down to that with little people – but this visit to London felt really special. We made some wonderful memories. 
Find out which other cities we love visiting with our kids. 
Have you visited London with kids? What are your favourite things to do in London with children?
Disclosure: this post contains affiliate links marked with *. If you click on one of these and make a purchase I may earn some commission. This does not affect the price you pay. We paid for all our own activities while in London.
Planning a weekend in London? Why not save this post about things to do with children for later.