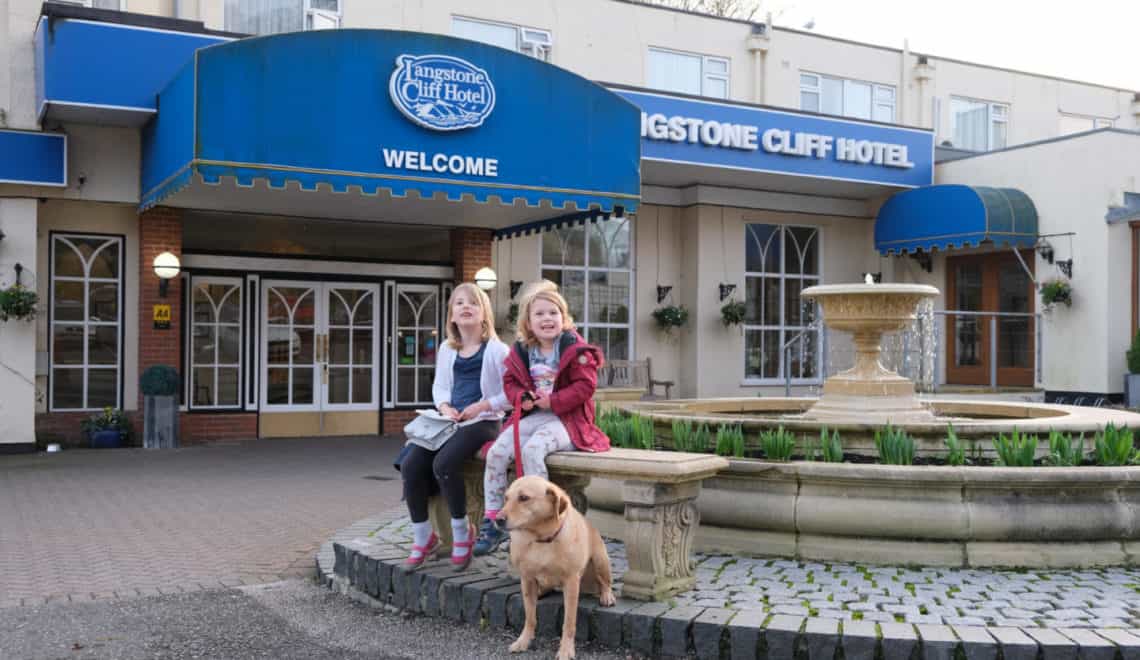 Langstone Cliff Hotel review: a family and dog-friendly hotel in Devon
If you're a family with a four-legged friend you'll know that finding a hotel that welcomes kids and pets is a bit of a challenge. Add into the mix the desire for a destination that has a beach and plenty of family attractions close by and you might feel like this holiday search is too much hassle. Well, if you are looking for a family and dog-friendly hotel in Devon then we may be able to help.
Here's our review of Langstone Cliff Hotel in the seaside resort of Dawlish Warren. We were invited to stay in exchange for an honest review.
*Advertisement feature*
Langstone Cliffe Hotel is a traditional family-run Devon hotel that has been welcoming guests for more than 70 years. Over the decades the hotel has expanded, but family holidays have remained at the heart of its business.
And with the beach and amusements of Dawlish Warren on its doorstep, that family focus makes total sense.
Planning a trip to Devon? Check out my other website Devon with Kids and download my FREE kids activity book.
A dog-friendly hotel in Devon
Unless we are camping or caravanning it's rare that Tin Box Dog can join us on our travels. Not every hotel welcomes pets. But, luckily for us, Langstone Cliff Hotel is dog-friendly.
Obviously, dogs must be on their best behaviour. Thankfully, Tin Box Dog is a model guest: she rarely barks, doesn't get up on furniture and is very friendly.
Dogs can be let off the lead on the hotel's 19 acres of grounds and are allowed in its public areas, of which there are plenty. Off limits are the swimming pools, children's play areas, the tennis court and main restaurant and the bar.
Every bedroom in the hotel can accommodate dogs, so you're not restricted to a certain grade of room or number of beds. There is an extra daily cleaning charge of £8.
We saw plenty of pets staying with their owners at the hotel. It obviously has a reputation for welcoming families with pets.
Find more dog-friendly accommodation and holidays in the UK
Our family suite at Langstone Cliff Hotel
We had been booked into a large family room at the hotel but got an upgrade when we checked in. This is hotel policy if you book direct with them and there is a higher grade room available – even more reason for a winter break in Devon!
Our first floor family suite had two separate bedrooms and a family bathroom with a shower over the bath, all connected by its own corridor. It was a great space for the five of us and allowed us to sit up with the lights on after the kids had snuggled down in their beds next-door.
Each of the suite's bedrooms came with a free standing wardrobe, TV and dressing table with hair dryer. In the master bedroom we also had a sink. The girls had twin beds and we had a king size bed with a super soft mattress that we sank into. We also had a kettle with tea, coffee and biscuits.
The rooms had been thoughtfully decorated and there were handy modern touches like plug sockets with USB ports.
We found only one downside – the walls were quite thin. We could hear the weather forecast clearly on the next room's TV and every time someone stomped down the corridor outside it sounded like they were walking through our suite.
The girls' room was in the middle of the suite and didn't have an adjoining wall with other guests' rooms or the public corridor, so they weren't disturbed.
It's worth noting that we stayed in the oldest part of the hotel where there are creaky floor boards. So, if noise bothers you, ask for a room in another part of the hotel.
The price to stay in a family suite on a Saturday starts at £159.
Langstone Cliff Hotel menu and dining
We were impressed by the quality and selection of food at Langtone Cliff Hotel. The breakfast buffet had a wide choice of hot and cold food, and you could get kedgeree, kippers, smoked haddock and vegetarian options cooked to order. Continental breakfast costs £8.50 and the full English breakfast costs £12.50. Some room rates include breakfast.
During the day you can treat yourself to cream tea and bar food ranging from pizza to gammon steaks, jacket potatoes and sandwiches. There's also a children's menu with plenty of kiddie-pleasing options like burgers, chicken fillets, cottage pie and pizza. Everything is available on room service with a £3 tray charge.
In the evening the main Lincoln Restaurant doesn't open until 6.45pm, which might be a bit late for kids younger than our girls (aged four and six at the time we stayed). But you can order a kids tea to be served at 5.30pm.
We ate dinner together in the Lincoln Restaurant. There's no kids menu offered here between 6.45pm and 9pm but there was plenty on the main menu to tempt the girls including cannelloni, fruit salad, a turkey roast dinner and ice cream for dessert.
Mr Tin Box and I went for salmon starters, sea bass and cheese cake. It was all very tasty and came in plentiful portions.
A three course dinner with coffee cost £28 per person.
Family-friendly facilities
The hotel has a really friendly feel about it. I'd not be worried about playing a noisy board game in one of the lounges or letting the kids run off steam on the lawn in front of the veranda in warmer weather. This isn't the type of place where anyone is going to judge.
There are plenty of areas dedicated to families or activities that kids enjoy. There's a well lit play room towards the back of the hotel with soft play blocks and toys.
The indoor pool has a paddling area and is toasty warm. And the small changing rooms have one shower, one changing cubicle and a baby changing table.
It would be a squeeze in the changing room with more than one family in there, but we went swimming twice and didn't have to share this space.
Remember to bring a £1 coin or shopping trolley token for the lockers and pick up towels from reception on your way through.
There's an outdoor pool which is open from May to September.
Also outdoors there's a playground with a view of the sea and train line that runs along the coast. And closer to the hotel there's Little Tikes play houses for younger kids.
In the summer I can imagine having a cool drink on the veranda while keeping one eye one the kids on the lawn and play equipment.
If you are staying with a baby there is a listening service and you can ask for a mini fridge for your room if you have baby milk or food with you.
There are themed weekends and parties throughout the year, and visit in the school holidays for children's entertainment too.
Service
The staff at Langstone Cliff Hotel were faultless. Every interaction was polite, the service in the restaurant was quick, and the reception team were very helpful.
Things to do in Dawlish Warren
Dawlish Warren is perfect for traditional family seaside holiday. It has its own long sandy beach, which backs onto a nature reserve, and a large amusements complex, fairground, go karts and crazy golf course.
Not far down the road are the city of Exeter, the seaside town of Teignmouth and Powderham Castle. Beyond there are plenty more things to do in South Devon.
Dog-friendly days out within easy reach of Langstone Cliff Hotel include Killerton National Trust, Dartmoor National Park, Babbacombe Model Village, South Devon Railway, Dartmouth Steam Railway and River Dart Country Park.
Langstone Cliff Hotel review
This is a family and dog-friendly Devon hotel that we'd definitely recommend. It feels welcoming, is in a great location for traditional family holidays and offers good accommodation.
Regardless of the noise in our suite, we left feeling relaxed having spent quality time together enjoying the hotel's facilities and food.
Find out more about Langstone Cliff Hotel by visiting its website.
Disclosure: our accommodation and food were complimentary in exchange for this review.
Looking for a family and dog-friendly hotel in Devon? Save this Langstone Cliff Hotel review for later.