Dartmouth Camping and Caravanning Club site review
If you're looking for a Devon campsite that puts you close to a picturesque town and a stunning beach then you must check out Dartmouth Camping and Caravanning Club site.
*Advertisement feature*
I'll be very honest and say from the off that this is not somewhere we'd usually stay. It's just too close to home for us!
Yep, we live a few minutes drive away, so this was as close to a staycation as you can get. But I'm really glad we had the chance to do this while reviewing a borrowed Bailey caravan. I do like to recommend lovely Devon camping spots and this one is great!
Here's our Dartmouth Camping and Caravanning Club site review:
About this Dartmouth campsite
Despite the name, Dartmouth Camping and Caravanning Club site is actually located on the outskirts of the neighbouring village of Stoke Fleming. It's still the closest campsite to Dartmouth and has all the benefits of village life too, including a small shop and a few places to eat out.
The site itself has medium sized and comes with glimpses of the South Hams Area of Outstanding Natural Beauty and the sea. It's open from April to October.
The warden team are super-friendly and obviously take great pride in looking after the site and being as helpful as possible.
Find out more and check prices for this Dartmouth campsite.
Pitches
There's a variety of pitches on offer at Dartmouth Camping and Caravanning Club site, which accepts tents, caravans, campers and motorhomes. Ours was a shady, hard standing pitch with electric in the top field.
We had plenty of space to park our 8ft wide caravan, VW transporter and sit out front. We'd also have had room to put up an awning or canopy on the hard standing if we'd brought one with us.
The pitch sloped slightly towards the back, but it was easy to level up the caravan with a couple of blocks.
If you prefer a grass pitch the site has these too, with and without electric. Grass only pitches are available in the peak summer season. These looked to have some of the best countryside views, although it was possible to see the rolling hills and sea while walking around the site.
You can also book into one of four Ready Camp glamping tents between May and September. These are located close to the playground and near the shower block as they don't have their own bathroom facilities.
Facilities onsite
Speaking of the shower block, the one on the Dartmouth site is immaculate and well decorated. I thought the feature wallpaper and ornaments in the laundry room and dish washing areas were a really lovely touch that gave the building a homely feel.
There's plenty of room in the shower cubicles, and there's a baby bath and shower seat available for use. There's also an accessible show room at the front of the block.
If you have a motorhome there's a service point in the visitor car park.
We went to the enclosed children's playground and ball games area several times during our stay. It was great to have this space away from the campsite's road ways. I also appreciated the picnic bench from where I could site and watch the kids playing.
Facilities in the village
It's a five minute walk from the campsite to Stoke Fleming Village Shop where you can pick up all your essential shopping including local produce. It's also home to the village post office where you can withdraw cash. There's no cash point in the village.
If you want to avoid cooking while staying at Dartmouth Camping and Caravanning Club site, food is served at the Green Dragon pub, at Stoke Lodge Hotel and Radius 7 in the village. Check opening and food times in advance.
Be aware that the most direct route to all of these and the village shop is down a narrow road without footpaths along its whole length. This can get very busy with traffic so is not the greatest way to walk with children.
I'd recommend walking from the site to the Village Hall and then across the recreation ground to join the coast path that runs behind Stoke Lodge Hotel. This will take you down a woodland footpath and on to a less busy residential road that comes out at the Green Dragon.
On the recreation ground there's a lovey playground and a basket ball net.
Things to do close by
Check out my local guide on Devon with Kids which tells you all the best things to do around Dartmouth. But in summary, you're in a great location to explore.
Dartmouth is a short bus ride away (there's a stop right outside the campsite) or if you bring your hiking boots there are a few routes to walk into town.
Our favourite is via Little Dartmouth and the South West Coast Path. You'll need to walk along a few country lanes before you reach the path or you can park in the National Trust car park at Little Dartmouth.
If you prefer to drive into Dartmouth there's limited parking in town or you can use the park and ride by Dartmouth Leisure Centre between Easter and the end of October. My kids think this is an extra special adventure.
In Dartmouth itself you can pick up boat trips, walk to Dartmouth Castle or use the passenger ferry to cross the river to Kingswear where you can catch a steam train.
Read more about days out in Dartmouth.
If you fancy a beach day the closest to the campsite is the Blue Flag beach of Blackpool Sands.
This is within walking distance but be aware that the walk back up the hill is a bit of a slog and some parts do not have a footpath. You can also drive and park at the beach. The price varies during the day in the spring, summer and autumn. It's generally free to park from the end of October until Easter. Dogs are also allowed on the beach at this time.
Check the beach website for the latest information.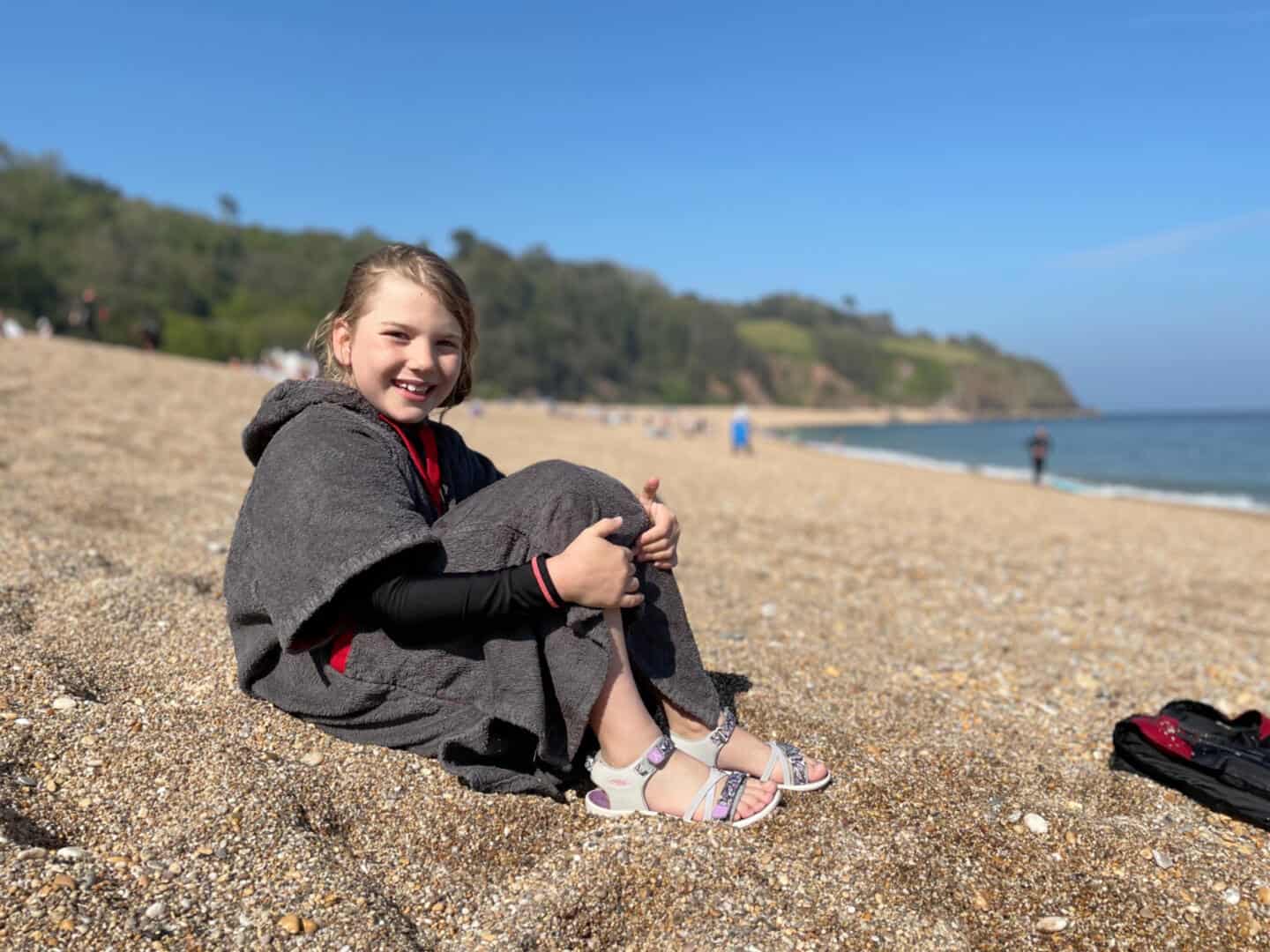 There's also plenty of other beaches in the South Devon area.
Are dogs allowed?
Yes. Dogs are welcome on leads at this Dartmouth campsite.
There is a green space at the campsite entrance where you can take to them to the loo but they must be kept on leads.
Off site you can take a walk to Stoke Fleming Park to exercise your pooch off the lead or we can recommend driving to Little Dartmouth for a coast walk.
Dogs are not allowed on nearby Blackpool Sands from Easter until the end of October. However, they are allowed all year round on Slapton Sands, which is a bit further south.
Here's some ideas for other dog-friendly days out in South Devon.
More handy things to know
Free Club Wifi is available onsite. We didn't use this as we had a good 4G signal but we know that coverage varied across the site.
If you're bringing a TV you'll need a direction aerial as the signal can be a bit hard to locate.
You can use gas or charcoal barbecues on this campsite but fire pits and the burning of wood is not allowed.
Where is this Dartmouth campsite?
From Dartmouth take the A379 signposted Stoke Fleming and Strete. Part of the road is single track so road take it steady regardless of the 40mph speed limit.
On the edge of Stoke Fleming village the speed limit reduces to 20mph and the entrance to the site is just beyond this. Be careful not to overshoot the campsite as there are few opportunities to turn around, especially if you are in a large vehicle or towing. And the road gets even narrower though the village!
Final thoughts on Dartmouth Camping and Caravanning Club site
Like a mentioned earlier, I'm so glad we got the chance to review this site on our doorstep. It's an excellent option if you are looking for a family-friendly campsite in South Devon with great facilities and plenty to do close by.
Just don't forget the local roads can be narrow and some don't have footpaths.
You might also like to read our review of this other campsite in South Devon: California Cross.
Check prices for Dartmouth Camping and Caravanning Club site on its website.
Disclosure: we were invited to stay at Dartmouth Camping and Caravanning Club Site in exchange for a review on the blog. All opinions and images are my own.
Planning a holiday in Dartmouth? Why not save this review of Dartmouth Camping and Caravanning Club Site for future reference.