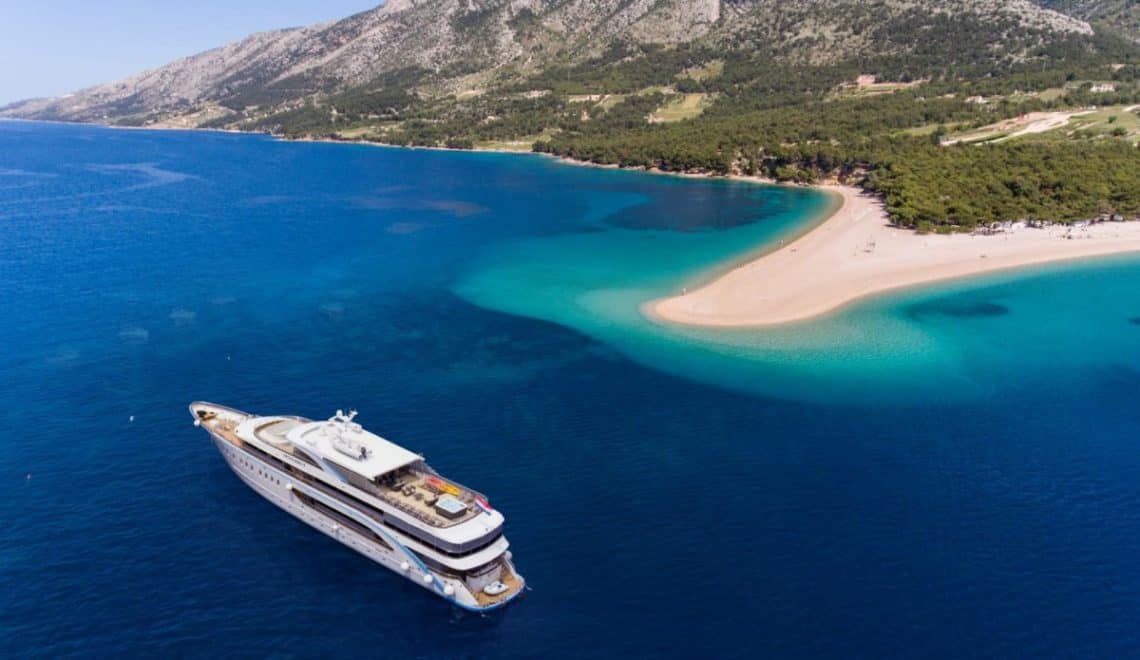 How to go island hopping in Croatia with kids – in luxury!
When you think of Croatia, what's the first thing that comes to mind? The imposing city walls of Dubrovnik? Succulent seafood cooked in a small, authentic tavern meters from where it was landed? Or the crystal clear waters of the Adriatic lapping against the stony shoreline of a remote island. For me it's the latter (swiftly followed by the food!). It's an image that was planted in my mind when Mr Tin Box visited almost a decade ago, and is why the sound of island hopping in Croatia appeals to me so much.
*Advertisement feature*
Several years later, we still haven't been able to pin down our Croatian holiday, but the idea is still as alive as ever. So, when luxury yacht charter company Goolets got in touch to tell me about their Croatia island hopping holidays, my heart skipped a beat.
Luxury yacht charter in Croatia
We are big fans of cruises. And the idea of being able to plan our own, with all the benefits of a luxury holiday, fun activities and fine dining, really appeals. But it's unlikely that we'd ever be able to afford to charter a cruise ship. However, a luxury yacht is a much more achievable goal.
Whether you want to plan an extended family holiday with 10 guests or the trip of a lifetime with 40 friends, Goolets have charter yachts in Croatia for you.
Are yacht holidays in Croatia for families?
Yes, and the more the merrier. This is the type of holiday where you don't need to worry about accommodating a large family. And you can even bring the grandparents to allow you some time exploring ports on your own.
The yachts are crewed by a professional team, so no one needs to worry about steering the boat while also watching the kids. Plus, the itinerary can be tailored to include ports and activities that are suitable for your individual family.
You can also book a yacht with as many cabins and dining options as you need for your group.
Itinerary for island hopping in Croatia
So, where do you start planning your island hopping adventure? There are more than 1,230 islands in the Adriatic! My mind boggles at the thought of trying to pick the best to visit – the ones that are off the beaten track, best for beaches or have incredible sights to discover.
Goolets have several suggested Croatia island hopping itineraries starting in Dubrovnik, Split or Zadar, which all have direct flights from the UK.
One that appeals to me the most would be starting in Split and exploring the Central Dalmatia. Here's the full seven day Croatia island hopping itinerary:
Day 1: Brač
Brač is the largest island in Croatia and is famous for white stone used to build Diocletian's Palace in Split and the White House in Washington, DC.
Day 2: Vis
This is the island Mr Tin Box visited and fell in love with several years ago. It was once home to a military base. It is possible to go on tours to find out about its history and the infrastructure that was put in place. But my reason for wanting to go is to see the incredible Blue Cave and Green Cave.
Day 3: Pakleni Islands
Most of Croatia's beaches are stony, but on the chain of Pakleni islands you can find sand. Palmižana resort is the place to head to feel the golden grains between your toes. You can also take a boat transfer into the party town of Hvar. While the bars and clubs might not be where families will want to hang out, there's still plenty of historic places to explore like the Fortress.
Day 4: Korčula
The birthplace of Marco Polo is a place to indulge yourself in wandering narrow streets and finding small eatries. The neighbouring Proizd island is not far away, and this is where you can find some stunning beaches for swimming.
Day 5: Pelješac
Pelješac is renowned for its red wine (Plavac Mali), mountains and coves. It sounds like the perfect place for a relaxing beach day.
Day 6: Hvar
If you love wine this is the place to join a vineyard tour, or simply enjoy the calm of the harbour town of Jelsa.
Day 7: Brač
There's another opportunity to explore Brač – this time the harbour town of Bol, which is close to Zlatni Rat – the Golden Cape. This is a fine pebble beach that stretches out into the Adriatic in a stinking fashion. It's popular with families, swimmers and windsurfers, so isn't the most secluded of beaches on this Croatian island hopping itinerary, but it certainly has to be experienced.
Island hopping packages
When you book a luxury yacht with Goolets it comes with a personal assistant to help plan your itinerary, all the fuel for your trip and your crew. Extras that you pay for to suit your family and holiday include food, drinks, excursions, and port and tourist taxes. This means you can create the perfect itinerary for you; stopping and eating when and where you choose.
Being able to personalise your Croatian island hopping package is ideal for families like us. With our young kids we would want to make the most of exploring the side streets of small towns in search of ice cream, and find sheltered coves for swimming.
Families with older kids may want to try more exciting activities when ashore and on the water.
All of this can be worked out with your personal assistant in advance.
Things to do on your luxury yacht charter
As well as seeing the sights and enjoying the ports you visit, there's plenty of opportunities to make the most of the beautiful Croatian coastline by stopping for a swim or water sports activities.
Goolets yachts often come with equipment like paddle boards, kayaks and even banana boats. Motorised waterspouts equipment can also be booked.
How much does it cost?
Prices for Goolets luxury yacht charter in Croatia start from €30,000 to more then €100,000 per week depending on the yacht, the size of your group and the specific requirements of your holiday.
Have I tempted you to go island hopping in Croatia?
You can also read about chartering luxury gulets in Turkey.
Disclosure: this post has been written with Goolets.
Planning to go island hopping in Croatia with a bit of luxury? Save this post for future reference.