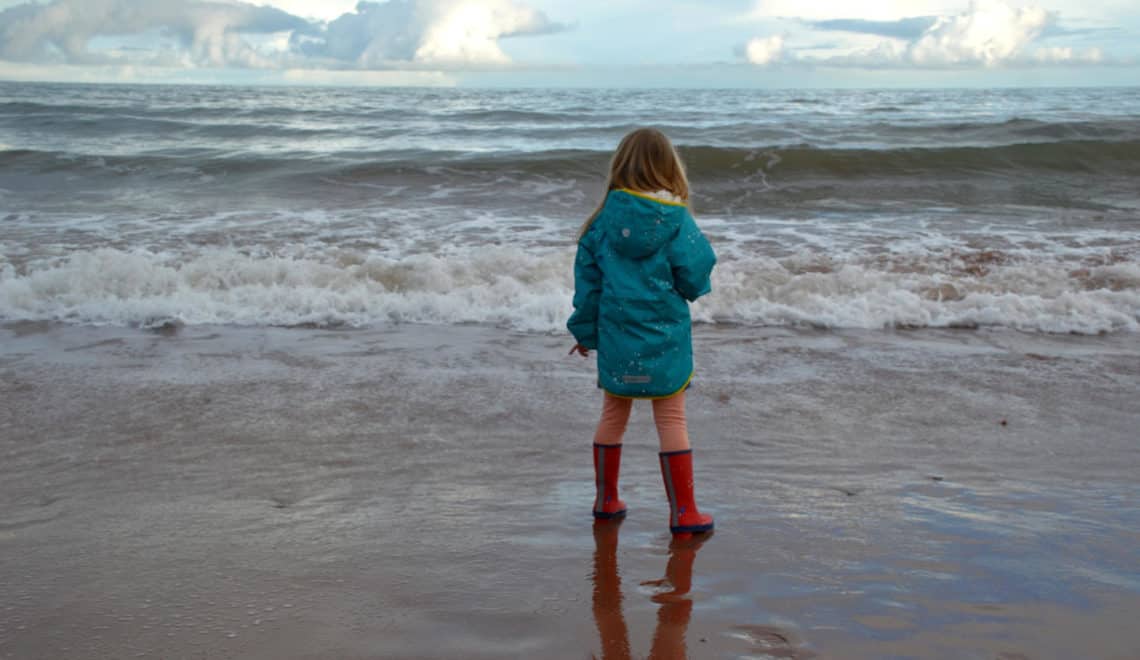 Best South Devon beaches for families 
Every now and again I have to pinch myself to make sure I'm not dreaming. We really are lucky to live in such a scenic part of England. Devon has it all – dramatic moors, nature filled valleys and epic beaches. South Devon beaches are among our favourite places to head whatever the weather, but especially during a mild winter weekend when we can find them nearly deserted.
*Advertisement feature*
It was on one such weekend that we visited a couple of our local beaches with the girls wrapped up in their new insulated jackets and bright red wellies which we were sent by the team at Muddy Puddles. This season they have launched the EcoSplash collection with new and improved designs crafted from recycled plastic bottles. What better togs to wear to the beach than ones that are doing their bit to help the environment?! They also kept the girls warm in the sea breeze. There's more details below.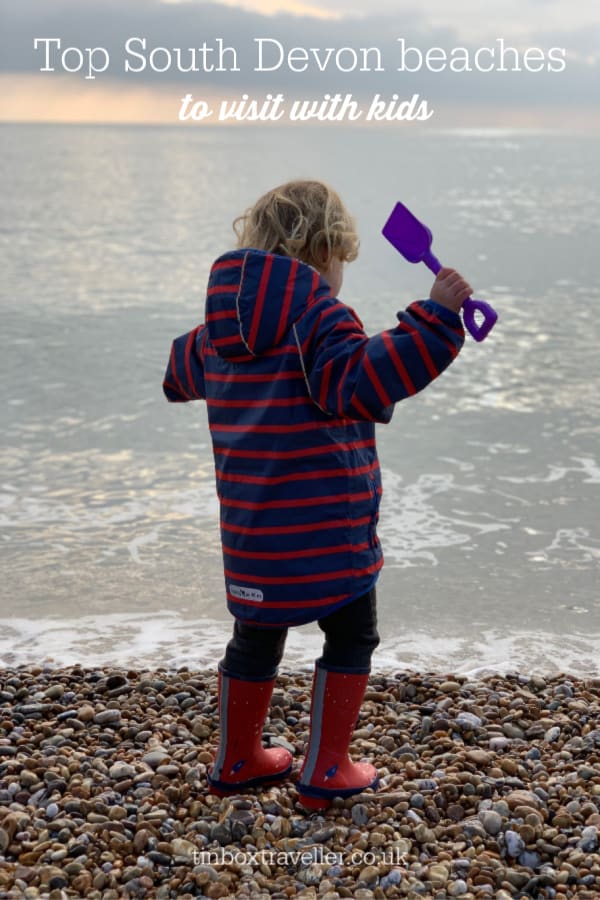 Planning a trip to Devon? Check out my other website Devon with Kids and download my FREE kids activity book.
Which South Devon beaches are best?
We visit the Devon coast a lot over the winter to blow away cobwebs and enjoy a warming hot chocolate with a view. In the summer, South Devon's beaches are the perfect spot for a swim in clear waters or sandcastle building competitions with the kids.
If you are visiting for a Devon family holiday then here are our personal recommendations on the best beaches based on their family-friendly facilities, parking, and places to eat:
Looking for other local days out with kids? I can also give you my tips on things to do in South Devon.
Blackpool Sands, Dartmouth
This shingle bay is our ultimate South Devon beach, nestled in a long sweeping cove at the bottom of a valley. At either end of the beach there are large rocks that you can explore when the weather is fine and a swimming platform is moored in the bay during the summer months.
This Blue Flag beach shelves away steeply so is not great for paddling but the water is crystal clear in the calmer summer months.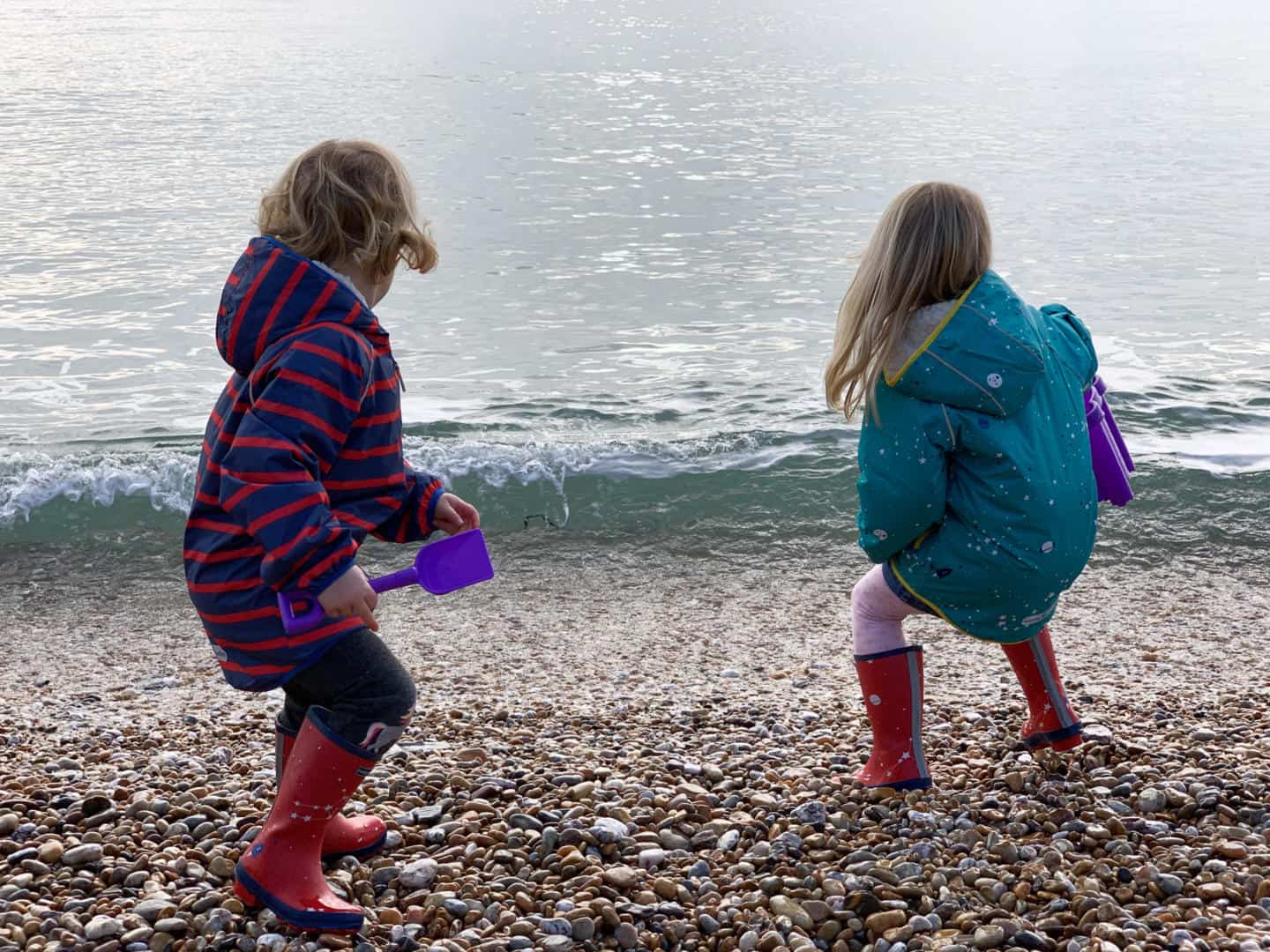 If you want to hire deck chairs, paddle boards and other water sports equipment there's a Beach Shop open in the summer months.
If you get peckish, The Venus Cafe is right on the beach and serves great food using local produce. You can either sit in the restaurant or grab something from the takeaway in the peak season. Off season, from November to April, dogs are allowed on the beach and a dog cafe is opened in the equipment hire shop.
There is one toilet block with a couple of outdoor showers behind The Venus Cafe.
You have to pay for parking at Blackpool Sands at certain times of year. There is a set fee which can be quite expensive in the summer if you only want to stay for an hour. Visit later in the day for a reduced rate. Prices vary throughout the season. Make sure you take cash as there is a parking attendant on the gate rather than a machine.
Goodrington North Sands, Paignton
This is our go-to dog walking beach. As Goodrington North Sands is totally tidal, four-legged friends are welcome all year round. When the tide is on its way out the deep red sand slowly slopes into the sea making it a great spot for young children to paddle. It is also possible to swim a bit further out.
If at any point you have enough of making sandcastles and finding shells there's lots to do on Youngs Park which backs onto the beach. Here you'll find pedalo swans, a crazy golf course and go karts in the summer season. There's also a good sized children's play ground.
On the promenade you can find a takeaway hut open at peak times, or a little back from the sea front there's the Cantina cafe and restaurant. This is one of our favourite places to grab a hot drink and piece of cake after a walk on the beach. I can recommend their toffee and pecan cookies! Cantina also serves hot food and is open during the evenings with a bar and music. Dogs are also welcome inside and out.
There are two toilet blocks easily accessible from Goodrington North Sands – one at the north end which is open April to October and another to the south, before Goodringon South Sands, which is open all year round.
Parking for Goodrington is at the back of Youngs Park or there are a limited number of spots along the front of neighbouring Goodrington South Sands Beach which does not allow dogs from 1 May to 30 September. Parking is pay and display. I use the Parkmobile app on my phone.
Bantham Beach, Bantham
We don't get to Bantham Beach often, but when we do it always wows me. This is another sandy beach and comes with dunes that kids will love rolling down. The beach itself is shallow and overlooks Burgh Island, which you can visit by sea tractor from neighbouring Bigbury On Sea.
Take cash for parking at Bantham. You'll be met by a parking attendant at the gate to a large field where you leave your car behind the dunes. This is also where you can find the Gastrobus. This serves hot and cold snacks and drinks from 10am to 4pm on the weekends in the winter and throughout the week in the summer season. You'll need cash here too.
There are toilets in the car park. Dogs aren't permitted on the main beach from May to September but are allowed all year round on the estuary to the west. Walk through the dunes from the car park and you'll find sand to walk along at low tide.
Salcombe North Sands, Salcombe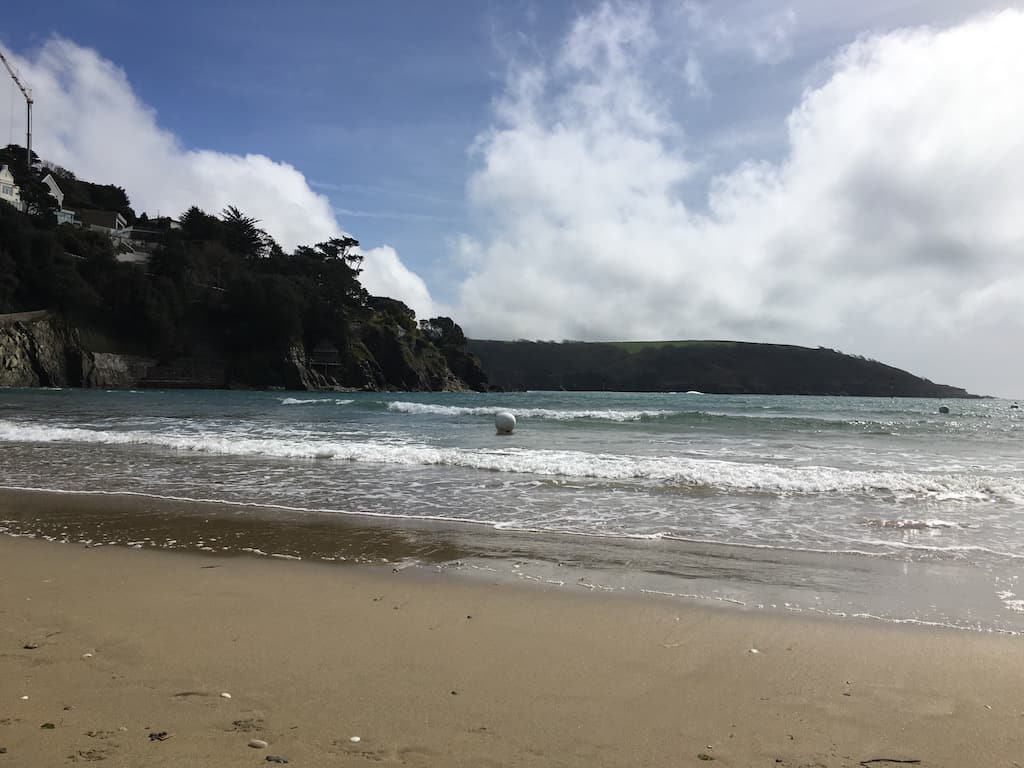 Visit Salcombe North Sands on a sunny day and you could be forgiven for thinking you were somewhere in the Mediterranean. It's set in a small cove with tree-lined cliffs rising up on either side. The view from this tidal, sandy beach stretches out into Salcombe Estuary and the sea beyond. There's always boats, kayaks and paddle boarders passing by, and some use the beach as a stopping point.
You can access the beach straight off Cliff Road, which runs between Salcombe and South Sands Hotel. There's a ramp that you can get pushchairs down and you might be able to wheel lighter strollers across the sand which is usually firm. The beach slopes slowly in to the water making it a good place for a paddle or swim with young children.
There's a few free parking spots along the road and a pay and display car park across the road. This is also where you'll find The Winking Prawn cafe. It's super family-friendly. There's a dressing up box for kids to delve into and you can also pick up any beach toys that you might have forgotten.
Sit outside on the large decked and landscaped frontage with views of the beach or reserve a table inside in advance on busier days.
Paignton Sands, Paignton
If you're looking for a traditional seaside day out then Paignton is the place to go. Paignton Sands is a long stretch of sandy beach backing onto grassy parks, a brilliant adventure playground, amusements and crazy golf.
It's also one of the best spots to see Torbay Airshow in June. Stretching out into the sea midway down the seafront is Paignton Pier. You'll not have to go far to find fish and chips, candy floss or ice creams from the many kiosks along the front.
The beach is another one that slopes gently into the sea and at low tide seems to go out for miles – at least it does when you are five-years-old! There are ramps down to the sand from the promenade making it easy to get onto the beach with a pushchair or wheelchair.
Pay and display parking can be found along the promenade in the off season but this closes in the busy summer months. You can find parking in multi-storey car parks a short walk away in the town.
What to wear for a day on South Devon beaches?
If you're lucky to be visiting at the height of summer you should be treated to some lovely weather, however the sea will still be cool. If your kids are going to be spending a lot of time in the water you might want to invest in wet suits for them.
Read more of my recommendations on what to pack for a beach day.
If you are visiting the beach in the winter, spring or autumn, then it's worth kitting the kids out in waterproof jackets, trousers and wellington boots. If yours are anything like mine they will want a paddle whatever the weather! Here's links to where you'll find the Muddy Puddles jackets and wellingtons that the girls are wearing: EcoSplash insulated jackets | Puddlestomper wellies.
They love the soft Sherpa lining in the jacket hoods and the funky, uni-sex designs. I love it that you can wash the jackets at 30 degrees, especially as I have two little mud magnets!
Are you a fan of there Devon coast? Can you recommend any other South Devon beaches that families simply must visit? Pop your favourites in the comments below.
You might also like to check out my posts about Devon's hidden beaches, family-friendly Devon days out, and Devon's best theme parks.
Disclosure: we were sent Muddy Puddles jackets and boots in exchange for coverage on the blog. All opinions about South Devon beaches are my own – we can thoroughly recommend you visit them!
Why not pin this post about South Devon beaches for later?