Best hidden beaches in Devon for families
If something is worth discovering then you've got to work for it. That's certainly true of the best hidden beaches in Devon. Walking shoes, back packs and sweat are required to uncover these secret coves. But when you reach them, the rewards are plenty.
*This post contains affiliate links*
We've discovered a few gems around the Devon coastline, with and without children. Here's a few of our favourites and how we think you should prepare to go off the beaten track to enjoy Devon's most secluded beaches.
If beaches aren't your thing I've got plenty of other ideas for family days out in Devon.
Our favourite hidden beaches in Devon
Scabbacombe Sands, Brixham
This is our most recent discovery in South Devon. Scabbacombe Sands can be reached by walking the South West Coast Path or parking in the small National Trust carpark one mile away.
While that might not sound far, it's an uneven route first down a muddy lane and then through fields. We took our four and two-year-old and managed with a child carrier. A pushchair certainly wouldn't be up to task.
The views from the cliffs and crystal clear water made the trek worthwhile on the day we visited. Scabbacombe Sands is dog friendly all year. Don't be surprised if you spot nudists in the distance!
Berry Beach, Hartland
This little gem in North Devon is a firm favourite of Mr Tin Box. He has been making trips to the area to see family since he was a kid.
We're yet to go to Berry Beach with our girls but are regular visitors to nearby Hartland, so I'm sure it won't be long before we do. This pebble strewn beach can accessed from the coast path or on a track from Hartland Abbey.
There are rock pools, all sorts of fish and crustaceans to be found at low tide, and unspoilt views out to Lundy Island. Walk around the headland and you can reach Hartland Quay with its amazing cliffs of contorted rock layers.
It's less secluded but definitely worth seeing. You can also pack here and walk to Berry Beach but beware of the tides.
Man Sands, Brixham
Man Sands will always be a special place for us as it was the first of Devon's hidden beaches that we visited with our girls.
Tin Box Tot was two and a half and Baby was about six-weeks-old. We hiked three quarters of a mile down a narrow track to reach this shingle and sand beach with a treasure trove of caves, rock pools and fresh water streams.
Man Sands in South Devon is also a great place for bird spotting as there's a wetland area at the back of the beach. There's a small National Trust carpark back up the track but no other facilities. Dogs are allowed on the beach all year round.
Mill Bay, East Portlemouth
We found this off the beaten track cove at the end of a winding road along the Salcombe Estuary in South Devon. You don't need to worry too much about walking any distance to reach this sandy retreat but there are coast path walks to take from here if you fancy stretching your legs.
Mill Bay is the ideal location for a quieter beach day away from the larger, popular Devon seaside destinations. However, you do have the benefits of a small National Trust carpark and public toilets just a short walk away.
Our girls loved chasing the waves down the shallow slope into the estuary and playing in the fresh water stream. Mill Bay is also dog friendly all year round.
Preparing to explore Devon's hidden beaches
These aren't your average seaside days so being prepared before you explore Devon's hidden beaches is a must. Here's our tips for what to take with you:
Supportive footwear – I love my Salomon X Ultra 2 GTX walking shoes with their breathable, waterproof Gore-Tex upper, cushioning and plenty of grip.
A child carrier – we rate the Freeloader for its lightweight design which is perfect for outdoor adventures.
Food and plenty of water – these beaches don't come with cafes so pack and carry what you will need for the day.
A UV beach tent* – if you want to spend any time on these beaches in the summer then you'll need shade.
Sun protection – bring hats and sun cream* for delicate skin so you don't get caught out on exposed cliffs and beaches.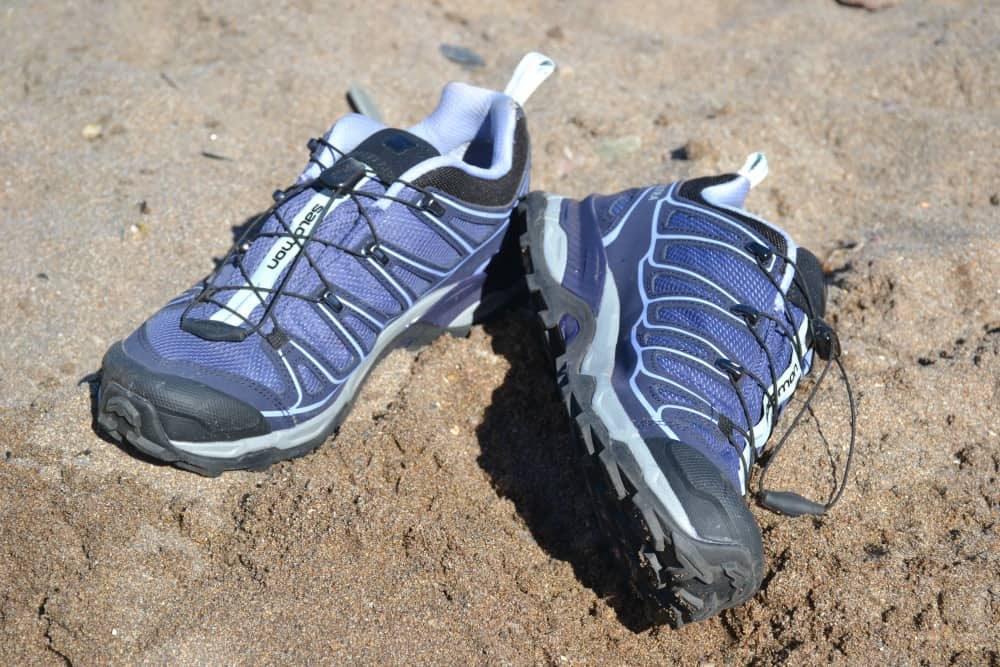 Have you discovered any hidden beaches in Devon that you can recommend we visit and add to this post? Comment below and I'll put them on our bucket list.
*Disclosure: this post contains Amazon affiliate links which means I may earn some advertising fees if you click on an affiliate link and make a purchase. You will not be charged extra for this. The lovely folks at Millet Sports sent me a pair of walking shoes to make my feet more comfortable during our outdoor adventures this summer. I've popped a link in my post incase you'd like to check them out too.
Planning on visiting some of Devon's hidden beaches? Why not save this post on Pinterest for future reference.
SaveSave
SaveSave
SaveSave