Markets, gelato and medieval history: essential sights of Florence with LivItaly Tours
I always get nervous about revisiting a place I've adored. Will it be the same? Or will I leave disappointed that it did not live up to my memories. This thought crossed my mind when I had the chance to return to Florence during a trip to Tuscany with Bookings for You (AD). I need not have worried. Thanks to an excellent day of seeing the essential sights of Florence with LivItaly Tours I was exposed to a different side to this beautiful Renaissance city and fell even deeper in love with it, and all despite the wettest of days!
Thanks to LivItaly for hosting me and 12 other family travel bloggers. Here is my review of a few of their tours you might like to try with and without kids in Florence:
The essential sights of Florence: a tour with LivItaly
My last visit to Florence was with Mr Tin Box and the girls two years ago. We were armed with a map of the city and had four hours to explore on our own after being dropped off by a coach from our cruise ship.
Considering we had a three-year-old and 13-month-old with us I don't think we did too badly to find the Duomo, Piazza della Signora and the Ponte Vicchio.
However, I do know we missed out on a lot of the intriguing details and stories we would have gained from a formal tour.
LivItaly offer private and group tours of Florence for families and adults. I was lucky to experience two different tours during my recent day in the city: Florence Food Tour & Gelato Making Class and the Private Florence Walking Tour.
Other bloggers in our group also went on a treasure hunt around the Uffizi Gallery and explored independently.
Touring a Florentine farmers' market
We met our lovely guide Rafaela outside Cafe Rivoire in Piazza della Signoria. This central square is watched over by an outdoor museum of Roman statues and the imposing home of Florence's historic leaders, the Palazzo Vecchio.
It was busy with tourists even on a wet day in March.
Rafaela gave every member of our group an audio guide so we could hear her commentary while wandering from the touristy south side of the River Arno, across the famous Ponte Vecchio to the north.
LivItaly usually limit the number of people on their tours to six, so the ear pieces aren't the norm was you'd be much closer to your guide at all times.
It was hard to resist pausing to photograph the many narrow cobbled passages adorned with street art and curiosities. Rafaela was a pro at keeping check on us and making sure the group stayed together.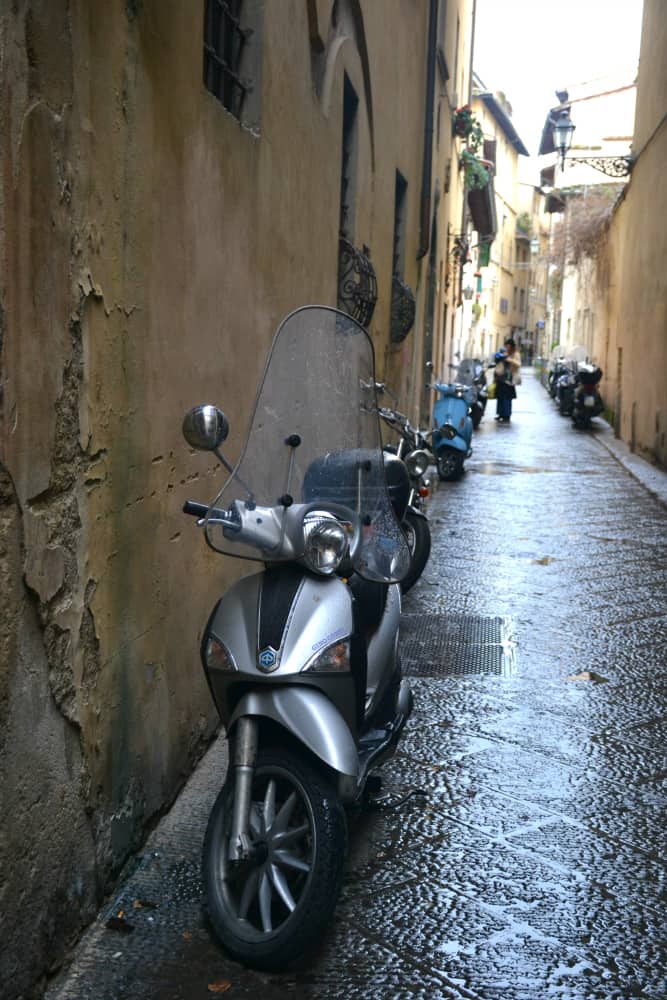 Soon we arrived in a square full of market stalls selling organic farm produce and hand-crafted gifts. The smell of fresh vegetables in air was delicious.
Despite the light rain the market was bustling with all sorts of things on sale from preserves to weaved baskets and children's toys.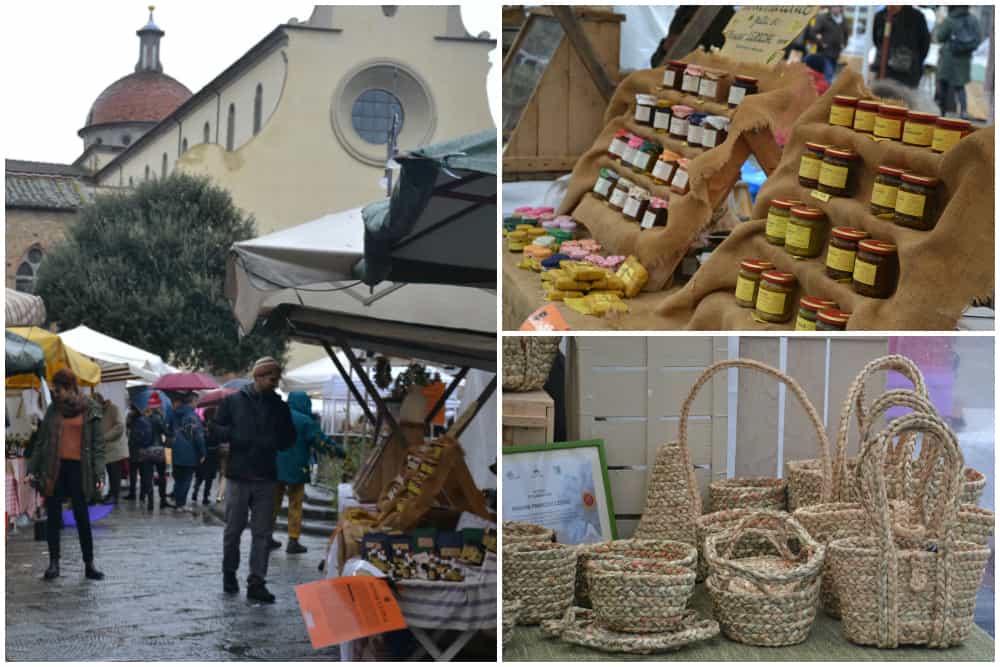 I have to admit that the weather wasn't on our side at all. Rafaela judged the mood of our group perfectly whisking us off to one of her favourite coffee shops for cappuccinos in the dry.
Usually the tour goes to Mercato Central, Florence's central market and a mecca for foodies. Sadly the market had been cancelled just before our visit, which was a shame as its indoor stalls would have been much more enjoyable to browse in the rain.
Thankfully, LivItaly was able to amend our tour at the last minute and use their expert knowledge of the city to ensure we still got to see an authentic Florentine market.
A masterclass with Florence's original Gelateria
The second part of our foodie tour took us back over the River Arno and into the company of a gelato-making genius. Ciro Cammilli owns Perché No! – Florence's oldest gelato business, which has been making gelato the traditional way since 1839.
This light and extraordinarily flavoursome frozen dessert contains less sugar and fat than ice-cream. Traditionally it's made with snow, honey and fruit using a hand-turned churning device.
Ciro explained to us that times had moved on – he now uses a machine that creates semi-fredo, mousse-like gelato in just 12 minutes – but the ingredients are just as simple: salt, two types of sugar, water, fruit and air.
Our group were invited to help make banana gelato. It was fascinating to see it happen before our eyes and it tasted wonderful with a side of chocolate gelato, which is Perché No!'s most popular flavour.
However, the scoop that won my tummy over was the pistachio with a dollop of strawberry for good measure.
But before we left the Perché No! academy Ciro had a surprise for us…a mystery gelato that he invited us to spread on lightly toasted bread and topped with a sprig of basil.
We all had a cup of prosecco for courage and took a bite. It was tomato gelato! What a brilliant party piece.
This was such a fun experience and one that I could see my kids really getting into.
If you're wondering what guided tours are good for families in Florence this is one I can recommend.
If you're visiting Florence with kids I would also say check out LivItaly's Uffizi Treasure Hunt Family Tour, which is ideal for curious children and allows parents to enjoy some of the gallery's incredible art at the same time.
You can read about the Uffizi treasure hunt tour in this post by Daisy from Dais Like These.
Discovering 2,000 years of history with a private tour of Florence
After lunch at a bijou pizzeria recommended by Rafaela our group split up for an afternoon of different tours. I'd originally been booked on a river rafting trip with T-rafting but had chickened out because of the cold and dreary weather.
So instead I headed back to Piazza della Signora and tagged along with LivItaly's Private Florence Walking Tour including the Duomo and Michelangelo's David.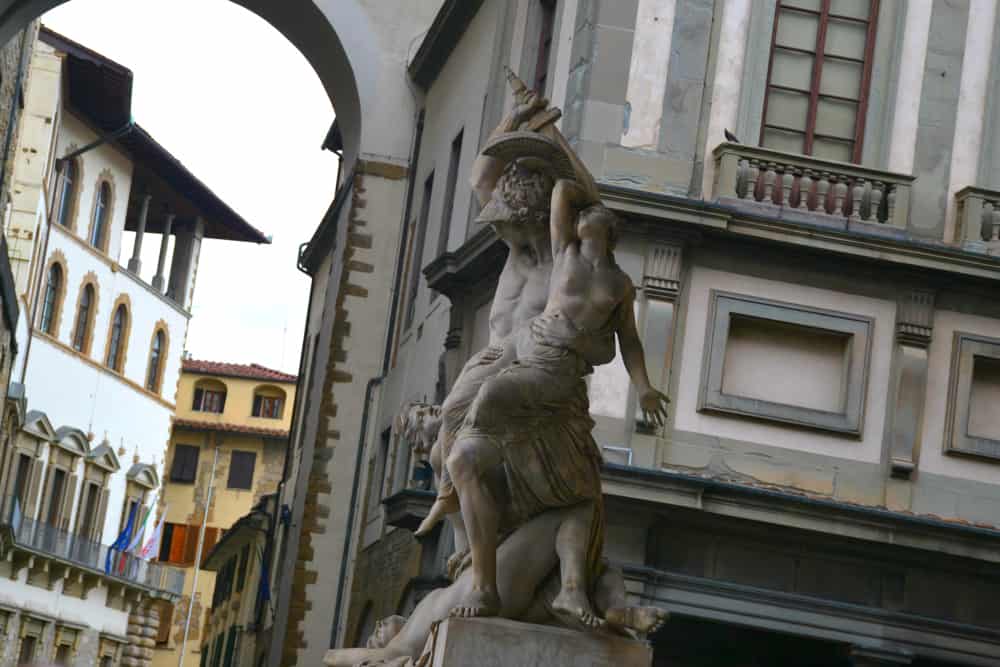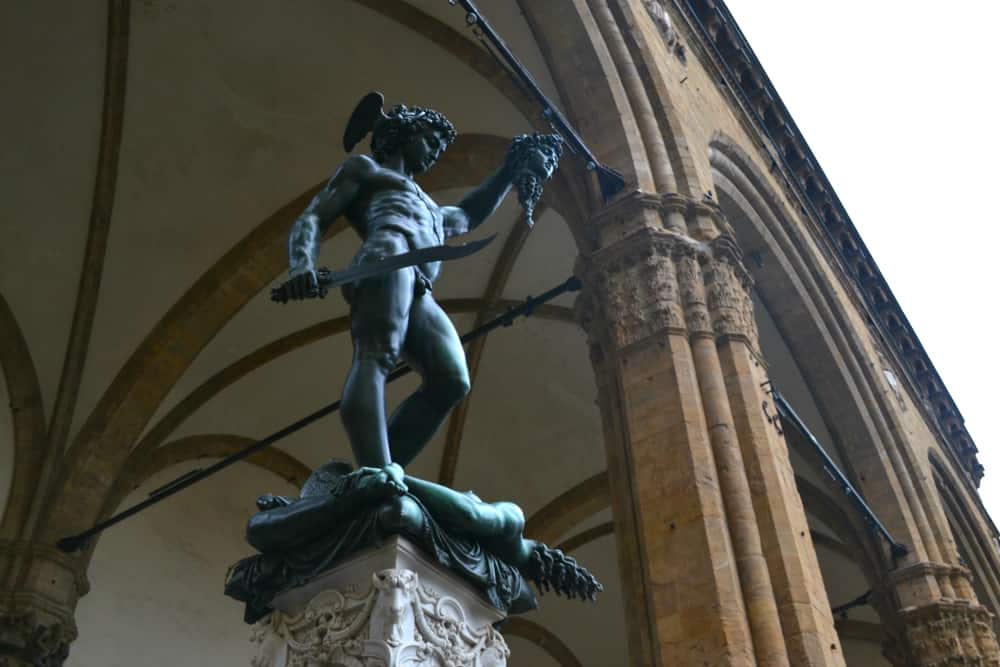 Our guide Vincenzo was full of historical facts and took us right back to the origins of the city when the swampy land around the River Arno was given to retired Roman soldiers as their pension. Over the centuries the city grew and then was levelled by 'barbarian' invaders.
Under today's Piazza della Signora there are ruins of Roman Baths that were covered when the Florentines rebuilt their city with medieval towers that now make up much of the historic architecture.
Florence was a great trading allie with England and France, and Vincenzo pointed out echos of this great relationship in the symbols on the Palazzo Vecchio.
From the symbology of Piazza della Signora we walked through the courtyard of the Uffazi gallery, which was the first museum in the world to be opened to the public.
The columns of the courtyard are plinths for 28 statues of Florence's great and good – Dante, Michelangelo, Da Vinci, Boccaccio, Galileo all cast a marble eye over the tourists.
The tour continued toward the Ponte Vecchio and would have usually spent longer here admiring the jewellery shops, but Vincenzo knew we'd seen it during the morning so adapted his route.
Instead he showed us points of interest down some of the lesser trodden side streets. This was where we discovered the moving memorial to victims of mafia terrorism in the 1990s.
From here we wended our way towards the stunning Duomo where a few of us left Vincenzo as we didn't have tickets for the grand finale which was seeing Michelangelo's David at Galleria dell'Accademia.
Of course, if LivItaly Tours had more than a few hours notice that we were joining Vincenzo tickets would have been supplied. You also receive tickets to enter and climb up to the iconic dome of the Duomo at your leisure after the main tour.
Thanks to Karen from Mini Travellers for sharing her snap of this incredible 17 foot high David in Galleria dell'Accademia.
I found the walking tour fascinating – it put so much of Florence into context for me with details I'd not known during previous visits. You'll love the tour if you are a history and art fan.
However I'd say opt for the Florence Food Tour & Gelato Making Class or the Uffizi Treasure Hunt Family Tour if you are visiting with children.
Here's a video summing up our long weekend in Tuscany including our tours with LivItaly who I have to thank for opening my eyes to even more of Florence's history and charm.
Here's what some of my blogging colleagues thought of their LivItaly Tours experiences:
Travel Loving Family – Child-friendly tours in Florence, Italy: gelato-making, treasure hunts & rafting
Flying with a Baby – LivItaly Tours – Florence with kids
Dais Like These – Gelato, Street Art and Treasure Hunts: A Family-Friendly Tour of Florence with LivItaly Tours
Disclosure: I was in a group of 13 travel bloggers invited to experience Florence for free with LivItaly Tours' in exchange for an honest review on my blog. All opinions re my own.
Planning a trip to Florence and looking for city tours? Save this post for inspiration.