The complete guide to great Devon family days out
Picking Devon as a destination for a family holiday or day trip is a no brainer. It offers some of the best beaches, national parks, coastal towns and family attractions that the UK has to offer. The only draw back is there's never enough time to do it all! In an attempt to make your life easier (or maybe inadvertently harder), I've compiled dozens of great Devon family days out with a little help from some friends and my own 'field work' – it's been tough!
Below you will find plenty of suggestions for things to do in Devon. Whether you're the type of day trippers who enjoy farms, thrill rides, woodland walks or wandering around picturesque villages, I think we've got it covered.
Take a look at more Devon family days out:
Must-visit places in East Devon | Things to do in North Devon | Things to do in South Devon | Things to do on Dartmoor | hidden beaches | Theme parks in Devon | Things to do on wet days in South Devon |Must-do activities in Seaton |Things to do in Torquay | Things to do in Dartmouth | Events in Devon | February half term in Devon | Christmas in Devon | Halloween in Devon | More Devon tourist attractions
Events in Devon
If you'd like to know about the top festivals, regattas, country shows and other family-friendly events happening locally then hop over to my round up of what's on in Devon this year.
Farms, wildlife attractions and Zoos in Devon
Sidmouth Donkey Sanctuary
This incredible charity is not only doing brilliant work around the country and beyond to help hard worked and abused donkeys, it's also a free family day out that will win your heart. Here's what we got up to during our day out at Sidmouth Donkey Sanctuary.
If you're staying in the Sidmouth or Seaton area take a look at more places to visit in East Devon.
As recommended by Jo at Organised Jo:
Jo at Organised Jo says: "For a great family trip out in Devon my recommendstion is a visit to the Totnes Rare Breeds Farm. What I love about this place is that you can be hands on with some of the animals as well as have a bit of an adventure to get there. This adds to the excitement I think for a day of meeting and feeding the animals.
"The farm is on the smaller scale but it has some great experiences for everyone to take part in. Whether that is getting to meet the Owls, hold a Guinea pig or feed the very funny goats, everyone will have a fab day. It's not a full day out but you can bring a picnic and eat it in their lovely cafe while watching the trains arrive and leave the station."
Pennywell Farm
As recommended by Laura at First Two Then Blue and me after our Easter Day out at Pennywell Farm.
Laura at First Two Then Blue says: "Best thing about it? Cute baby animals to cuddle in blankets plus loads of fun stuff such as soft play, bouncy castles, trampolines, maze, toddler tractor area, cafe and park stuff!
"My kids just love Pennywell farm. It is so ideal for our family because there is something for all of them. It's hard to find a good day out that will please an eight year old, a six year old and a toddler, without costing the Earth! Amelie loves cuddling the animals. Lottie loves bottle feeding the goats and lambs. Kier loves the toddler play areas with little houses to play inside and mini tractors to ride around in. There is a indoor park with a very large bouncy castle, picnic tables and soft play areas for the very young ones.
"In the summer holidays they have so much extra going on too! Last time we visited we got to see a magic show which was absolutely amazing. We came away with happy children who had a great day out and it was worth every penny."
World of Country Life, Exmouth
As recommended by Stephanie at Exploring Exeter, Jo at Seaside Belle and me after our Spring day out at the World of Country Life.
National Marine Aquarium, Plymouth
We love it here so much we've been to the National Marine Aquarium twice since moving to Devon. Top tip: get a photo pass a return for free within 12 months.
Buckfast Butterfly Farm and Otter Sanctuary, Buckfastleigh
This unique attraction offering visitors the opportunity meet both tropical butterflies and otters from Britain, Asia and North America. Take a look at out review of the Buckfastleigh Butterflies and Dartmoor Otters Sanctuary.
This conservation zoo nestled in a valley on the English Riviera is home to more than 2,000 creatures across 80 acres of animal habitats. It's a full family day out in Devon with plenty of wonderful characters to meet and enclosures to walk through.
has been recognised as Devon and the South West's best small attraction and offers animal talks, handling and feeding sessions all year round.
This zoo was made famous world-wide by the American film 'We bought a zoo' and offers animal talks, encounters and displays across its 33 acre woodland park.
Check out my complete guide to things to do on Dartmoor with kids.
Theme parks in Devon
Looking for a day of thrills and spills in Devon? Take a look at my complete Devon theme park guide.
DiggerLand Devon, Taunton
As recommended by Gina at Gypsy Soul,
Watermouth Castle, Ilfracombe
This is a Victorian castle full of curiosities with its own family fun park including rides, gardens and a maze. Find out more about other theme parks in Devon.
The Big Sheep, Bideford
As recommended by Gina at Gypsy Soul.
Crealy Great Adventure Park, Exeter
Crealy is an award-winning Devon family attraction with 60 rides, as well as a farm and indoor activities. It is set over 100 acres with its own camping, glamping, caravan and lodge holiday resort. Take a look at our review of glamping at Crealy and staying at Crealy Meadows in our own caravan.
Crealy is an excellent Christmas Day out in Devon. Here's a video of out visit to their Christmas Spectacular in 2018:
Woodlands Family Theme Park, Dartmouth
This is the largest family theme park in Devon with indoor and outdoor adventure play, rides and animal experiences in a woodland setting. It also has a campsite for touring caravans and tents.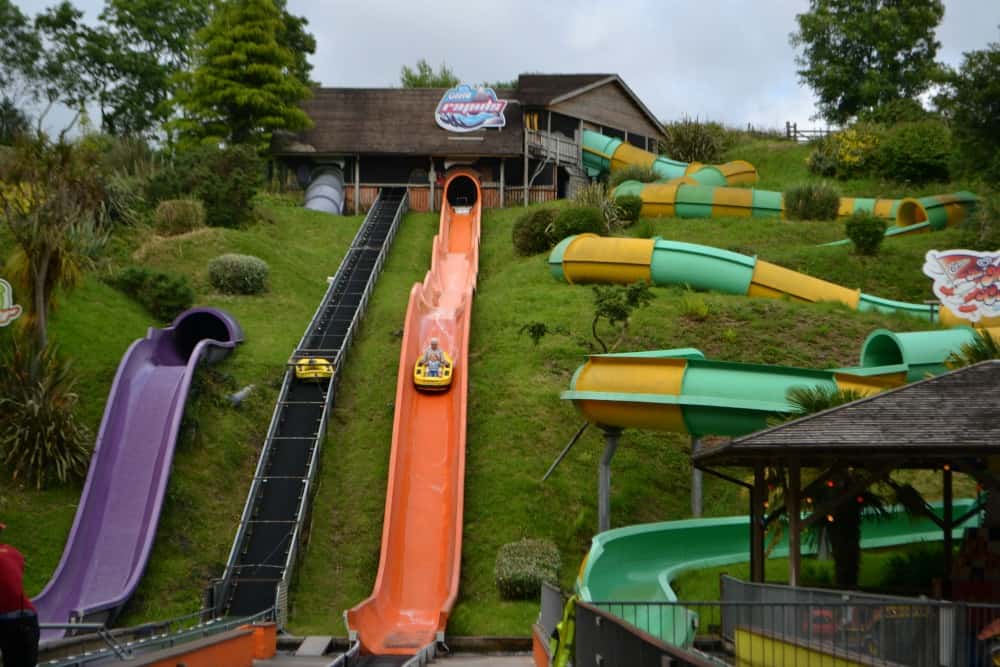 The Milky Way Adventure Park, Bideford
The Milky Way boasts Devon's largest indoor adventure play area with activities suitable for adults and children, as well as live shows and falconry displays. Take a read of our review of The Milky Way, Devon.
Here's a video made during our most recent visit to The Milky Way, Devon:
Steam trains and railways in Devon
South Devon Railway
This volunteer-run railway between Totnes and Buckfastleigh in South Devon is a truly authentic steam railway experience. To make it a full day out you can also visit Buckfastleigh Butterflies and Dartmoor Otters, and Totnes Rare Breeds Farm at either end of the line. We've also walked to Buckfast Abbey from the station. Here's a review of out first ride on South Devon Railway.
Dartmouth Steam Railway and River Boat Company, Dartmouth/Paignton
This the company offering a great way to see South Devon – a round-robin journey by steam train, bus and river boat through this beautiful area. Rea our review of the round robin in Devon.
Here's a video capturing our full day out on the round robin:
Have the perfect day out for train enthusiasts both young and old with model railways and miniature train rides.
Boat trips in Devon
Stuart Line Cruises
Get the best view of the Jurassic Coast or South Devon's coastal wildlife with a boat trip. We sailed with Stuart Line Cruises on a round boat trip from Sidmouth in the summer. Here's a video capturing our trip:
Pottery painting in Devon
China Blue, Totnes
If you're looking for something to do on a rainy day, then pottery painting at China Blue in Totnes is a top idea. Read about our last visit to China Blue, Totnes.
Historic family attractions in Devon
The Golden Hind, Brixham
As recommended by Cathy at Mummytravels.
Kent's Cavern
This award-winning attraction in Torquay centred around a pre-historic cave is home to some of Britain's most significant Stone Age finds. Take a look at what we discovered during our visit to England's oldest ancient monument.
Another award-winning attraction (get used to that in Devon) and a World Heritage site, featuring a historic port, village, railway and copper mine.
Dartmouth Castle
As recommended by me, Tin Box Traveller.
For more family-friendly things to do in Dartmouth take a look at our recommendations.
The Abbey tells the story of its origins as a medieval monastery through to its role in the Napoleonic Wars and Georgian Devon.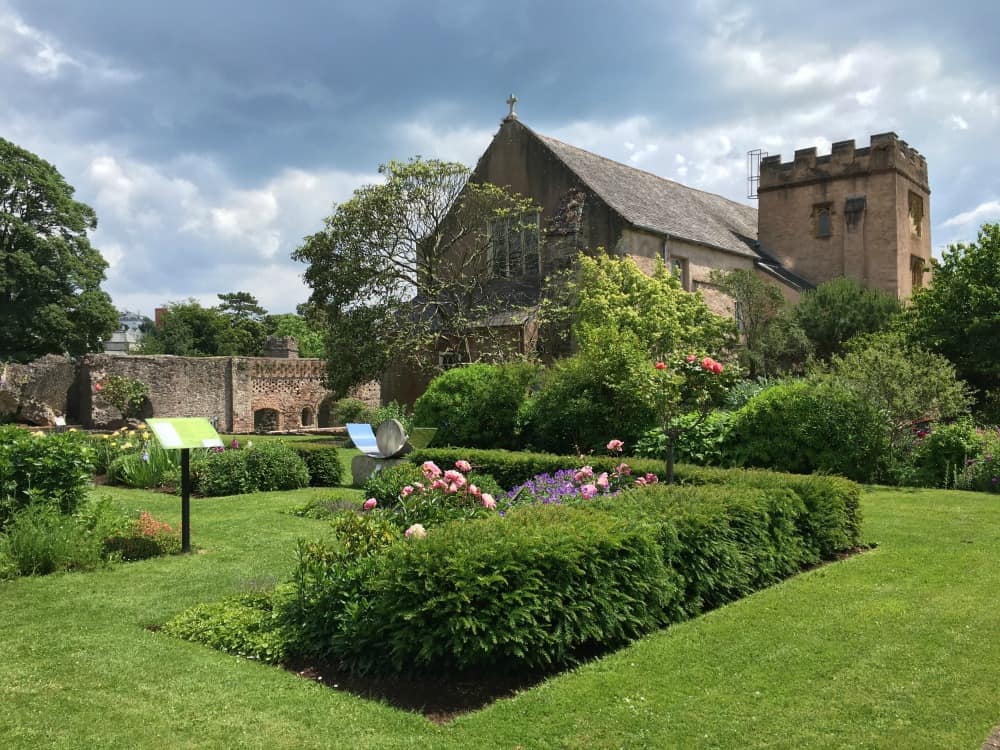 Torquay has plenty of family attractions and events throughout the year. Here's our top things to do in Torquay.
This 1,000-year-old Abbey is a Benedictine Monastery founded during the reign of King Cnut with peaceful gardens and a mountain of history to be discovered.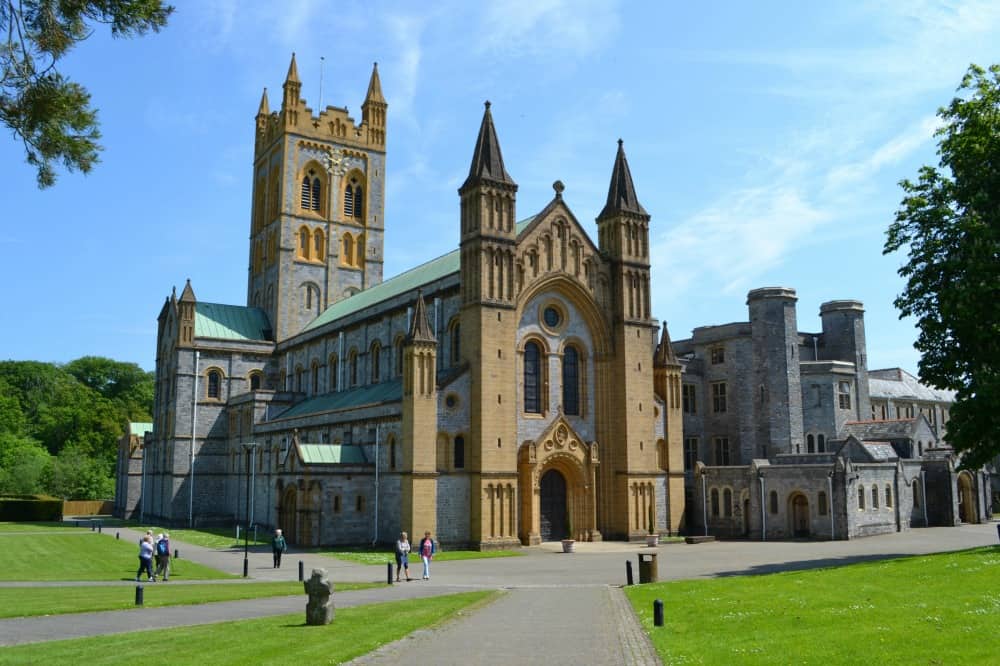 Powderham Castle
Powderham is the ancestral home to the Earls of Devon with gardens, play areas and farm animals, as well as themed events and the 14th Century house to explore within a 3,500 acre estate. Take a look at our day out at Powderham Castle in Devon.
Hartland Abbey
This hidden manor house is still occupied by the family who have owned it for generations. Inside there are many interesting and unique treasures to be found. Outside you can explore the gardens and wander down to the rocky shore. On route it's possible to spot locations used the filming of many television programmes and movies. Here's our day out at Hartland Abbey in North Devon.
Take a look at my guide to things to do in North Devon for more days out inspiration.
Museums in Devon
If you're going to visit one place in Exeter with kids then make sure its RAMM. This family-friendly museum shares Devon's history and art, with plenty of events for kids all year round.
Babbacombe puts English life during the past five decades into miniature across four acres of award-winning gardens. It's a really great small family attraction in Devon and worth seeing illuminated at night if you can.
National Trust in Devon
As recommended by Stephanie at Exploring Exeter.
Compton Castle
Step inside a restored Tudor Castle that is still lived in by the family who owned it. Keep any eye out for special Tudor themed days when visitors are encouraged to dress up.
Greenway National Trust, Churston
This is one of our most visited National Trust properties in Devon, not last as Tin Box Grandma and Grandpa volunteer here. We love the gardens which run alongside the River Dart and the curiosities packed into Agatha Christie's former holiday home.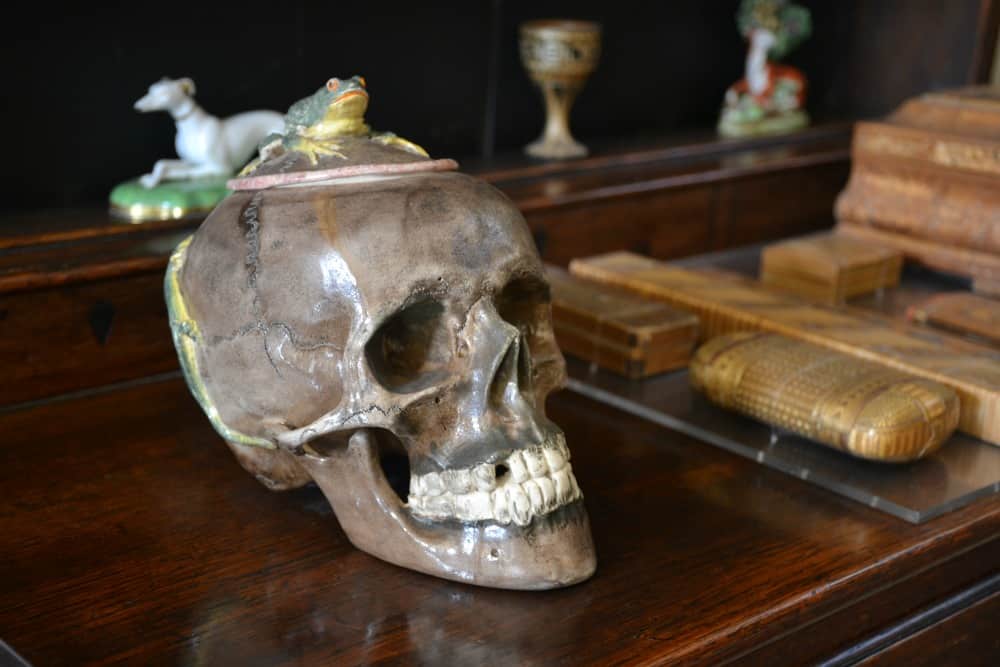 This is a National Trust property offering walks through a dramatic gorge landscape.
Killerton, Exeter
We love a trip to Killerton which has wonderful parkland walks, landscaped gardens and and intriguing house. Here's one of our most recent visits to Killerton at Christmas.
Saltram House, Plymouth
Saltram is a Georgian Mansion with gardens, parkland and lots of family activities whatever the time of year but particularly during the school holidays. The girls love the pump track and Tin Box Dog enjoys the walk down to the river. It also looks amazing decked out for Christmas.
Knightshayes is a Victorian gothic-style country home and estate originally designed by renowned designer of the say William Burges. We have visited for the Mid-Devon Show but must get back to see the grounds and house properly.
Beaches in Devon
As recommended by me, Tin Box Traveller.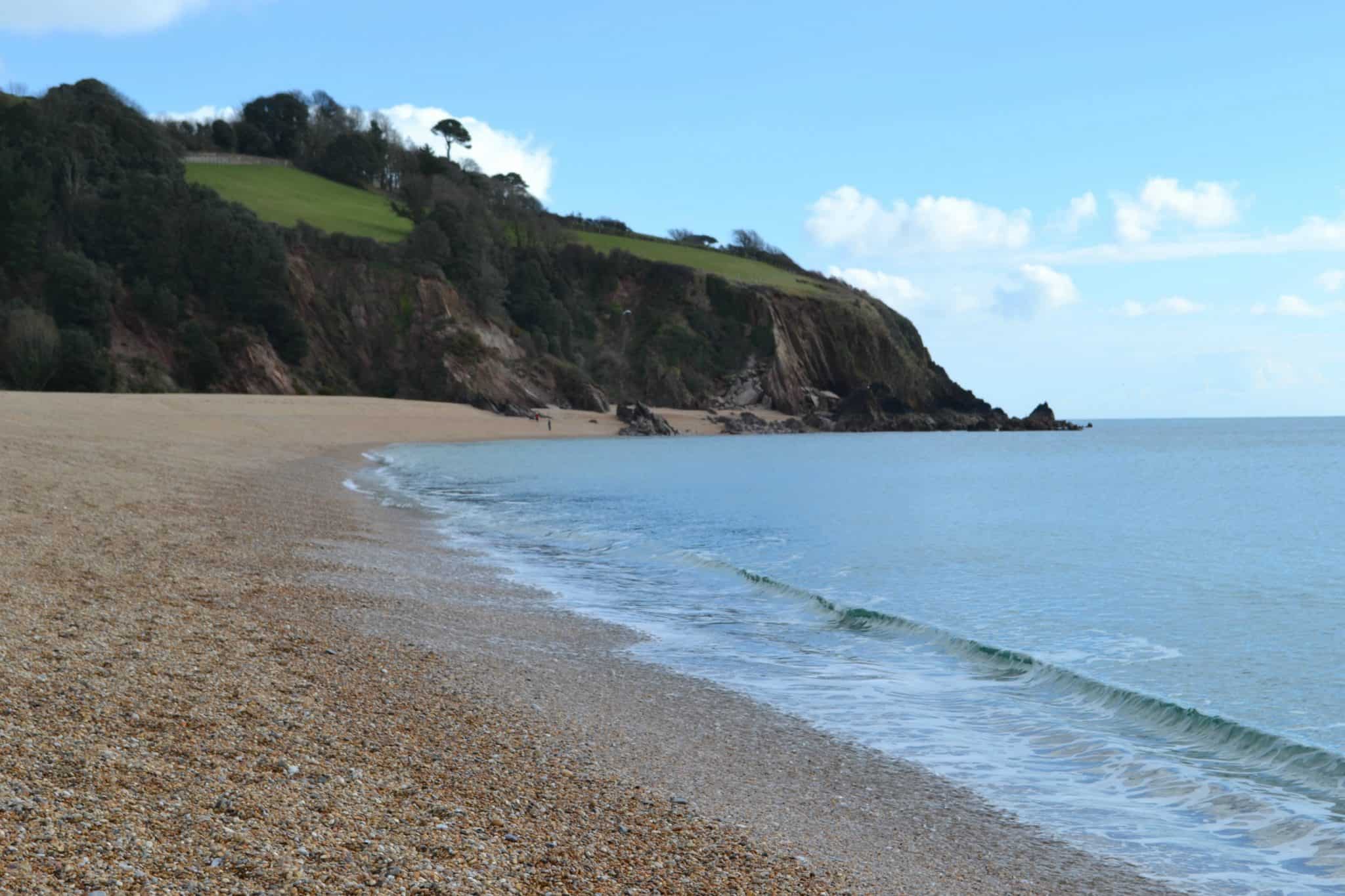 As recommended by Cathy at Mummytravels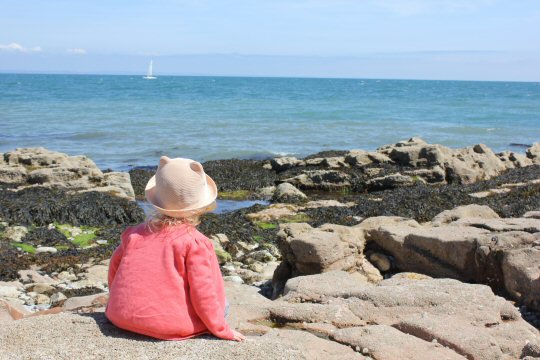 As recommended by Clio at Diary of a Devon Mum
Clio says: "We recently discovered this little gem of a beach in Shaldon. Ness Cove is the ultimate beach for small adventurers because you have to walk through Smuggler's Tunnel – a dark, echoing passage inside the cliff – to reach it. It's breath-taking as you emerge out the other end of the gloomy tunnel into a blazing-bright-blue seascape. Once you've had your fill of rockpooling and scrambling over boulders, collecting shells and building sand castles, you can also visit Shaldon Zoo – right next door to the beach. After a busy morning exploring, head to trendy Cafe ODE, serving delicious wholesome eats and brewing its own ale, complete with cosy roaring fire and toy box. Just what you need after all that sea air.
"Ness Cove is not only beautiful, it's also convenient with beach, zoo, cafe, a little ice cream shop, parking and even loos all within easy reach. Ideal for families – but best to leave the buggy behind so you can navigate Smuggler's Tunnel."
We love dog-friendly Salcombe North Sands. It is a small sandy cove offering shelter from the sea breeze and Mediterranean vistas.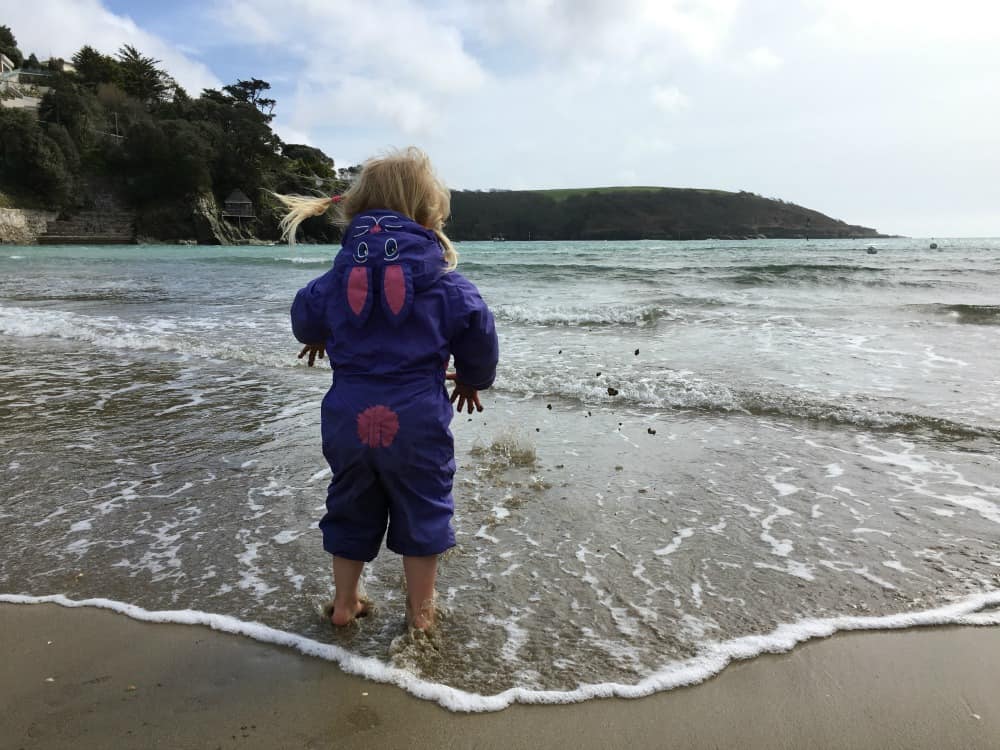 Slapton is a popular beach destination with calm waters, water sports and lifeguards during the summer months.
Here are some more of our favourite South Devon beaches.
This historic harbour with rock pools to explore and extraordinary cliffs showing contorted rock layers formed millions of years ago. It's one of out favourite Devon beaches with plenty to explore. Sadly dogs are not allowed at any time of year. We've visited during our many holidays in North Devon.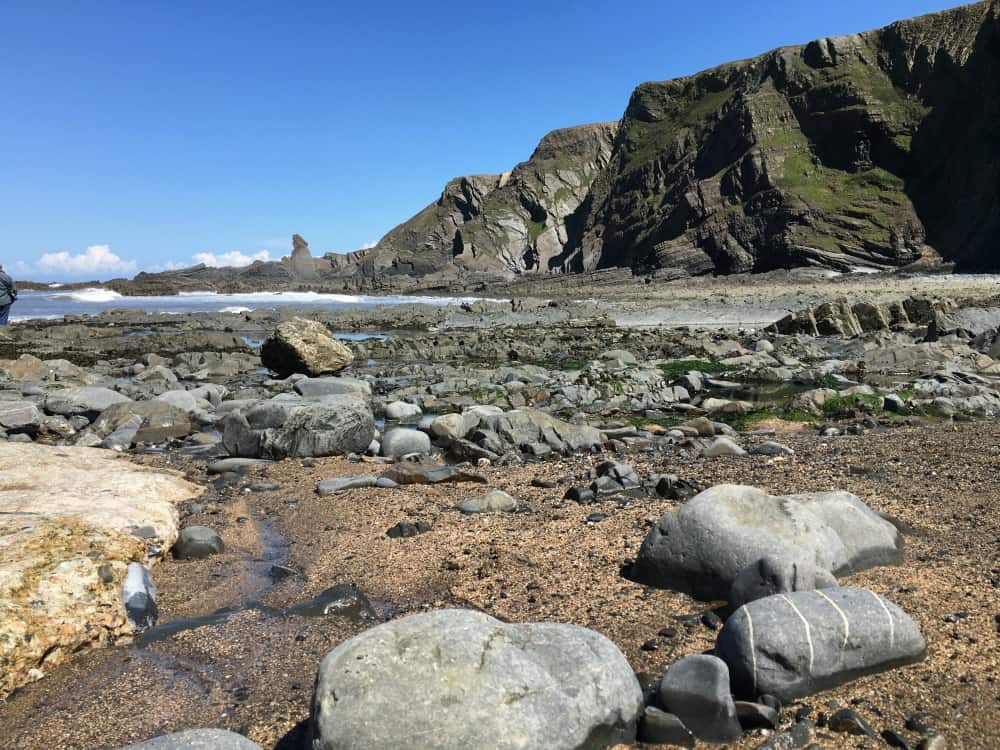 This popular holiday destination offers 1.5 miles of Blue Flag beach, sand dunes, and free open-air events throughout the summer.
Towns and villages
Cockington is a medieval village frozen in time just outside the semi-urban sprawl of Torquay. There's a village centre with old school house, forge and visitors centre, with a country park and craft centre at the old Manor House nearby.
As recommended by Trish at Mum's Gone to.
Trish says: "If you're staying in North Devon, a day out in Ilfracombe is perfect for families. Head to one of several coves, including the famous Tunnels Beaches: Victorian hand-carved tunnels through the cliffs which lead to a number of tidal bathing pools.
"Need to let off steam? Run up to the top of Capstone Hill to spot Wales across the Bristol Channel. Test your triple jump skills to see if you can beat the world record set by Jonathan Edwards. Stand in the centre of the clapping circle and hear your echo as a high-pitched 'ping'.
"A working fish quay, the harbour is a great place to find fish and chips or an ice-cream. Visit the lifeboat station, take a boat trip or marvel at Damien Hirst's striking sculpture, Verity, which stands at over 20m high. With an indoor swimming pool, an aquarium and a nearby haunted house, Ilfracombe is a great day out, whatever the weather."
We make a point of visiting Clovelly as often as we can – it often features in our North Devon holidays. This amazon fishing village seems frozen in time with no cars and the most gorgeous walk down to the harbour.
As recommended by Jo at Organised Jo.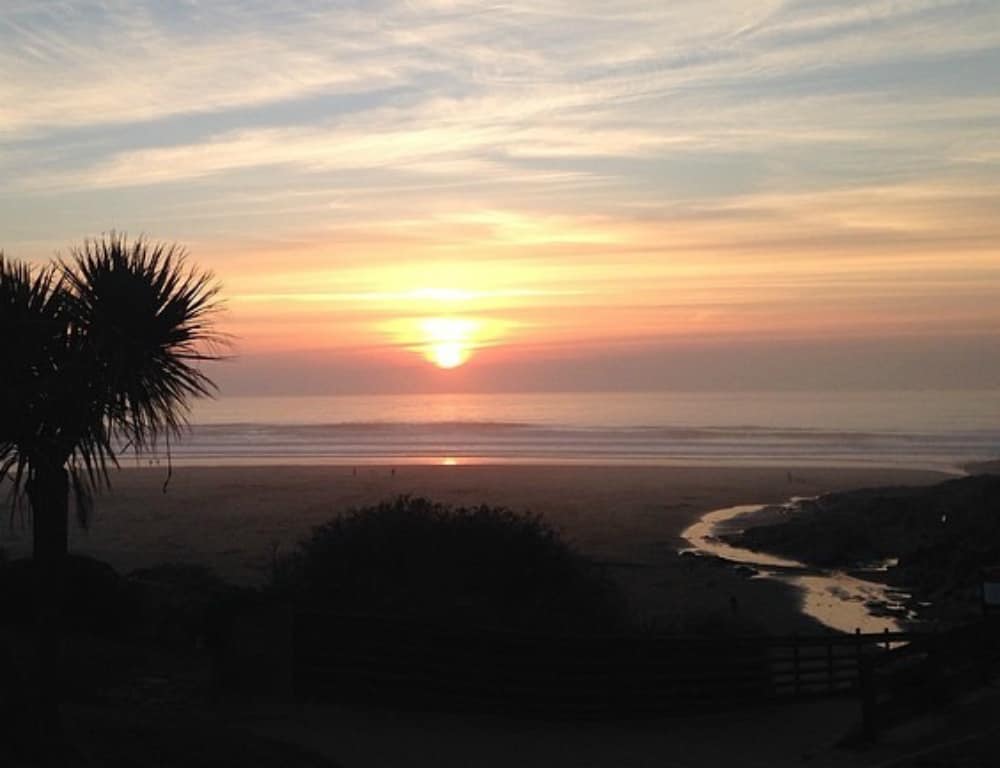 Jo says: "We live in South Devon but take regular trips to North Devon as we have family there. And our favourite beach to visit when we go is Woolacombe. It is one of the longest beaches I have ever been on, golden sand stretching for miles. Which is why it is featured in numerous top ten best beaches in Great Britain, often being number 1! When it is a beach day one of our favourite things to do is visit the local pasty shop in the village to purchase our lunch for our picnic on the beach.
"I'm going to let you into a bit of a secret now, because Woolacombe has another gorgeous, but little, beach. It's called Barricane and is to the right of Woolacombe's main beach as you look to the sea. As you walk over the headland and down the slope to reach it, you find yourself in a lovely secluded quite cove. It is the complete opposite to the main beach.
"The best thing though happens from 5 pm most days, depending on the weather. The little ice cream kiosk converts to an evening takeout and starts serving the most amazing tasting Sri Lankaian curries. Bring your own booze, sit on the beach, eat curry and watch the sunset. It is something you won't forget! P.S. Don't tell everyone, it's our secret!!! But you can find the kiosk on Facebook!"
Lyndon and Lymouth
These are twin towns connected by a water-powered cliff funicular railway allowing you to glide up and down the cliffs on a 862-foot length of track.
Dartmouth
Dartmouth is a bustling harbour town with streets dating back to Elizabethan times and a wealth of independent shops, gourmet eateries and year-round festivals. Visit Dartmouth Castle, have an ice-cream on the harbour wall or take a boat trip up the River Dart.
Here's my full guide to family-friendly things to do in Dartmouth.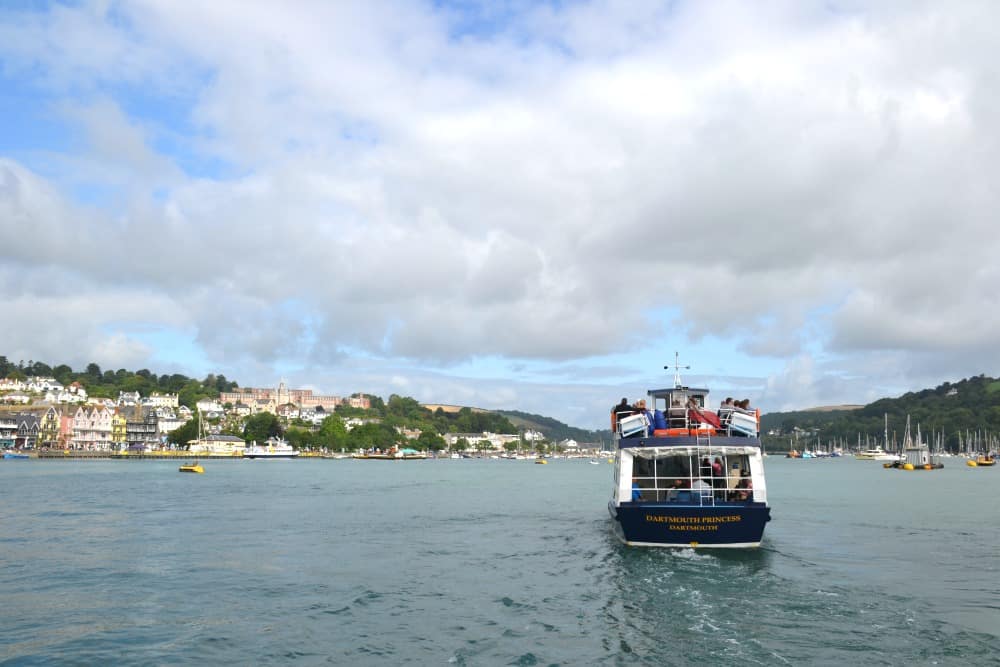 Torquay
Torquay is a traditional seaside town at the heart of the English Riviera where you can visit the beach, ride on the English Riviera Wheel or see a show at the Princess Theatre.
Here's my full guide to things to do in Torquay.
You will love this bohemian town with Medieval heritage dating back to AD 907. It is packed full of listed buildings and independent shops making it a great place to wander the day away. You can also visit Totnes Castle or take a boat ride down the river towards Dartmouth.
Brixham is a pretty fishing town steeped in maritime history. Take a fishing trip, see the Golden Hind or visit the Smugglers and Pirates Experience on the harbourside.
This is a seaside destination offering two miles of sandy beach with great surf and beautiful coastal scenery for long walks. The nearby Northam Burows Country Park is a SSSI.
Activities and walks
Haldon Forest Park
As recommended by Georgina at Not Just Phoebe. Haldon Forest Park is also where you can find Go Ape for all ages and the Zog activity trail in Devon.
As recommended by Cathy at Mummytravels. We can also recommend a walk at Berry Head which has a great cafe and two Napoleonic Forts to explore.
As recommended by Natalie at The Devonista
Natalie says: "There is something really special about swimming outside, and whilst we have the sea on our doorstep, we love lidos and our favourite is the one in Topsham. Run by volunteers, this beautiful pool is open from May to the end of the summer and is the perfect place to while away a few carefree hours.As well as general swimming sessions, lessons are on offer so children can learn to be confident in both the pool and the sea.
"I asked my boys just why they love the lido and they said: 'It gets really hot when we go swimming inside but that doesn't happen at the lido and the chemicals don't hurt my eyes. I feel really free swimming outside and there are no fish to nibble my feet.' Eddie.
"'I love the inflatables they make me happy and I laugh and scream lots. Sometimes we swim in the afternoon and then go for fish and chips on the beach – that's the best thing ever'. Lucas."
Seaton Wetlands
As recommended by Clare at Flip Flops or Wellies. We also enjoyed a visit to Seaton Wetlands last summer where we pond dipped, spotted wildlife and explore the ever changing wetlands.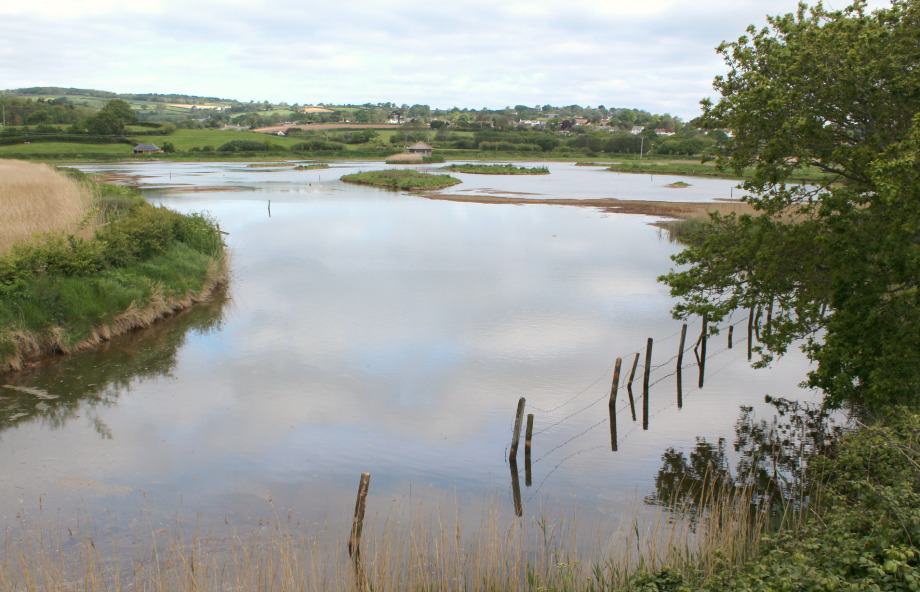 Waves at International Riviera Centre Torquay is a good activity to have up your sleeve for wet days in Devon. With a flume and wave pool, kids can be entertained for hours.
Horse riding on Dartmoor is perfect for experienced and first-time horse riders with beautiful scenery and trails to suit all abilities.
This is a brilliant day out for families who love outdoor activities. From adventure playgrounds to canoeing and high ropes, there's something to entertain all the family. We've enjoyed days out at River Dart Country Park in the winter and summer months.
Thanks to all the lovely bloggers who helped me put together this list by sending me links to their reviews, their pictures and words to add to this post. You're fab!
Which of these great Devon family days out have tempted you? Or have you been to any of these places already? I'd love to know.
If you're planning a holiday in Devon then why not take a look at my complete guide to family breaks in Devon?
Looking for the best Devon family days out? Pin this post for later: