Bailey Pegasus Grande SE Rimini review
When Bailey launched the Pegasus Grande range in 2019 it boasted that they were going to be 'big on size, big on spec, yet light on weight and light on price'. They plugged a gap in the middle of the market for a 8ft wide, stylish caravan suitable for year-round touring. Roll forward two years and the 2021 Pegasus Grande range has been given an SE facelift (that's short for 'special edition'). Bailey invited us to review the Pegasus Grande SE Rimini – one of six models in the range.
*Advertisement feature*
Want more ideas for family holidays and days out? Read my tips for smashing family travel and sign up for my newsletter.
The Pegasus Grande SE Rimini
The Rimini is a four berth caravan that's primarily designed for couples who prefer single beds, and might take away guests on the odd occasion, or for families with teenagers.
Those who follow our travels will know that our kids haven't quite hit their teen years yet – although hormone levels often run high. So is this caravan versatile enough to work for younger families too?
Bailey are confident that this is an adaptable caravan that will work for families as well couples, so they asked us to take it for a test run.
Here's our full Bailey Pegasus Grande SE Rimini review and a video overview including what the kids thought.
Layout
The Rimini is one of the most popular Pegasus layouts but it's a totally new one to us. It comes with twin fixed single beds, an end bathroom and a G shaped living area that turns into a double bed.
This is a 2.45m (8ft) wide caravan. If you're not familiar with caravan measurements that's a whole 20cm wider than standard vans. Sounds underwhelming? What it actually means is up to 25 percent more living space – not too shabby!
Here's what we made of it:
A luxurious lounge
This is where we noticed the extra width the most, especially as there's no dresser in the middle of the seats. In our experience caravan dresser draws are junk magnets. So losing this in favour of more seating gets a thumbs up from us.
In fact, we loved the lounge. It was so easy for the four of us to use it at the same time without feeling like we were on top of each other. The same goes for the space around the door and kitchen.
The side dinette was a handy place for the kids to read, colour and play, while Mr Tin Box and I were able to stretch out across the other two sides.
If you want to maximise the seating you can remove the side dinette table and store it in the wardrobe in the end bathroom. The narrow bench underneath the table would work for smaller bottoms.
At meal times we got out the large table from where it's stored in a cupboard beside the kitchen and had plenty of room to dine. You could easily fit five to six people around both tables.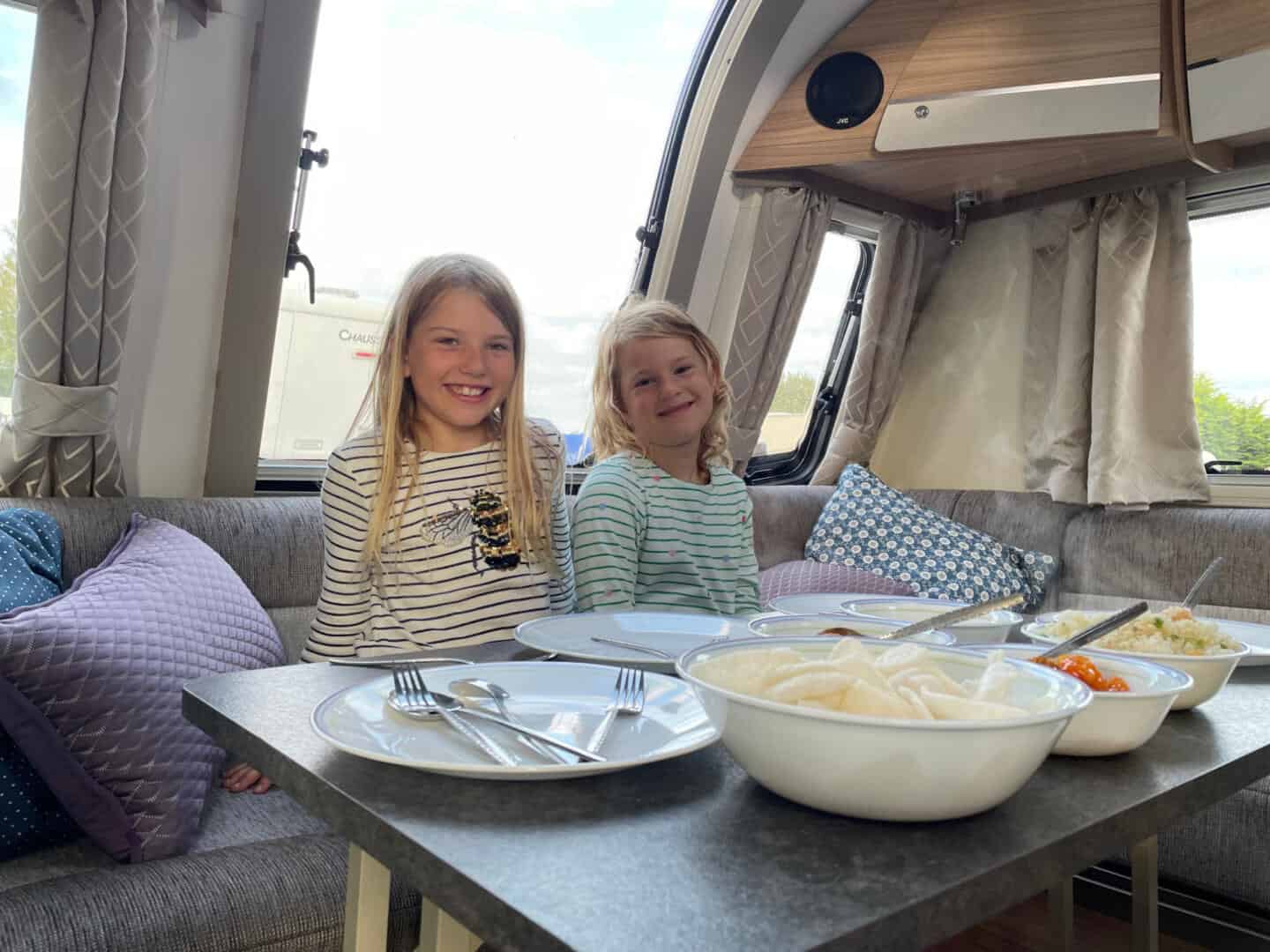 The lounge also has plenty of natural light during the day thanks to the vertical, picture window and spotlights for adjustable lighting at night.
Beds in the Pegasus Grande SE Rimini
We gave the girls the Rimini's fixed beds while we slept at the front. This is the ideal scenario for us as the kids, aged eight and six, usually go to bed quite a few hours head of us.
So we were able to tuck them up and pull across the full length bedroom blind. Once they were sound asleep they didn't notice us popping backwards and forwards to the bathroom.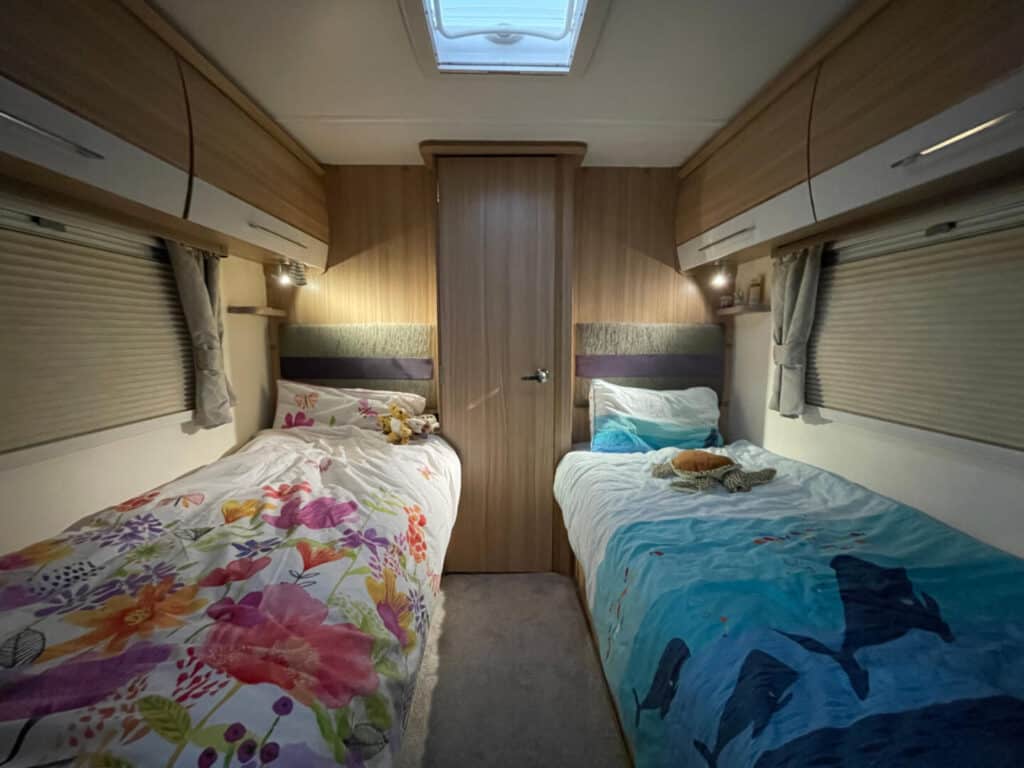 The fixed beds are 1.89m x 77cm (6'2″ x 2'6"), so are adult size. There would be no worry about kids growing out of them like they might caravan bunk beds.
The fixed beds also gave them their own space to hang out in during the day and they were very happy to hog all of the overhead cupboards for their clothes, books and other effects. A sign of things to come!
Making up the bed at the front had us flummoxed to begin with. We played sofa cushion Tetris two nights in a row and came out with different results both times. By night three we think we'd aced it.
Here's the configuration we settled on. You can see it being put together in my video.
What this configuration does mean is you can't use a fitted sheet on this front bed as the cushion edges don't form a rectangle. So, a King sized flat sheet is the way to go.
The bed itself was comfy and measures 2.23m x 1.23m (7'4" x 4'0"), so is suitable for taller caravanners.
The end bathroom
We do love an end bathroom. And the layout of the one in the Rimini was very familiar after our stay in the Bailey Phoenix 650 in 2019, albeit this one is a bit wider.
It comes with a good sized wardrobe above the toilet, a sink with three shelves of storage underneath and a separate shower.
There's a roof light over the sink and in the shower, plus a large backlit mirror making it a bright space.
Narrow shelves above, below and to the left of the mirror add to the bathroom storage for times when you're not on the move.
The shower is a good size, comes with an Eco Camel shower head for more efficient water use and has a folding screen to separate it from the dry space in the bathroom.
There was a hook for on bath towel or robe, and a ring for a hand towel beside the sink. You'd need to add your own rail or further hooks for additional towels.
You can see more of the bathroom in my video.
The kitchen
We did a lot of cooking indoors during this caravan test and had no problems whipping up a few very lazy meals – a shop bought takeaway and pizzas. We do try to be a bit more adventurous on longer trips – honest!
The kitchen comes with a Thetford 'K-Series' oven with separate grill, three gas and one electric hob, a 700 watt Dometic microwave and, on the opposite side of the van, a Dometic 10-series 153 litre electronic fridge freezer. This can run on gas or electric.
Mr Tin Box cooked a barbecue one night and was able to plug our CampinGaz Party Grill into the handy external gas point at the front of the caravan.
Back inside, the round stainless steel sink comes with a washing up bowl and drainer that doubles as a sink cover when it's not in use. I'm not the biggest fan of the branded perspex splash back, but can't really complain about a wipe clean surface. Neither Mr Tin Box or I are tidy chefs.
The food preparation space isn't extensive. I'd recommend putting up the table in the lounge area so you can use that as well, particularly when it comes to serving food.
Cupboards and storage
We found there was more than enough storage for a family of four in this caravan.
We were away for three nights and had a lot of room to spare with large overhead cupboards along both sides of the caravan, extra open shelving beside the kitchen and caravan door, as well as enclosed shelves beside the fridge.
In the kitchen were is a wide cutlery draw over a cupboard for pots, pans and trays. Above the kitchen there's a cupboard with a rack for crockery and beside it another with shelves.
There's even more storage above the lounge area.
This is the first time we've stayed in a touring caravan that didn't have a front dresser. What this means in practical terms is more lounge space and more under seat storage. In fact there's an internal storage space right across the front of the Pegasus Grande SE Rimini.
If you're wondering where your gas bottle, steady feet and other things you might keep in an external front locker have moved to, they are located in external locker in the near side of the caravan.
What else?
There's plenty of clever tech in the Pegasus Grande SE Rimini.
Some you might not spot at first glance are the USB sockets in the base of some of the spotlights, the DAB radio with USB connect and Bluetooth, and the Truma 100 watt solar panel. Very handy!
Interior design and styling
Before you even step inside the Rimini it's hard to miss the dove grey side walls. I'm a big fan of grey, so this is an easy win with me and makes the caravan really stand out on site.
The eye pleasing design continues inside. The combination of light oak wood with gloss insert cupboard doors, granite effect laminate work tops and light grey furnishings looked fresh, yet not overpowering. It would be easy to personalise this caravan without clashing with the existing colour scheme.
The vertical front picture window adds so much extra light to the whole living space along with roof lights above the lounge, kitchen and fixed single beds.
In terms of furnishings, there's two choices of fabric: 'Goldhawk' which comes as standard or 'Barbican', which is an added extra. The caravan we borrowed came with Goldhawk furnishings. The seating itself has knee rolled sprung base cushions, so was very comfy.
The only thing that we found slightly out of place in the caravan we tested was the blue and purple scatter cushion combo. The good news is the blue ones are not part of the standard cushion set, so try to ignore those in my pictures. The proper set is two large and two small purple cushions.
More good news for owners of dogs and children is that the carpets can be lifted out if you anticipate a wet weekend away and don't want to get them mucky. This also makes the whole floor easier to clean if you tend to visit the beach a lot like us.
Watch our video tour
Heating
The Bailey Pegasus Grande SE Rimini comes with a Truma Combi 4 heating and hot water system.
We tested the van at the start of September so only flicked on the blown air heating by accident while playing with the control panel. There was a mad scramble to switch it back off as we all started to roast. So I can confirm it works a treat.
And if you do use this caravan in the winter you don't have to worry about heat escaping. The Pegasus range comes with a whizzy Alu-Tech body shell that has been designed to insulate at the same time as being lightweight. If you enjoy the science behind designs then there's loads about it on the Bailey website.
The heating is all controlled through a simple Truma control panel by the kitchen.
Security and safety features
Here's the low down on the security and safety equipment that comes at standard with each caravan in the Pegasus Grande SE range:
AL-KO ATC Trailer Control System
an AL-KO AKS 3004 Stabiliser
a TRACKER Retrieve stolen vehicle recovery system
AL-KO Secure wheel lock receivers.
Key information about the Pegasus Grande SE Rimini
This is a single axel, 8ft wide caravan that is light for its size. Bailey say it can be towed by a family SUV like the Volkswagen Tiguan.
Here's its vital stats:
RRP: £25,599
Shipping length: 7.381m/ 24'3"
Internal length: 5.904m/19'4"
Overall width: 2.450m/8'0"
Maximum Technical Permissible Laden Mass (the caravan's weight when fully loaded): 1,556kg
Payload (the weight of the stuff you can put in it): 155kg
Find the full specifications on the Bailey of Bristol website.
Final thoughts on the Pegasus Grande SE Rimini
We felt oh so at home during our test run in the Rimini at Dartmouth Camping and Caravanning Club site. It's a very smart van with loads of great features, plenty of style and oodles of space for a family of four.
It's definitely a versatile caravan. The kids loved their bedroom area and we enjoyed the extra space in the G shaped lounge. That set up worked really well for us as a family. I also think we'd have more than enough storage regardless of the length of time we were away.
So, if we were in the market for a caravan, would we be eyeing up the Pegasus Grande SE Rimini?
Maybe not right now.
While the kids are still pre-teens I think we'd be more likely to go for the Phoenix+ 650 (an upgraded version of the Phoenix 650 we reviewed a few years ago). We really liked the bunk beds and the side dinette/fifth bed in this caravan, even if we'd have to compromise on the extra width and that front dresser that we didn't miss at all in the Rimini.
Read my Bailey Phoenix 650 review.
Another option that could work for us now is the brand new Pegasus Grande SE Ancona, which has two lounge areas that convert into beds and a bunk.
But if you are caravanning with teens, then the Rimini might be the one for you!
Find out more about the Bailey Pegasus Grande SE Rimini and the other layouts in the Pegasus Grande SE range for up to six people.
More blog posts about caravanning
Read about more of our caravan adventures and caravanning tips in these posts:
Disclosure: we were loaned the Bailey Pegasus Grande SE Rimini to review and have been compensated for our time creating this blog post and other content about our trip.
---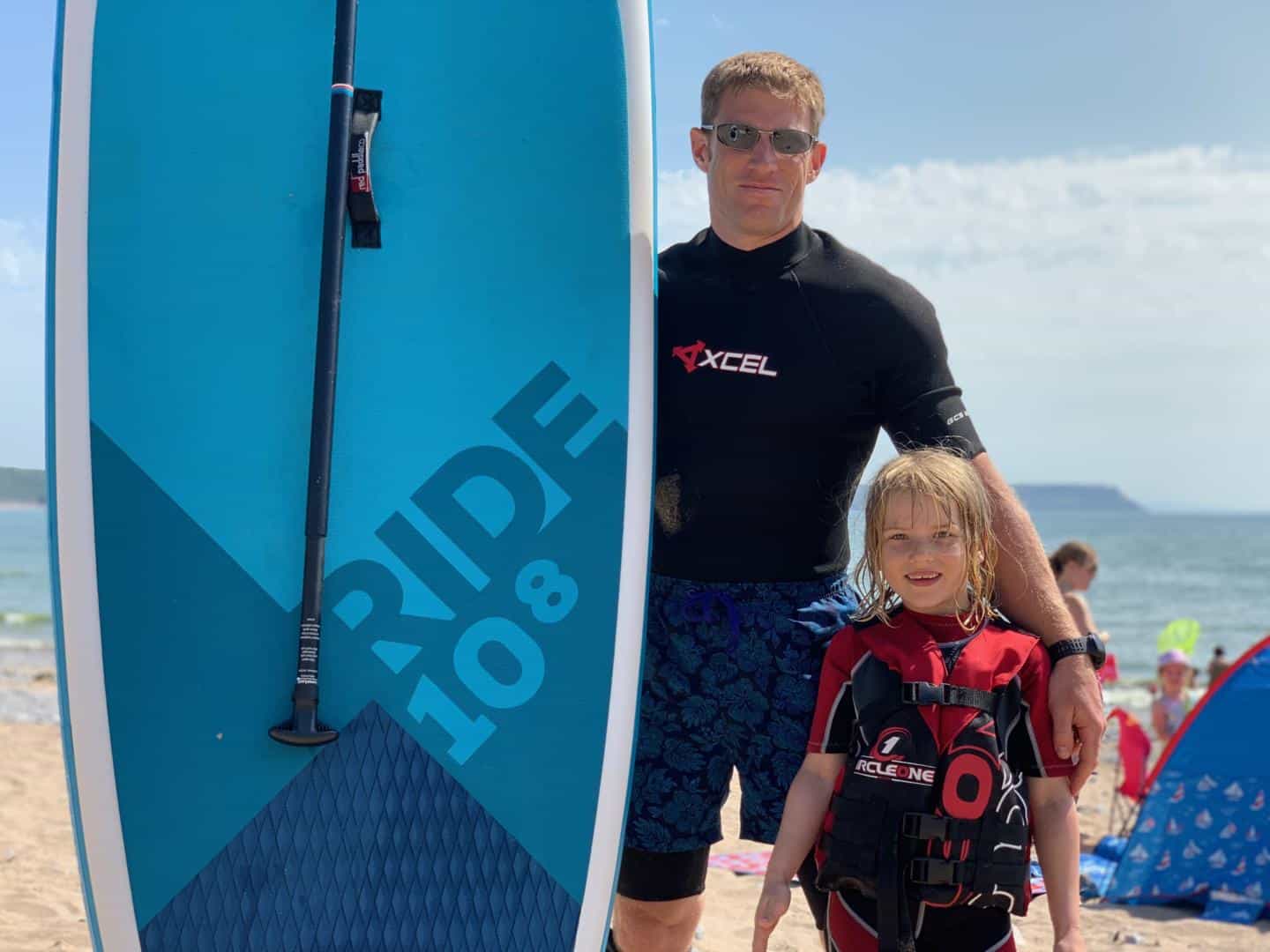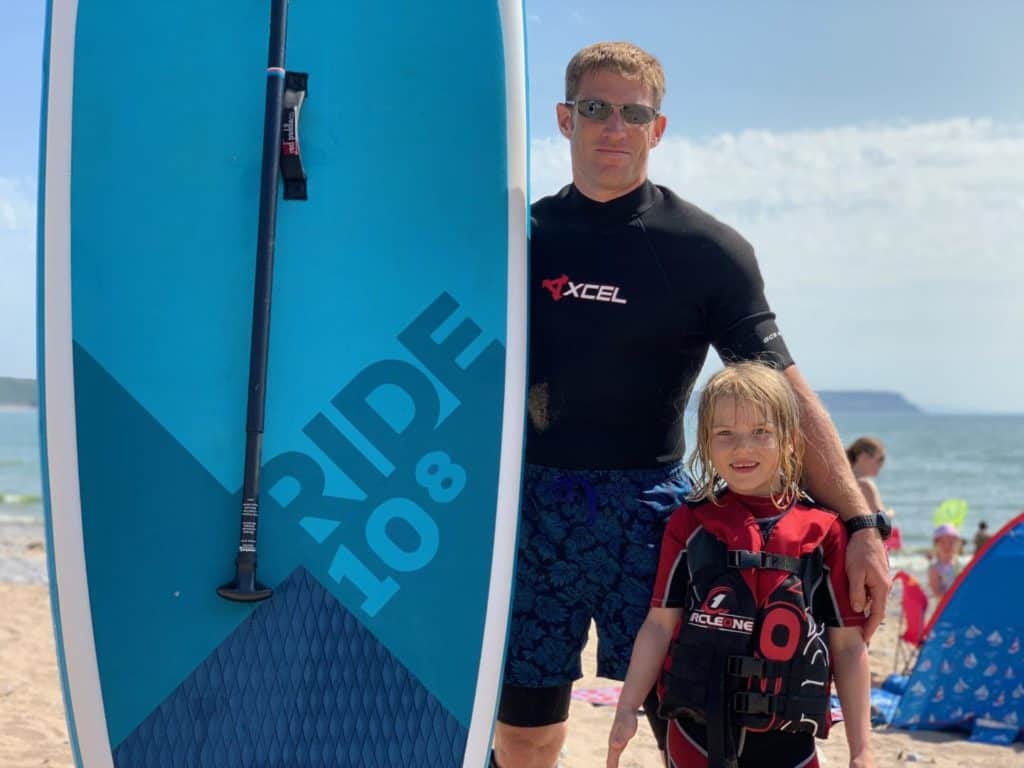 We've shared our honest thoughts on loads of camping, outdoor and family travel products here on the blog.
Want to know what we rate? Read our product reviews.