Fowey Hall Hotel review – a luxury family hotel in Cornwall
If you are looking for a family hotel in Cornwall where luxury and fun are intertwined then have a read of this Fowey Hall Hotel review by Katie de Pelet. She is a long term fan of this Fowey hotel and visited in July after a major refit.
*This advertisement feature contains affiliate links*
Fowey Hall Hotel in Cornwall has been a firm favourite of ours since we moved to the South West five years ago. We've visited in every season and come rain or shine it has always offered a relaxing retreat from our busy lives.
Most of all, we look forward to the cosy familiarity. So when we found out that it was undergoing a multi-million pound refurbishment I have to say our hearts sank just a little. Would it still retain the unique Fowey charm that we had come to know and love?
What's new at Fowey Hall Hotel?
Pulling up at the hotel, which commands incredible views over the mouth of the estuary and Polruan beyond, we couldn't wait to get inside and see the changes for ourselves.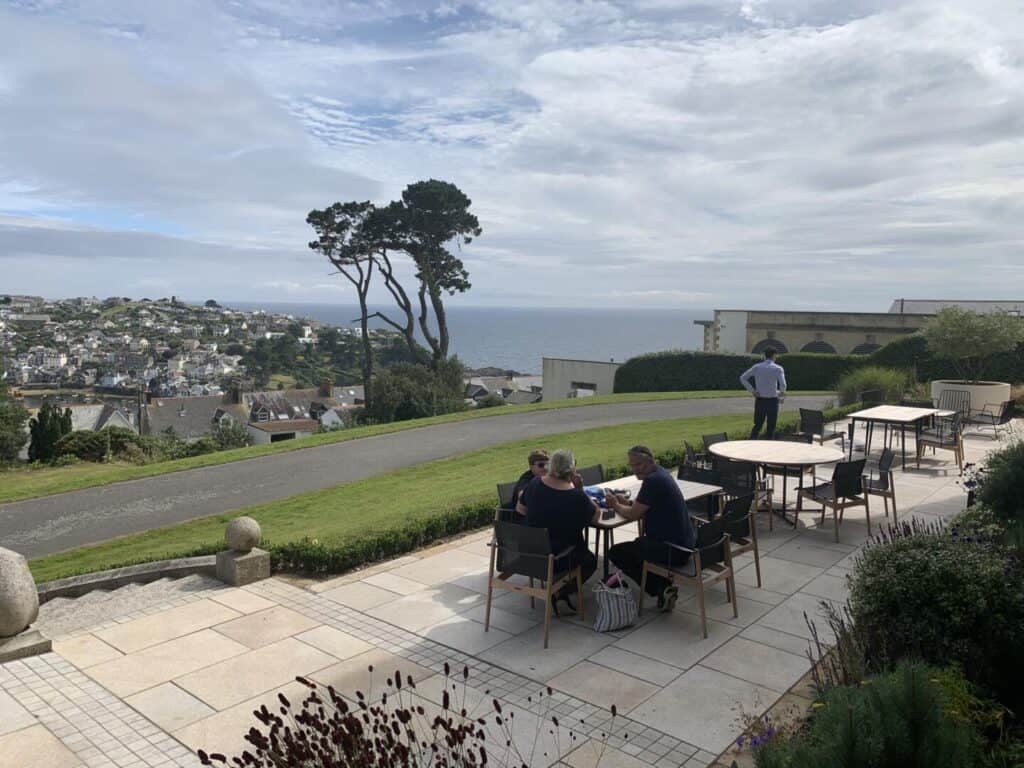 The main lounge area as you walk into the hotel still felt very familiar although the sofas have all been upgraded and there is an impressive new chandelier. There is also a new bar area which is a nice addition.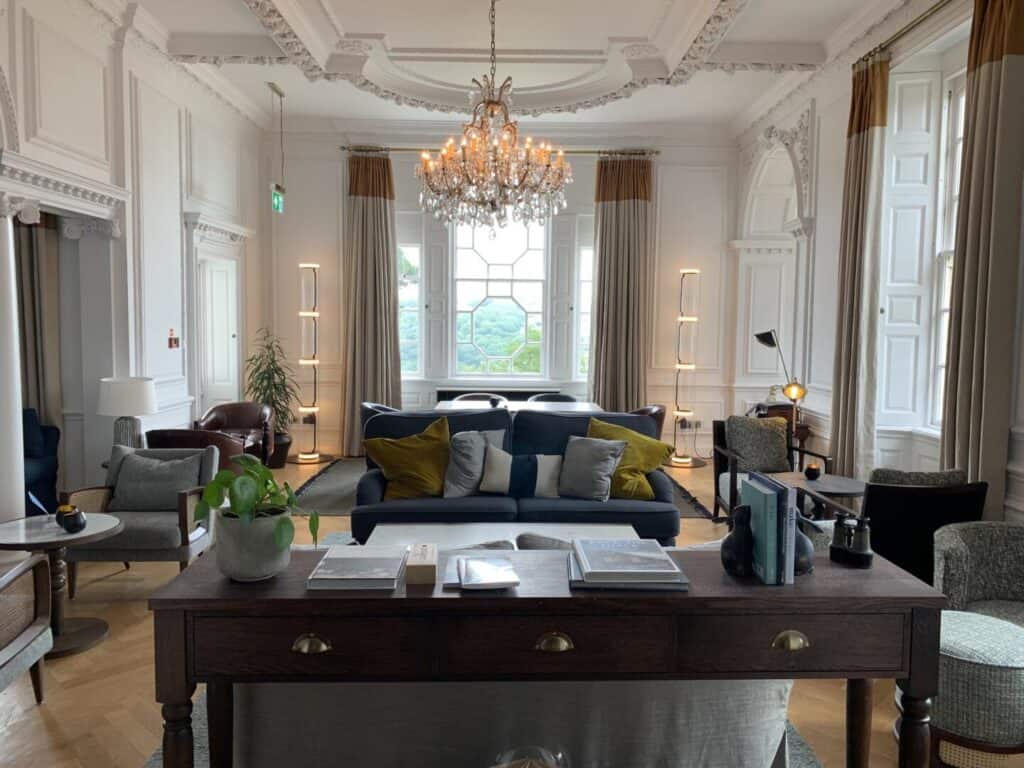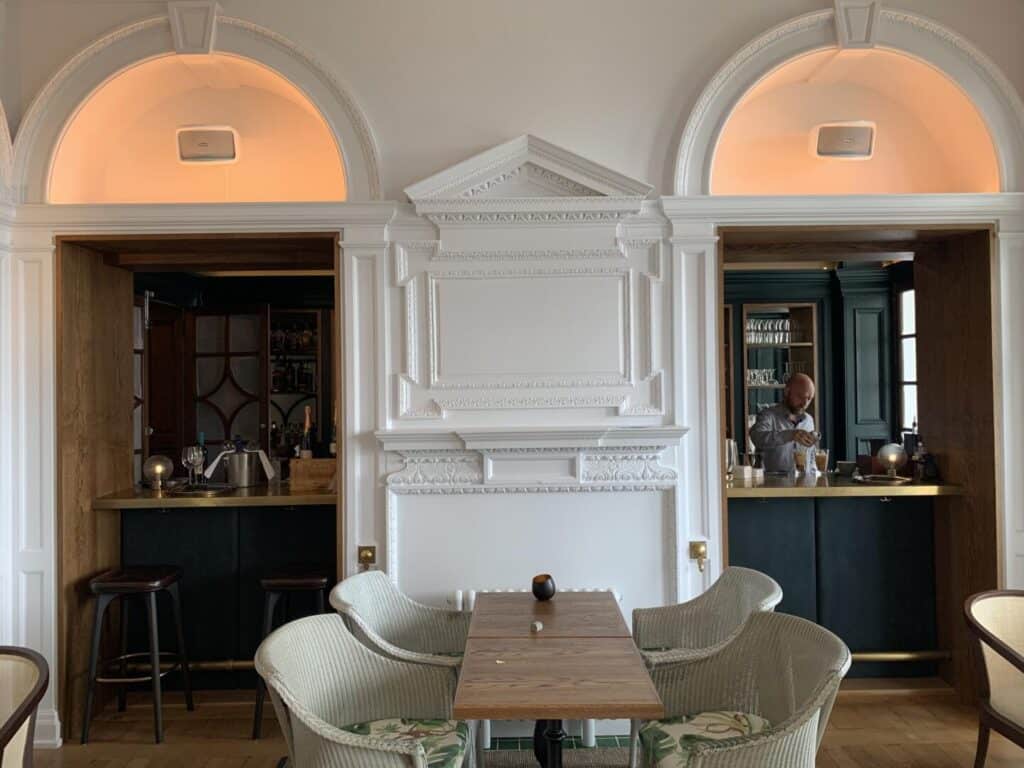 The areas that were probably most in need of an update have certainly had the most attention. The children's games room and cinema room have been modernised with a comfy retro feel to them.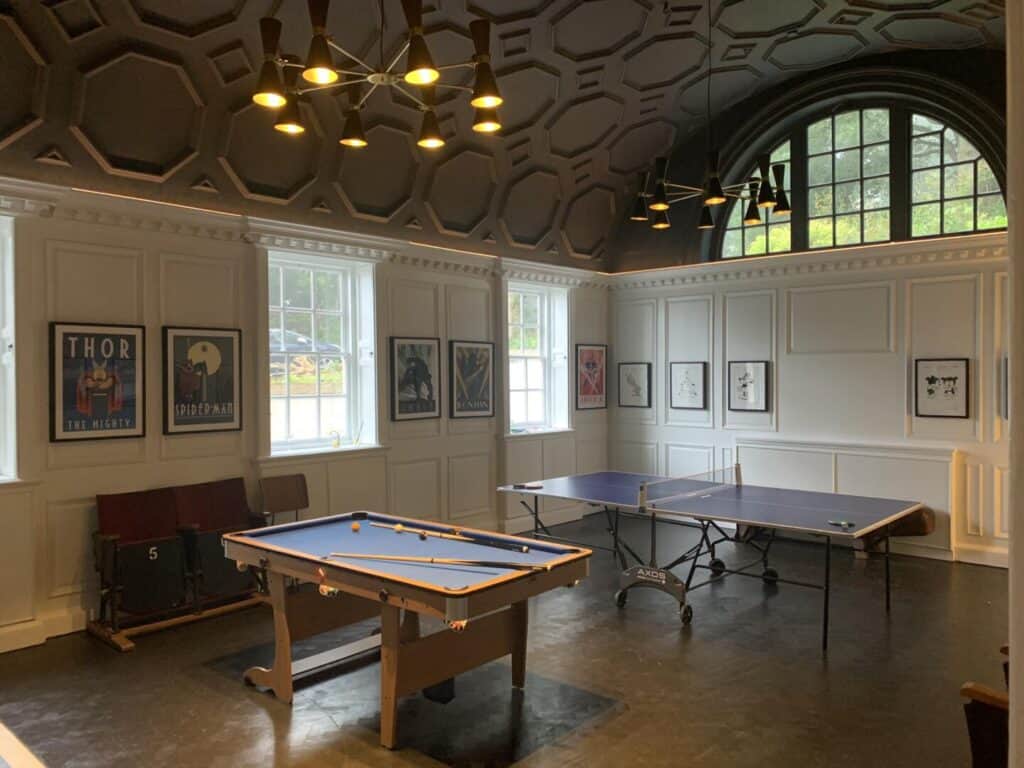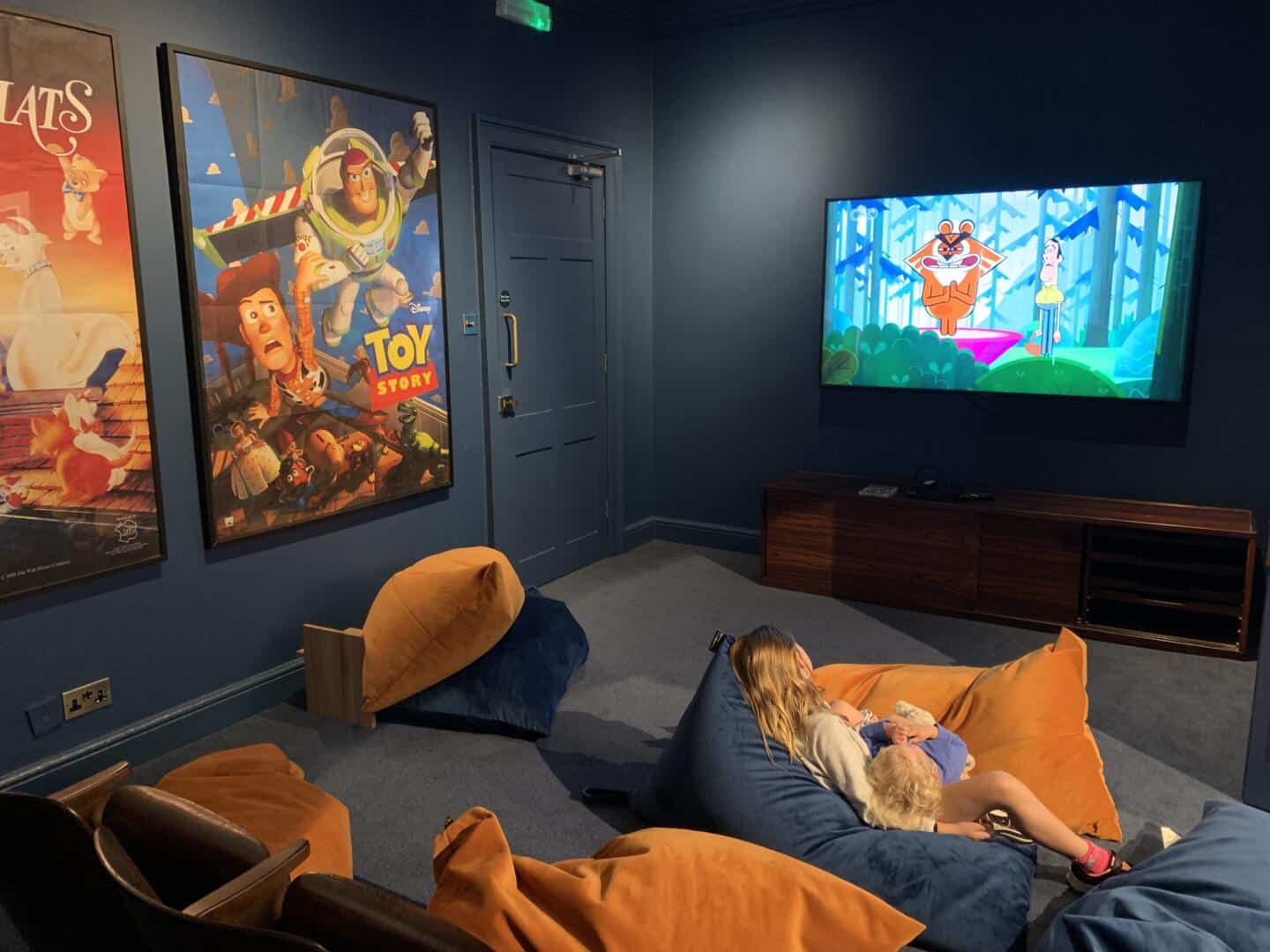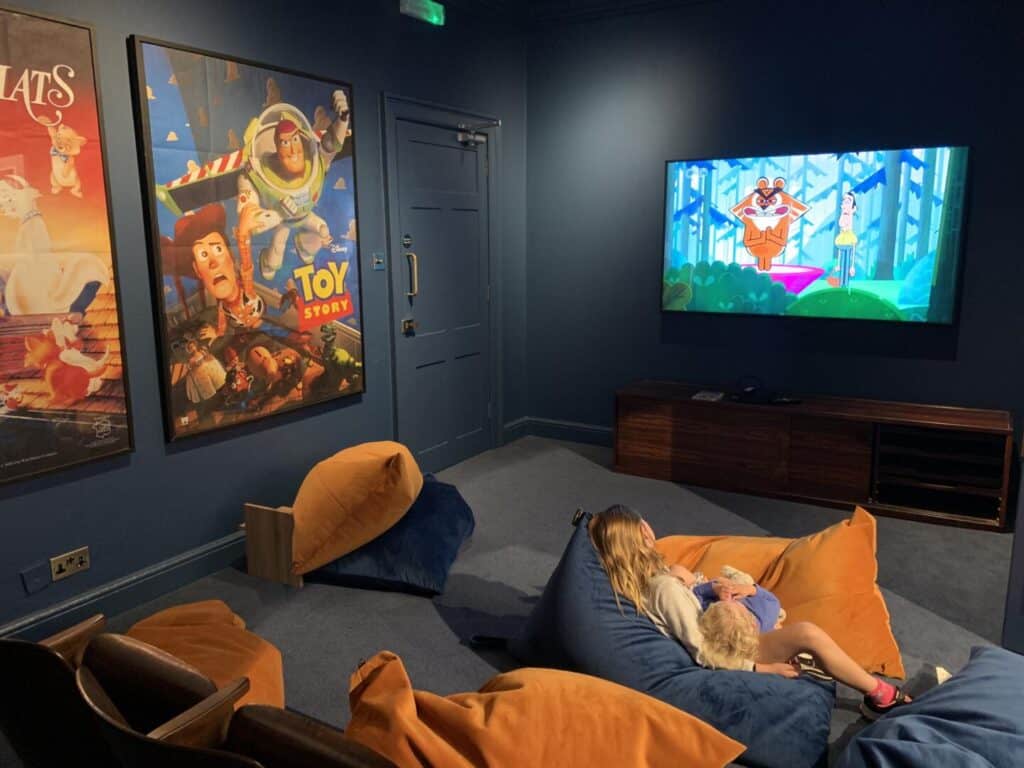 The family dining area has new seating and lighting as well as a great buffet area (which unfortunately wasn't in operation due to the social distancing measures in place at the time).
Family rooms at The Fowey Hall Hotel
Upstairs, the bedrooms and bathrooms have been decorated in lovely soft colours with a nod to both the sea and the fact that the hotel is dog-friendly.
Find more dog-friendly accommodation and holidays in the UK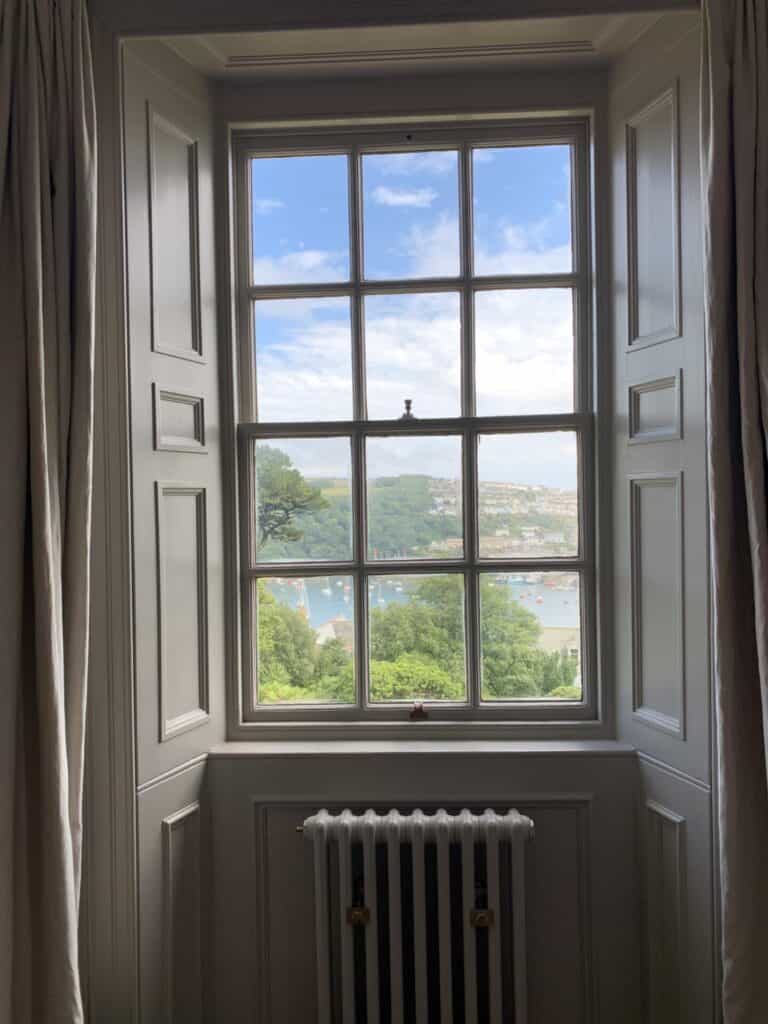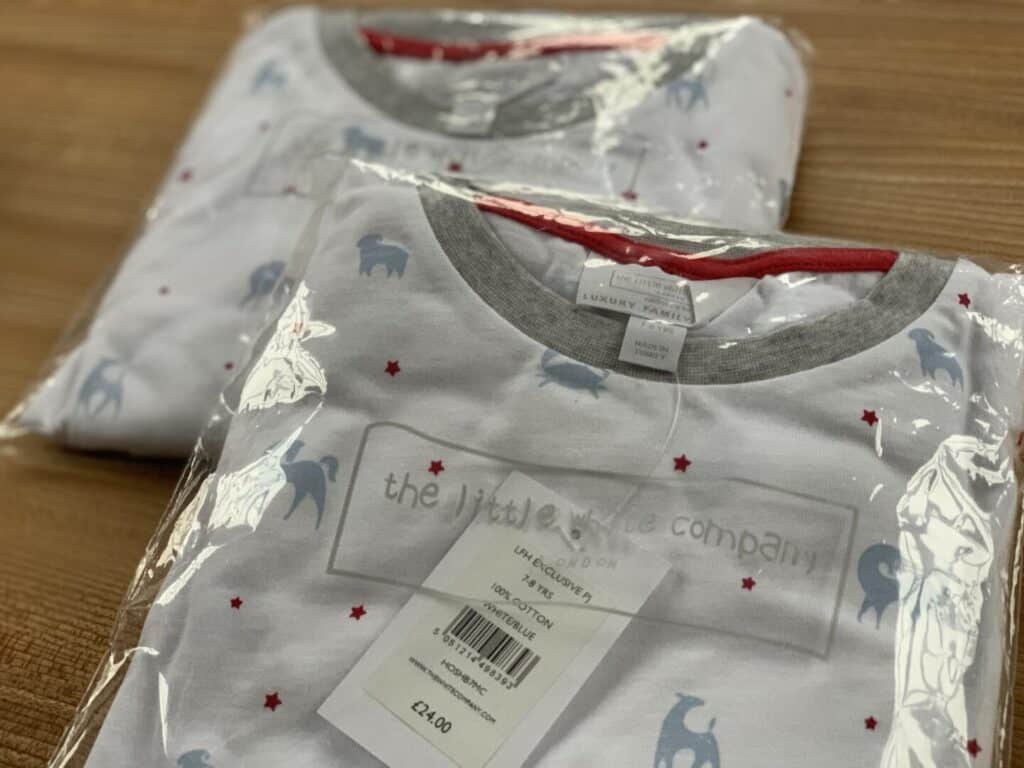 Beds are super comfy and the showers powerful. We stayed in a main house family room (ours was Rosalind) which costs £559 per night during the school summer holidays for a family of four on a B&B basis.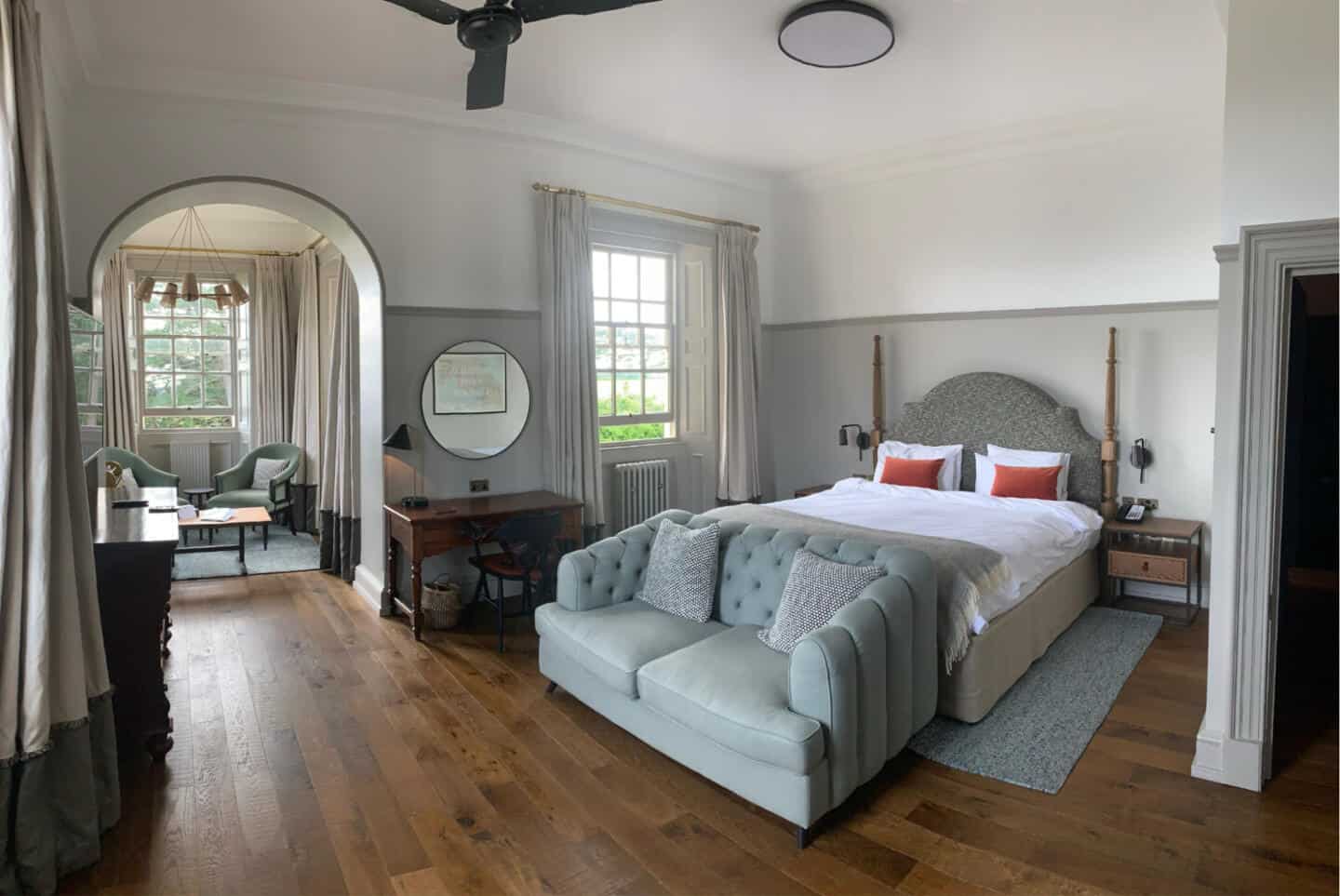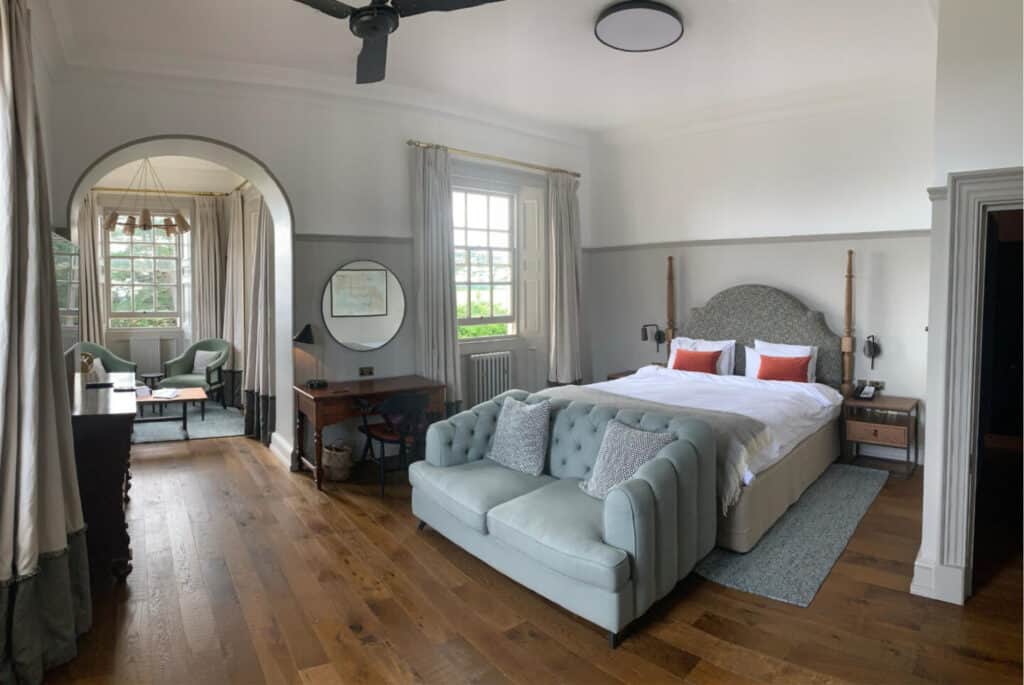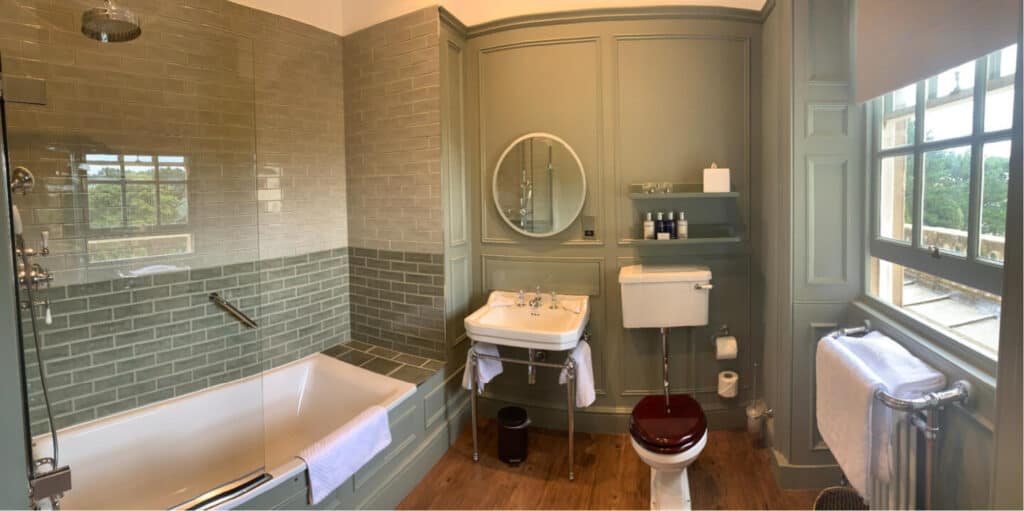 The hotel has also upgraded the technology it uses. Where before you borrowed DVDs to play in your room, now there is Chromecast streaming from apps on your phone onto large flat screen TVs.
The baby listening service used to be a device on the wall which you switched on as you left the room and was monitored by the staff on reception.
Now every guest is provided with a camera and phone which you can set up and watch your little ones from the comfort of the lounge or dining room. 
Menus are all accessible via your phone using QR codes.
Dining in the restaurants
We ate in the Fowey Hall Hotel restaurant both evenings of our stay. The kids had High Tea, which is served between 5pm and 6pm, and included a selection of child friendly dishes such as lamb shank shepherd pie and local fish and chips.
For the youngest diners, the chef can provide fresh, pureed baby food from 7am to 9pm.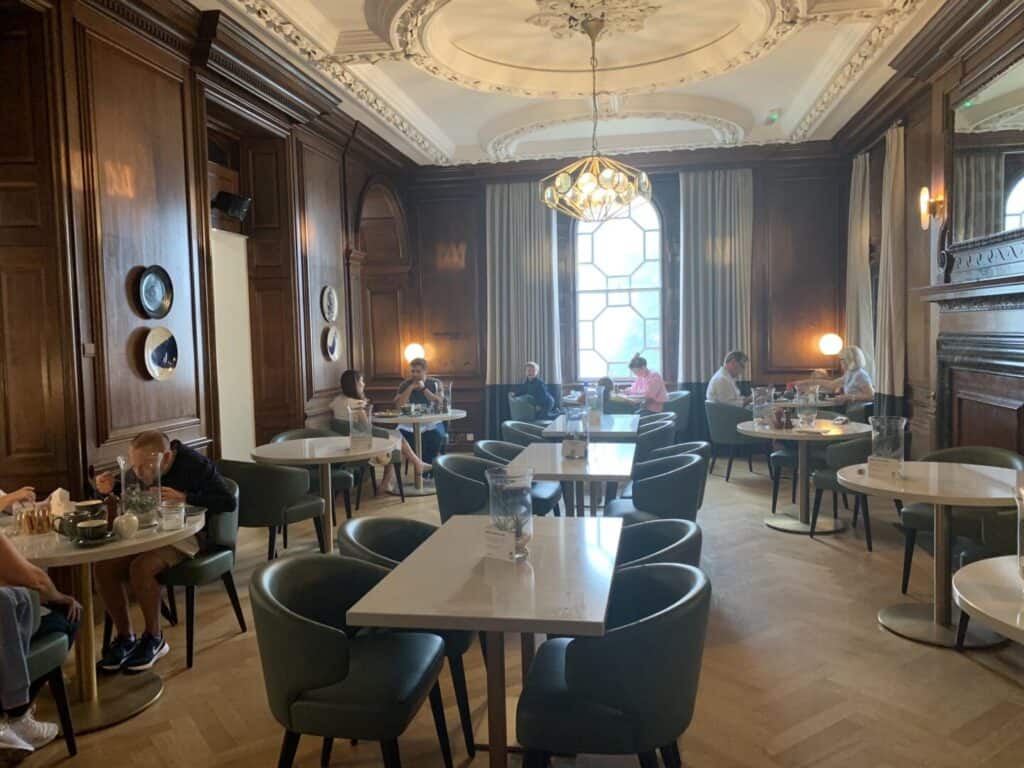 We ate in the dining room once the kids were in bed. Seasonal menus use locally sourced ingredients. Fresh seafood is landed by local fishermen and aged rib-eye steaks are sourced from nearby farms.
The food has always been amazing at Fowey but this time it tasted even better. I don't know whether the chef has changed or whether it was because we hadn't eaten out in such a long time due to lockdown.
Either way we went to bed very content!
Breakfast in the morning was delicious as always although the big change was the lack of buffet.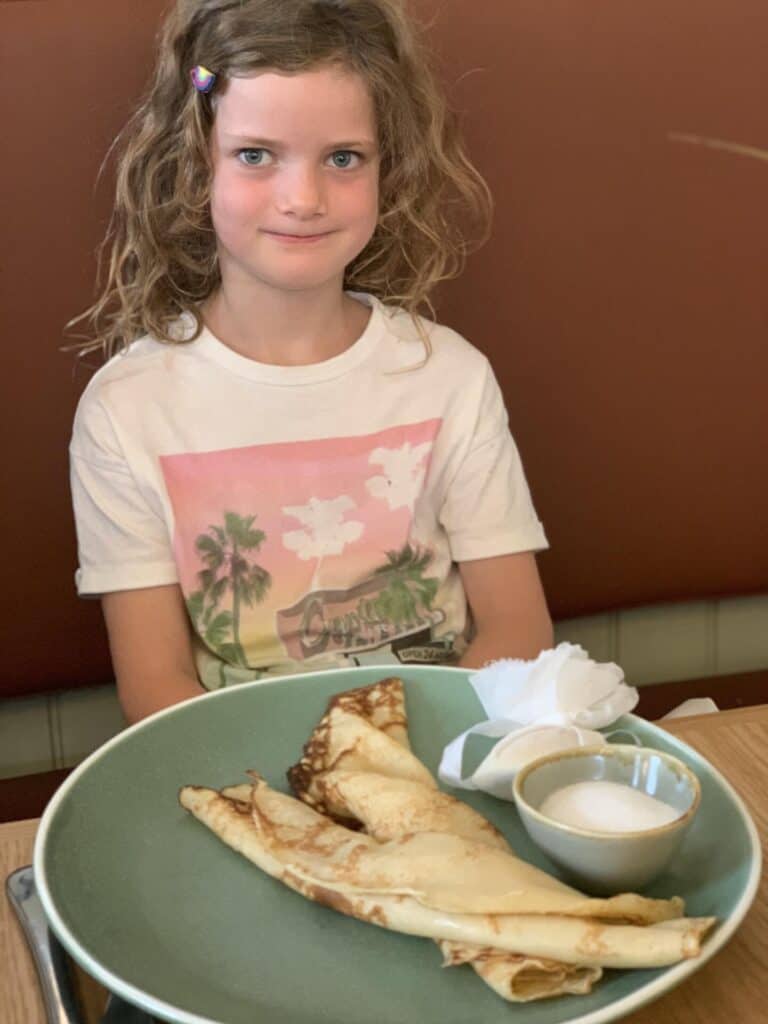 Due to COVID-19 restrictions, all food was ordered at and served to the table.
The kids were a little disappointed by this as they love a buffet but there was no limit on how much you could order, and all the old favourites like waffles and maple syrup, pancakes, pastries and cooked breakfast were on the menu.
Activities at this family hotel in Cornwall
I was very impressed with the way the staff at the hotel coped with the new restrictions since reopening after lockdown.
Usually hotel guests are offered two hours' free childcare in the Ofsted-registered Four Bears' Den, but social distancing measures would not allow this.
So, instead, the Den team ran some lovely activities from crabbing to marshmallow roasting over an open fire in the lounge.
The indoor swimming pool opened for the first time when we were there. Bookable time slots meant that the spa team could limit the number of families in the pool at any one time.
The changing rooms were also closed so you had to change in your room before going to the pool. Whilst this did mean you had to be very organised and could only stay in the pool for 45 minutes it was just wonderful to swim again. And we made good use of the outdoor hot tub too.
There is so much for the whole family to do at the hotel that you could easily spend the whole day there. However, Fowey Hall is perfectly situated for some great day trips.
During our stay we visited the Screech Owl Sanctuary (30 mins drive from Fowey), the tall ships in Charlestown (20 minutes drive away) and hired a small self-drive motor boat from Fowey harbour (a 10 minute stroll).
The small aquarium in Fowey is also a must-see attraction. All the fishy creatures are taken from the waters around Fowey and include lobsters, moray eels, huge spider crabs and a well camouflaged octopus. There is also a touch pool where you can hold starfish and small crabs.
If you fancy a trip to the beach, Readymoney Cove is a 15-minute stroll away (buckets, spades, nets, wellies and crabbing lines are normally provided for guests).
Find more things to do in this guide to family holidays in Cornwall.
The hotel can also arrange other family-friendly activities such as kayaking, canoeing and sailing.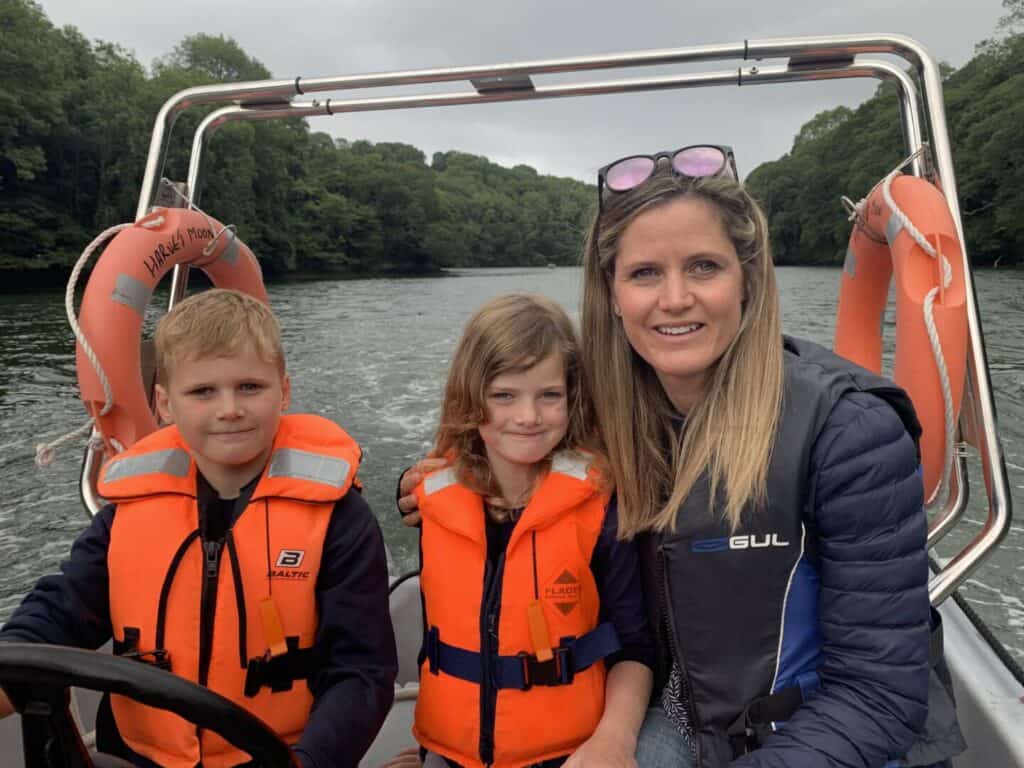 Find more fun things to do in Cornwall during family holidays.
Overall impressions: Katie's Fowey Hall Hotel review
We had the best weekend at Fowey Hall Hotel. It was particularly special as my parents joined us for a multi-generational holiday. It was their first time at Fowey Hall and they agreed that the hotel has managed to create a wonderful family friendly experience that is both relaxing for adults and fun for kids.
The new décor makes the hotel that little bit more luxurious whist retaining its cosy charm. The delicious menus and ingenious baby monitor system mean that you are more than happy to stay in and have some precious adult time while the kids sleep upstairs.
There is plenty to do at the hotel and in the surrounding area to keep everyone entertained for days if not weeks.
Fowey Hall we still love you (maybe even a little bit more now) and will be back as soon as we can!
Find out more about this luxury family hotel in Cornwall.
Check rates and book on booking.com*.
Disclosure: Katie was given one free night with dinner in return for this honest review. This post contains affiliate links. If you click on one of these and make a booking I may earn some commission. This does not affect the price you pay.
If this family hotel in Cornwall takes your fancy why not save this Fowey Hall Hotel review on Pinterest.