Camping for beginners: common mistakes camping newbies can avoid
Camping for the first time this year? This post is for you camping newbies who are keen to dip a toe in the world of outdoor holidays but don't want to make classic bo bos. I've been doing camping holidays since day dot, so here's my guide to camping for beginners to help you avoid common mistakes.
*This post contains affiliate links*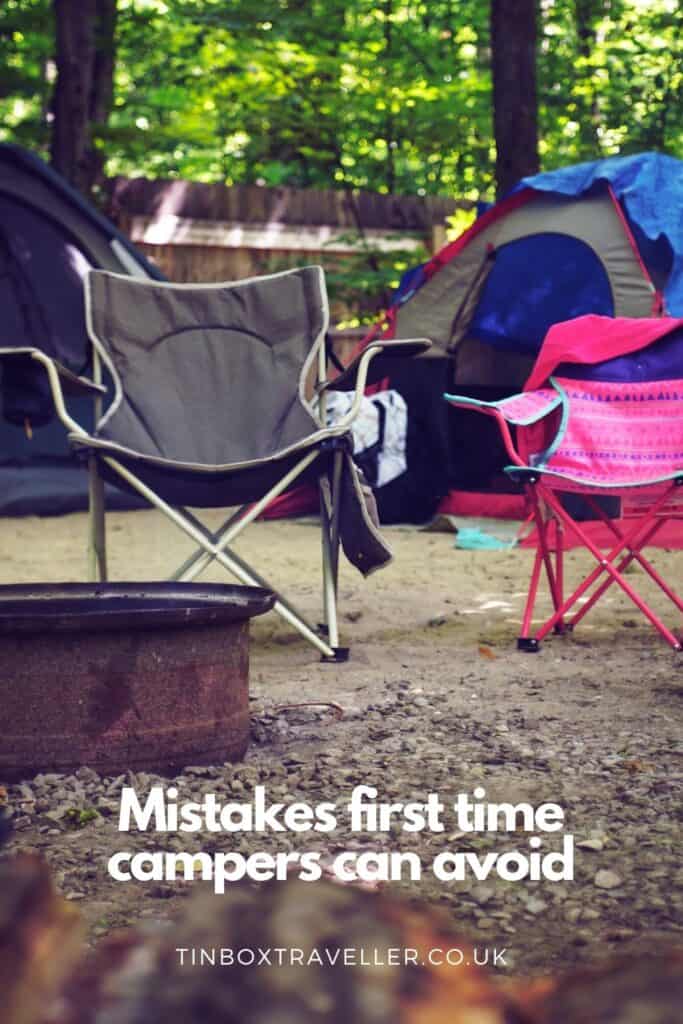 Buying a tent that's too small
Unless you are camping in Europe, and even if you are, there's no guarantee of sunshine. Make sure you have indoor living space as well as sleeping space.
We usually go for a tent that sleeps two more people than will use it.
When you are camping with kids it's also a good idea to get a tent with a black out sleeping area.
Getting cold
Camping can be a chilly business at night, even in the summer. Layered clothing is a must.
Get three season sleeping bags. Mummy-style sleeping bags will keep kids snug.
Read our review of the Vango Roar Double and Vango Kanto Junior sleeping bags for kids.
Also bear in mind that SIMs and camping beds will keep you warmer than air beds.
Check out my full family camping packing list.
Cooking on a disposable BBQ
Aside from being bad for the environment and a cause of countryside fires, disposable barbecues burn food really easily.
Get a small gas camping stove for less than £20 or, even better, get something like the CampinGaz Party Grill which will boil a kettle, cook a pizza and barbecue.
Using basic pegs
The pegs that come with new tents are not much use unless you are pitching on soft ground.
Buy rock pegs too so you are prepared for all kinds of pitches.
Want to look like a pro when you pitch up for the first time. Read more of my guides to camping for beginners.
Not checking your tent
If you've bought a new tent, put it up at home if you have the space to check it has come with all the poles. If you can't put it up at least unpack it to check for all the parts.
If you have bought a secondhand tent this also gives you the opportunity to re-waterproof it. Even if it was only used last season it may need a treatment. It's best to do it before your first trip.
We use Fabsil*.
Turning up without a booking
In 2020 in particular you need to book your campsite in advance.
Reduced capacity and stricter rules on social distancing means sites that may have taken people on spec in previous years will need to watch their numbers.
Plus with the number of people taking a staycation rather than flying abroad pitches will be even more limited.
Here's what to expect on UK campsites this season.
More camping for beginners tips
For all my camping packing lists, tips and recommended sites take a look at my big guide to camping with kids.
If you are thinking of camping for the first time this year I have event more posts you might like to read for tips, advice and packing lists:
If you are new to camping let me know if you have any questions not answered here. And if you are a pro, what would you add to this guide to camping for beginners?
Disclosure: this post contains affiliate links marked with *. If you click on one of these and make a purchase I may earn some commission. This does not affect the price you pay.
Looking for camping tips? Why not save this post about camping for beginners on Pinterest.