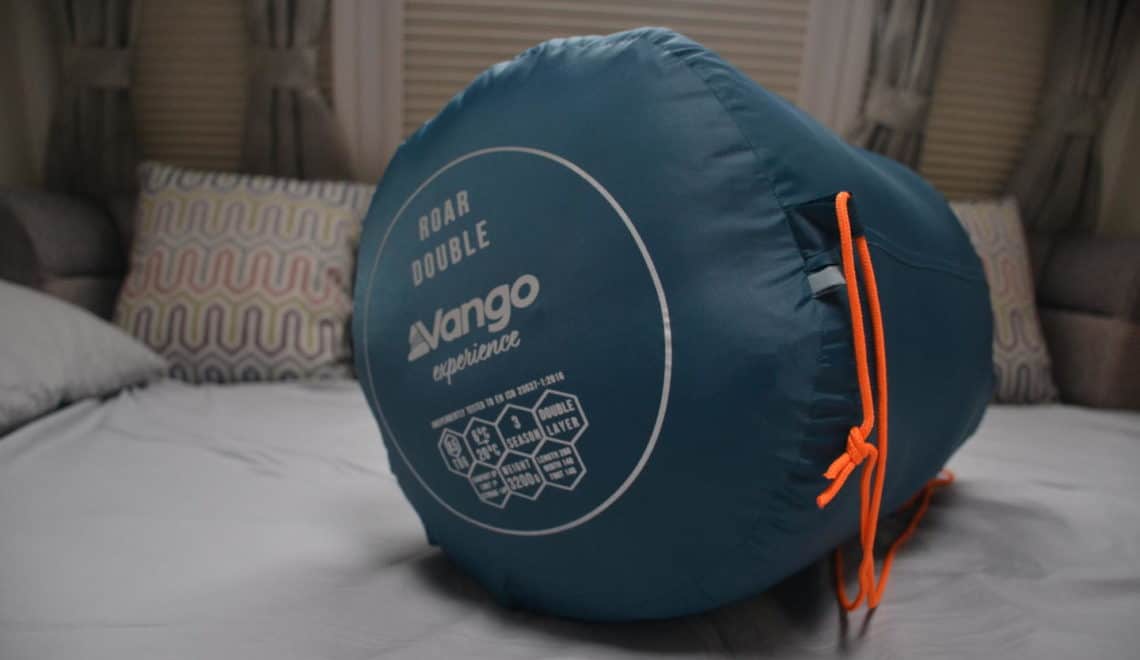 Vango Roar Double sleeping bag review
It's been several years since Mr Tin Box and I had a double sleeping bag as we opted for a duvet and sheets when we were caravanning. This always felt a bit more homely.
But when we went camping before kids we had a sleeping bag because it was much more practical – it saved space and was easy to pack way.
*Advertisement feature/contains affiliate links*
So when Vango asked if we would like to review a double sleeping bag I was interested to see whether we could be tempted to move back to a sleeping bag in a caravan.
Plus, we're planning more camping and camper van adventures in the future, so a sleeping bag would be the logical bedding choice. And the girls are way ahead of us with their Vango Kanto Junior Sleeping Bags.
About the Vango Roar Double sleeping bag
This sleeping bag comes in two colours: Moroccan Blue and Black. It weighs 3.2kg, is square shaped and is designed for adults up to 190cm in height. It's a three season, 8.5 tog sleeping bag intended to be used in temperatures ranging from 6°C to 20°C.
You can get the same sleeping bag as a single*
Features include:
Integrated head rest for extra comfort and warmth for your head
Woven Zip Puller – allows you to quickly and easily move the zip
Polair® polyester lining for easy cleaning
Stuffsack with drawcord
A two-way zip an be opened from the top or bottom
Wave stitching to ensure even distribution of the insulation across your body, reducing cold spots.
Here's what we thought of the Vango Roar Double sleeping bag when we tested in a caravan and when camping in a tent.
Vango Roar Double – a sleeping bag for camping and caravanning?
After years out of a double sleeping bag and a bit of mid-life expansion (for me anyway), I did wander whether the Vango Roar Double would be comfortable for both of us.
The good news is the square design meant we had plenty of space. On hotter nights we also both had the option to unzip the sides to sling out a leg.
The double bed in the Bailey Phoenix 650 were had borrowed was also the front seating area so we packed it up every morning. The sleeping bag fitted back into its 53cm by 30cm sack perfectly and was easily stowed under one of the front benches. Our usual duvet and sheet would have taken up a lot more room.
One niggling thing about the Roar Double was that we felt it needed a soft liner to make it more comfortable. The polyester lining could not compare to normal bedding.
How the Vango Roar Double worked while camping
A few weeks later we went camping in North Devon. Despite it being the height of the summer we had picked one of the worst weather weekends of the year so far. There were 65 mph gusts and heavy rain on our first night. Luckily we'd bought a new tent to stand up to the storms.
We had a terrible first night's sleep while the wind rattled the canvas and poles, but we were toasty warm inside. I'd even put on bed socks but soon pulled them off because they were making me hot.
The Vango Roar Double really come into its own as a camping sleeping bag. We kept the sides zipped up this time and didn't need any other insulation.
The polyester lining was still a bug bear but we were warm.
Washing the Roar Double sleeping bag
The Roar Double just squeezed into our 8kg washing machine at home. I followed the cleaning instructions, setting it to wash at 30°C using fabric detergent and no conditioner.
After a tumble dry the sleeping bag came out good as new.
Final thoughts on the Vango Roar Double sleeping bag
When it comes to bedding for a caravan, our personal bedding preference remains a duvet and sheets, even when you are making up your bed every day. However, there were definite advantages to the Vango Roar Double – it was a big space saver for us.
For camping, we'd always use a sleeping bag. We found the Vango Roar Double sleeping bag easy to transport, warm enough for our summer camping trip (in unseasonable conditions), and we both had plenty of space. We'll probably be getting a cotton or micro fleece liner to add extra comfort.
The Vango Roar Double Sleeping Bag costs £60. Find out more on the Vango website.
Check prices for the Vango Roar Double* on Amazon.
Looking for kids sleeping bags? We've also reviewed the Vango Kanto Junior Sleeping Bag.
Disclosure: we were sent the Vango Roar Double sleeping bag for the purposes of reviewing it on the blog. All opinions are my own and those of my family. This post also contains affiliate links. If you click on one and make a purchase I may receive some commission. This does not affect the price you pay.
Looking for sleeping bags for you next trip? Why not pin this post about the Vango Roar Double sleeping bag for later.