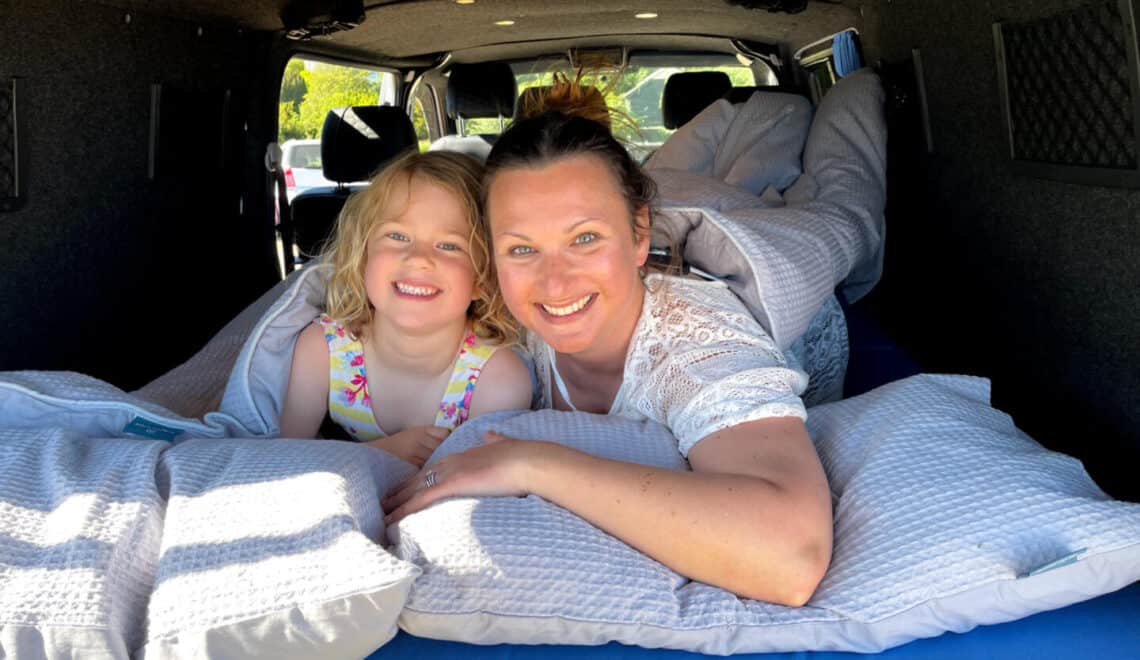 Night Owl coverless duvet review
Who says caravan and camper van holidays can't have a touch of luxury about them? We were sent a Night Owl coverless duvet by the Fine Bedding Company to see what we thought about adding some opulence to our VW T5 sleeping arrangements.
*Advertisement feature – contains affiliate links*
When the duvet arrived we hadn't had the chance to go away in our camper van. But we were absolutely itching to give it a go!
So, in the meantime, we snuggled up in our Night Owl duvet at home and during post swim chills at the beach. It's a good job it's so easy to wash! More on that in a moment.
Here's our review of the Fine Bedding Company's Night Owl coverless duvet*.
Camper van bedding
What do you use for bedding in a camper van?
Up until now we have been sleeping bag people. That's despite preferring a duvet and sheets when we are on caravan holidays. 'Proper bedding' feels more homely, just like a caravan.
However, I'm of the opinion that traditional camping is the right domain for sleeping bags. No one wants to let in an unwelcome draft when there's just a thin player of canvas between you and the elements.
But camper vans are a different kettle of fish – or tin box – somewhere in between tents and caravans. And this is where I think the coverless duvet comes into its own.
Product specifications
Here's the low down on the Night Owl coverless duvet:
Tog: 10.5 for use all year round
Cover: 100% sustainably sourced BCI cotton cver
Filling: 100% Smartfil® Microfibre made from recycled PET bottles
Wash: 40°C in a large capacity machine. Tumble dry until thoroughly dry. Do Not Bleach. Do not dry clean
Size options: single, double and king
Colours: navy or grey
Price: £80 to £100 depending on the size you need.
You can also get matching pillow cases for £20 a pair.
Find out more on the Fine Bedding Company website*.
Why choose a Night Owl coverless duvet?
So, what makes the Night Owl great for camper van holidays?
it's washable, like a sleeping bag, and fits in your machine at home or on site if you are away for a proper road trip
you get the luxury of a duvet without the hassle of arranging the cover in a small space or outside the van
it comes with a duffle bag that means it's no bigger than a double sleeping bag to store.
importantly, the price for a king-sized Night Owl is less than a breathable, cotton double sleeping bag. But it is a much more luxurious product with extra coverage and quality.
We've not yet found a double sleeping bag for less than £100 that we'd want to use without an extra cotton liner.
Our last sleeping bag purchase was the Outwell Snooze Double*. While this is 100% cotton, it doesn't have the same luxury feel as the Night Owl and actually takes up more room when packed in its bag.
Why this coverless duvet is extra special
The Fine Bedding Company are no strangers to giving holiday makers a great nights sleep. They started out supplying bedding to large cruise liners and ships in the early 20th Century.
In fact, if you've stayed at the International Continental at the O2 in London or St Michael's Manor in Hertfordshire, it's likely you'll have slipped between their covers.
And because they sell their bedding to individuals too, you can get that same delicious hotel bed feeling at home AND in your camper van! I dare anyone to suggest we're 'roughing it' while camping.
Another big bonus for us is that the cotton outer is 100% sustainably sourced and the duvet fill is made from recycled plastic bottles.
If that doesn't make for a sounder sleep, I don't know what does!
The Fine Bedding Company's top eco-friendly tip for this duvet is to use a cotton flat sheet between yourself and duvet to reduce the frequency and amount of material you are washing.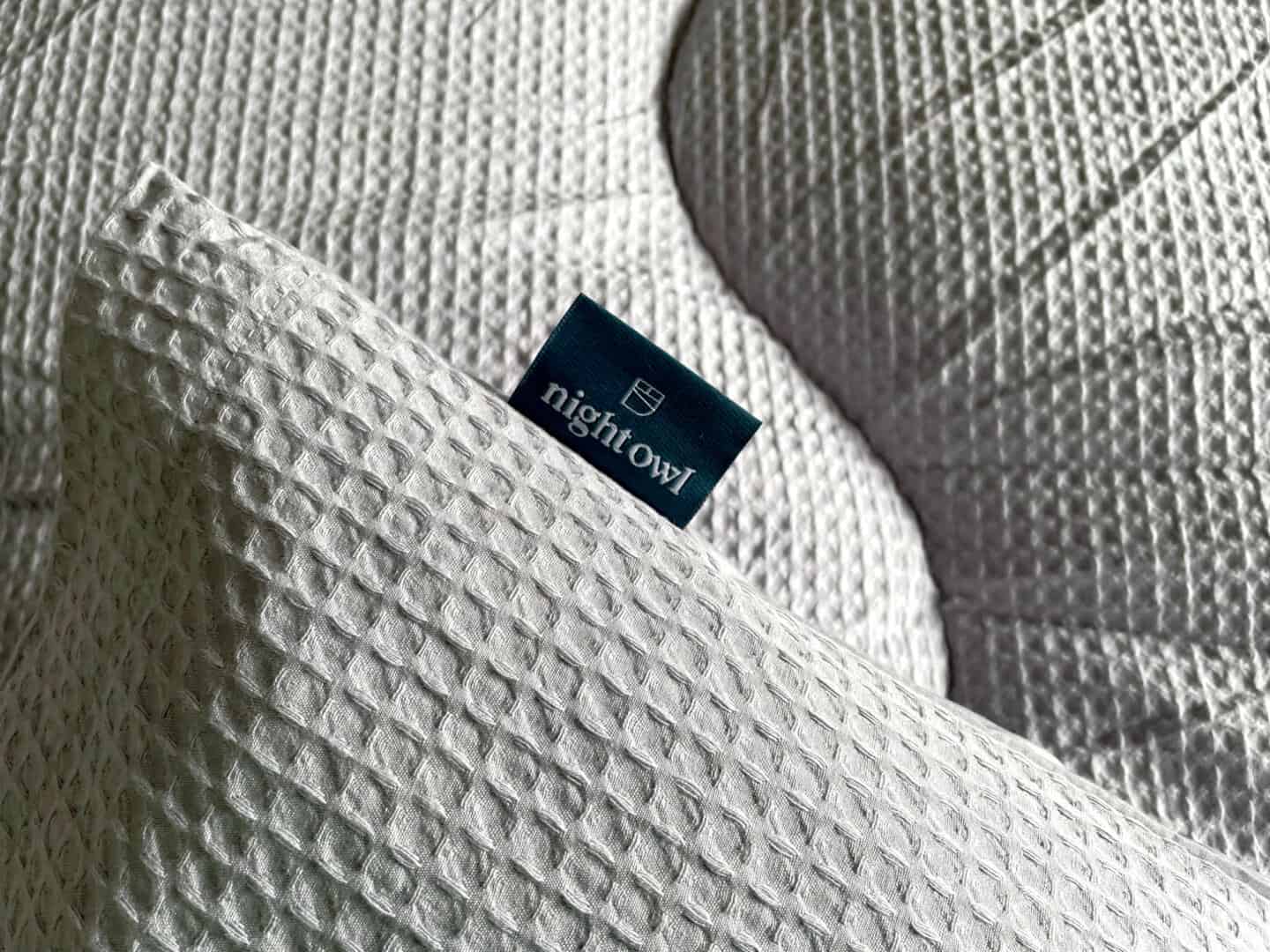 Using the Night Owl duvet at home has been bliss. It's made me realise how ropey our own duvet has become. I can't even remember when we bought it! 
Find out more about how we sleep two adults and two kids in our camper van.
Our verdict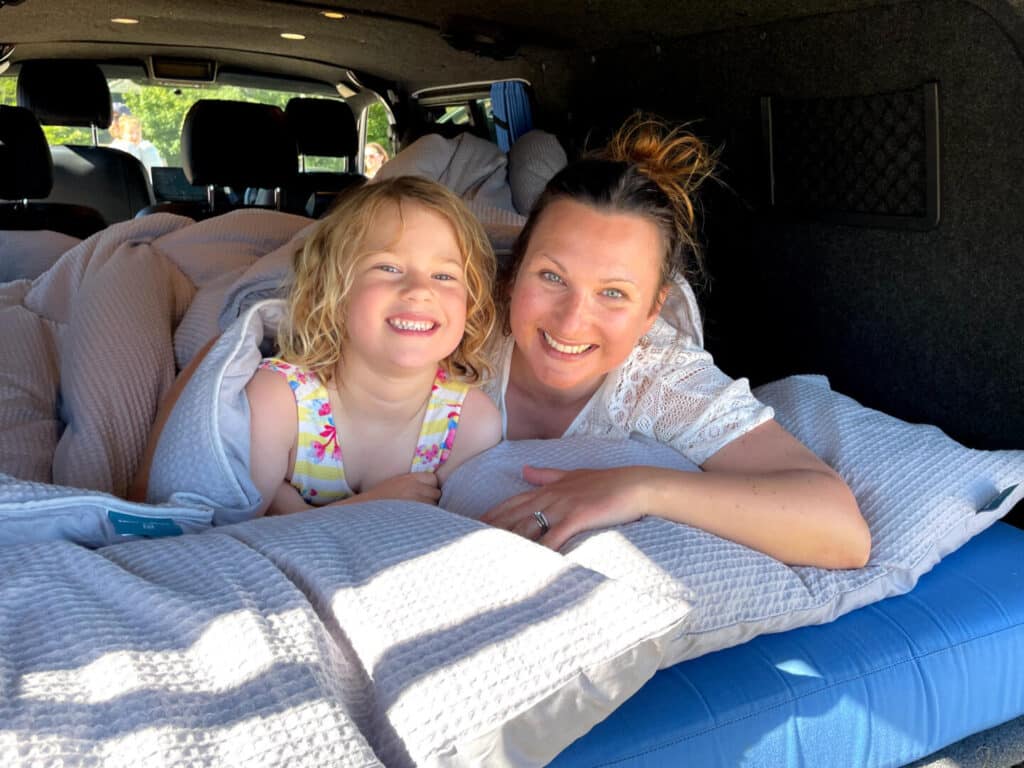 I love the feel of the cotton outer, the look of the textured waffle top and the weight of the duvet itself, which keeps you snug but not too warm.
We have loved using is coverless duvet at home. In fact it's now replaced our old one. And we've been using it in our camper van holidays and during a brief stay in a touring caravan.
It's a 5 star hotel upgrade for our adventures, making van life even more comfortable.
Find out more and buy the Night Owl coverless duvet on the Fine Bedding Company website*.
If you are new to camper van life, read our tips for buying a camper van and our printable packing list.
Disclosure: we were sent our Fine Bedding Night Owl coverless duvet for the purposes of a review. All images and opinions are my own. This post also contains affiliate links marked with *. This means if you click on one and make a purchase I may earn some commission. This does not affect the price you pay.