Well Furlong Cottage review – a luxury Cotswold cottage
Do you ever get the blues after a holiday? It's been a while, but I definitely experienced that post-getaway slump after our stay at Well Furlong Cottage – a luxury Cotswold cottage with all the ingredients for a relaxing multi-generational break.
*Advertisement feature*
Why? It's located in one of the most sought after destinations in central England. It comes with exclusive use of a private pool with jacuzzi and steam room. And, importantly for pet owners like us, it's dog-friendly.
If you are scouring the internet for a holiday cottage that offers something a bit special, let me tell you more!
Well Furlong Cottage review
As we drove through the impossibly pretty Worcestershire landscape, we knew we were in for a treat. After a three hour drive from Devon, our final approach to Well Furlong Cottage was through country lanes and and chocolate box villages.
This cottage that sleeps six (or up to eight in a family group) is located in one such village, Little Comberton, with a pretty church, thatched roofs and views of Bredon Hill.
The cottage is connected to the owners' Victorian-built manor house but it feels very private. It has three spacious ensuite bedrooms, a large enclosed garden and barbecue area, and – wait for it – its own private pool and spa.
I kid you not! Our stay here in the Cotswolds was a very welcome escape from the stop/start rollercoaster of the past year.
We arrived early evening and after a quick tour of the cottage and spa with the owner, Pollyanne, we settled down to watch the sun set over the countryside.
A luxury Cotswold cottage with indoor pool and spa
Despite a late Friday night, the girls were up at the crack of dawn and excited to have their first dip in a pool for over a year. They have become much more accustomed to splashing about in the sea during lockdown, so I was interested to see how their swimming skills had fared with lack of use.
The swimming pool is ideal for families. Six-year-old Baby – our least confident swimmer – was able to stand at the shallow end while eight-year-old Tot could stand at the deep end.
I'll be honest and say there really wasn't much proper swimming going on. The kids were over the moon to find a range of inflatables and toys to play with – a reminder that this very much a family-run business.
The pool temperature – 30 degrees – was perfect for kids. The only reason to get out was when the ends of our fingers started to look like prunes. There's no time limit for guests using the pool and it is available for your use 24/7.
There's also a jacuzzi, steam room, shower and changing area, not mention plenty of seating and table football.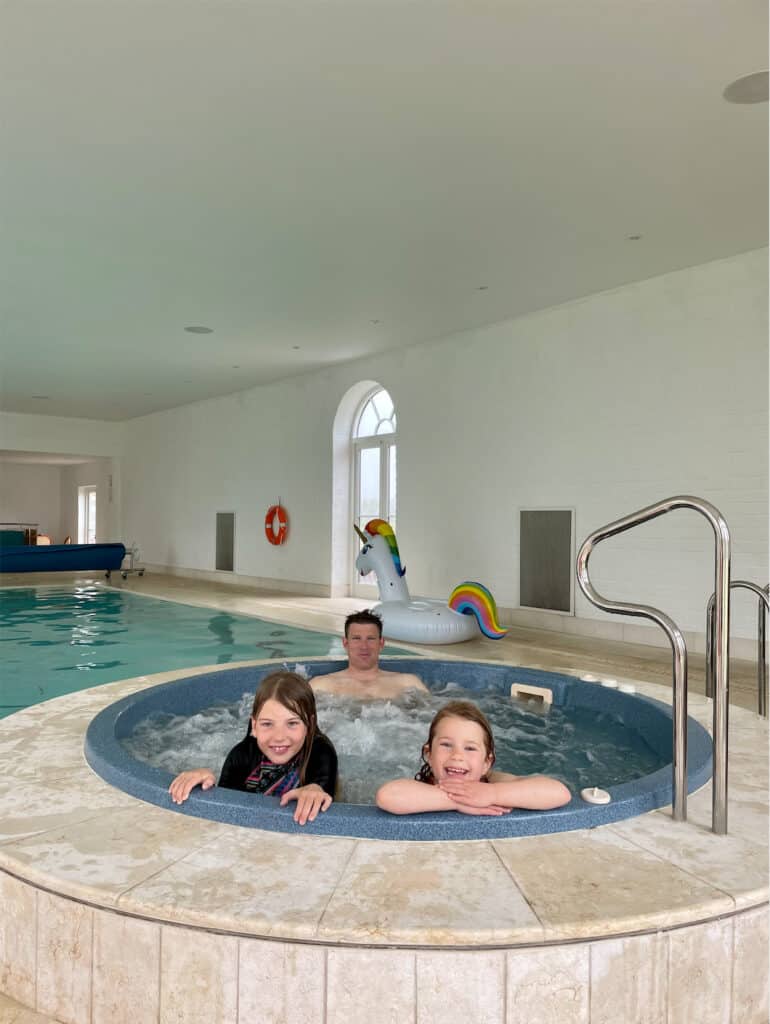 You access the spa through a door on the first floor of the cottage that takes you into a library shared with the owner's house. You then walk down a set of stairs to the pool area. There are locked doors with security codes, so there's no chance of young children accidentally finding their way through.
Tot thought the library was magical and asked to go sit there a few times.
The cottage
Use of the private pool is a massive selling point for Well Furlong Cottage. But even without this, it would be a very impressive place to stay in the Cotswolds.
Here's an overview of the accommodation:
Kitchen and cottage garden
The kitchen is the first room you enter off the large hallway, where there's a huge, church pew with board games tucked away under the seat.
The kitchen has a country feel with a wood burner, range and countryside views, yet all the mod cons. There's a dishwasher, microwave and a mini coffee machine. Hidden in cupboards back out in the hall there's an extra fridge, washing machine and tumble dryer.
When we arrived there was a bottle of wine chilling in the fridge, scones, jam and cream, and an assortment of fresh eggs supplied by Pollyanne's mum's chickens.
This is your indoor dining area and comes with a central table for six. My only criticism would be the table is very low (or the chairs are too high), so it's difficult to get your legs under.
Outside there's a large fenced, grass garden with raised seating area overlooking the horse fields and countryside beyond.
In the raised area there's a barbecue, table and chairs for six, and sun loungers. It's the perfect spot for alfresco dining on a warm summer evening.
Bedrooms
The cottage has three large bedrooms – two upstairs and one off the kitchen. They are decorated in subtle pastels, making them feel even more spacious.
They each come with an ensuite bathroom and feel more like small apartments than rooms. All the bedrooms have seating where you could relax with a book if you needed a bit of a space from your holiday companions.
The room on the ground floor would be perfect for grandparents, giving them direct access to the kitchen and garden. It can also be made into a twin room.
We used the two bedrooms upstairs. These are separated by the stairwell and a the living room which comes with a huge corner sofa, internet TV and more country views.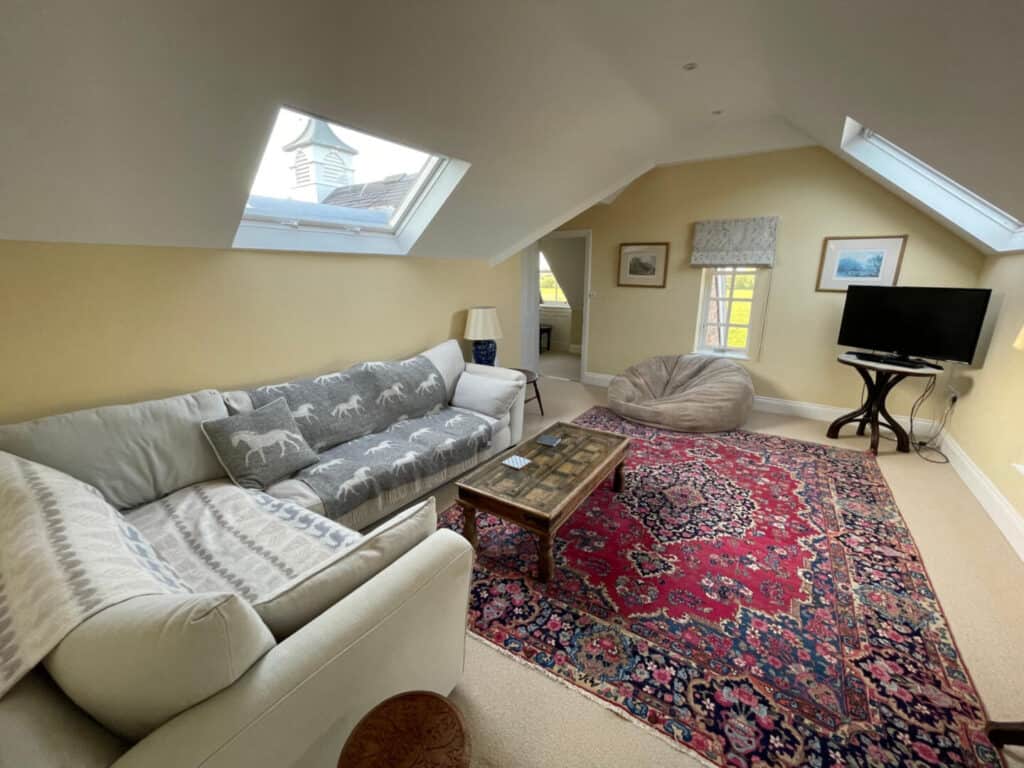 The girl's bedroom had a King-sized double and Pollyanne was happy to pop up a pull out bed so there was no midnight squabbling over the covers. Baby is a bit of a wriggler!
Mr Tin Box and I claimed the master bedroom. It's in the eaves with dormer windows and a glass wall overlooking the garden and fields. In front of this is a large glass desk and chaise lounge – it's the home office of dreams!
Each of the en-suites had a hotel feel with ornate mirrors, large tiles and rainfall showers over deep bath tubs. And should everyone need the loo at the same time, there's also a toilet off the hall on the grand floor.
Is this Cotswold cottage dog-friendly?
Yes! One or a maximum of two pets are welcome by arrangement with the owners.
They must stay on the stone floor areas down stairs, but have a large, enclosed grass garden to enjoy. Bring your own dog bed, bowls and dog towel – particularly if you're doing to enjoy the local walks.
Find more dog-friendly accommodation and holidays in the UK
Be aware that the garden overlooks the horse field. This wasn't a problem for Tin Box Dog, who couldn't care less about her neighhhhh-hours (sorry!) but I know some dogs get nervous around other animals.
The horses are very friendly and our girls loved meeting them.
Handy things to know
Well Furlong Cottage is a turnkey holiday property.
If you have checked out my self-catering holiday packing list, you can scratch bringing towels (they're also supplied for the pool), bin bags, toilet rolls, hair dryers, tea and coffee, laundry and dishwasher tablets, and basic cleaning supplies. These all come with the cottage.
Apart from your clothes, toiletries and food, there's not much else you need to pack. Pollyanne also sends out a useful information pack before you arrive.
Here's some more handy things to know if you stay here:
There's plenty of parking right outside the cottage.
You can arrange for a shopping delivery or find supermarkets and independent shops in nearby Pershore.
Free wifi is included.
There are bluetooth speakers in the kitchen and lounge.
You also have use of the tennis court. There are rackets and balls to borrow.
Shepherds Retreat coming soon!
While we were staying, Pollyanne was in the throes of creating a new place to stay in the fields near the cottage.
The Shepherds Retreat is luxury glamping accommodation in the style of a shepherds hut, but with two wings and a hot tub. It opens in July and you can book it now.
If it's booked in conjunction with the cottage, for a larger family getaway, then the guests can share the spa facilities.
Things to do close by
The Saturday of our stay was a bit of a shocker for weather but we are keen to see some of the Cotswolds. One of the recommended local walks is Bredon Hill, from where you can make the most of the views.
The starting point – the village of Elmley Castle – was just a short drive away.
Thanks to the rain it was a bit of a muddy stomp – both Tot and I ended up slipping over – but even so, the misty views were wonderful. Imagine this on a clear day.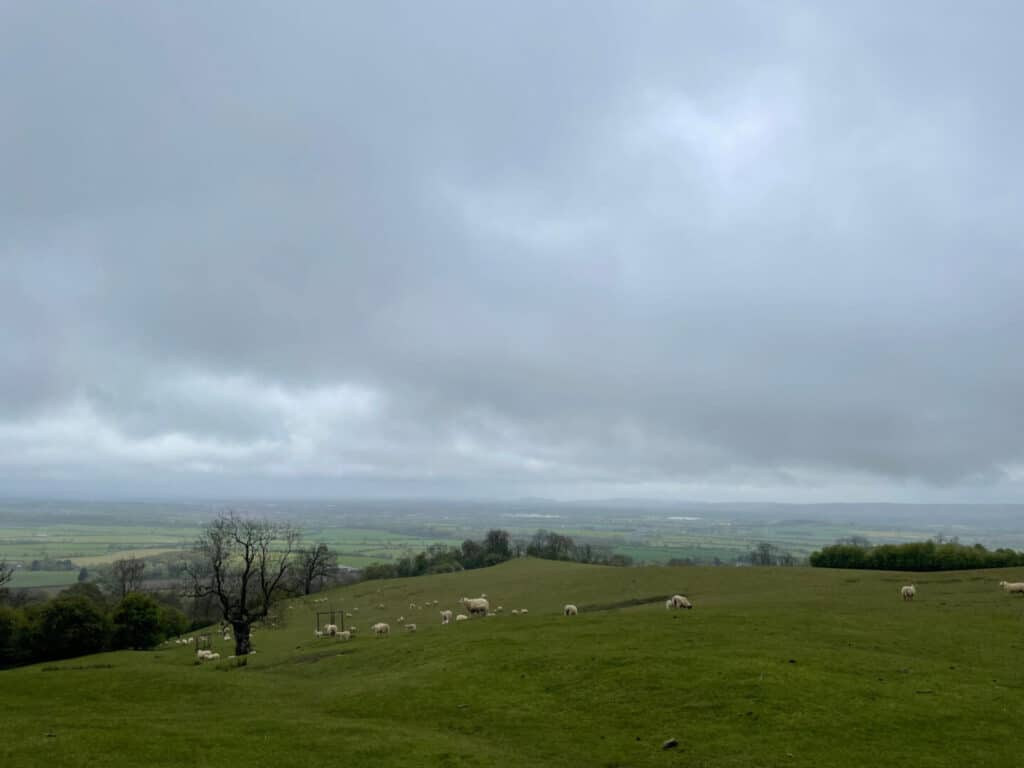 Back at the bottom our bedraggled girls perked up at the suggestion of cheesy chips and ice cream at The Queen Elizabeth Inn. This is a charming, half timber and thatched pub with a garden serving breakfast, lunch and dinner.
I can recommend their ploughmans and their sharing boards sound delicious. We didn't quite have tummy room for one of those.
We were only in the Cotswolds for the weekend. If you stay for longer, there's lots to do within easy reach of Well Furlong Cottage:
Here's some more family days out around the Midlands.
Who should book this luxury cottage in the Cotswolds?
The accommodation and facilities at Well Furlong Cottage make it perfect for a multigenerational holiday.
It's a luxurious cottage designed for comfort. No one needs to feel like they are living on top of each other and with all the bathrooms you'd never have to queue for the loo!
Pollyanne is a great host, making sure you know how everything works (really important when it comes to the pool), but otherwise you'd not know that she and her young family were just next-door.
This, combined with the spa, make this worth the nightly fee of about £500. Find out the most up-to-date prices.
It's somewhere we'd recommend for a special family break where you don't want to rely on sunny weather to have a brilliant time. But when the sun does shine, you've got the perfect base for exploring The Cotswolds.
Watch this video for some of our highlights.
The girls have already asked to go back and have been shortlisting who we'd bring with us. Get your bids in now!
Visit the Boutique Cotswold Retreats website to find out more and book a stay.
Disclosure: we were invited to stay at Well Furlong Cottage in the Cotswolds in exchange for sharing our experience on social media and here on the blog. All opinions and images are my own unless otherwise mentioned.
Researching your next UK holiday? Why not save this review of Well Furlong Cottage in the Cotswolds on Pinterest. Even better, follow me there for plenty more travel inspiration.