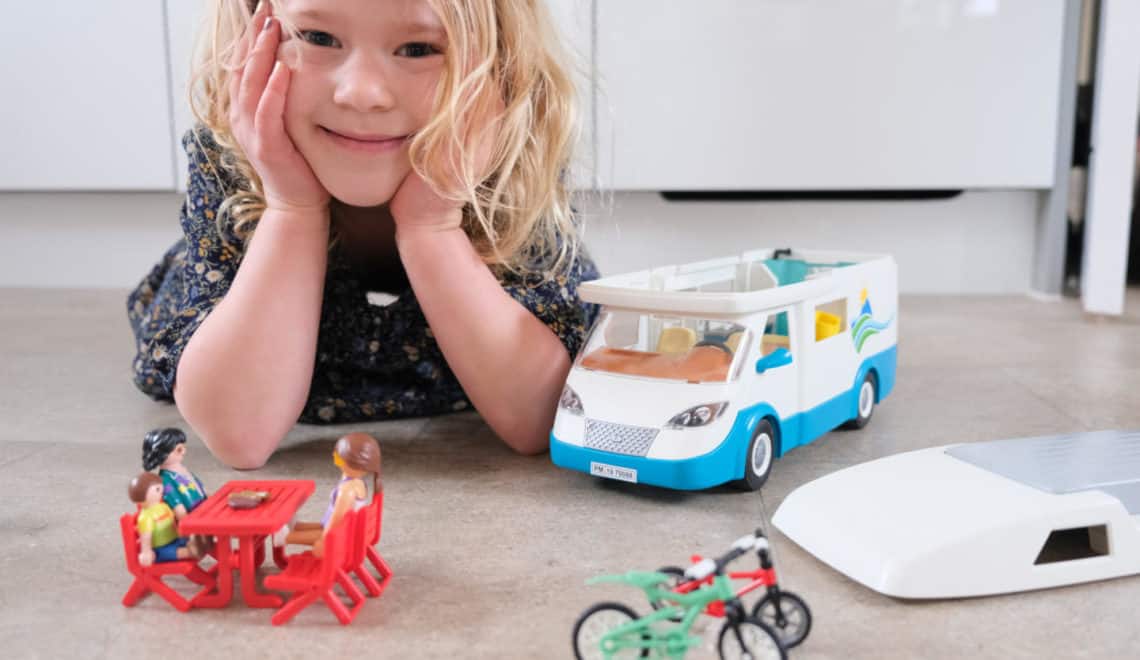 PLAYMOBIL Family Camper camping play set review
2020 was going to be our year of camper van adventures. Last autumn we bought a VW T5 and started planning the festivals we wanted to go to and a big summer road trip through Spain and France. Well, plans have obviously had to change. But we can still dream. And thanks to an offer from PLAYMOBIL to review the Family Camper camping play set we've been able to recreate some campsite fun at home.
*Advertisement feature/contains affiliate links*
A big part of our caravan and camping trips has always been barbecues and al fresco dining, so it's great this play set comes with a grill and camping furniture.
The barbecue is almost exactly like our own, which we have also been using at home.
The realistic camper features include an electric hook up point, bike rack, swivel chairs at the front and bathroom layout that many mobile home owners will recognise.
And, of course, there's an aeriel and TV inside should your PLAYMOBIL family be caught out by the great British weather during their camping trip. We've been there many a time!
Here's a full list of what the PLAYMOBIL Family Camper camping play set includes:
A man, woman and boy figure
A mobile home
A green strip with electric box and flowers
A set of cutlery for four

Four plates and cups
A map
Two food tins, one juice carton
One camping table and four camping chairs
A pan and pot
Two double mattresses
A large and small mountain bike, and a cycle helmet
A teddy bear
A barbecue with lid, some barbecue meat and a set of grill tongs
A towel
Sun cream
You can pack all the pieces away inside the camper or its roof box, which makes it easier to keep the play set together.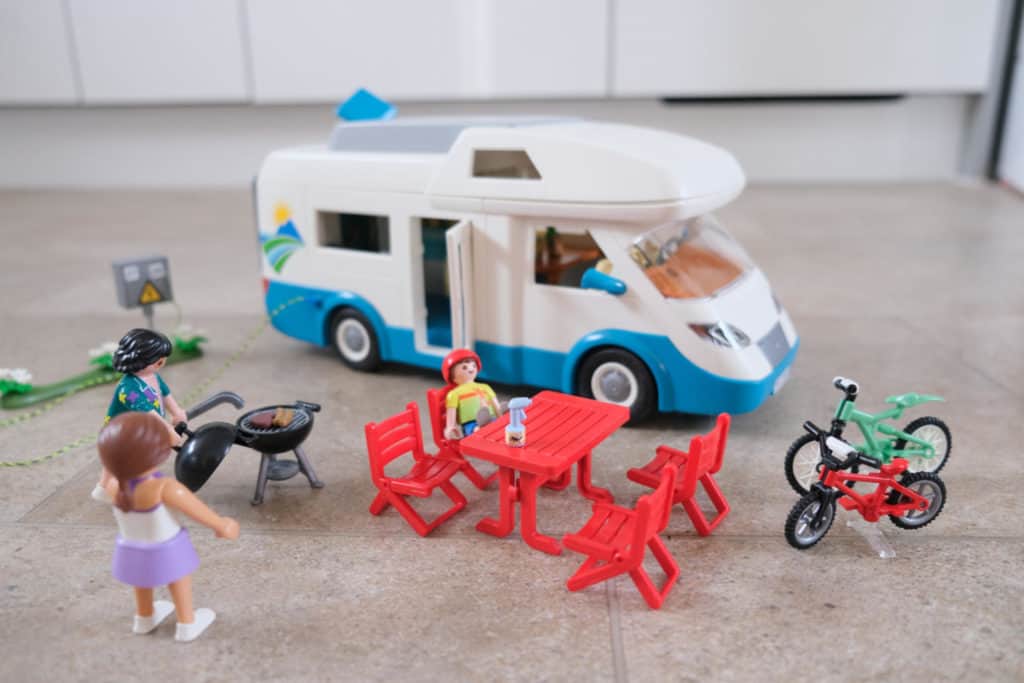 Imaginative play
Four-year-old Baby has been making up lots of holiday games with the figures and seven-year-old Tot loves setting up the campsite scene.
This really is a brilliant toy for imaginative play and has helped us talk about past and future trips. I'm really quite jealous of our PLAYMOBIL family!
What age is the PLAYMOBIL Family Camper for?
The PLAYMOBIL Family Camper has lots of small parts so it's suitable for children aged four and over.
Tot and Baby also needed Mr Tin Box to help put parts on the camper and construct the independent pieces when it arrived.
You can buy the Family Camper play set on Amazon*:
If you fancy adding more PLAYMOBIL camping play sets to your collection here's some more in the Family Fun range*:
The PLAYMOBIL Large Campground
Camping Trip with Large Tent
Water Sports Lesson
Family Bicycle
Disclosure: we were sent the PLAYMOBIL Family Camper camping play set in exchange for a review. This post also contains affiliate links marked with *. If you click on one of these links and make a purchase I may earn some commission. This does not affect the price you pay.
Looking for toys for kids who love to go camping? Why not save this review of the PLAYMOBIL Family Camper camping play set on your Pinterest wish list.