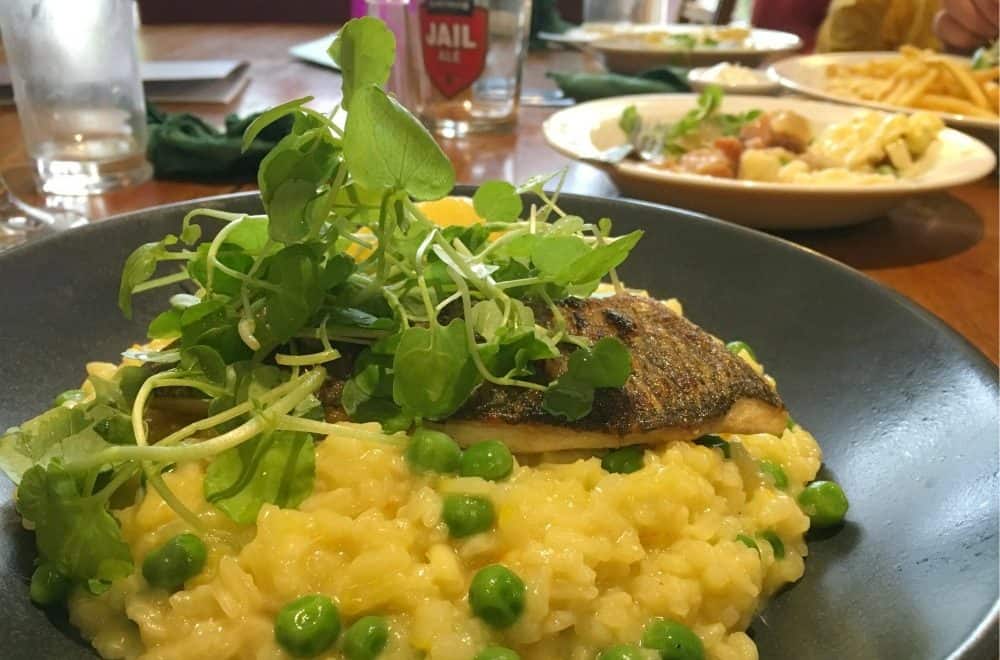 Royal Seven Stars Hotel, Totnes – a family-friendly place to eat in South Devon
During our recent day out on the Round Robin in South Devon we were invited to eat at the Royal Seven Stars Hotel in Totnes.
If you've ever visited the bohemian market town of Totnes you'll know you can't miss the Royal Seven Stars. It's in a prime location at the bottom of the high street and close to the River Dart where we arrived from Dartmouth on the Cardiff Castle river boat.
Outside this former 17th Century coaching inn there's plenty of seating from where you can watch the world go by. Inside you have several dining options from the classic country Saloon Bar with a cosy fire place and rustic nick naks, to the more contemporary Bar 7 where there's sports and news on the flat screen TVs. Or if you're looking for an a la carte experience, there's the TQ9 Brasserie and Champagne Bar tucked away at the back of the hotel.
Family-friendly dining at the Royal Seven Stars, Totnes
As we had the girls and Tin Box Dog with us we stuck to the Saloon Bar where families were already sat enjoying lunch.
The Saloon Bar menu, like all of the Royal Seven Star's food selections, was packed full of dishes made using fresh, locally sourced produce. Even the drinks menu features beverages from breweries and vineyards just a stones' throw away. The hotel's kitchen also specialises in catering for vegetarians, vegans and those with food allergies. Just ask and they'll whip up something delicious to suit all dietary requirements, if it isn't already on the menu.
We had about two hours to dine before the next stage of our Round Robin tour. It was just as well as it took quite a bit of deliberation before we settled on our lunch choices.
Mr Tin Box chose the whitebait with salsa verde and a carrot and daikon salad from the daily specials. He followed this with the fillet steak open sandwich on toasted sour sough bread with horseradish creme fraiche, pickled onions and skinny fries. This was washed down with a pint of Jail Ale, which is a craft beer brewed on Dartmoor.
I had a generously portioned Waldorf salad followed by bream with a saffron, lemon and pea risotto. I also couldn't resist a glass of Dart Valley Reserve from the nearby Sharpham Estate. The risotto was delicious and extremely filling. So much so that I couldn't finish it all!
The kids picked sausage and mash and cheesy pasta from the children's menu followed by ice cream. The portion sizes were plentiful and more than enough to satisfy our two and four-year-olds with plenty to spare for older appetites.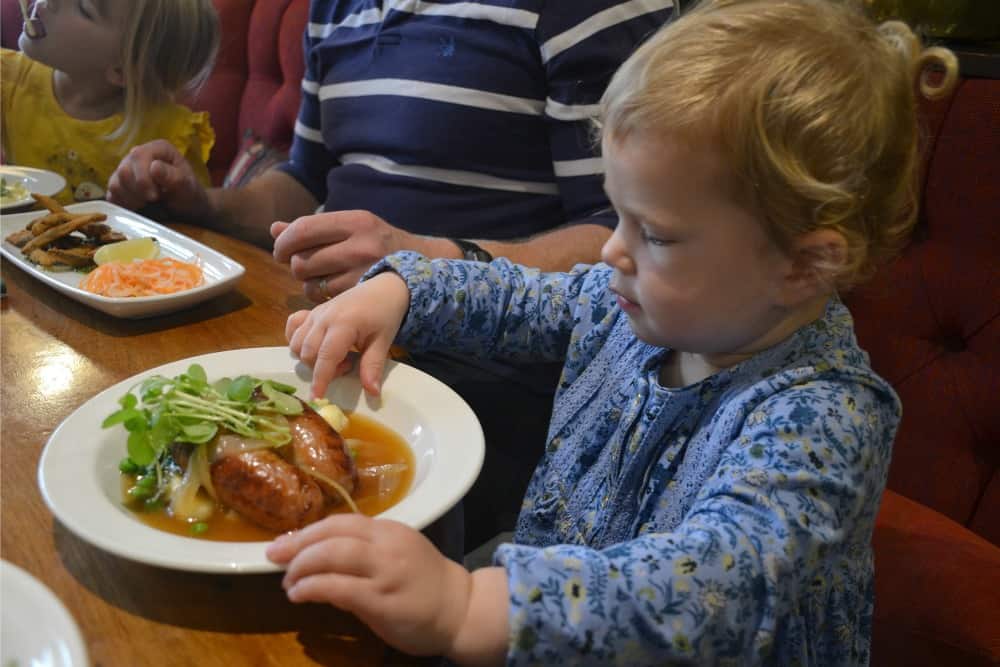 Friendly service and great food
The staff happily accommodated our request to have the girls' meals brought out at the same time as our starters. Our hope was that the girls would concentrate on their own food leaving us to enjoy ours. Sadly for Mr Tin Box his whitebait was too tempting and the girls helped polish this off before tucking into their own dishes.
Our meals were delicious and the service wonderful. The staff made an extra special fuss of the kids and Tin Box Dog, who was even slipped a treat or two under the table. In terms of the price, it is obvious this isn't your standard pub grub. The prices average at about £13 for an adult's main course, which we thought was good value for a special meal out.
We will definitely be returning to the Royal Seven Stars in the future and may try out the TQ9 for a romanic dinner for two. We just need to chat up the Tin Box grandparents to do a bit of babysitting!
Luxury boutique rooms
While at the Royal Seven Stars I was offered a tour and I couldn't resist. This award-winning, 4 star hotel is a licensed for marriage ceremonies and hosts plenty of wedding receptions in its 19th Century ballroom. It's light and glitzy with it's own bar and roof terrace – perfect for private parties.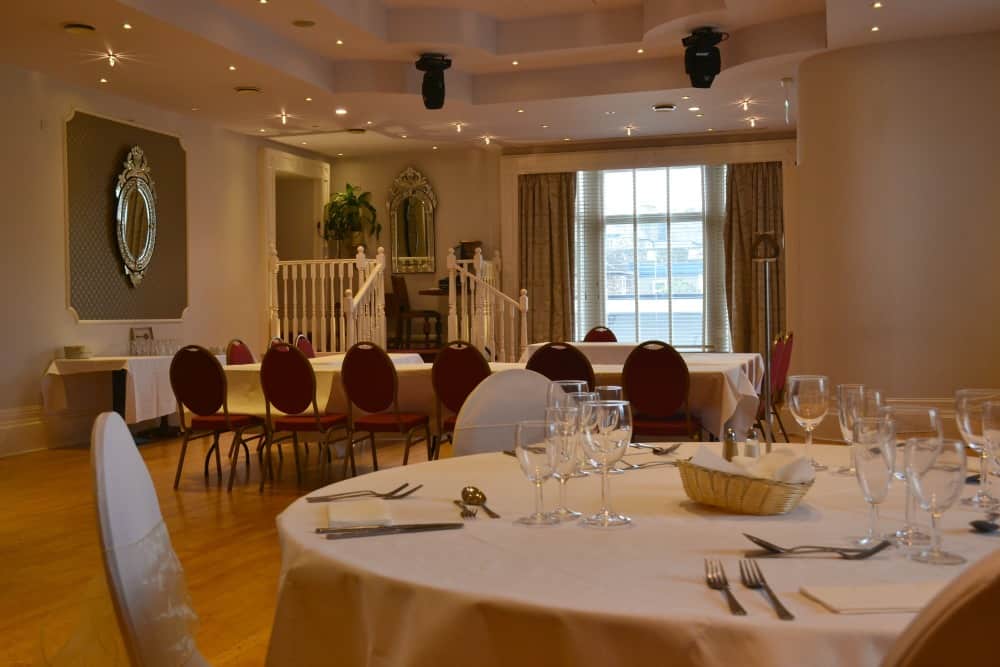 As luck would have it the one suite not occupied at the time of our visit was the Agatha Christie deluxe room. This comes with a four poster bed, an ensuite bathroom with spa bath and views of the picturesque high street. It was beautiful and just the type of place I can imagine staying for a romantic break with Mr Tin Box. Aside from hotel's double rooms it also has family rooms accommodating up to four guests. Dogs can also stay for an additional fee and are welcomed with their own bed and treats.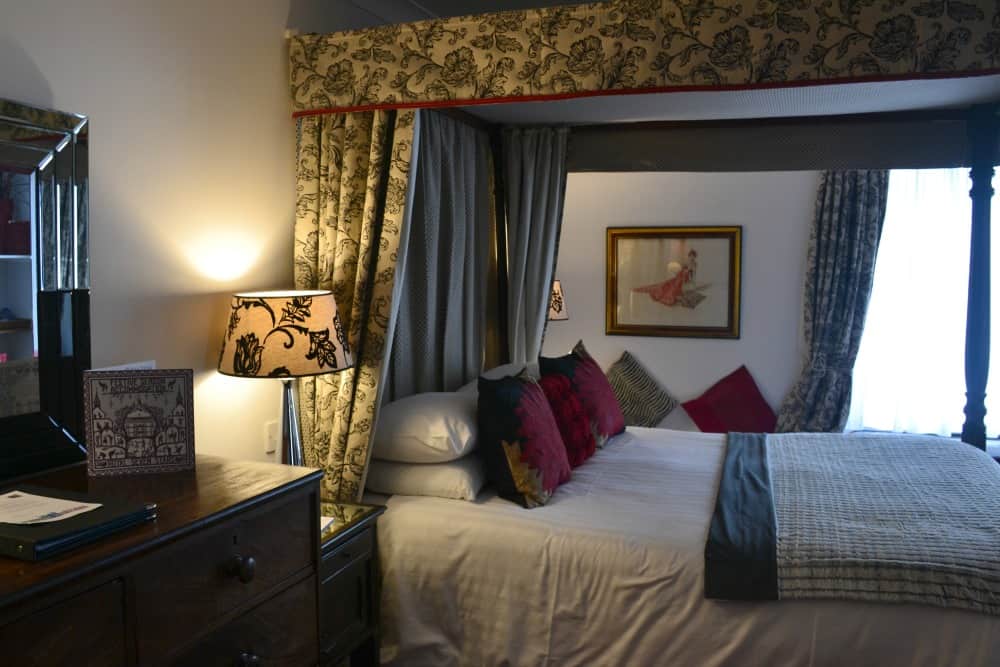 Here's a video of the rest of our day on the Round Robin tour with Dartmouth Steam Railway and Visit Totnes:
You can find out more about dining and staying at the Royal Seven Stars Hotel on its website.
Disclosure: we were guests of the Royal Seven Stars Hotel and had our lunch arranged by Visit Totnes. All views are my own and those of my family.
Pin for later